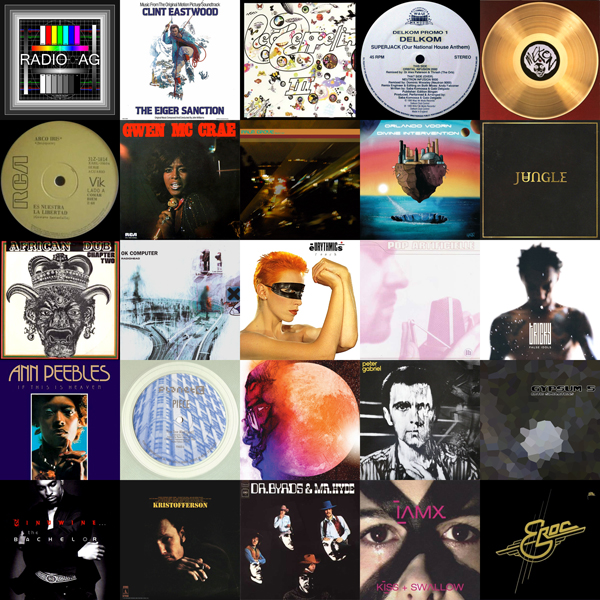 It's been five years since I last did a Radio AG mixtape. This one is from a couple weeks back, and has been making the rounds in the Heights ever since. I thought I'd offer it up here just like old times. The idea is an aural representation of winter.
Listen Now
The Parallax Sound Lab

Radio AG Intro

Welcome to the show.

John Williams

The Icy Ascent

MCA

From Clint Eastwood's seventies espionage thriller (also starring George Kennedy and Vonetta McGee). Winter music, pure and simple. This always makes me think of Joaquín Rodrigo's Concierto De Aranjuez. I wouldn't be surprised if John Williams had been listening closely.

Led Zeppelin

Friends

Atlantic

On the right day my favorite Led Zeppelin song. Robert Plant bobs and weaves through the rhythm laid down by John Bonham's congas and Jimmy Page's cascading guitar, massive strings droning on the horizon (John Paul Jones is the man with the plan). Like an alternate soundtrack to John Huston's The Man Who Would Be King, this is an immense music that seems to chronicle vast regions laid out beyond the Khyber Pass.

Delkom

Superjack

Orbital Infusion 2000

WAU! Mr. Modo

Two German Latinos! Always loved this deranged groove from the salad days of ambient house. First heard this on The Orb's Auntie Aubrey's Excursions Beyond The Call Of Duty Part 2, purchased on the back of the stellar first volume that I'd picked up in Puerto Rico earlier that year (when it was still relatively difficult to find). Excellent music, but something seemed to have gone awry in the mastering: clipping as far as the eye could see! Scouring the bins through the years, I eventually crossed paths with the original 12".

Mekon

Schoolly D

Skool's Out

Wall Of Sound

Schoolly D never really got the production he deserved in the nineties (where the Kool G Rap treatment would have served him well). This phenomenal guest spot, from Mekon's Welcome To Tackletown LP, will have to suffice. Back in the day, I remember wishing that there was more crossover between hip hop and the big beat massive (whereas at the time it was increasingly on a sixties rock tip): MCs rocking rock hard backing tracks. Well, here's a textbook example of what I was looking for.

Arco Iris

Es Nuestra La Libertad

RCA Vik

Soaring psych from Argentina. Rock Nacional remains one of the great unsung scenes in the rock pantheon, standing shoulder to shoulder with West Coast sixties psychedelia and often expanding on that foundation. I once saw this incredible video, which sadly seems to have been removed from Youtube, of this crew performing live in 1972 at (if I'm not mistaken) the Buenos Aires Rock Festival. Ripe for rediscovery.

Gwen McCrae

It Keeps On Raining

Cat

From her red hot self-titled debut. Later re-released as Rockin' Chair, so named for the excellent single of the same name that was added to the record (unfortunately at the expense of the scorching Your Love Is Worse Than A Cold Love). This one's not even the best track on the album, but that Rain, Rain, Rain, Rain! bridge is an amazing bit of vocal compression.

Palm Grove

Twilight Run

Riddimatique

New school techno. Perhaps even some shades of swingbeat thrown into the mix? This makes me think of some saturated, technicolor version of the movie π. I couldn't tell you the slightest thing about Palm Grove, but I do dig this sort of thing.

Orlando Voorn

Find A Way

Subwax Excursions

Orlando Voorn's resurgence in 2013 caught me completely off guard with this record (housed in a beautiful Abdul Haqq sleeve), which is quite simply a masterpiece of "big room" techno. I totally fell in love with this tech jazz breakout, the Martin Luther King/Marvin Gaye samples rendered doubly moving in the context of current events.

Jungle

Drops

XL

Hands down the best album of last year, yet I didn't see it make a single end-of-year list. Tunes seemingly worked up from pure atmosphere. I've been kicking around a more in-depth piece on this record that should make an appearance in the near future. The spectre of trip hop hangs heavy over this particular tune, with that creaking door threaded through the beat a particularly inspired touch.

Joe Gibbs & The Professionals

Idlers Rest

Joe Gibbs

Proto-digidub. From 1977! This track is simply amazing. Future shock music, sounding as if it were beamed back in time from the present day. Amorphous, off kilter synths skate across a rock hard dub riddim. From the second chapter of the excellent African Dub All-Mighty series, Joe Gibbs' phenomenal run of conceptual dub LPs from the late seventies.

Radiohead

Subterranean Homesick Alien

Parlophone

Johnny Greenwood is the controller! Heh heh, always meant to pick that one up. This was a huge record for me in high school (Paranoid Android? Climbing Up The Walls?? Incredible!), even if I was a little disappointed it wasn't even more electronic than it turned out to be. You could really sense, as early as The Bends, that this group was poised to plunge into the deep end (and a 1997 Kid A would have served me just fine). In retrospect though, this is a really special record, and fit the era perfectly. This tune's crystalline zero-gravity guitar spires and soundtrack to dislocation are practically a manifesto-in-miniature for the band's whole enterprise.

Eurythmics

Here Comes The Rain Again

RCA Victor

The idea for this transition came to me in a December mix that I made for Sari a couple months back, the unspoken goal of which was to channel my teenage self when putting it together. So please forgive me if I reflect on those years a bit too much in this breakdown... it's been on my mind! This and the last song played back to back, plus the entirety of Underworld's Dirty Epic, tell you everything you need to know. I've always thought this tune was even better than the epochal Sweet Dreams, existing as an elegant, melancholy cousin to that tune's nasty android disco. There's also an excellent alternate version on the Lily Was Here soundtrack.

LB

Ashes To Ashes

Digital Spacepop Replicant

KK

Bowie cover version by Uwe Schmidt aka Atom Heart aka Señor Coconut aka etc. etc. etc. From Pop Artificielle, a whole album of cyborg cover versions. Hard to believe this came out as early as 1998, prefiguring as it does the next decade-plus of pop music.

Tricky

Bonnie & Clyde

Studio !K7

From the truly excellent False Idols, Tricky's second most recent full-length. I think this is also his second best record after Maxinquaye, and it's a much tighter race between the two than you would think. If I were a teenager coming up nowadays I'd probably like it even better. A drastically different record though, spare and stark compared to Maxinquaye's blunted psychedelia.

Ann Peebles

Being Here With You

Hi

Her excellent run of seventies records are the sister to Al Green's. A lazy comparison perhaps, but so apt. Both were released on Hi Records and carry the storied hallmarks of Willie Mitchell's warm, lush production.

Piece

Free Your Mind

Past

Planet E

Carl Craig's hip hop record, a downbeat cousin to his 69 output. I first heard this on the Intergalactic Beats compilation, an exceptional selection of techno from the early days of Planet E. For me, a Back To Mine record.

Kid Cudi

Ratatat

Alive

Nightmare

Universal Motown

Kind of a recent one. This album blew me away when I first heard it, making me flash on things I grew up with like A.R. Kane and The Hurting by Tears For Fears. This particular beat might be the warmest on the record, and I could swear the instrumental shares a bit of vibe with Another Green World. I'm jealous of people who were 15 when this dropped.

Peter Gabriel

Games Without Frontiers

Charisma

This tune's cut from the same cloth. I've often thought the first four untitled Peter Gabriel records continued the good work Eno, Bowie and Pop did in Berlin. This is another one from my youth: back in the day I could point to it and say this is the sort of stuff I was into. It even sounds like a 90's record, proto-trip hop or even a certain shade of r&b, Gabriel basically raps the lyrics. The guitars here cut shapes out of atonal noise rather than anything approaching a melody, and Kate Bush on the hook (I got into her music through this tune) sounds sublime as usual.

Gypsum 5

Hewn From Seastone

Tensile

Just a tiny shard of isolationism from this quintet from up in the mountains, dragging everything down to a crawl with what sounds like a lonely TR-505 rhythm.

Ginuwine

Missy Elliott

&

Magoo

G. Thang

550

Timbaland tearing it up on the back of a Portishead sample. R&B, trip hop and rap... at the time, I heard a lot of this stuff in the same way: as heavy atmospheric music, often with a dread shadow hanging over the proceedings. It was all of a piece, and I'd offer up this sharp little tune as Exhibit A.

Kris Kristofferson

Casey's Last Ride

Monument

Outlaw country from the storied songwriter's first LP, a stone cold classic. Dead end music, keeping the dread fires burning strong, this tune is a runaway train that rides a booming beat off the rails and into the darkness.

The Byrds

Bad Night At The Whiskey

Columbia

The MKII Byrds are so underrated. They could sometimes be a sloppy bunch, but they'd nearly always make it worth your while by veering out into left field. Case in point, this song is perfect. Perfect! That slow motion breakbeat! I've never before heard a better aural representation of being totally, hopelessly wasted, stumbling through a room's chaos as if submerged underwater. This and Willie Nelson's Whiskey River both epitomize this aural hallucination I've often had when driving out beyond Ramona and into they valley of Santa Ysabel of a krautrock-inflected form of country music.

IAMX

Missile

Recall

Chris Corner's first solo shot after the dissolution of the Sneaker Pimps. One of today's great unsung vocalists, coming on like some unlikely fusion of Marc Almond (in sound) and Scott Walker (in spirit). The later Sneaker Pimps records were already growing darker, but his solo material really took a turn. Just unhealthy music, you want to grab a blanket and take the man in from the rain... although I can't say I haven't felt this way for a good chunk of my own life. This tune would easily make a shortlist of my favorite songs of the century (so far).

And a bit of dialogue from Star Trek V: The Final Frontier. There were two great moments in this relatively sub-par film: when Kirk says I've always known that I would die alone, and this one (I need my pain!).

Eroc

Norderland

Brain

Monumental krautrock. Bringing it all back home. Another alternate soundtrack proposal, this time to Il Grande Silenzio. This is massive, widescreen music, blazing its way through ice-covered mountains and over bottomless chasms. You're crawling through the snow, blizzard cutting straight through you. There's nothing left, you feel as if you couldn't press on any further, but you dig deep within, and...
Credits
Mixed By: DJ Slye
Special Edits: Do'shonne & Slye
Time stretching: Johnny Blount
Vibes: π, The Final Frontier, Il Grande Silenzio