Was it last year that Studio !K7 held that poll in which people were asked to choose their top five DJ-Kicks mixes?1 This one was without a doubt my #1 pick,2 and it remains my second favorite mix CD of all time (hint: the first is from a different series on the same label).
For those who might not know, DJ-Kicks is a DJ mix series curated by Studio !K7 that gives marquee producers the opportunity to represent another side of their personality outside the studio and in the mix. Starting with an entry from C.J. Bolland in 1995 and continuing up to the present day with last week's Nina Kraviz excursion, it must be the longest running mix series ever.
A unique feature of DJ-Kicks is the fact that (nearly) every mix features an exclusive track worked up by the presenting DJ for inclusion in their mix (and concurrently released as a 12" single). Early on in the series, this track was constructed entirely from samples taken from the mix itself (a short-lived tradition, truth be told, lasting only for the three Detroit-themed mixes that rounded out the series' first phase of deep techno entries), but as the series continued the track would generally be an original work that seemed to spring from the spirit of the mix it was created for.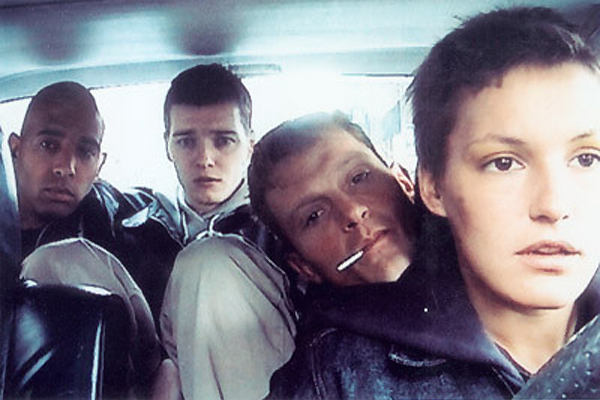 The Terranova entry emerged from the heart of the series' second phase, an excellent run of trip hop-flavored mixes, nestled between the likes of Kruder & Dorfmeister and Smith & Mighty. At the time, trip hop was a music I lived and breathed (a close second only to techno in my personal sonic pantheon), immersed as I was in records by Massive Attack, Bomb The Bass and Tricky. Then, one day in early 1998, this mix cropped up on display at the old Tower Records on El Cajon Blvd. I snapped it up immediately, purchased more or less blind on the basis of the Studio !K7 brand and a handful of names in the tracklist that I recognized.
I remember Woebot once describing the way a listener will often move from node to node when exploring music, further avenues opened with every path explored. Back in the day, mixes were like pressing the fast-forward button on that process: if you knew that you liked a handful of artists/tracks featured on a mix, then chances are you would discover at least as many more that you'd end up digging too.
This particular mix is a double fantasy of sorts: not only is every track phenomenal, but all avenues presented here intersect at steep tangents before veering off in nearly every direction. It opens with a seven song stretch of both styles of hop (from hip to the trip), veering left into a sequence of skewed techno and house, before finally returning home to the breaks to close out the set.
The spectre of post punk abstraction hangs heavy over everything here, gesturing back toward an era when Mark Stewart hooked up with Tackhead and the Death Comet Crew were in full swing: abstract sonic technicians putting the jagged edges of the city to wax. Tricky — trip hop's greatest auteur — had a similar affinity with post punk (from the well documented Mark Stewart connection on down).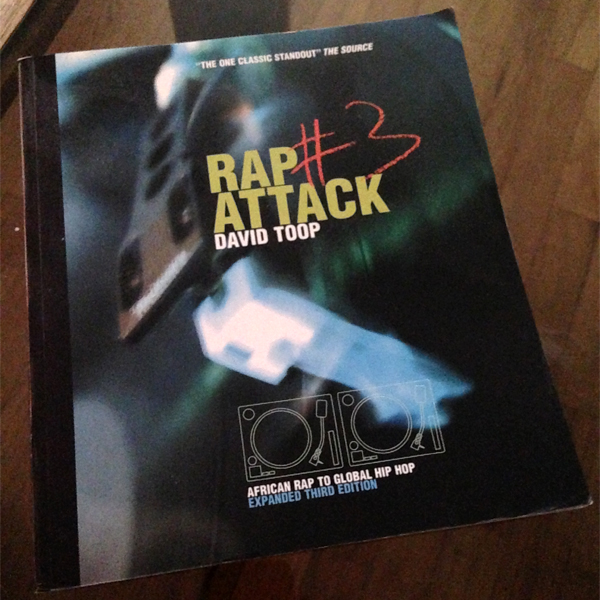 This is the world of David Toop's Rap Attack, hard electro beats and concrete. Terranova inhabit this realm — they populate this mix with it, floor to ceiling — actually augmenting the base records with additional treatments and textures, stretching the sonic spectrum into every corner of the soundscape.
Standing in stark contrast to the pleasant lifestyle music that downtempo often devolved into when it would get lost in a sort of vaguely cool, chill out impulse, the dub chamber murk and grimy textures in evidence throughout this record operate on an alternate principle: once again, putting the jagged edges of the city to wax. This, ladies and gentlemen, is how you do trip hop.
---
The mix opens with one of the great Intro tracks of all time, a rumble of pure atmosphere as the sound of the city streets comes flooding in, a gentle conga rhythm tumbling out across the soundscape. Terranova, Terranova... doesn't that mean new land, right? Wow, that's beautiful. Dropping into Howie B.'s Five Days, a droning slab of mutant tech jazz from the Freezone 3 compilation. It chugs along like some clockwork reconstruction of bebop, the beat marked by muted drums and a horn tattoo jutting out from each measure. Distant tones sound off from beyond the droning soundscape, grinding synths rise like magma within the mix.
As if waking from a dream, it all collapses into reverb as a skeletal hip hop beat begins to take shape. Priest's Disorientation certainly lives up to its title, sounding as if it were constructed from a jumble of unstable elements: its wavering bassline and skittering beat come on like some ramshackle vision of Timbaland and SA-RA meeting for tea in Central Park. Apani B. Fly, Beans and Priest rhyme abstract to the max before everything collapses once again into a pool of pure echo.
A pounding slab of trip hop from Depth Charge, one of the grand architects of the form (and probably the most obvious influence on Terranova's own m.o.), starts to throb into view like an open wound. Sex, Sluts & Heaven Bordello Mix is the track, from the Legend Of The Golden Snake Version 2 10"3, bleeding wave upon wave of pressure into a cauldron of raw intensity.
The machine beats of DJ Spooky's Galactic Funk release the tension with an almost compulsive ramshackle funkiness. Spooky always seemed to catch a lot of flack for his endless theorizing and sometimes rambling approach to beat construction, but when the man was on, he was really on. Everyone knows the Sun Goddess sample, but it's the mind-blowing twisted Clavinet jam from The Politicians — a mere moment on in time on the original record, sampled and stretched to infinity here — that kicks this track into the fourth dimension. That's the good good, right there. Deep space sonics creep in and out of the funk from every which angle, before they ultimately overwhelm the beat and drag you into the deep black of space, distant sounds from the East creeping upon you.
It's East Flatbush Project's Tried By 12, that omnipresent underground hip hop record of the day, rocking an ill koto loop over the same Al Green break that fueled Timbaland's sampler around the same time. I'd rather be tried by twelve than carried by six. This record's instrumental was everywhere at the time (I even remember hearing it at a high school party the following summer). Sparse and clean, it drops in and out before you notice that the sun-glazed pulse of Peanut Butter Wolf's Run The Line has slipped upon you.
Rasco spits nasty rhymes over the smoothest of beats, sounding like he'll knock your block off with or without the slightest provocation. Swap the cut out for the first of the breakbeat tracks from the Stereo MC's' Ultimatum project, The New Birth sampling Devil's Claw. A sonic tundra built around the opening break from Patiently, this track serves as a bridge into the uptempo stretch of this mix, the stately strings from BFC's Please Stand By rising from the glacier's surface. The first of the early Carl Craig tracks here — both of which ride improbable breakbeats — this one shrouded in waves of mystical Prophet 600 synthesizer, timbre hovering somewhere between strings and organ.
BFC's widescreen techno drifts off into the horizon as the break drops out, voices intoning astrological signs into the great beyond. Patrick Pulsinger's Citylights Pt. II City Of Starsigns, a scattershot astral jazz shuffle, shambles into view as if powered by some mutant machine's makeshift propulsion. Like Ian Simmonds' Man With No Thumbs, it staggers on an irregular fusion rhythm (quintessential tech jazz straining against the machines), before ultimately collapsing into the void.
Ladies & Gentlemen, one of 69's 4 Jazz Funk Classics4 (and the second of the Craig tracks here), picks up the thread with great churning strands of sequenced bass and a fast-forward Curtis Mayfield loop from the Superfly soundtrack. Terranova give you all eleven minutes of the track here, a generous move as it's one of the most sublime techno songs ever put to tape (on what was, at the time, an extremely hard to find record).
Structured as a multi-part modular groove whose main section drops out into a stone cold breakbeat breakdown — forlorn tones cry out ever gently — before those rolling bass sequences return stronger than ever, unfurling in great arcs toward the sky. Terranova close it out in striking fashion, with what must be a custom bit of nearly g-funk keyboard filigree twirling on and on into the sunset.
Backroom Productions steps in to give The Definition Of A Track. At the very least, this is definitive New York house, surely: Groovin' Without Doubt. The whole thing rides atop this massive bassline that seems to meander its way up and down the beat matrix, freewheeling and utterly unresolved. This groove segues into a passage in which the synth line from Silicon Soul's Who Needs Sleep Tonight is warped and threaded through The Octagon Man's Modern Funk Beats; both tunes seem made for each other once you hear them in this context. It lasts but a moment before the distant growling bass of Avenue A's ace remix of Terranova's epochal Tokyo Tower pulses into view.
This version has nothing whatsoever to do with the sublime original (that heavenly jam with one Manuel Göttsching, a tune which I've already mentioned here, and must return to again sometime for further discussion). It's the great lost big beat tune, tucked away on this mix as an exclusive (you can hear it unmixed on the double-vinyl companion to this CD). Industrial breaks klang, run at a half-speed, then shift gears into a beat of block-rocking proportions and back again, bridging the gap back into downbeat territory as I L.O.V.E. You drops the tempo down to a crawl with bass you feel in your chest.
DJ DSL's warped take on lovers rock finds him twisting a bit of Yellowman's Lost Mi Love to abstraction, all effects on overdrive. With a deformed roar, the dope downbeat of Ultimatum's second contribution Stop It! Stop It! Stop It! stalks its way across the soundscape, perhaps marred slightly by some creepy dude that's trying to push his luck with a lady. What's the deal? Still, it's but a moment before Terranova's masterful remix of the Jungle Brothers' Jungle Brother oozes into every corner of the soundscape on a massive Reese bassline and slow motion breakbeats.
If there's been anything that's elaborated on the sound that the Brothers themselves laid down on J. Beez Wit The Remedy, it's this remix, which leaves you wishing Terranova had been allowed to produce the entirety of Raw Deluxe. These mutant beats live up to that title and then some, in what must be one of the most uplifting slabs of hip hop ever put to wax. Those rude voodoo flutes swarm over everything!
The whole soundscape just hangs there, suspended, before being sucked to a pinpoint and morphing to the drop of buzzing bass from The Junkyard Band's The Word. Taking a stab at Reagan-era economic policy over a monster groove, this record just rolls out the speakers in an avalanche of percussion, bass locked in a furious dance with the MCs. This record, one of Def Jam's incursions into the D.C. go-go scene, boasts a compulsively three-dimensional soundscape, one that is continued in the Atmospheric Version of Spoonie Gee's Spoonie Rap, slipping into the mix transition practically unnoticed.
The bedrock rhythm, knocked out by a live band, sounds like a yet-even-more-fluid Remain In Light-era Talking Heads, while the party atmosphere, scratches, warped tones and effects come courtesy of its remix on Harlem Place, sounding like nothing so much as the tracking shot from Mean Streets where Harvey Keitel stumbles through the party and down the hall before collapsing on a cot in the back room, only here it all devolves into a deluge of sirens announcing the nightmare that is Terranova's DJ-Kicks/Contact — the track.
Contact is a warped, druggy take on 70's soundtrack music as seen through the cracked fun house mirror of hindsight: paranoia, conspiracy and malaise caught on celluloid, camera cutting a rakish angle through a deserted alley. I used to imagine some bleak Scorsese-esque movie (before I'd seen any, of course) or cop thriller playing out to the music. It certainly matches the visuals in films like The French Connection (parts I and II), Night Moves and The Parallax View, harboring a raw, churning intensity that puts an awful lot of imaginary soundtrack music to shame. If you come across the 12" single, don't hesitate, as it also offers up an alternate version on the flipside5 called Contact Lezlie, a further dive into the dirty shadows.
---
It's worth reflecting that the prevailing mood of this mix is probably meant to evoke Berlin or even New York, vast metropoles defined by their towering architecture, but for some reason I've always associated it with San Juan and the outlying Carolina district in Puerto Rico. Listening for the first time brought back memories of cloudy days that would result in the inevitable torrential downpour, tropical colors overcast in grey.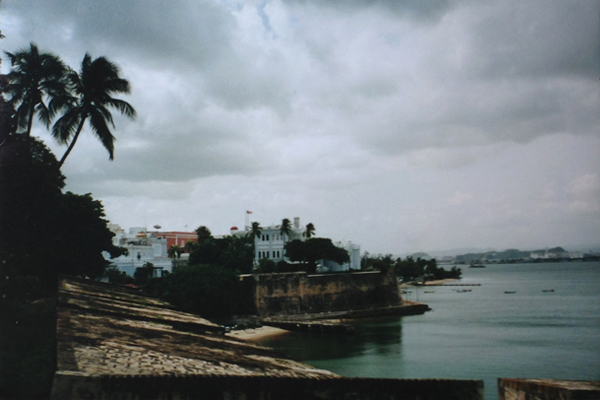 Predictably, the last time I was on the island, I played it out nearly every day — further cementing the association.
Aside from its towering greatness, I often return to this mix because there's an elemental sound here, thick with all-encompassing atmosphere, that I have yet to hear anywhere else in so potent a form. Drawing on routes flaring out from primal musics — hip hop, techno and dub — and feeding them through a prism of post-punk abstraction, they seem to map out a vision of ancient future music that remains vital to this day.
Through the murk and the grime, or because of it perhaps, resolve endures in the gutter: green grows through cracks in the pavement, ribbons of light slip through a crumbling edifice at dawn. City lights smear across a car window in the night, Cosmo Vitelli trying to realize a vision. Dread becomes determination, and Terranova puts all of it to wax.
---
Footnotes

1.

This poll would ultimately decide which five DJ-Kicks mixes would be offered up half-price in their online store. However, since certain entries were out of stock, they weren't eligible for the poll — thus rendering the results tainted!

2.

My top five would look something like this: 1. Terranova, 2. Smith & Mighty, 3. Stacey Pullen, 4. Kruder & Dorfmeister, 5. Claude Young. At least one of those was not available though, forcing me to pick Rockers Hi-Fi and (if memory serves) Andrea Parker.

3.

As a loose bit of trivia here, you can see this record (along with The Heliocentric Worlds Of Sun Ra, Vol. 1) lying in the background of the barebones room that Coco is sitting in on the B-Sides & Remix Sessions liner notes.

4.

I need to write about this (monumental) record in detail sometime.

5.

A rarity for DJ-Kicks EPs, which were typically single-sided affairs.