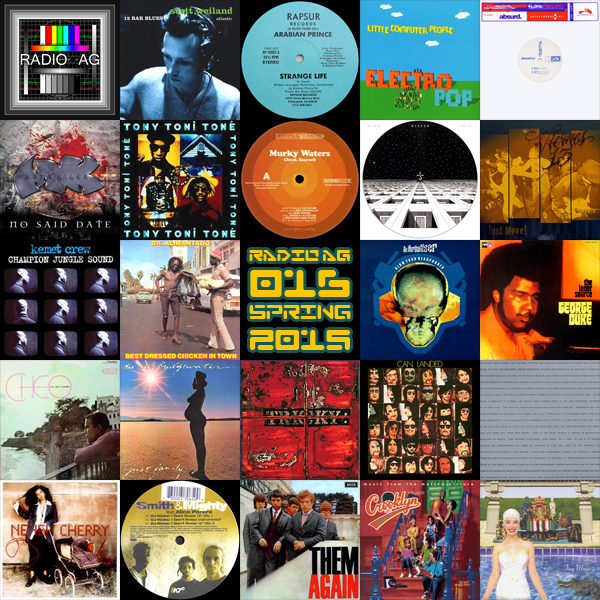 I almost missed the window to do a Spring mix this year, but ultimately ended up putting something together at the last moment (rather than miss the season entirely). Against all odds, this one practically mixed itself. It should be noted right out the gate that this mix leans fairly heavily on the late nineties, particularly 1997 and the first half of 1998, for reasons that I will expand on someday. Suffice it to say that rather than a walk down memory lane, the music here strikes me as locked onto the very pulse of today. Since this mix is coming out late into Spring, the mood is a bit more dusted, more sun-baked than it otherwise might have been. So just take this as a soundtrack to the last weeks of Spring, as Summer rapidly approaches...
Listen Now
The Parallax Sound Lab

Radio AG Intro

The standard introductions in place.

Scott Weiland

Jimmy Was A Stimulator

Atlantic

Kicking off with a forgotten slab of noise from Scott Weiland's solo debut, this is in essence a Nuggets track in all but name: raw garage punk implementing the technology of the era — in this case 808 beats and filtered techno bass — delivering a three minute bolt from the blue. Should have been a single.

Arabian Prince

Strange Life

Rapsur

Mid-eighties electro. The production on this is perfect! I hinted at the man's underground pedigree here, dating back to well before he'd hooked up with N.W.A.. This record finds him transcribing the vibes of L.A.'s party scene — the house parties, nightclubs and roller rinks — to wax. There was an excellent interview with Arabian Prince and The Egyptian Lover in Wax Poetics1 a few years back that happened to coincide with a superb retrospective of the man's work that came out on Stones Throw.

Little Computer People

Little Computer People

Psi49net

Late-nineties electro. Like I-f's Space Invaders Are Smoking Grass, this split the difference between electro and eighties synth pop, predicting the whole electroclash movement years before the media blitz descended. Little Computer People is an obsessive slice of computer disco that could have burned up the charts in any decade, while the video remains one of the great undiscovered promo clips. Check it out!2

Fluke

Absurd

Mighty Dub Katz

Vox

Astralwerks

Norman Cook takes a break from his Fatboy Slim alias to turn in this ace remix of a quasi-industrial Fluke track (from their excellent Risotto LP), filtering the original through a Planet Rock prism and winding up with one of the great electro tracks of the day. For my money, this is the definitive version of Absurd, boasting a massive climax not even present in the original version. Possibly Cook's greatest moment (give or take Everybody Needs A 303).

Masta Killa

RZA

&

U-God

Digi Warfare

Nature Sounds

Yet another space jam in disguise, this time from the Wu-Tang Clan's Masta Killa. Seeming to offer up a loose breakbeat take on the World Class Wreckin' Cru's Surgery, this record teems with richly demented strings weaving through the ether as four-dimensional breakbeats work out their logic beneath. I've always loved traxx like this that hang in there around 110 BPM — that interzone between house and hip hop — plying a deep digital funk existing in a fertile, under-explored territory that remains ripe with possibilities.

Tony! Toni! Toné!

Tonyies! In The Wrong Key

Motown

This is a strange one, buried deep within Tony! Toni! Toné! third record Sons Of Soul (the There's A Riot Goin' On of new jack swing). From within a sumptuously multi-textured soundscape, Raphael Saadiq sort of half-sings his way through the verses while the rest of the group drops in periodically for the nagging refrain. Tumbling breakbeats — a hallmark of this LP — shuffle beneath it all as dial tone punctuates the endless, rolling rhythm and occasional snatches of blues guitar flicker in the shadows.

Murky Waters

Check Yourself

Pranna Mix

Main Squeeze

The original has always reminded me of Songs In The Key Of Life-era Stevie Wonder, but this dark remix on the flip warps the vocals into oblivion over an eerie slice of electronic jazz that seems to soundtrack some bizarre nexus between daydream and nightmare. The turn of the century was a great time for this sort of thing, culminating in a warped permutation of the neo soul sound that would continue to throw shapes across the ensuing decade.

Blue Öyster Cult

Screams

Columbia

Gothic biker rock from this thoroughly conceptual band-in-a-box. This from their self-titled debut, an utterly essential hard rock record. The unique thing about the early Blue Öyster Cult is that they come on like a Nuggets-era garage punk group that's stumbled upon heavy metal, maintaining the same sense of raw, unstable propulsion that one expects from The Seeds or the 13th Floor Elevators even as the darkness comes creeping in. When that slow motion chorus hits its like plunging deep into the Black Sea.

Viernes 13

Piérdete Chica

Viernes 13

Only recently discovered this crew when they opened for The English Beat last month, where I was totally floored by their live show. I've been rocking both their records ever since, tending to prefer the dust and grime of their debut's sun-baked boleros to the new record's pristine polish, capturing as it does the idiosyncratic brilliance of the band's live show.

Family Of Intelligence

Vernon Smith

The Fruit

Kemet

From the undeniably awesome Champion Jungle Sound double-LP on Kemet. If you want to get at the essence of jungle — its very DNA distilled in the purest form — then this should be your first port of call. I dropped this back to back with the previous record in the spirit of those old Recent Abduction shows where I'd occasionally operate the soundsystem for the band, spinning a mix of jungle and dub between set after set of local punk rock.

Dr. Alimantado

Ride On

Greensleeves

One of the great deejay LPs — indeed one of the great reggae LPs period — this features Dr. Alimantado toasting mad science over rock hard backing tracks, his singular personality towering over a smeared, sun-glazed psychedelia that stretches for miles. Everybody needs a copy of this record.

The Herbaliser

Put It On Tape

Ninja Tune

Circa late 1998 — in a moment of existential frustration — I remember saying to Snakes I just want to play trip hop in bars, which became something of a running joke at the time. This one of those records that makes me think of that era. Not a great LP, but it does feature the presence of a then-unknown Jean Grae — trading under the name What? What? at the time — in one of her earliest appearances on wax, plus a couple of instrumentals that have remained with me ever since.

George Duke

Peace

MPS

This and the next tune were made for each other. Those gently cascading Rhodes wash over everything. Such beauty! George Duke imbued everything he did with a generosity of spirit that really does shine through in the grooves. I was saddened to hear of the man's passing a couple years back.

Cheo Feliciano

Mi Triste Problema

Vaya

Salsa luminary's belated solo debut after over a decade in the game, providing vocals for the likes of Eddie Palmieri and Joe Cuba's bands. After a rough patch that found the man in the throes of heroin addiction, he quits cold turkey and cleans up for good, getting it together in the studio with songwriter-auteur Tite Curet Alonso and an ace backing band including Johnny Pacheco, Bobby Valentin and Justo Betancourt, crafting these gently rolling, velvet soundscapes in the process. It's hard not to picture the sleepy seaside of Ponce — those gently rolling hills rising in the distance — on hearing these gently aching grooves.

Dee Dee Bridgewater

Night Moves

Elektra

Now this one I can't even begin to explain. Soul jazz chanteuse Dee Dee Bridgewater covers the theme tune from Arthur Penn's Night Moves — starring Gene Hackman — resulting in this breathy dreamtime confection, all shuffling breezy rhythms and liquid Rhodes. Did the original even have lyrics? From Just Family, the first of her stellar three album run on Elektra, which found Bridgewater navigating the disco era with finesse. It's almost surprising that this tune isn't more widely known.

Tricky

Brand New You're Retro

4th & Broadway

From the trip hop visionary's epochal debut. I've gone digital about this one before, and no doubt will again and again, as it is without a doubt one of my favorite albums ever. I never tire of this track's rush of adrenaline smack in the middle of such strung-out surroundings. It is, along with the Public Enemy cover, the sound of fury on wax. It's a shame that the rough edges of trip hop were beveled away with such haste. Many of the genre's wilder numbers remain among its very best.

Can

Half Past One

Harvest

Late-period Can gets short shrift, but if they'd been an entirely different band no one had ever heard of — without those legendary early records hanging over them — I'd reckon people would be blown away by what they heard. Everything from Landed onward compares quite favorably with Remain In Light-era Talking Heads, and stands on its own as a sort of shimmering fourth world psychedelia.

Millsart

Dr. Ice

Axis

Turn of the century Jeff Mills in Detroit classicist mode, which might make the skeptics snicker. Whatever. The man had put in so much time living in the 23rd century, who could fault him for taking some downtime to his machines sing like The Temptations? Here he conjures up the same sort of lush techno you'd find on the space jazz records he did with UR, records like Nation 2 Nation and Jupiter Jazz, deftly imbuing everything with the same sharp-tooled precision as his Purpose Maker material. The sound of casual utopia.

Neneh Cherry

Buddy X

Inspired by......!?!

Circa

Do people consider Neneh Cherry to be trip hop? I've always heard her as a contemporary of Soul II Soul and Smith & Mighty, a fellow traveler operating in the same sonic space. Innovators all, in other words. This incredible tune is so functionally tight — yet at the same time spiritually loose — that it seems almost improvised, even in the face of those furiously programmed whiplash beats and Neneh's righteously eloquent message.

Smith & Mighty

Alice Perera

I Don't Know

12" Mix 1

Studio !K7

Speaking of Smith & Mighty, this slice of paradise in its purest form is without a doubt the crew's peak (although I tend to love everything they touch). Shimmering roots 'n future in a deep way, this of-the-moment machine soul could have been huge given the right set of circumstances.

Them

It's All Over Now, Baby Blue

Deram

From the second LP by this storied rock 'n roll crew, this finds them stretching out into folkier territory than ever before (prefiguring Van Morrison's later direction). Here, his breathtaking croon pushes the tune onto a deeply spiritual plane. Perhaps everyone knows this as the basis for Beck's epochal Jack-Ass, but this truly stellar take on the Bob Dylan standard should be more widely heard.

The Crooklyn Dodgers

Crooklyn

MCA

New York hip hop in excelsis, this features peak period production from Q-Tip while Masta Ace, Buckshot (of Black Moon) and Special Ed trade verses about the seventies (the days when kids didn't act so crazy). From the Spike Lee joint of the same name, this perfectly captures the same sense of gentle nostalgia felt throughout that film. Humorously, even as they're all reminiscing on the seventies, it makes me nostalgic for the nineties of my youth!

Stone Temple Pilots

Seven Caged Tigers

Atlantic

Bringing it all back home. Scott Weiland, yet again. This from the Stone Temple Pilots' Tiny Music... Songs From The Vatican Gift Shop, which found the band teasing out the edges of their muscular hard rock with gentle psychedelic flourishes, the odd touch of lounge and even jazz funk (but only for a moment!). I've always thought this tune had a deeply reflective, almost zen cadence to it, like a man coming to terms with his place in the world, the very sound seeming to radiate a sense of supreme inner peace...
Credits
Time stretching: Johnny Blount and Nautilus Jones.
Vibes: Metal Box, Trans Am, 1997.
Footnotes

1.

Fleisher, Eddie. Machine Funk. Wax Poetics, No. 32, 2008. 54-60.

2.

Little Computer People. Little Computer People. Electro Pop. Rother, Anthony. Lewandowski, Piotr J. Psi49net, 2001. Music Video.