The Jungle record came out a year ago today. It's crept up on me in a big way over the course of that year. At first I almost heard past it — pleasant enough, I suppose — but as much as I casually dug the record, I hadn't yet totally succumbed to it's brilliance. Then Sari took me to see them live at The Belly Up Tavern last September.
In the context of the live show, every corner of that venue teeming with such deeply atmospheric dance music, I was totally drawn into their trip; finally everything made sense. You could feel all manner of young people having their first rave experience to this music, eyes closed, hands in the air and dancing with wild abandon. Immersed in the vibe. It lives on even now?
I know that in my case it all took me back to a youth spent dancing in nightclubs and out in the desert to whatever strains of house and techno I could find in San Diego at the time. Cruising the city streets between work and school and the lab, bumping Stacey Pullen and making beats whenever I had the chance. Lot's of time spent digging in the trenches with my head in the clouds. Downcast but not out.
The wild shapes and sonics of that music's synthesized pulse kept a young brother's head up and feet moving forward. And forward. Fast-forward to the present. Now here was a live group on stage conjuring that same atmosphere, sidestepping any familiar rock concert forms to approximate the sound of the deepest of grooves coming off a hot 12" in the club — reworked from scratch backwards in widescreen and bang up to date.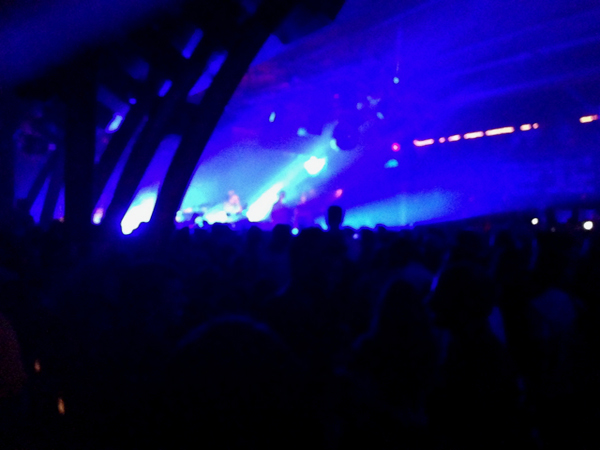 The record itself is fantastic. I was baffled by the veil of silence that seemed to cloak this album in the music press. Any coverage the group did happen to garner seemed to focus on the most superficial aspects of their profile. Much has been made of the crew's mysterious nature, for example, but growing up as I did on crews like Drexciya and UR (operating in the shadows at all times), in Jungle's case it just seemed to be some cats who wanted to let the music speak for itself. And speak for itself it certainly does. Yet when all of the 2014 end-of-year polls rolled around, I couldn't find it even mentioned in a single list that I checked! What gives?
This was without a doubt my favorite album of the year, and one of a handful of occurrences that made me want to return to writing about music. I planned to fire this site up in late October just to talk about the record, but various real world concerns pushed that plan up until January. Then, as the year wore on and I got back in groove of writing once again, it just never seemed to be the right time. I caught them live again a few weeks ago, and realized just the other day that it had been a year since Jungle first dropped... so what better time than now?
Jungle quietly inhabits a place all its own on the sonic spectrum, seemingly formed from a single slab of onyx and then submerged in quicksilver. The songs within seem constructed from pure atmosphere rather than any formal structure or notation. You want to reach out and grasp at its amorphous surfaces even as they seem to slip and slide just out of reach. Its beats threaten to crumble to the touch, often seeming to stagger sideways even as they commence to propel the grooves ever forward. The soundscape seems a blur, smeared against distant lights on the horizon, until you squint to notice the intricate details found within. Worlds within worlds, a dream within a dream.
In a sense, its methodology reminds me of Dâm-Funk's Toeachizown in the way they both seems to spool out widescreen sonic vistas sourced in some half-remembered dream. Drawing both on years of his own g-funk sorcery and the atmospheric boogie of his youth (things like Mtume's Juicy Fruit and Kleeer's Tonight), Dâm-Funk wove moods and grooves from the deepest recesses of machine funk and stretched them across five LPs — a sprawling canvas of two hours and twenty minutes — to create a monument to these dreamtime soundscapes, previously essayed only in fleeting glimpses on b-sides and the odd album cut, resulting in a stone cold slab of perfection.
Jungle's sound itself is different, and the record's length far shorter, but it seems to spring from the same drive to build a world of its own from some dream half-remembered. The experience of listening to this record is like nothing so much as that moment when you absorb your surroundings for the first time in a strange new city: it seems wholly distinct and yet there's nearly always something that will make you say déjà vu. A cul de sac or stretch of road, a building or bit of hillside that almost feels like some mirror image of home. This record embodies that feeling, coming on like some solarized vision of the world you've known.
On one hand, its tempting to compare Jungle to groups like Hot Chip and The Junior Boys — and maybe that's not a bad thumbnail on the face of it — but those groups always seemed to be coming at dance music from an indie rock mindset, much like Scritti Politti or Orange Juice did in their day. Neither does Jungle's music truly sound like any of those groups. You'll also often hear allusions to neo soul when describing the group's sound, but that's a red herring as well. This music is soulful, no doubt, but its sound seems to spring from somewhere else entirely. Like Escort and The Sunburst Band, this is post-disco dance music through and through. The only trouble is, Jungle don't really sound like those groups either.
What the record immediately made me flash on were the spaciest passages of the Metro Area LP, especially its lush second side (Soft Hoop and Caught Up, in particular). Those tactile, spongy basslines, the sense of longing stitched between the glistening lines, and that same overwhelming sense of four-dimensional ATMOSPHERE. Loping grooves half-lit in neon, a lone street lamp and the moonlight. Jungle operate in a similar dubbed out terrain, even as they extrapolate it out into a cinematic scope that makes the most sense in big rooms or under the open night sky. It's perfect that this came out on an imprint like XL, with its well-documented roots in rave culture.
The other comparison that I would make, appropriately enough, is Chicago's Jungle Wonz. A collaboration between Marshall Jefferson and Harry Dennis (also of The It), Jungle Wonz dealt in ambient house before the phrase had even been coined. Records like The Jungle, Time Marches On and Bird In A Gilded Cage fused three-dimensional bass pulses, lush cascading synthesizers, environmental sounds and dreamlike vocals to establish a mood of endless longing. Where Harry Dennis was a street poet, expressing his ideas in spoken word, Jungle trade in fragile falsetto (I'm occasionally reminded of the Fine Young Cannibals' Roland Gift).
Marvin Gaye's Trouble Man OST, a recurring Parallax favorite, is the third and final comparison I could make. That may seem to contradict my earlier dismissal of the neo soul tag, but bear with me. What I hear in Jungle is a similarity in atmosphere to instrumentals like "T" Plays It Cool and "T" Stands For Trouble; an atmosphere that threatens to overwhelm the songs themselves even as it's kept in check by beats and synthesizers tapping out a steady pulse. Chords press on in the face of a hard life, the odds stacked against at all times. One is reminded of Bobby Bland's immortal words: Ain't no love when you're living in the city.
---
Album opener The Heat, with environmental sounds of the street bleeding into the mix, illustrates this point perfectly. Right on time, backed by the beach... still gon' bring the heat. An organ runs resolute beneath the beat, pressing forward as a falsetto intones pure longing. Distant sirens run throughout. Something strummed, not an instrument but pure atmosphere strummed from some combination of sources. Or formed, perhaps, from the depths of some machine? Conjured from thin air, even. That amorphous sense of sound permeates the whole of this record, cloaking its every corner in a veil of illusion.
The pacing throughout is perfect. Absolutely perfect! Accelerate comes on like some downcast permutation of The Heat. Can I get the car to jump start, please?, intoned in desperation. Everything just seemed to happen at once. Sentiments that I've understood well, and I suspect you have too. I just can't push on any further, won't you cut me a break just this once? Sari told me that it always makes her think of me. That woman knows me too well!
Those guitars that creep in during the tune's second half seem to recall the mood of Roxy Music's Avalon, only heard from within a dream. The masterful Crumbler seems to channel that same vibe through the prism of Love Inc.'s Life's A Gas — shot through with that same sense of ambient bliss — even as those great churning synth figures rev like an engine beneath the whole thing, rushing and overflowing before sinking into the ether again.
This record is above all a mood piece, but there's a couple relentless club burners hiding in its depths. Julia builds up from skeletal verses into the all-out assault of its chorus, tension ever escalating. Busy Earnin', which seems to be the biggest single so far, for some reason always makes me think of the opening sequence in Rocky II, in which Rocky Balboa and Apollo Creed are rushed to the hospital after the big fight. Its sentiments do seem to capture the prevailing mood of today. Feeling like nothing so much climbing out from some abyss, every beat — every step — taking you closer to the surface, those horns (not horns) climax in a fury.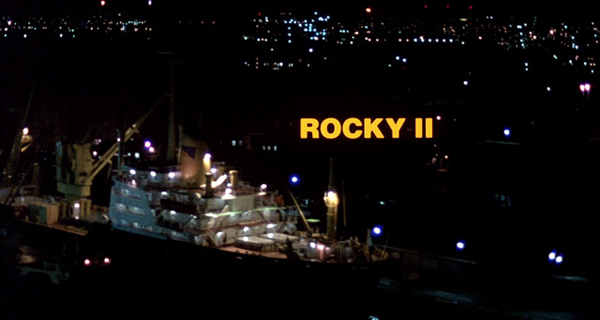 Platoon follows, once again illustrating the absolutely perfect sense of flow and pacing in this record. A downcast mirror image of Busy Earnin', it pushes forward on a low key Reese bassline and some siren song that could be vocal or synthetic in origin... or perhaps something else entirely. The driving pulse of its buildup ever unfurling into gentle pools of texture before eddying into another glimpse of the divine. That's the secret of this record: even as it reaches for the epic, it manages to never come off as forced or bombastic, everything remains undercut by a sense of longing. Dread even. Each step may take you closer to where you're going but then the destination seems to be moving too.
There's this whole other aspect to this record that seems to key into that same headspace that much of the greatest trip hop did (think Terranova's awesome Tokyo Tower). Drops' crawling beat staggers along, barely keeping together. Textures unfurl gently, the creaking of a door somehow worked into the rhythm. Barely keeping on. Indeed, as the record staggers toward its denouement, this spirit really does seem to tip over into dread. Son Of A Gun seems to struggle to press on, threatening to collapse at any moment, often cutting the beat to retreat into its gloomy refrain.
The flipside of the coin: no matter how bleak this record may turn on you, there's always a glimmer of hope hiding somewhere between the lines. Lucky I Got What I Want seems to have an almost zen-like acceptance of the passing of time, submitting to the way of the world. It's elegiac refrain simply asks Don't you forget about me, before ultimately drifting into the ether.
Lemonade Lake slips quietly into view like something from Warp's Artificial Intelligence series, unassuming keys playing out right there in plain sight, before exploding into lustrous moonlight. Sequences run up and down the spectrum as this river of pure sound, lush as you could possibly imagine, flows steady beneath. This is the sound of the night's own internal logic working itself out, however it may transpire. The record ends on an electronic hymn, and then silence.
---
One day, out of the blue Sari noticed that a group called Jungle were playing at The North Park Observatory. But was it the same group? It seemed unclear. Being such a die-hard fan, she sprung for the tickets anyway. It turned out to be the same Jungle after all, and we would get to see them once more. Before the show, a DJ warmed up the crowd. I heard him spin The Bottle from outside the club. We made our way inside. Without the presence of an opening act, Jungle took the stage.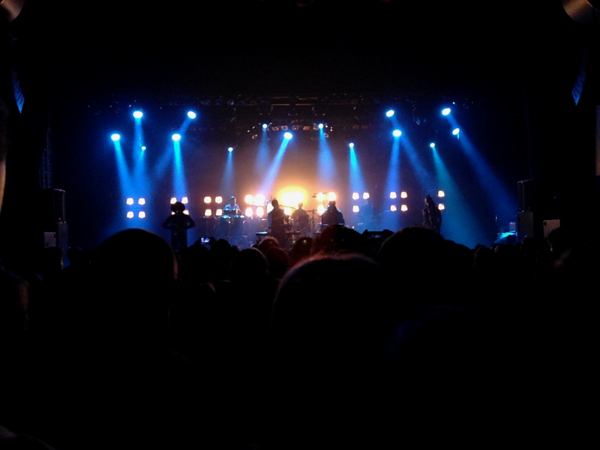 The group began to fill the venue with the Morricone-meets-Get Carter-meets-Moroder inflections of Smoking Pixels, the record's lone instrumental. With the group's casual, eerie whistling, the room filled with anticipation. Massive lamps cast their figures as stark silhouettes against dazzling colors shining down from the rafters. I was reminded of the time I saw Secret Machines perform at Soma back in the day (Fall 2004, if memory serves), where they had these massive lamps blasting white light into the crowd from behind the band. The effect made it feel as if you were in the closing scene of Heat. Jungle's seemed to recall American Gigolo, or even Drive, cloaking the room in that same sumptuous palette.
The Observatory show was, if anything, even better than the one at The Belly Up. Their stage show had graduated in scale without sacrificing any of its intimacy. Passages in the songs opened up into new avenues. There was a point, in Drops I believe, when the sequencers took over and began spinning fractals out into space. Sari had it pegged as sounding like Tangerine Dream circa the Thief OST. The group encored with Time, the record's latest single, its endless cascading waves of sound — bass resonating on three separate planes, each morphing into the other — a perfect note to close on. It turned out that this was the final date of their North American tour.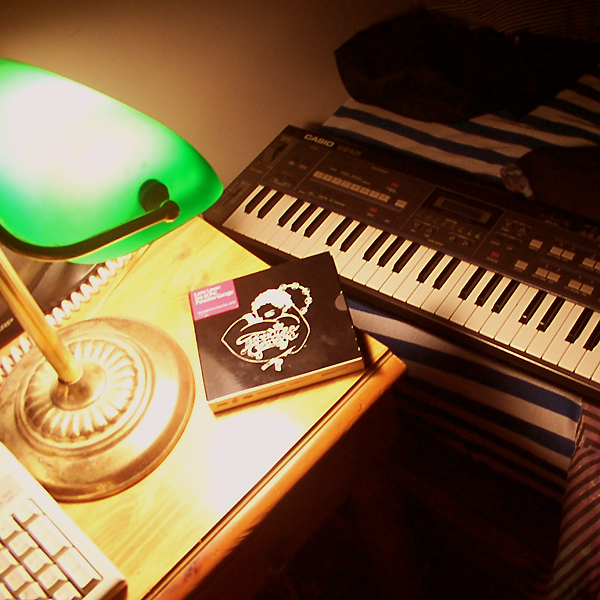 I can't think of a moment in my life in which, had this music existed at the time, I wouldn't have been blown away. It seems to exist in a space all its own, hovering just out of reach between any number of sonic possibilities that I've called home. Indeed, as we started to file out of the Observatory, a thought that had been materializing in the back of my mind for months finally came into focus: this is exactly the sort of record that Larry Levan would have caned at The Paradise Garage.
---
The DJ played Water Get No Enemy as we walked out into the streets.