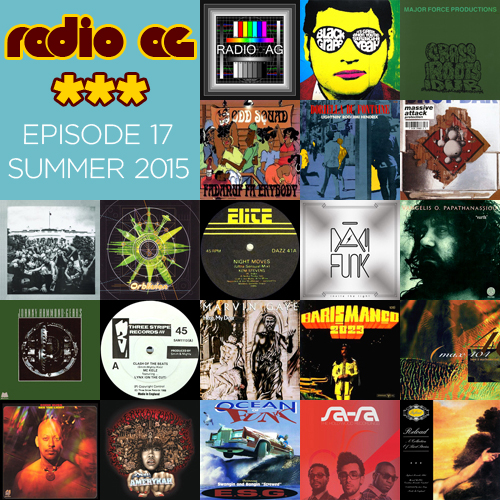 Coming at you in the last possible moment... here's a mix for the end of summer! Smack in the middle of a heatwave, you wouldn't know it to look outside. Sometimes, you've gotta heat it up in order to cool it back down.
Listen Now
The Parallax Sound Lab

Radio AG Intro

Welcome to the madness...

Black Grape

Little Bob

Radioactive

Shaun Ryder's post-Happy Mondays project finds him in league with one-half of the Ruthless Rap Assassins, just in time to bridge the gap between Madchester and the dusted big beat excursions just around the bend. This is the closing track to It's Great When You're Straight ...Yeah, a record I'd almost forgot about until very recently. It's even better than I remembered, and ended up being my soundtrack to this past summer.

Major Force Productions

Sax Hoodlum

Major Force

A massive slab of breakbeat noise from this Japanese crew. Major Force were at the cutting edge of sampladelic hip hop, operating in parallel to figures like Bomb The Bass and The 45 King. This record came out a bit later, but still arrived in time for its fat, feedback-drenched basslines to predict The Chemical Brothers in Block Rockin' Beats mode. Mo Wax, in one of their periodic coups back in the nineties, put out an essential box set covering a wide swathe of Major Force's stellar output. It's still surprisingly findable, so don't hesitate!

Odd Squad

Jazz Rendition

Rap-A-Lot

Absolutely scorching moves from this Texas crew (featuring the inimitable Devin The Dude), flowing ruff, rugged and raw over a hype breakbeat and jazz shapes in fast-forward. I always did like a good uptempo rap, and this is about as good as it gets. The group's sole full-length, Fadanuf Fa Erybody, is a masterpiece of jazz-soaked Southern hip hop.

Lightnin' Rod

Jimi Hendrix

Doriella Du Fontaine

Celluloid

Jimi Hendrix and Buddy Miles jamming with Lightnin' Rod (Jalal Nuriddin of The Last Poets) back in 1969. As far as I know, it didn't see the light of day until 1984 when Celluloid issued it as a 12". You can see the basis for Hustlers Convention in not only its absorbing tale but that unstoppable, ever-building groove.

Massive Attack

Horace Andy

Light My Fire

Live

Wild Bunch

I actually heard this version before I got to hear the The Doors' original. It totally spun me around at the time, stripped down as it was and yet at the same time teeming with those half-lit rootsical vibes. That's Bristol for you. Daddy G hypes the crowd while Horace Andy does his inimitable thing over rugged breakbeats, video game bleeps emerging scattershot from the mix. When the horn solo hits, I'm 15 again.

Kendrick Lamar

King Kunta

Top Dawg

To Pimp A Butterfly is a truly staggering album, housing a breadth of vision that is only surpassed by its depth of feeling. Hear it a dozen times and you've still only scratched the surface. I have a feature kicking around somewhere that places it squarely in the continuum stretching from Electric Ladyland to America Eats Its Young and beyond. I'll need to dig that up sometime. King Kunta plays like a call to arms, its momentum a chain reaction that builds and builds as Lamar's relentless flow culminates in a glorious will to power. You could write a whole book on this LP.

The Orb

Toxygene

Island

Toxygene apparently began life as a remix for Jean Michel-Jarre's Oxygene 7-13, but was ultimately rejected by Jarre and wound up on The Orb's Orblivion. Its blunted 4/4 dub stylings seem to draw on the sound of earlier classics like Perpetual Dawn and Blue Room, even as it threatens to surpass them in its carnivalesque grandeur and that casually monolithic stomp.

Keni Stevens

Night Moves

Ultra-Sensual Mix

Elite

Ever since seeing Night Moves (with Gene Hackman), I've made it a mission to check out any song of the same title (even if Dee Dee Bridgewater's version, as heard in the Spring Mix, was already comfortably in the stacks by that time). I can't explain it, it's just one of my thangs.

At any rate, I chanced into hearing this one and then managed to find it for next to nothing shortly after. It's quite simply one of the great atmospheric soul records of its era, up there with Mtume's Juicy Fruit and The Isley Brothers' Between The Sheets. The Ultra-Sensual Mix reshapes the original rhythm into a form not unlike Flynn's light cycle, grooving light years smoother as if over the grid itself. Beyond that, it's pure atmosphere... reverb-draped vocals echo out into the distance while neon blue vectors scroll beneath a vast twilight landscape, crescent moon shimmering in the night sky.

Dâm-Funk

We Continue

Stones Throw

I was lucky enough to catch Dâm-Funk at The Casbah a few weeks ago in what turned out to be a sold out show. It happened to be the same day his new album came out, so I snapped up a copy with the quickness. It finds the man emerging from behind his synths and taking the mantle of frontman, plying a sort of Ready For The World-esque electric funk. I've always loved the way he seems to split the difference between r&b and techno, and this finds him continuing in that mode. True machine soul.

Vangelis

Let It Happen

Vertigo

Liquid, soothing kosmische folk from the man behind Blade Runner Blues. Crystalline Fender Rhodes dance across drifting currents of Mellotron in an utterly absorbing swirl of cosmic psychedelia. Pure, glistening dreamtime music. This is one of those songs that everyone should get to hear at least once.

Johnny Hammond

Shifting Gears

Milestone

From the album Gears, one of the all-time greatest jazz funk records, sporting what may be the very best Mizell Brothers production of them all. Perfect soundscape after perfect soundscape. Keys in liquid Rhodes cascade over rubberband basslines and crisp drum breaks; chants echo and repeat, existing as pure texture throughout. Another Green World music.

MC Kelz

Lynx

Clash Of The Beats

Three Stripe

A Smith & Mighty beat for MC Kelz on their own Three Stripe imprint. If you're at all familiar with the duo's records then you know Kelz from later tunes like Seeds and the DJ-Kicks/I Don't Know remix. With Smith & Mighty, you can almost always count on those great three-dimensional beats cutting jagged through the mix, raw and with a true physical heft to them. This track later figured into The Three Stripe Collection, an unmissable mop up of classics from the label's short-lived run.

Marvin Gaye

Anger

Tamla

Perfection. I generally think of this as a rainy day record, but then I play it in the dead of summer and its gentle ARPs sound sun-glazed and the trees seem to sway with its beat in the sunset. It's that Gaussian-blurred blunted quality that draws you in, and the nonchalant inevitability of that descending bridge that keeps your ears reaching out, as if grasping for the horizon.

Barış Manço

Baykoca Destani

iii. Kara Haber - Turnanin Ölümü

Yavuz Plak

From the epic suite that takes up most of the second side of his 2023, these flutes draw that beat out into the abyss.

Max 404

Steinfeld, Summer. 1982

Eevo Lute

Conversely, this is most likely a rainy day record even as I often peg it as a summer one. I remember finding it at the El Cajon Music Trader in the dead of August way back in the day. Here's a record that I wasn't expecting to ever get to hear, just sitting in the racks for a couple dollars! That shop was such a great font of electronic music almost in spite of itself (I need to write about this sometime). To this day, I can't imagine who was selling this stuff back used... but I'll always be grateful for the opportunity to have scooped it up at such an early stage in the game.

Eddie Russ

Salem Avenue

Monument

This one was a Kirk Degiorgio tip-off, from his Op-ART Hall Of Fame breakout of classic jazz and soul records. Another sterling jazz funk record, this time poised at the precipice of the disco age. Recorded at United Sound Studios, where George Clinton laid down his slew of classics around the same time, this is crammed with synths that seem to spring from the earth itself. The sleeve perfectly capturing the sun-kissed sounds contained within. Salem Avenue itself is exquisitely lush and deep-glazed in the heat of late summer. You can practically feel the steam rising from the asphalt.

Erykah Badu

That Hump

Universal Motown

From New Amerykah: Part One 4th World War, a record that has gone on to have lasting repercussions in the intervening years. I see the spirit of Black Messiah and To Pimp A Butterfly prefigured in this record's deeply furrowed grooves. The spectre of J Dilla looms large over the proceedings, while SA-RA were behind the mixing desk for large stretches and seemed to have had a huge hand in shaping the record's spaced-out, machine soul sound.

E.S.G.

Anticipation

Perrion

Quintessential low slung Texas hip hop, crafted by this central member of DJ Screw's clique. A heartbreaking record that happens to feature a gorgeous sun-kissed beat that rides a sizable portion of The Bar-Kays' song of the same title, rolling in languid slow-motion.

SA-RA Creative Partners

Hollywood

Redux

Babygrande

As good a tune as any to illustrate the sort of music that I like. SA-RA were important to me because they seemed to make explicit the line stretching from machine soul like Mtume and Kleeer forward in time to Model 500 and Carl Craig into Timbaland and The Neptunes, a line that gradually became apparent to me around the turn of the century. Like Dâm-Funk, SA-RA seem to split the difference between r&b and techno, coming at it from a deeply spaced out, prog-inflected angle. Hollywood Redux itself sounds like nothing so much as Supa Dupa Fly beamed into Deep Space in search of an Intimate Connection.

Reload

The Enlightenment

Infonet

Another chance encounter in the used racks, this time on the second floor of the Wherehouse across the street from Grossmont Center (do I ever miss that place!). I was pleasantly surprised to see this record feature in Fact Magazine's The 100 Best Albums Of The Nineties1 recently. This record was something like Global Communication's unofficial debut, wherein savage industrial passages alternate with some of the most gorgeous ambient you could imagine (hinting at the inspired, schizophrenic path the duo would blaze throughout the rest of the decade).
Credits
Edits: Do'shonne and Slye.
Time stretching: Do'shonne and Nautilus Jones.
Vibes: Atari 2600, Kleeer, Lake Murray, Jazz Mosaic, Sittin' On Chrome.