A month ago today, Dâm-Funk rocked The Casbah. It was the first day of the tour, which I later found out would coincide with the release of his new album Invite The Light. His last solo full-length of new material was also his debut, 2009's massive Toeachizown. Firmly grounded in electronic funk, it used g-funk, r&b and techno — sounds that were crucial in my own musical life — as a launchpad in Searchin' 4 Funk's Future. For me at least, it's been one of the key records in recent memory.
I've kept up with his trajectory since then, including his archival Adolescent Funk compilation as well as collaborations with Steve Arrington and Snoop Dogg. All the while, I've been patiently anticipating another solo record, so I was excited to lay my hands on a copy and hear the direction he's taken his sound since.
We rolled into the venue early in the evening as The Junkyard Band bumped out from the dancefloor. The Cookie Crew DJ's were tearing it up on the decks, spinning a blend of down and dirty electronic funk — a perfect warm up for the evening to come.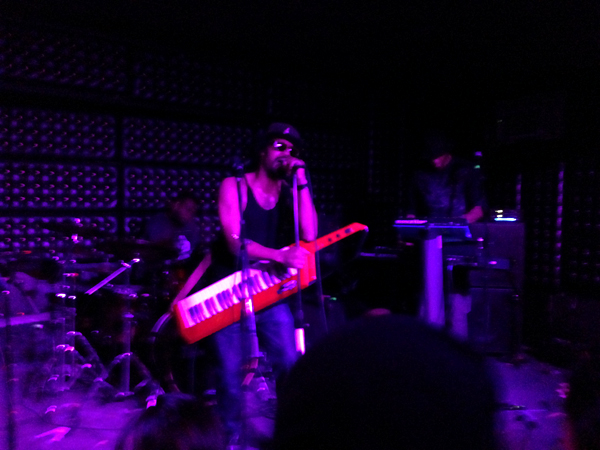 Dâm-Funk hit the stage with his live band in tow, kicking into high gear from the jump; I'd almost forgotten how hard live funk could hit. I've seen some footage of him performing live on stage in the past, but this was him taking it to a whole other level. He'd truly polished his game and come into his own as a frontman of this lean and mean three-piece band.
Many of the extended, Pacific endless trax from the Toeachizown days had been revamped with lyrics and loosened up with a tensile center of gravity. The band jumped into an updated take on Mirrors — that preview of things to come on his debut — and it still sounded like the futurist optimism of Detroit poured into one ray of elusive sunlight and scattered through a prism into the sky.
Indeed, long stretches of the show stepped confidently into techno territory. O.B.E. (Out Of Body Experience), from the new album, seemed to recall Underground Resistance circa their masterful Galaxy 2 Galaxy series of records: that same sense of astral jazz exploration — shot through with deep electronic shades and timbres — gliding reckless across the dancefloor. 4 Hero's shimmering synths on their epochal Parallel Universe also come to mind, along with the dubbed-out stomp of The Orb, whose track of (nearly) the same title... well, I've only just now realized what it stood for!
It dawned on me that Damon Riddick just might be the West Coast analog to one Kenny Dixon Jr., crafting a double-gatefold vision of post-electro music that stretches beyond one record or the next to populate a vast mosaic of sound; each of these auteurs seem to be hard at work creating their own musical universe. Coincidentally, they both seem to have edged closer to Prince in their delivery (see Moodymann's Det.riot '67 and Dâm's new record, for example).
There were serious Purple Rain vibes running through The Casbah show, a sense of grandeur that the venue struggled to contain. At one point Dâm launched into a heartfelt paean to some distant lover that had him dropping to his knees, James Brown-style, repeatedly throughout its seemingly interminable (in the best possible sense) run. The tension was undeniable. Another moment found him in the middle of the dancefloor, stretching his keyboard out for the audience to play.
The show ended with an encore consisting of Dâm getting behind the drum kit and running loose-limbed through a selection of stone cold funk classics like Rick James' Mary Jane, Slave's Just A Touch Of Love and Cameo's Candy, connecting his own music with a rich lineage of electronic funk even as he leans bravely toward the future. All 'N All, it was a transcendent experience, in which the small venue transformed into one great pulsing ultraviolet dream.