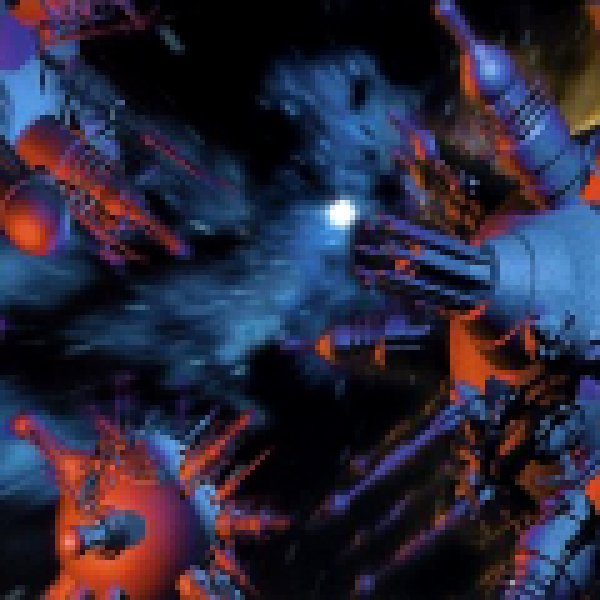 A few years back, I started a limited series in which I'd post a weekly tune that was locked into the celestial. I called it Deep Space Music. It was loosely inspired, as is much of what I do, by something a bunch of forward-thinking cats did in Detroit back in the day. In this case, it was Deep Space Radio, a series of transmissions made in the mid-nineties in which people like Derrick May and Kevin Saunderson would spin far out techno and house over the city's airwaves, culminating in Saunderson's masterful X-Mix: Transmission From Deep Space Radio mix.
My own excursion was a much more minimal affair, hosted on the old version of this very site, titled (rather unimaginatively) Deep Space Music. It involved simply tossing up one tune a week — for just under a year — from one summer to another, spanning between 2012 and 2013. The idea was that each song would flow into the next as one long suite, thematically speaking, the patchwork whole unfolding like the weekly sci-fi serials of old. At any rate, it proved to be an enjoyable exercise and hopefully tuned some people into some great music in the process.
In researching a monster piece I've been working on lately (and coming at you in the near future), I'd been digging through the interplanetary archives and — in the process — discovered a tracklist of all the tunes that featured in the series. I'd nearly forgotten about the whole enterprise, but seeing as it fits in thematically with the trip we've been on lately I thought it might be illuminating to beam the results back to earth, commenting on each selection in the process.
You'll notice that a lot of these tunes have continued to crop up in the intervening years, via mixes and even featured in The Parallax 100, which should highlight the centrality of this selection to my own musical tastes. All of these should be relatively easy to get your ears on nowadays, via Youtube or some other means (like picking up the record, perhaps), so if something sounds enticing you know what to do...
Deep Space Music:

Slight Return

Ashford & Simpson

Babies

Dub Version

Capitol

1984

The journey starts with rolling drums and guitars chiming off into the event horizon. Spacious pads with a gravitational pull all their own drift through the mix, that gently chugging bassline seems to propel this ship through the vastness of space in ethereal slow-motion. Don't you know that I live for this sort of thing?

This a François Kevorkian perpetrated dub of Ashford & Simpson's original (from their Solid LP), stretching it out across timespace with just a snatch of the original vocal. When Nickolas Ashford drops right into the mix, singing The love story's true, they didn't change me and you..., the track seems to stop and rebuild itself right before your eyes.

Mtume

The After 6 Mix

Juicy Fruit Part II

Epic

1983

Another flipside excursion, another featuring just a snatch of vocal input and another one of my favorite songs of all time. The original has one of the great synth progressions ever, pulling you in with a gliding futuristic optimism (think Tommorowland), but this second part — stripping the track to its essentials — is true space capsule music.

You find yourself waiting for the synthesized bass sound that just oozes into the track every other bar. Hearing this for the first time was one of those pivotal moments in my life, like a parallel universe unfolding before me, and everything contained within was right up my alley. I remember rustling up the album and 12" within weeks!

This tune and much of what follows are what I like to call Machine Soul, in essence a sonic strand stretching from Mtume through Model 500, into Timbaland and beyond.

Kleeer

Tonight

Atlantic

1984

This one takes me back to sun-glazed days in late summer, playing video games on the Atari 2600 (truly ancient technology by that point in the mid-nineties), tripping out to Solaris and the sound of machine rhythms in the scorching heat. This track was the basis for DJ Quik's Tonite, its rubberband, synthetic bassline spreading deep into the DNA of g-funk. True machine soul, you can picture yourself listening in some perfectly-engineered alien vessel, gliding over a neon vector landscape in the night.

Drexciya

Running Out Of Space

Tresor

1999

Perfection in just under two minutes, this would lend itself to a killer 7" single. That's a whole category unto itself. Sounding almost as if Tonight were fast-forwarded — all sonics twisted and filtered through fifteen years of electro boogie science — the track swoops and shudders on a nimble machine-funk rhythm before dissolving into a majestic, beatless coda. You could run a starship on that. Drexciya of course representing the life aquatic, they seem to be just as much at home in the deep black of space.

Slam

Dot Allison

Visions

Soma

2001

Turn-of-the-century Glasgow. A killer pop song seemingly sprung from the subconscious. The atmosphere heavy like a black hole, that shrouded bassline rising from within, drawing you deeper and deeper into gravity's pull. At the center of it all is Dot Allison), serenading the night skies in a druggy murmur. The song explodes into some psychedelic vision of deep space r&b, glowing shards of funky synthetic sound spiraling off into the stratosphere, northern lights ablaze.

Keni Stevens

Night Moves

Ultra-Sensual Mix

Elite

1985

I've gone digital about this one before. You're gliding across the grid, vectors scrolling under a moonlit sky, landscapes parallaxing in the distance. Keni Stevens drapes his absolute smoothest, most delicate voice over an elegant neon-lit groove, all the parts moving in perfect unity. The vocal and instrumental versions of the Ultra-Sensual Mix run together on the vinyl, giving you eleven and a half minutes of supersonic pleasure.

Sun Palace

Rude Movements

Passion

1983

I've noted before (another repeat!) how this record comes on like Carl Craig and Hall & Oates making music together in an elevator. I stand by that. Eighties smooth jazz isn't supposed to sound this exciting, but every element in this tune mixes together into the perfect palette and, against all odds, feels absolutely timeless. The perfect (quiet) storm.

Yage

Theme From Hot Burst

Jumpin' & Pumpin'

1992

An exclusive from the excellent Earthbeat compilation, an indispensable round-up of glistening techno produced by a pre-FSOL Dougans and Cobain. Crystalline synths drift whimsical over stuttering breakbeats, muted rave sounds trill just below the surface, with everything submerged in a deep, oceanic calm. Almost freeform in its construction, this track simply shimmers.

The Isley Brothers

Voyage To Atlantis

T-Neck

1997

Why don't The Isley Brothers get more love? They're easily the equal of giants like Led Zeppelin or Stevie Wonder. What gives? They have loads of great records. This from their seventies 3 + 3 period — when the group's ranks swelled to six — in which they operated as purveyors of fine funk and peerless, sun-glazed soul. Voyage To Atlantis itself sways in stately slow-motion, exit music for a film. Cosmic, elegiac and beautiful.

The Jimi Hendrix Experience

1983...

A Merman I Should Turn To Be

Reprise

1968

Aquatic, like Drexciya, but in tune with the cosmos. Hendrix got his start playing guitar with The Isleys before going down in history as arguably the greatest guitarist of all (the Forever riff in this song is one of the most inspiring things I've ever heard done with an electric guitar). This record finds him equally adept at using the studio as an instrument unto itself, rolling various movements and spaced out interludes into a nearly fourteen-minute sonic tapestry that works seamlessly as one long, flowing piece. The result is simply breathtaking.

Fluke

Kitten Moon

Astralwerks

1997

The better part of this album, Risotto, is pretty spaced out as a rule, and I could have used anything from the blunted black hole trip Bermuda to the alien frequencies of Reeferendum to make the same point. However, Kitten Moon eclipses all other candidates with its relentless, chugging rhythm and a drop into pure atmosphere that leaves you standing on the edge of infinity.

Kleeer

Tonight

SA-RA

Remix

The SA-RA All Stars

&

Me'Shell NdegéOcello

Rhino

2005

The original Kleeer classic (heard above) has a long history of affection among electronic funk connoisseurs. SA-RA turn in what is, in truth, more an outright cover than a remix. I love how they take the relatively minimal original — a tune that seems deeply influential to their own group's aesthetic — and go all out with it, stretching out in widescreen with a big band in tow (including the inimitable Me'Shell NdegéOcello), with no expense spared. Sparkling in the discotheque.

Octave One

Nicolette

430 West

1991

Octave One embody a certain sonic perfection, working out the internal logic of techno and house to arrive at a streamlined form that sounds unlike anything else. This from their classic Octivation EP, following on the heels of their debut I Believe. Detuned bleeps spill out from a low slung rhythm, the fusion of shuffling 909 beats and a wandering analog bassline, synth washes flowing beneath it all in such a way that r&b stations should've been playing it. In a word, DEEP.

Joe Gibbs & The Professionals

Idlers Rest

Joe Gibbs

1977

Intergalactic dub reggae, sounding not unlike SA-RA holed up at the Black Ark. Hard to believe it's from 1977. Rock hard beats and bottomless bass kick into gear with siren synths blazing high up above. This from the second volume in Joe Gibbs' excellent African Dub All-Mighty series, which I was lucky enough to snag at Reggae World some years back (and just in time to spin at a New Years Eve party later that night).

Leon Ware

Tamed To Be Wild

United Artists

1972

Motorik machine soul from the first solo shot by this songwriter in the shadows. Think Suicide. Leon Ware growls over a chugging blues beat, rolling pianos and electronic bass that zig-zags beneath brooding verses before exploding into that near-gospel chorus. Ancient synths droning into infinity. It's all very Warp Records. Ware well-documented as a songwriting auteur, with Motown and Marvin Gaye, in particular (look no further than I Want You for the proof), benefiting from his way with the pen. Check those credits — from Quincy Jones to Minnie Riperton to The Jackson Five — he's everywhere!.

Jackson And His Computer Band

Utopia

Warp

2005

I remember being stumped as to how to follow up the previous track — so doggedly singular was that grinding tronik soul stormer — but this convoluted electro/house burner from the French auteur Jackson Fourgeaud did the trick. Intricate and overloaded, this track is — simply put — a monster. The whole of it seems constructed from shards of sound — electronic glitches and vocal snatches — shattered into a million pieces only to be reconstructed into a skewed vision of disco, churning under waves of droning sonics before dropping out into that heavenly chorus. Have you ever thought about utopia? Utterly bizarre, yet I challenge anyone not to be hooked by the second listen.

Beanfield

Keep On Believing

Compost

1997

My brother Matt and I used to be obsessed with this tune. Still are, truth be told. One of my go-to tracks in defense of the practice of sampling. This tune essentially mashes up Vangelis' Let It Happen and the Batucada drums from Costa-Gavras' Z (Mikis Theodorakis in full effect), filtering them through deep space sonics and winding up with something utterly singular. But where did those blues vocals come from?

Medeski Martin + Wood

Midnight Birds

SA-RA

Remix

Main

Blue Note

2005

More SA-RA. They're all over the place in this break out! The MMM original is a swaying mirage of interstellar exotica, but the SA-RA version takes it on a wild, tangled trip into the unknown. Busting out wrong-footed on the 4/4 — like if J Dilla made a house track — this multi-part dancefloor burner seems fueled on unstable elements, kicking into a juke joint mid-section before it all collapses inna staggering machine rhythm that just dissolves into stray synths in the moonlight. The life and death of a star.

Jay Dee

Think Twice

BBE

2001

Speaking of J Dilla, this deep slab of downbeat bliss from Welcome 2 Detroit is the square root of all manner of twisted machine soul that's tumbled out of this blessed millennium so far. This could go on for hours and I wouldn't get bored. The Donald Byrd bit that goes Your love's like fire and ice, that's why we've got to think twice, followed by a little trumpet flourish, is catchier than most songs you hear on the radio. Then it flies off on a variation, the piano jukes then goes left, before once again drifting somewhere else entirely.

Smith & Mighty

Alice Perera

I Don't Know

12" Mix 1

Studio !K7

1998

It's beginning to feel almost as if I subconsciously drew from this nearly forgotten list when mixing last year's Radio AG transmissions! I suppose that speaks to their closeness to my heart (aww!). This one's so tied up with my own memories and experiences that I don't know where to begin. You just want to curl up inside the warmth of this song. In the surrounding context, it plays like a companion piece to The Martian's Sex In Zero Gravity: a love from outer space.

Me'Shell NdegéOcello

Come Smoke My Herb

Maverick

2003

Comfort Woman — the record from which this track springs — is on some serious Hendrix-level astral plane, its space rock dynamics swooping and shuddering in graceful slow-motion through the reggaematic machinery of dub. This is deep space as a return to the womb, and it's the swooning blur of Come Smoke My Herb that offers up the record's simplest, most exquisite pleasure: walking on air.

Divine Styler

In A World Of U

Maverick

2003

In between Styler's old school debut and underground return lies Spiral Walls Containing Autumns Of Light, a record that draws on space rock, industrial and fusion as much as hip hop. This tune in particular is coming from somewhere else! There's that inevitable, descending chord progression — guitars running through sheets of chorus, trilling off into delicate metallic solos — rolling drums and Divine Styler's druggy murmur at the center of it all, cut adrift in wholly expansive inner space.

The Police

Walking On The Moon

A&M

1979

Everybody knows this one, and for good reason. Andy Sumner's guitars chime into the endless deep while Stewart Copeland taps out a beat that seems to obey the laws of lunar gravity rather than the Earth's, and Sting sounds without a care in the world. I remember a particularly dark night back in the day when I listened to this song on repeat, non-stop until I eventually drifted off to sleep.

Simple Minds

Veldt

Arista

1979

Early Simple Minds records are doubtless a treasure trove of weird new wave, but you'll also find some of the most atmospheric instrumentals of their era... or any other for that matter. Perfectly conjuring up visions of the titular African plains at dusk, strange shapes shifting in the darkness, this brings to mind Suburban Knight's The Art Of Stalking. I swear that you can hear mid-period FSOL in this densely articulated atmosphere. The first time I heard it, I thought What's going on now?! Today it might be my favorite thing on the album.

Dexter Wansel

Solutions

Philadelphia International

1978

Philly soul craftsman gets loose in the studio, shearing into incandescent jazz funk. The song drifts in and out into radio transmissions — presumably picked up in deep space — chronicling the struggles of present-day Earth. Not much has changed! Wansel croons in silk over luminescent organs and a rubber-synth bassline, fragile and exquisite. A minor r&b hit at the time, it's a wonder this tune isn't more widely known.

The Steve Miller Band

Sacrifice

Capitol

1977

Glorious tripped out pop-psychedelia from the original space cowboy. Crystalline Rhodes shimmer in the moonlight over a downbeat rhythm, while Steve Miller pulls liquid shapes from his guitar and sings moody lines in the foreground. I've always been a sucker for that vibrato thing he tends to do with his voice: What a sacrifiyiyice.... This is, in essence, a jazz funk record. Which leads us into...

Roy Ayers Ubiquity

The Memory

Polydor

1976

DEEP jazz funk. The deepest. Drawing you slow-motion tumbling into a black hole, shadows and sound swirling all around, it seems to have a gravity all its own. Feel Surreal. Those drums are rock hard, pounding a tripped-out beat while deep Moog bass textures curl beneath. Liquid keys shimmer and gamma ray ARPs stream like sunlight through the darkness. Inner space music and subconscious soul, this track embodies the haunting words of its refrain.

Marvin Gaye

A Funky Space Reincarnation

Tamla

1978

Taken from Gaye's exquisite kiss off Here, My Dear. I remember buying the record thinking, Well, it's supposed to be one of his weaker ones but I love What's Going On and then being completely blown away. A Funky Space Reincarnation has Gaye drifting through images of mental deep space travel over a downbeat disco rhythm — sort of half-singing/half-rapping — commenting on the sights he encounters along the way and putting the moves on Miss Birdsong.

Strangely enough, this always makes me think of those rolling ambient house numbers by The Orb like Perpetual Dawn and Toxygene, gently unfurling on an astral plane.

Bobby Lyle

Inner Space

Capitol

1978

I first heard this in a Kirk Degiorgio mix and couldn't believe my ears. This came out when? How?? It's the secret ancestor to Carl Craig's Gaussian-blurred ambient excursions like Neurotic Behavior and A Wonderful Life, and a glorious track in its own right.

Psyche

Neurotic Behavior

Planet E

1989

Which brings us to this, which strangely had the opposite effect: I couldn't believe it had come out so recently. Breathtakingly cinematic and vast in scope, it sounds simultaneously ancient and futuristic, like a sleek alien structure that the scientists can't seem to date. I remember compiling the Parallax 100 and originally planning to include 4 Jazz Funk Classics, but just couldn't resist this record's exquisite shades and absorbing timbres.

Elements is in that grey area of compilations that pull from just one or two years — see also The Three EPs by The Beta Band — but it just works too well as an album in its own right. It gets the pass! And just because his first stuff is my absolute favorite doesn't mean I don't love the rest of it... the man has gone from strength to strength, one of the most consistently compelling producers around.

The Martian

Skypainter

Red Planet

1995

Motorik deep space drive. I've been a big fan of Red Planet for ages, and if I'm not mistaken have everything the label put out (there might be a Somewhere In Detroit record lingering, I can't remember). At the time I just couldn't get ahold of the records, try as I might. I first heard this and Midnite Sunshine (and, come to think of it the very next track as well) on Submerge's Depth Charge 3, a round-up of tracks that from their extended crew. I was in heaven.

Freq

Waveaura

Matrix

1995

This is the other one from that compilation, although its original home was a label compilation for Matrix Records (Sean Deason's label). As far as I know, this never had a release outside those two compilations. Deason was a rising star at this time, in what was called The Third Wave Of Detroit Techno, and I snapped up whatever I could by him. When he was on, he was really on. This spaced out organ jam, a sleek Martian cousin to Paperclip People's Steam, was one of those moments.

E-Dancer

World Of Deep

KMS

1997

I can now recall that there was a bit of a Detroit rally going on at this point. I was feeling good! This tune was actually featured on Saunderson's X-Mix that I mentioned above. It was hot off the presses at the time. Simply put, this is superb machine disco. Deeply psychedelic and absorbing, that bassline just takes hold. Are those synths or are they voices? You just have to close your eyes to this one.

Virgo

Ride

Radical

1989

More dazzling tronik house moves, this time by way of Chicago. Machine rhythms and a cascading bassline suck you into the pitch black, while blurred vocals invite you to take a ride. This is night drive music for a ride to Club Silencio.

Dark Energy

Midnite Sunshine

Underground Resistance

1994

This one from the awesome Dark Energy double-pack on UR. Credited to Dark Energy (aka Suburban Knight (aka James Pennington)), and offering up a flipside to the paranoid dread in earlier records like The Art Of Stalking and Nocturbulous Behavior: anything is possible and the future is wide open. Inspiring stuff. There was a later Dark Energy record that was quite good as well, this time on an electrofunk tip.

Reload

Ehn

Infonet

1993

Taken from A Collection Of Short Stories, which is (if I'm not mistaken) Global Communication's auspicious debut. The record is a grab-bag of disparate styles — from ambient to breakbeat techno and grinding industrial — complete with an equally disjointed set of accompanying science fiction texts. This beauty in this track lies in its sheer inevitability as it works out its own internal logic — the synth's progression and that throbbing bassline, low-key breaks rolling beneath — its off-kilter funk running like illogical clockwork.

Plaid

Spudink

Warp

1997

I've always been quite fond of this one. Its casual futurism is like viewing the Earth through a tiny portal from within the compact close quarters of the international space station... a tin can floating through the vastness of space. There's also loads of stuff by The Black Dog that I could/should have used in this list, but it must have slipped my mind.

China Crisis

Jean Walks In Freshfields

Virgin

1982

This unlikely jewel of space music in miniature lies nestled at the end of China Crisis' debut album, Difficult Shapes & Passive Rhythms. It drops you into the shadow of a nebula and is over in the blink of an eye.

Double Helix

Low Key

Rush Hour

2002

I think this one first appeared on the All Access To Detroit's Music Festivals compilation, but it later got a 12" release. A clockwork rhythm taps beneath a glowing bassline as the deepest of synths roll out into casual infinity. Strangely, this often makes me think of the spaciest precincts of China Crisis' discography (particularly Red Sails and The Soul Awakening).

Kraftwerk

Spacelab

Kling Klang

1978

These gentlemen from Düsseldorf don't have an album dedicated to space, possibly because they already said everything they needed to within the shining six minutes of Spacelab. Partially inspired by the machine disco rhythms of Giorgio Moroder, this sounds like ambient house before house even happened.

Queen

In The Space Capsule

The Love Theme

Elektra

1981

When Dr. Zarkov's space capsule disconnects from the rocket, that guitar strum etches itself into infinity. Queen in soundtrack mode here, this is beautiful like Tangerine Dream. It's the love theme for Dale and Flash, one one level, but on another it seems to gesture toward a universal love for all of humanity (and thus makes it Dr. Zarkov's theme as much as anyone else's). Perfect music for getting sucked into a vortex, I once made an abstract hip hop track that sampled those opening synths.

Mr. Fingers

Stars

Jack Trax

1987

Glorious early deep house from Larry Heard (a legend doncha know?). You've got this gently chugging beat, a bassline that wanders all over the spectrum and shimmering synth sequences that rotate in slow-motion lunar orbit, always threatening to slip just behind the beat but staying in perfect time. Exquisitely psychedelic.

Dâm-Funk

Keep Lookin' 2 The Sky

Stones Throw

2009

Uptempo bizzness from the ever-reliable Dâm-Funk. Seeing him live made me realize that he's something like the West Coast equivalent to Moodymann: operating with the same vital foot in the present, informed by deep crates and a musical lineage stretching deep into the past (just swap out West Coast electro and Solar Records for deep disco slates and Motown). This is one of those moments when you realize that he's making, for all intents and purposes, techno.

Mýa

Sisqó

of

Dru Hill

It's All About Me

Interscope

1998

Produced by Darryl Pearson, cohort of DeVante Swing (mentor to Timbaland), and the sound's rubbed off in this fragile orbital torch song. I remember Simon Reynolds, back in the day, describing how midway through the song everything seemed to rotate on its axis. There's loads of great r&b moments that happen to be built on Art Of Noise/ZTT tunes (a list in itself there), and this must surely be among the greatest.

DJ Mitsu The Beats

Ainjoy McWhorter

Negative Ion

SA-RA

Remix

Planetgroove

2004

SA-RA at their most deliriously decomposed (think Smokeless Highs and Hangin' By A String), but working with such lush source material that it manages to become a great pop moment in and of itself. Shamefully, I don't know anything about DJ Mitsu The Beats, as I only grabbed this remix EP after hearing it played out on SA-RA's Dark Matter & Pornography Mixtape.

SA-RA Creative Partners

Hollywood

Redux

Babygrande

2007

And the men themselves for the grand finale. I can't overstate how epochal this crew have been in my own musical life, like something on the level of Led Zeppelin. They managed to tie together so many strands of music that I cherish and then took them supernova. This is zero gravity r&b, and a perfect end to this unplanned excursion into deep space music.