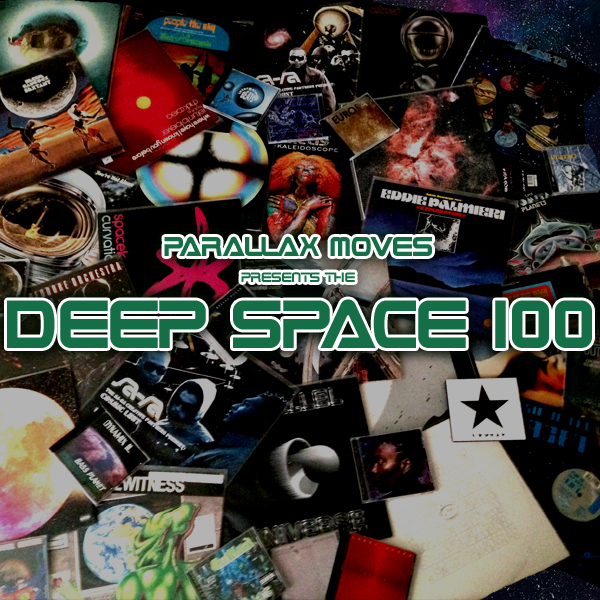 Space. The vastness of which we cannot even begin to comprehend. The crew of the Apollo 13 mission traveled farther into it than any human ever has — 248,655 miles — during their improvised orbit of the moon. By way of comparison, the Milky Way galaxy is 100,000 light years across... that's 600,000,000,000,000,000 miles! And then there's the rest of the universe out there... Hubble gives us a deeper view into it, but we're still talking about just the tip of the iceberg.
Outer space has long been a perennial obsession of mine, and one that I've indulged in freely for the first half of 2016. It kept me going for what you might call a transitional period in my life, during which I aimed to get back to the core of what inspired me to get out there and do my thing in the first place. For that stretch, the Parallax Room became a starship with which to survey the outer reaches of the cosmos through the lens of sonic exploration. The objective was to pull together a brace of records from the Parallax stacks that cleave to space as a theme, reveling in it's vastness of possibility.
The initial plan back in January was to compile a list of twenty records and post the results up here within a week, but it quickly grew far beyond those modest parameters. It expanded well past 120 before reason prevailed and I started cutting some of the more peripheral ones (and a few pretty tough calls too), rounding the list down to an even 100. I did manage to keep an alternate listing of all the records that nearly made it, so I might toss those up here at some point as a footnote. At any rate, I'd love to hear from you about any records that you think I may have missed... I'm always up for a brand new sonic excursion!
---
This list is the culmination of the past six months spent in the outer reaches of deep space. Each of these records is a chapter in the story of music's dalliance with the cosmos, tracing a fascination with the stars through the 20th and beyond. Whatever the current constraints may be with respect to space travel, there's practically no limit to the human imagination. And so, our journey begins, in loose chronological order:
Surely any discussion of music's obsession with space must start with Holst? I grew up hearing this from both my grandfather, who was a classical devotee, and pops himself. Subsequently it was one of the first classical records I ever picked up on. Note also that in 2016 its planetary scope is once again scientifically accurate, as Pluto — which had not yet been discovered when Holst was writing The Planets — is no longer classified as a planet.
Early on, space — and electronic — music were largely the preserve of cinema (see also Bernard Herrmann's use of theremin in The Day The Earth Stood Still). Famously credited as electronic tonalities to circumvent the film industry's music guild regulations, this score had far-reaching implications, in effect cementing the connection between the theme of space and the sounds of electronic music in the public imagination. After all, visions of the final frontier surely must be accompanied by sounds from another world! So strange was the soundtrack in its own time that it wasn't released as a standalone record until the mid-seventies.
Landmark Joe Meek production, inspired by the launch of the Telstar communications satellite in 1962. Using the MO of surf rock as its launching pad, this is in essence the birth of space rock. What is Pink Floyd's Interstellar Overdrive if not a freaked out update of this racing, space-age rock 'n roll? Gleaming possibilities of a radiant future are in evidence throughout (just check the sleeve!).
The Ventures had already covered Telstar on the previous year's The Ventures Play Telstar, but here they stretch the space theme across a whole LP. Containing their own space/surf rock masterpiece Out Of Limits, this record also boasts a cover of The Twilight Zone theme! You can hear the basis of The Plugz' Reel Ten and the whole sci-fi aspect of the Repo Man aesthetic played out here (with Tarantino's later use of Out Of Limits in Pulp Fiction, well it stacks up doesn't it?). I was recently pleased to discover that this was one of my brother Matt's favorite albums of all time.
A Parallax 100 record. Inspired by Coltrane and Shankar in equal measure, this is — as far as I can tell — the birth of acid rock. The absolutely epochal Eight Miles High is the centerpiece, its ominous bass, free fall rhythms and Roger McGuinn's quicksilver guitar solo clearly transmuting those earlier stabs at space rock — coming from the surf — into a wild freeform psychedelia. The Byrds at this point enjoying a reputation as space rockers, and in a contemporary radio interview (featured on the expanded CD reissue of 5D) David Crosby and Roger McGuinn talk at length about extraterrestrial life, hoping that radio transmissions of their songs might be heard by aliens who would ultimately take them up for a ride in their spaceship!
Speaking of Coltrane, this wild posthumous release is something of a sister record to Sun Ship (my absolute favorite free jazz record of all time), taking that record's unfettered percussive drive to it's logical conclusion (Rashied Ali picking up drum duties from Elvin Jones this time out). Both records are brilliant stone tablets of deep space astral jazz. Parts of this could even accompany the deafening silence of the murder scene in 2001: A Space Odyssey and Dr. Frank Poole's tumble into the void of space.
Two extended movements spread across both sides of this pioneering electronic record (the first to sell in serious numbers, in fact). One of Subotnick's great innovations was to build up rhythmic repetition from electronic sounds (which before then had largely been confined to the freeform, abstract context of academia). Think about that for a second: tracing that concept through Kraftwerk and Moroder and up to the present day... well, there's no getting around its centrality to modern music. It's crucial!
Here, Subotnick wrings otherworldly sounds from the Buchla modular synthesizer, with Part 1 largely an excursion through wandering tones while Part 2's mid-section coalesces into a frenetic rhythmic thrust. Everything here thoroughly abstract and alien.
The proverbially good science fiction film. Stanley Kubrick famously used large swathes of modern classical recordings as guide music during the film's production, and then ultimately chose to continue using them in the final cut rather than the original score prepared by Alex North. Perhaps nothing at the time could match the otherworldly sounds of Strauss, Ligeti and Khachaturian, which lend further gravity to a singular, spellbinding film, running the gamut from primate battles on Earth to space stations in orbit and an expedition to the far side of Jupiter (Beyond The Infinite).
Easy-listening orchestra 101 Strings veers off into the strange. After all, it was the sixties! There's no getting around that this one's something of a cash-in on both 2001 and psychedelia, a concession to the heads in an attempt to shift a few extra units. You can see the equations being drawn up: space x psychedelia = hippie $$$! Nevertheless, this contains moments of pure dread like Flameout, those searing strings and proto-hip hop breaks provide a menacing background for demented acid-fried guitar lines to wander freely.
I was surprised to be unable to recall any earlier space-themed exotica operating at the album level. Surely I missed something!? At any rate, this will do.
More sixties electronica with its eyes fixed firmly on the stars. In its deeply rhythmic drive, that synthetic almost-percussion, you can hear pre-echoes of Herbie Hancock's Nobu and beyond. Space colonization, for years on the back burner, has returned to discussion recently with science-fiction films like Interstellar and The Martian. In retrospect, it must have seemed a foregone conclusion in 1969.
If you're talking the cosmos, there's no getting around this bunch who are — in the popular imagination — the premier space rockers. My vote goes to this double-album, the live disc of which takes prime Barrett-era numbers like Astronomy Domine, A Saucerful Of Secrets and Set The Controls For The Heart Of The Sun into the deep black of space.
The studio disc draws the group as far away from traditional rock forms as they would ever travel, working with textures and treated instruments to stretch the boundaries of their individual compositions into the realm of pure atmosphere.
The standard-bearers of acid rock enter the space race. In truth, they'd dabbled even earlier with Crown Of Creation's Star Track, but this double a-side single takes matters to another level altogether in what might be the band's finest moment. Paul Kantner's Have You Seen The Saucers ties together alien contact, government conspiracy and ecological concerns all in the space three-and-a-half minutes of cinematic high-desert psychedelia.
Kantner ascends further into the cosmos with this concept album that follows a band of counter-culture militants (who bear a striking resemblance to Jefferson Airplane) as they hijack a starship and set course for some distant planet to start a new life on.
Theoretically, this is the first Jefferson Starship tile to drop, but we're still a long way from We Built This City. The core of the record's sound lies in piano led, spaced-out acid folk. There's a blink-and-you-might-miss-it masterpiece in Sunrise, with powerful, bewitching vocals from the inimitable Grace Slick. It bears an uncanny resemblance to the droning guitar soundscapes that Richard Pinhas would later explore in Heldon, and is about as intense a two-minutes as you could ask for.
Before they were arena rockers, this group forged a motorik form of no-frills space rock distilled down to its purest essence. With graphics that had people thinking they were krautrockers, this sleeve always makes me think of the card game Space Age Slap Jack.
Maybe no one remembers this? It featured similarly-styled artwork, evoking a desolate seventies sense of outer space. I had a deck as a kid back in the eighties, and only recently tracked one down again. I'd often dream of launching into the stars aboard some cramped starship, never to see home again. Digital readouts glowing in sharp red and green as the Earth shrinks in the distance.
West Coast space rock. Captain Beyond featured former members of Iron Butterfly, Deep Purple and the Johnny Winter band, who coalesced in early-seventies Los Angeles and hung around through most of the decade (and frequent personnel changes) for a series of three albums. This one is the first, and also the best. Large swathes of the record run together, moving through a series of shifting suites while the band slide between crunchy hard rock and ethereal astral reveries like the shimmering Myopic Void (a cosmic bolero of sorts). One of the great unsung American hard rock LPs, it should be more widely known.
Canterbury prog on the outer space tip, this is the dense, complicated flipside to the West Coast almost-prog of Jefferson Starship and Captain Beyond. Built atop the foundation of Nick Greenwood's throbbing bass and Eric Peachey's zero-gravity breaks, the sound stage is dominated by both Dave Stewart's intricate organ runs and muscular guitar fretwork from the great Steve Hillage. I've often wondered whether Leftfield's Space Shanty had anything to do with this album...
Pure, majestic Indo jazz from Lady Coltrane. This is outer space music, featuring a lush orchestra in freeform orbit, stretching out across a vast widescreen canvas. Containing her mind-blowing, breakbeat-led version of A Love Supreme and the breathtakingly cinematic Galaxy In Satchidananda, this is Coltrane at her absolute peak, locked into the cosmic and moving galaxies. Truly indispensable.
The previous year's Alpha Centauri would also apply, but this one remains my favorite of the early Tangerine Dream records. With four long tracks spread across four sides of a gatefold double-album, these droning soundscapes stretch out and swirl before you in ponderous slow-motion like a vortex in the darkness, as chilling and vast as outer space itself.
Early prog/space instrumental reggae cash-in, this remains worthwhile for its bizarre origins and brazenly unique sonic palette. Bathed in the swampy textures of the Moog synthesizer, it rides a crazed off-kilter skank through a comic book vision of the cosmos. Inspired in part by the television show of the same name, the proceedings slowly devolve into references to Dracula and other denizens of the strange.
Space jazz from the greatest purveyor of the form. Hard to choose just one Sun Ra record, in fact this list could be dominated by appearances from the man — records like The Heliocentric Worlds Of Sun Ra, Cosmos and Strange Celestial Road — but this soundtrack for his sprawling motion picture of the same name fits the most snugly within present company. An extraordinarily bizarre film, it infuses space exploration with Egyptology and more than a hint of seventies conspiracy dread, projecting the spirit of its time onto the stars.
Further adventures in space jazz. This could have been recorded yesterday. The machine loops running through Rain Dance play out like an alien encounter, while Hidden Shadows seems to approximate the feeling of weightlessness. Robert Springett's cover painting, with its lunar surface looming in the fiery night sky, is probably my favorite sleeve of all-time.
Spaced out biker rock. This sprawling double-live set captures the band's wild stage show, featuring elaborate light works, nude dancers and spoken word interludes by Robert Calvert (with passages quoted from the science fantasy author Michael Moorcock), all backed by the band's Dionysian brand of wild space rock. Songs like Time We Left This World Today and Orgone Accumulator emerge from the ether of extended atmospheric interludes, with the full tilt rock 'n roll assault of Master Of The Universe seeming to blast through the stratosphere with a relentless booster-rocket drive.
I took a chance on this one back in the day based on the incredible sleeve, which is actually different from the (equally stunning) original. Another node on the Egypt/space axis, its hieroglyphs set in stark relief against the backdrop of what looks like an interplanetary starship.
The sounds within are equally compelling... strange cargo indeed. You get lost in the deep texture of those rolling electronic sequences while sitars, percussion and acoustic guitars weave throughout. I've always been surprised that this record isn't more widely praised, indeed I've only ever seen the band's earlier Psychonaut garner the occasional mention in krautrock discussions.
Incidentally, I picked this up on the same day as Celestial Ocean (something like twelve/thirteen years ago?). Featuring telepathic interplay between Kosmische luminaries like Klaus Schulze and Manuel Göttsching, this is a headfirst plunge into liquid inner/outer space. I only later discovered that it was the first in a series of five records, famously compiled from source tapes of endless jams without the musicians' knowledge! Still, a perfect record.
More pyramids, this time by way of Central America. There's just no getting around Daevid Allen's gang when discussing space music. Gong started out essentially expanding on Syd Barrett-era Pink Floyd's pioneering work in the field, before gradually veering into a sort of spaced out jazz fusion under the tutelage of Pierre Moerlen (ultimately leading to Allen's departure from his own group after this album). You exists at the point of intersection between those two universes of sound, with its freeform jazz-tinged psychedelia illuminated by the liquid guitar figures of Steve Hillage.
Dating back to its origins, fusion had its own fascination with the cosmic (signposted by records like Miles In The Sky and of course Sextant). Fresh from his sessions with Miles Davis and solo debut Spectrum, Billy Cobham cut Crosswinds and Total Eclipse, which were both released in quick succession in 1974. Total Eclipse takes Spectrum's flowing, multi-part jams into ever more fluid territory, with even the most hard rocking rhythms given to a lightness of touch and infused with a low-slung swing.
Plying the same furrow as Billy Cobham, Return To Forever's records are prototypical peak-period fusion. At this point there was a fair bit of crossover, sonically speaking, between jazz and prog (the Canterbury scene, Brand X, etc.). Indeed, intricate fusion outings like The Shadow Of Lo, Vulcan Worlds and Song To The Pharoah Kings bear striking similarities to the likes of Hatfield & The North (and vice versa). A fertile pasture, in other words, even if my absolute favorite tune here is Earth Juice — an undisclosed disco banger!
If space is the word, then there's no getting around P-Funk's galactic escapades. Mothership Connection is the moment when the band's interplanetary agenda truly took center stage: they even took to landing a giant starship on stage each night during their subsequent world tour. The group's transformation from its earlier acid-fried incarnation to a smooth-edged groove machine is finalized here, with Bootsy Collins' basslines hitting their elastic peak and Bernie Worrell's technicolor keyboards taking on a life of their own.
As house producer for Philadelphia International, Dexter Wansel played a crucial role in much of the label's late-seventies output, building on the groundwork that Gamble & Huff laid down during the first half of the decade. In parallel with his production work, Wansel released four solo records that split the difference between smooth Philly soul and jazz fusion.
His debut solo outing, Life On Mars, features solar jazz funk excursions like Theme From The Planets and Rings Of Saturn, in which every texture seems shot through with liquid funk and an otherworldly, synth-heavy glow. The space theme recurs throughout Wansel's work: his 1978 album Voyager — home of the awesome Solutions — even features a landed Voyager probe on it's sleeve with Wansel decked out in a spacesuit on the back!
Only scooped this up relatively recently thanks to a timely reissue by Cleopatra. Chrome's debut came out just before Helios Creed joined the group. His enlistment is widely considered the x-factor that pushed the group into the stratosphere, but to my mind this is still a very worthwhile record, Damon Edge's uncompromising vision already steering the band toward greatness. Occasionally touted as the midpoint between Bay Area acid rock and post punk — shadows of Jefferson Airplane, Santana and even the early Journey records can be felt throughout — there's a raw directness to this material that places it firmly alongside the soon-to-be-active Public Image Ltd. and The Pop Group.
Manuel Göttsching's space music opus. Warm electronic sequences slowly unfurl as he occasionally transmits his shimmering guitar figures deep into the cosmos. The sleeve sometimes makes me think of the towering architecture in the film On The Silver Globe, even if angelic reveries like Sunrain and Deep Distance are light-years away from that film's unremittingly bleak landscapes. Simply beautiful, every home should have a copy.
Isao Tomita performs Holst's The Planets, the space-inspired classical piece seemingly a natural fit for his electronic instrumentation. Tomita's version of Mercury, The Winged Messenger sounds strikingly like some of the The Orb's zanier moments. I remember my mom once checked out a video from the library that had NASA footage edited to accompany this work. It started with jagged, violent cuts for Mars, The Bringer Of War and became all soft and drifty for Neptune, The Mystic. Needless to say, it was right up my alley.
Albedo: The reflecting power of a planet or other non-luminous body. A perfect reflector would have an Albedo of 100%. The Earth's Albedo is 39%, or 0.39.
taken from the liner notes
This proggy slab of electronica matches racing synth sequences with freeform live drumming. Perhaps a touch more minimal than the previous year's Heaven And Hell, you can still hear the basis for his subsequent soundtrack work (Blade Runner, Chariots Of Fire, etc.) in the colossal passages scattered throughout (even if I do tend to prefer its quieter moments).
I owe this one completely to my Uncle James. I remember showing him a song that I was working on back in the day and he asked have you ever heard of Jean-Michel Jarre? A couple months later he gave me the Images compilation. Shortly after, I started buying the albums and digging deeper into seventies electronica. Parts of Oxygene have shown up in quite a few places, for example the surreal desert running scenes in Gallipoli and the radio play for The Hitchhiker's Guide To The Galaxy.
Cosmic disco! The following album High On Mad Mountain might go even further off the edge, but this does have the inimitable Moon Trek. Sounding like an unlikely cross between car chase music from a seventies cop show and the original Star Trek theme, it's an unforgettable slice of space age bachelor pad music taken for a walk on the dancefloor. Before seeing Searching For Sugar Man, I'd never known that Mike Theodore co-produced Sixto Rodriguez's classic debut Cold Fact with Dennis Coffey. The interview clips with the both of them came as a pleasant surprise.
Further adventures in cosmic disco. Virtually any of Mandré's records would qualify, but the seventeen-minute ARP odyssey Solar Flight gives this one the edge. Mandré was one Andre Lewis, former session man and synth-wizard who was touted by Motown as a man from outer space and only ever appeared with his face obscured by a futuristic mask (decades before Daft Punk).
Select far-out moments from the salsa legend's seventies recordings rounded up into one cosmic package (the sleeve, another personal favorite, is a dead give away). Cobarde homes in on the same zone of controlled chaos as Coltrane's space jazz excursions, while at the same time making me flash on Carl Craig's jazz outings with Innerzone Orchestra. Chocolate Ice Cream and The Mod Scene are sprawling downbeat jazz fission in league with Miles Davis' seventies sound, and I can't help using the term zero-gravity when describing Condiciones Que Existen's casually funky low-slung breaks.
Gorgeous space-blues. I discovered this through The Music Of Cosmos compilation, the soundtrack to Carl Sagan's documentary mini-series, where the elegiac Fly... Night Bird stood out from the surrounding selections. Roy Buchanan one of the great blues guitarists of the era, his earlier instrumental Sweet Dreams remains a classic rock staple (it even factors into the ending of Martin Scorsese's The Departed). You're Not Alone brings that sound into the realm of jazz-tinged psychedelia, stretching mournful solos across vast pools of atmospheric Rhodes and electronics, with a heavenly version of Neil Young's Down By The River standing as just one particular highlight.
Steve Hillage with the hat trick! I remember picking this one up on the same day as New Age Of Earth. Space music par excellence with Hillage's guitar glissandos arcing over a rolling riverbed of found sound and twinkling ARPs. The famous anecdote around this record has The Orb's Alex Patterson spinning its sounds in the back room at Paul Oakenfold's Land Of Oz club when an unsuspecting Steve Hillage wanders in, resulting in his guest appearance on The Orb's Adventures Beyond The Ultraworld and further dancefloor excursions as System 7 (whose Sinbad/Quest 12" nearly made this list).
The Human League's follow up to their epochal Being Boiled is a grainy, lo-fi excursion into seventies deep space electronica. The sleeve features a photo of Yuri Gagarin receiving commendations from the Soviet government for completing the first manned mission into space. The record's conceit was that the space program was only made possible by the coal miners beneath the earth providing fuel for the workers in the steel mills who built the rockets that carried Gagarin into space. Hence, The Dignity Of Labour.
As was the case with exotica, I was surprised that I couldn't think of more space-explicit new wave space records. Here's one that fit the bill, featuring Gary Numan's extended storyboard concept — one that he hoped to one day flesh out into a science-fiction novel — built around aliens and robots involved in the control of civilization. Down In The Park even found its way — via a Foo Fighters cover version — onto an X-Files tribute album some years later.
Klytus... I'm bored. What plaything can you offer me today? This is an early one for me. Indeed, I was obsessed with this movie as a kid. So not much has changed... and at the very least it's a whole lot of fun. Essentially a not-totally-serious remake of the science-fiction serial dating back to the 1930's. Perhaps this is where the knowingly camp aesthetic enters the mainstream? Even if there are some incredibly touching moments: Timothy Dalton's heroic turnaround and basically everything involving Topol throughout the second half of the movie.
This is the soundtrack to the film of the same name, famously provided by Queen. Everyone knows the title track, but there are a number of instrumentals throughout that threaten to steal the show: The Kiss Aura Resurrects Flash, Arboria Planet Of The Tree Men and the gorgeous In The Space Capsule The Love Theme — my absolute favorite moment on the record.
Another one given to me by the same uncle behind the Jarre compilation. This is the soundtrack to Carl Sagan's epic mini-series documentary Cosmos, featuring loads of space music from Vangelis along with myriad classical pieces by the likes of Vivaldi, Stravinsky and Shostakovich. Once again, the Roy Buchanan track really caught my attention here, totally unique in this context.
Dennis Bovell's orbital dub symphony. Bovell who started out with storied UK reggae group Matumbi, gradually becomes immersed in the studio itself and drifts into the post punk slipstream, resulting in productions for The Pop Group, The Slits and even Ryuichi Sakamoto. Here he cuts loose under the pseudonym Blackbeard, spinning out otherworldly dub reggae in widescreen. Tunes like Electrocharge and Reflections are on a serious outer rim science-fiction tip.
More interplanetary reggae running parallel to the post punk zeitgeist, this time with Adrian Sherwood behind the mixing board. Sherwood another key figure operating at the axis of dub and post punk, producing the likes of Mark Stewart, Tackhead and Fats Comet alongside projects like New Age Steppers and African Head Charge.
Creation Rebel had a gift for left field dub excursions, and Starship Africa takes them as far out as they would ever travel. Structured as two extended suites, Starship Africa and Space Movement, this is the fluid other to Blackbeard's rock-hard riddims.
Sting's diabolical turn in David Lynch's adaptation of Dune still a few years away at this point. Here, the singular atmosphere of Walking On The Moon gets stretched over an entire LP. Moody and spacious. Perhaps not explicitly space-themed but certainly in thrall to the cosmos, eyes locked firmly onto the stars. The atmosphere here just embodies outer space. Smash hit Invisible Sun creeps in on a bed of tension and just builds, while the closing duo of Secret Journey and Darkness always remind me of Detroit techno in their elegant spaciousness.
Krautrock bleeds into the eighties, best represented by the Innovative Communication and Sky labels. A node in the development of organic electronica, occupying the same interzone between kosmische and new age as Double Fantasy's Universal Ave (another one in the nearly list). Like Cluster, Clara Mondshine generates multi-faceted electronic systems that stretch out and develop into glistening tone poems, quickly taking on a life of their own. Word is that this sounds great at both 33 and 45 RPM...
The young Prince Jammy, still an apprentice of King Tubby and yet to redefine reggae with Sleng Teng and the excellent Computerised Dub, unleashed this technology-infused widescreen dub slate. I think Computerised Dub has the edge on this — only slightly — but it's still a wonderful record in its own right. Electronic drones herald the arrival of almost every track like the gongs in James Brown's Hell, dropping into fathoms deep bass and subterranean production magic that simply refuses to let up. One of the great night drive records.
Not Cowley's greatest work, but the outer space visual/sonic stylings place this firmly into orbit. That sleeve is as good a thumbnail as any for the whole rolling over vector landscapes trip that I'm forever alluding to. Playing a crucial role in the development of hyperdrive West Coast disco, San Francisco man Cowley cut his teeth producing Sylvester's You Make Me Feel Mighty Real and turned out a monster remix of Donna Summer's I Feel Love: computer disco madness of the highest caliber.
Cowley's gotten the Arthur Russell treatment lately, with lavish reissues of unreleased material such as School Daze and Muscle Up hitting the shelves over the last few years. Great to see this brilliant lo-fi mechanoid funk finally find its way onto the world's turntables.
One of the original albums in my collection, and basically the only reason I was able to get through calculus in college. This music was originally created by Eno and co. to accompany a documentary on the Apollo missions. The first side is dominated by plaintive, melancholy ambient while the second brings in Daniel Lanois' pedal-steel to lighten the atmosphere with some interstellar country-western guitar moves. This must, I think, be understood as the basis of the atmospheric end of Eno's production work with U2 (The Unforgettable Fire's 4th Of July is cut from the same cloth as this album). The opening Understars is one of the great ambient tracks, a perfect distillation of the form.
Electro as a musical genre as often as not kept space in its sights, and is likely the point where seventies cosmic jazz and soul crossed into the carnal climate of the eighties mainstream. The Jonzun Crew dressed in elaborate stage costumes, clearly inspired by Parliament, Earth, Wind & Fire and other large funk groups of the previous decade. They even thank Sun Ra in the liner notes and have a track of their own called Space Is The Place. Operating at the axis of space and the nascent video game explosion, this music extrapolated a totally new sound and vision out of those twin constituent elements. See also Planet Patrol.
More electro with an interplanetary agenda, exemplified by the monster title track. This the follow up to the group's epochal Jam On Revenge, expanding that record's smooth grooves even further into widescreen. Newcleus' secret weapon lie in fleshing out electro's skeletal drum machine framework with an array of lush pads and atmospherics, the end result an exercise in rolling digital funk. The cycling tronix of Teknology and Make It Live embody this mesmerizing, immersive sound. Check out that winning sleeve art too (by Bob Camp, who was later involved in The Ren & Stimpy Show), which recalls Pedro Bell's awesome illustrations for Funkadelic.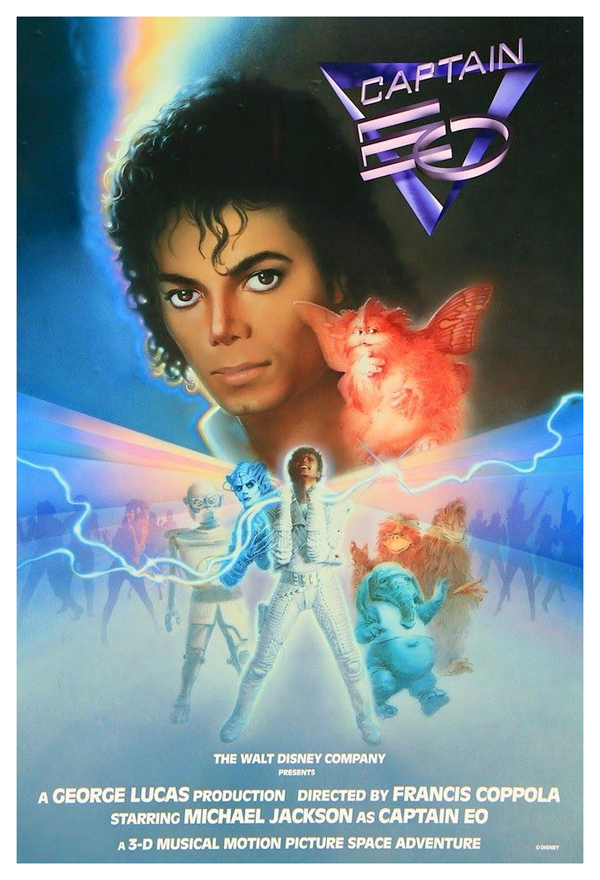 Bonus beat! There was never an actual soundtrack released for this film. Still, there's no getting around it. You really want Another Part Of Me playing whenever you leave a planet. This perfectly captures the optimism of mainstream science-fiction in the post-Star Wars era. My heart fell when Disney replaced this with the abysmal Honey, We Shrunk The Audience back in the nineties. Thankfully, they brought EO back after Michael Jackson's untimely passing. Back in the day, I remember seeing a special on TV — featuring Whoopi Goldberg — about the making of this short film. Disney should issue Captain EO — with that featurette included — on DVD. Somebody make it happen!
The original deep space electro crew didn't get the LP treatment until well after the electro boom had already started to wane (with Run-DMC in full swing and N.W.A. just around the corner). However, this rounds everything up into one extraterrestrial package (including the original versions of Planet Rock and Looking For The Perfect Beat). An essential document and the final word in interplanetary electro.
The angelic other in eighties indie rock, A.R. Kane made unclassifiable alien dreamtime music that seemed to prefigure shoegaze along with myriad other forms to come. I nearly included records by Loop and Spacemen 3 here as well, but — as great as they are — perhaps their interstellar aims weren't quite explicit enough for this particular list.
A.R. Kane, on the other hand, seemed locked into the same galactic frequency as Sun Ra... and nowhere more than on the extended double-LP "I". A Love From Outer Space is one of the great pop songs of its era, pairing machine rhythms with guitar feedback in a glorious free fall love song.
Since they both served as conduits of eighties post punk resolve into the next decade's dance explosion, it's rather appropriate that this one-off collaboration between The Orb's Alex Paterson and Jimmy Cauty of The KLF takes us into the nineties. This deep space ambient music, forming a loose trilogy with The Orb's Adventures Beyond The Ultraworld and The KLF's Chill Out, feels like tumbling into a wormhole (its acid-fried cut up sleeve is the first clue).
Picking up where Space left off, O'locco features Sun Electric's timely elongating of Larry Heard's deep house template into what came to be known as ambient house. The Kama Sutra and Space Therapy versions showcase the German group's original vision, while the four parts of the Orbital Therapy version (remixed by The Orb) stretch things out even further. Initially released on Paterson's WAU! Mr. Modo label, it later cropped up on R&S, with Sun Electric ultimately hooking up with the label's ambient subsidiary Apollo for a handful of excellent albums.
Dr. Alex Paterson's sprawling double-LP ambient house stone tablet. One of those records you can just throw on and get lost in. Everyone knows the album-opener Little Fluffy Clouds, which offers a preview of things to follow: the nomadic breaks of Outlands and Earth Gaia, Into The Fourth Dimension's resolute proto-trance drive, the endless live mix of A Huge Ever Growing Pulsating Brain That Rules From The Centre Of The Ultraworld, Perpetual Dawn's pulsing dub moves, Supernova At The End Of The Universe's twisting downbeat crawl and of course the sprawling ambient soundscapes of Back Side Of The Moon, Spanish Castles In Space and Star 6 & 7 8 9.
Another chapter in the ambient house story, this time coming from inside the Arctic Circle. Geir Jenssen — who went on to release a whole brace of classic ambient albums like Cirque and Substrata — hosted a radio show called Bleep Culture in his hometown of Tromsø, Norway, during which he spun a mix of ambient and techno, punctuated by what he called small astronomy lectures.1 Microgravity clearly draws inspiration from those transmissions, with moody techno cuts like Baby Interphase and Chromosphere flowing smoothly into the sublime ambient drift of Cloudwalker II and Biosphere. The title track even samples David Gulpilil's he know the moon, he know the stars, and he know the milky way dialogue from the NASA-themed film The Right Stuff.
Detroit's Underground Resistance may have always had an ear to the street, but that only meant that the other one was pointed upward to the stars. Think Arecibo. The Final Frontier is a celestial cruise over rolling electro rhythms, with a phantom 303 acid line drifting in and out of the mix like a comet trail: a clear spiritual ancestor to the Red Planet records. This becomes even more explicit with Entering Quadrant Five, its hyperdrive fractal sequences spiraling over another tough electro backbeat — prefiguring some of The Martian's most g-force inducing flights of fancy — while Base Camp Alpha 808 is a spacious, percussive tumble through the sleeve imagery of Herbie Hancock's Sextant.
I've always been unclear whether this record is self-titled or credited to Deep Space Network. Well, I still file it with the rest of Jonas Grossmann and David Moufang's output, so let's stick with that for the time being. This the first of their utterly unique freeform sonic excursions — records which were quietly released on their own Source imprint — and it might just be the greatest ambient house full-length of them all, sounding like field recordings transmitted from light-years away. A song like Morphic Fields, with such timeless beauty in its endless, gentle drift, deserves to be more widely heard.
Monstrous Dutch hardcore shearing into proto-gabber territory. Observing The Earth canes the hoover sound into submission, thrashing about the room like a demented xenomorph, while Starship To Venus rewinds stop-start bleeps over a relentless hammer-blow kick drum. The flipside rivals the first, with Passion and Like This threading renegade breakbeats through their pounding rhythm matrix. Strangely enough, I bought my copy from Jon Bishop a few years back amidst a whole stack of hardcore records. So thanks to a true OG for introducing me to this tile in the first place.
Another UR-related release, produced by the trio of Jeff Mills, Mad Mike and Robert Hood. Each track is named for one the rings or moons orbiting Saturn (plus one representing the planet itself), with the length of each corresponding to its size and distance from the others.2 Hyperion and Groundzero The Planet recall earlier hardcore excursions like The Punisher and Sonic Destroyer, while you can feel the genesis of Hood and Mills' brand of minimal techno in the driving repetition of Enceladus and Titan. Impressionistic interludes like Tethys and A-Ring add considerably to the record's visionary depth, while the cinematic scope of Mimas marks it out as a particularly spellbinding moment.
This crucial compilation rounds up music from some of the earliest releases on Carl Craig's Planet E imprint, with a strong European showing thanks to incursions from Steffan Robbers' Eevo Lute and Kirk Degiorgio's ART labels on two separate EPs released by Craig during the preceding year. Plaid weigh in with the introspective machine music of Balil's Nort Route, while Steffan Robbers checks in with the gorgeous celestial reverie of Florence's A Touch Of Heaven. Carl Craig provides nearly half of the material here, with entries from 69's 4 Jazz Funk Classics, the awesome Free Your Mind by Piece and a surprise exclusive in the shape of Shop's most excellent Nitwit. Interestingly, both Terminator 2 and Alien 3 are listed in the liner notes as inspirations.
Named for an episode of the original Star Trek, this is Kenny Larkin's first record after leaving Plus 8. The centerpiece is War Of The Worlds (which also featured on the Intergalactic Beats compilation), an epic slice of cinematic deep space techno, its siren synths arcing over a pulsing Moroder-esque rhythm. I've always loved the sleeve illustration by Abdul Haqq, the brilliant Detroit artist behind Third Earth Visual Arts, who's also responsible for Intergalactic Beats' iconic sleeve art (right up there with Sextant as far as I'm concerned).
Deep space trip from the ardkore auteur. Absolutely brilliant arrangement of sound, with fast-forward breaks spooling out beneath a ravishing string section, all punctuated by a bionic diva wailing into the abyss. See also parts two and three (aka the Kaleidoscopiklimax), for further chapters in this exquisite lunar saga. Part two even features an incredible snatch of Nancy Sinatra's theme to the James Bond film You Only Live Twice.
Possibly the finest moment from this ragged bunch of techno renegades, riding a lengthy sample of Max Romeo's I Chase The Devil before tripping back into drum and bass. The music video,3 an exercise in amateurish charm multiplied by boundless optimism (this is light-years away from the big budget polish of Fat Of The Land), is among my all-time favorites.
Miami bass stalwarts Dynamix II kept electro's fires lit well into the nineties, when a new wave of producers like Drexciya and The Octagon Man would seize the torch and run with it. A concept record of sorts, Bass Planet takes the supercharged man-machine rhythms of the duos earlier records into deep orbit, exemplified by the soaring brilliance of a track like Machine Planet.
You simply can't overstate the importance of outer space when discussing a crew like UR. This the third in a series of records — starting with Nation 2 Nation and followed by World 2 World — that find the group delving deep into corridors of dance-inflected space jazz. I say group but everything here (with the exception of guest spots featuring Juan Atkins and The Martian) is credited to Mad Mike. He seems to draw here on his roots as a live session musician back in the eighties (playing with groups like Parliament/Funkadelic), in a back-to-the-future gesture that would culminate in The Turning Point EP four years later.
Both versions of Hi-Tech Jazz pick up where Herbie Hancock and Eddie Russ left off, while Star Sailing follows the template of blissed-out jazz funk that UR laid out in earlier tracks like Body And Soul and Jupiter Jazz. There's also moments of fierce beauty, the most striking of which is Journey Of The Dragons. The magic lies in its graceful inevitability: those racing sequences punctuated by jabs from a razor-edged string section, a descending bassline and rolling 808 beats that wait two minutes to fully drop. It all simply unfolds. Meanwhile, Deep Space 9 A Brother Runs This Ship continues the bubbling undercurrent of Detroit's fascination with Star Trek — this time by way of Benjamin Sisko's Deep Space Nine.
The Martian's records are cut from the same cloth as UR's, so much so that many at the time theorized that he was actually someone from that crew operating under a cloak of anonymity (I remember Mad Mike's name getting tossed around quite a bit). It turns out that The Martian was very much his own man, laboring in isolation to arrive at a wholly unique shade of sound. Visual Contact and the title track trade in wild trancelike shapes (see also the earlier Stardancer), while Red Atmospheres and Search Your Feelings (featuring Model 500) are inspiring excursions into pure techno soul. Red Planet definitely a connoisseurs label: before long you'll find yourself tracking down every last record.
Tom Middleton and Mark Pritchard's debut full-length outing as Global Communication, this is often considered a dress rehearsal for their widely feted 76:14. It's actually an extended reworking of Chapterhouse's Blood Music, spun out into ethereal ambient mode, and stands as a great record in its own right. Marathon running times abound, with proto-Boards Of Canada beats and ghosts of an indie rock band slipping in and out of the soundscape.
Basic Channel's haunting remix of Vainquer's Lyot masterfully evokes the Martian crater of the same name. An edit made it onto the BCD compilation a few years later, but the twelve-minute original — stretching across a whole side of vinyl — really allows the track to breathe life into an immersive environment all it's own. With those gamma ray synths unfurling in graceful slow-motion, BC's dub chamber habitats remain the perfect metaphor for the deep black of space.
Octave One here also perfectly evoking outer space, only this time from within the cramped confines of an orbital space station. The opening Dema offers a precise, clear cut illustration of the group's compact electronic funk. Further references to Star Trek from a Detroit crew — this time on a Next Generation tip — are everywhere, from Farpoint's spooky garage shuffle to the technoid house of Dominion, and my absolute favorite the freaked out analogue funk of The Neutral Zone.
I know next to nothing about this record, which I bought on sight in the elysian fields of the El Cajon Music Trader (circa 2001). It's a longform ambient work seemingly inspired by the SETI program's search for extraterrestrial life. There's the occasional rhythmic flourish but mostly it's a marathon excursion into atmospheric drift. Nice.
Dego and Marc Mac split the atom, beaming 60's/70's astral jazz into the future and back again, splicing the results with their absolute mastery of breakbeat science. At it's most twisted, tracks like Wrinkles In Time and Sounds From The Black Hole posit an entirely new rhythmic vernacular, while the calmer moments — such as Sunspots and Power To Move The Stars — conjure up images of some utopian orbital cloud city. As I've noted before, it's one of my favorite records ever.
Picking up where the previous year's Sonic Sunset left off, Juan Atkins' greatest full-length continues unabated in its pursuit of the celestial. Over half of the record was engineered by Basic Channel's Moritz Von Oswald, with pristine sonics in evidence throughout, ranging from the drum 'n bass moves of Astralwerks to the deconstructed machine funk of Last Transport To Alpha Centauri. His influence can be particularly felt in the dubbed-out minimal techno of Starlight and Lightspeed, and you even get a version of Sonic Sunset's marathon vocal deep house excursion I Wanna Be There, edited down from the nearly twenty-minute running time of the original.
Then there's The Flow, a shot of machine soul right smack in the middle of the record that I swear sounds exactly like the blueprint for Timbaland and The Neptunes' sonic adventures just around the corner. Blink and it could almost be a Kelis song. I've often wondered whether they heard this record back in '95...
The first full-length from Luke Slater's minimal side-project pulls together a brace of early material from his ongoing Planetary Funk series of EPs and combines them with four new exclusives. The sleeve a perfect illustration of the grooves found within, with this hard as nails, motorik techno perfectly capturing the spirit of interplanetary travel — or warfare.
Ben Long and Bandulu's Jamie Bissmire get down with their first outing as the Space DJz, trading in both hard techno and tough electro jams throughout its twenty-eight minutes. Perhaps I could have picked their 1999 album On Patrol!, but Celestial Funk — a rough and tumble slab of streetwise electro (and by my estimation the duo's finest moment) — just edges it out for this spot. The three-second refrain sums up its loose, off the cuff charm: Set you free, set you free, set you free!
Sheffield duo's finest moment, standing astride the twin pillars of their idiosyncratic sound: dub and ambient electronica. Our Earth Big, Isn't It is a cinematic downbeat trip through the subway while riding a colossal slow-motion break, whereas Mr. Echo Go To Hell is a peaceful weightless drift through bucolic ambient soundscapes.
There were loads of great records on Apollo, the ambient subsidiary of R&S, indeed the Apollo Compilation — a round-up of tracks from various early releases on the label (including Love Craft's awesome Intelligent Univers) — can be chalked up as another record in the "nearly" list.
Brittle, spangly electronica from Denmark. Think The Black Dog circa Spanners. Every sound, every texture seems to have the timbre of reverberating metal — tempting visions of exotic instrumentation fashioned from wafer-thin sheets of chrome and copper — and all arranged with a breathtakingly nimble touch. Strangely enough, there's even a couple abstract hip hop incursions featuring an MC Panasonique, who I know next to nothing about and may have only surfaced on this album before vanishing forever.
Spectral drum 'n bass with one foot still in the jungle, this is Photek's paean to the stars. U.F.O. is a claustrophobic sprint through shadowy, paranoid corridors, predicting the atmosphere of his excellent debut full-length Modus Operandi by a couple years. The flipside includes the dreamy landscapes of Rings Around Saturn, with it's strange bird calls and crisp, nimble breakbeats — ghostly strings and a Rhodes pulsing throughout — taking you deep into cosmic jazz territory.
The follow up to Heard's pair of Sceneries Not Songs records, Alien is cut from the same cloth: spacious, jazzed-out dynamics in play, operating in downbeat mode as often as the deep house bedrock where his roots lie (even slipping into spells of beatless atmosphere from time to time).
Heard seems to be refracting the ambient house excursions of Sun Electric and The Orb back across the Atlantic, just as they had done with his initial deep house template years ago. Consequently, the dazzling digital disco of The Dance Of Planet X squares the introspective ambience of his contemporary material with his landmark eighties recordings as Mr. Fingers (see Can You Feel It, Beyond The Clouds and Stars for just a few examples).
Spooky, razor-edged drum 'n bass. Moving into the late nineties, this is one of the finest tracks of its era. The Planets begins with nearly a minute of beatless atmosphere before its metallic breakbeat comes crashing in, literally chopping through the track, when suddenly the tune drifts back out into pure ambience.
Crumbling astral bodies seem to throb in the distance before slowly being drawn into something resembling a bassline — through sheer centrifugal force of will — and Dom's breakbeat science comes crashing back into the mix. Wraithlike synths seem to shimmer ominously, permeating every corner of the soundscape, while eerie sounds pitched somewhere between gale wind and guttural moan rise out of the darkness. It is very cold in space.
New York illbient and the flipside of breakbeat science. This four track EP features That Subliminal Kid scratching galaxies (to borrow a phrase from the Death Comet Crew) into oblivion, sliding across the surface of a planetarium like the cave paintings of Altamira set in motion. The title track, with its wild phased Clavinet breakdown, is the highlight here, but also check the beatless string-laden deluge of The Vengeance Of Galaxy 5, which sounds like field recordings of a distant cataclysm at the edge of space recovered from some ancient battered probe.
Southern rap. From before they were a household name. Simon Reynolds once called Elevators Me & You Sun Ra-gone-hip hop. When you're confronted with its eerie smeared organ drift, dubbed-out snare clicks and a hauntingly chanted chorus, well it's pretty hard to argue. You've also got the title track, a masterfully arranged mini-epic that rides a nagging bassline, shining synths and a light-speed-to-infinity filtered vocal snatch — linked with an infectious sing-along chorus — into the Martian sunset.
One of the pivotal moments in my musical life was receiving this mix — as a gift — just after it dropped, opening the doors to Detroit techno and beyond. The first thing you notice is that marathon intro, with DJ Minx announcing you're in deep space over far-out sonics that recall Hendrix's ... And The Gods Made Love, before Kevin "Master Reese" Saunderson backspins into the tribal fury of Bango's Ritual Beating System (Stacey Pullen's absorbing rumination on Olatunji's Drums Of Passion).
The transmission continues through tracks by Detroit figures like Octave One, Carl Craig and Sean Deason, amazing jazzed-out house by Deep Dish (under the banner Chocolate City), Outlander's epochal slab of Belgian hardcore The Vamp (remixed by none other than Master Reese himself), myriad tracks from the Netherlands' Dobre & DJ Zki and even both sides of a contemporary E-Dancer 12". The wide-open sonics in E-Dancer's World Of Deep perfectly encapsulate everything this mix — and indeed great dance music — is all about.
We found her on one of our voyages to the fourth sector, intones Pharrell in the intro, and from then on The Neptunes provide Kelis with loads of brilliant alien soundscapes to cut loose in. The retro-70's strains of Mars (those synths!) recall Stevie Wonder at his most cosmic, while Roller Rink's astral funk has Kelis asking Have you ever thought there might be something out there? Far out, way out, while Pharrell is delivering their firstborn on a NASA space shuttle. Casual references to space are scattered throughout, and Kelis herself shines as an utterly unique (alien?) presence. Rather appropriately, The Neptunes later called their label Star Trak Entertainment.
Spectral r&b. In spirit at least, it's like SA-RA before SA-RA: space capsule music (think One Way's Don't Stop) unfurling out into the stars... this is pure machine soul. Every texture so delicate, and Steve Spacek's voice so fragile, the whole record seems to simply glide by in a mist. How Do I Move, with it's technoid pulses cycling and drifting through the soundscape, seems aware of its own ethereal properties. Sex In Zero Gravity.
The first Gorillaz album gets dubbed out, stretched out and spaced out by the Spacemonkeyz. Possibly even better than the original album, especially for those after a deep sonic fix. Damon Albarn continues on the road to becoming a worldly man (see also Mali Music), with Blur beginning to wind down as a full-time concern. The mood here seems to recall The Special AKA and Ghost Town, that same spectral and spacious sense of dub run through pop's kaleidoscopic fun house. If you listen closely, you can hear the roots for The Good, The Bad & The Queen beginning to take shape...
Exquisite space music on Jeff Mills' Tomorrow label. The liner notes contain extended quotes from 2010 and Kodwo Eshun, while the sounds within bring to mind the solemnity of hard science-fiction. Following the journey of a probe to the titular sixth moon of Jupiter, the album moves through ethereal ambient excursions like Long Journey Of Spacecraft and Views From The Surface into the stark orchestral shades of Reaching The Subsurface Ocean.
Tracks like Drilling Through The Ice and Crash Landing Of Probe jut from the record's calm surface with pure noise to punctuate their titular events, while the atmospheric Sinking Slowly Through The Ice captures an all-encompassing sense of wonder and dread. Descent Towards The Discovery Of Life draws all of these strands together, closing out this deeply special record on a majestic note, it's austere splendor bringing to mind first side of Eno's Apollo: Atmospheres & Soundtracks.
Breathtakingly romantic zero-gravity soul. My absolute favorite record of NdegéOcello's, there's a strong reggaematic current running through most the rhythms here. Liliquoi Moon and Andromeda & The Milky Way mark this out as a space record, shot through with an otherworldly glide and drawing on a deep palette of sound.
There's this one particular synth sound that colors large swathes of the album and makes me flash on Detroit in its magnetic pull. You hear it in the climax of a song like Love Song #3, with its shades of Hendrix circa 1983... A Merman I Should Turn To Be, and the result is almost overwhelmingly powerful. Then there's the blissed out Gaussian blurred flow of Come Smoke My Herb — quite simply a perfect pop song — drifting through space on a solar wind.
Three-part-harmony-inflected digital disco. Polar arranged the string section on the revered Metro Area records, and accordingly, this came out on Morgan Geist's Environ imprint. The sleeve's Pillars Of Creation photograph is a dead give away, but the spangly textures and crisp sense of space in songs like Here In The Night and Black Hole betray this tile's cosmic intent. The awesome Matter Into Energy, my favorite moment here, eschews beats altogether in favor of a sumptuous free fall reverie.
92.
SA-RA Creative Partners

Cosmic Dust

/

Cosmic Lust
Jazzy Sport
2005
As I've said before, I love SA-RA, and the Cosmic Dust/Cosmic Lust double-shot is the crew's finest front-to-back moment. Machine soul in a space capsule stylee, SA-RA perfected a sound that stretches back to the days of Kleeer and Mtume, imbuing it with all the energy of rave and hip hop from the ensuing years. The implicit outer space sonics of those groups is made explicit here (and how!). Their consistently evocative sleeves are a perfect illustration of the spacious sounds found within.
Freaked-out space rock from Japan. At times this recalls Amon Düül II, in not only the acid-folk sprawl of Buy The Moon Of Jupiter and Interplanetary Love, but especially the extended nearly thirty-minute sonic mayhem of The Tales Of Solar Sail - Dark Stars In The Dazzling Sky. You couldn't make this stuff up!
This one caught me totally off guard at the time, a rap/r&b record that seemed to share a similar spirit with the music of A.R. Kane and Tears For Fears circa The Hurting. Sure, 808s & Heartbreaks might have hinted in the direction of this new wave-inflected r&b, but the Kid ploughs a much deeper furrow.
My World is just one of many mini-epics that seem to draw on Tangerine Dream's soundtrack work as much as the aforementioned new wave and machine soul. The Detroit-inflected techno of Enter Galactic Love Connection Part 1 (think Juan Atkins in Infiniti mode) and the awesome resolute crawl of Alive Nightmare — the synths and guitar shapes of which make me flash on Eno's Another Green World — map out a broad vision of outer/inner space music.
The Wizard has turned his mind to celestial matters on more than one occasion (see X-102 Discovers The Rings Of Saturn, Jupiter Jazz and One Man Spaceship for just a few examples), but this relatively recent one seemed to be a culmination of those obsessions. The subtle inflections of this broad, filmic music sometimes bring to mind his incredible soundtrack for Metropolis.4 A master stroke.
Largely ambient LP from revered Detroit DJ Claude Young. His production career has often seemed strangely underrated by the cognoscenti, but the man has built up a serious discography over the years, growing more and more abstract over the course of time. Celestial Bodies trades in similar forms of austere, immersive ambience as Mitch Walcott and Jeff Mills, and tracks like Messier 86 NGC 4406 and Observing The Kuiper Belt bear striking shades of atmospheric depth and splendor. However, there's still a bit of tough machine funk tucked away in Hawking Radiation, harking back to the muscular, abstract techno of Young's past.
Cosmic jazz on the Sun Ra big band tip. Washington contributed to the jazz foundation of Kendrick Lamar's excellent To Pimp A Butterfly, and here he stretches out over three discs with an ambitious song cycle that recalls the wide-open sides of figures like Charles Mingus, Pharoah Sanders and of course Sun Ra on Impulse! during the glory days of astral jazz. Incredibly dense and daring, this record stands on its own as an adventurous, extended slab of visionary modern jazz.
L.A.'s Damon Riddick expands on the spaced-out currents found in his earlier work with a sprawling g-funk blast that comes on like an intergalactic broadcast picked up on some strange nocturnal frequency. The record is bracketed by two transmissions from Junie Morrison that bring to mind the extended conceptual works of Parliament/Funkadelic, and accordingly, the scale here seems larger than it ever has before on a Dâm-Funk record. Where his earlier tiles like Burgundy City and Toeachizown were intimate, largely solo affairs, this album ropes in an extended cast ranging from hip hop icons like Snoop Dogg and Q-Tip to old school veterans like Jody Watley and Leon Sylvers, and even alternative rockers like Ariel Pink and Flea!
Still, the remit is very much on the electronic funk tip, and tracks like Missing U and The Hunt & Murder Of Lucifer continue to develop Riddick's singular take on machine soul. Similarly, uptempo excursions Floating On Air and O.B.E. (which brings to mind The Orb's track of nearly the same name) advance this fascinating side of the man's music that feels like his own distinctly original take on techno, as if arrived upon via a totally different set of circumstances (Arabian Prince and The Egyptian Lover being two of the most obvious touchstones) but still rocking a righteous mash up of Kraftwerk and George Clinton. Seeing him perform at The Casbah with a live band (on the night of this record's release, as a matter of fact) was a real treat, and without a doubt one of the greatest shows I've ever had the pleasure to witness.
Ethereal space rock from last year by one of the original architects of Hawkwind (its sleeve a play on that band's X In Search Of Space). This largely instrumental, free-wandering excursion at times recalls early Ozric Tentacles. Featuring another extended cast working together in the studio, this ties together whole strands of the space rock community with appearances from Gong's Gilli Smyth and Steve Hillage (yet again!), Amon Düül II's John Weinzierl, Brainticket's Joel Vandroogenbroeck and even Robbie Krieger of The Doors, plus fusioneers like Billy Cobham and Soft Machine's John Etheridge, not to mention wild card appearances by Nick Garratt of punk band UK Subs and Die Krupps' industrial architect Jürgen Engler!
Bowie's final album-length statement, teeming with loose and free-flowing jazz inflections. It's been compared to late-period Scott Walker in its inscrutable mood and abstract shapes, but is very much a culmination of everything he's been up to for the last twenty-odd years.
Inspired in part by the freewheeling spirit of Kendrick Lamar's To Pimp A Butterfly5, Blackstar finds Bowie collaborating one last time with the indomitable Tony Visconti on a sequence of seven songs that swoop and shudder within a lush, three-dimensional soundscape. The record cycles gracefully between disparate modes, from the downbeat crawl of Lazarus and Dollar Days to the gliding rhythms of lead single 'Tis A Pity She Was A Whore. Those hyper-syncopated, rolling beats on Sue Or In A Season Of Crime even touch on the jungle-inflected corridors of 1997's Earthling, an album that's remained close to my heart as very my first Bowie record. The gorgeous, album-closing I Can't Give Everything Away plays like a touching goodbye letter to the world.
Blackstar is utterly magnificent, a strange and sublime masterpiece. As the record that inspired this wide and wonderful trip in the first place, it serves as a fitting conclusion to our journey. Ventures to the vast beyond, in the end, take us back home to our tiny blue planet — spinning lonely in the cosmos — and all the sonic treasures held within.
Footnotes

1.

Barr, Tim. Techno: The Rough Guide. London: Penguin, 2000. 53. Print.

2.

Sicko, Dan. Techno Rebels. New York: Billboard, 1999. 150. Print.

3.

The Prodigy. Out Of Space. The Prodigy Experience. Howlett, Liam. Curtis, Russell. XL, 1992. Music Video.

4.

I'd love to see the edit of that film that he put together around the time of the album's release.

5.

Greene, Andy. The Inside Story of David Bowie's Stunning New Album, 'Blackstar'. Rolling Stone, 23 Nov. 2015. Print.

http://www.rollingstone.com/music/features/the-inside-story-of-david-bowies-stunning-new-album-blackstar-20151123