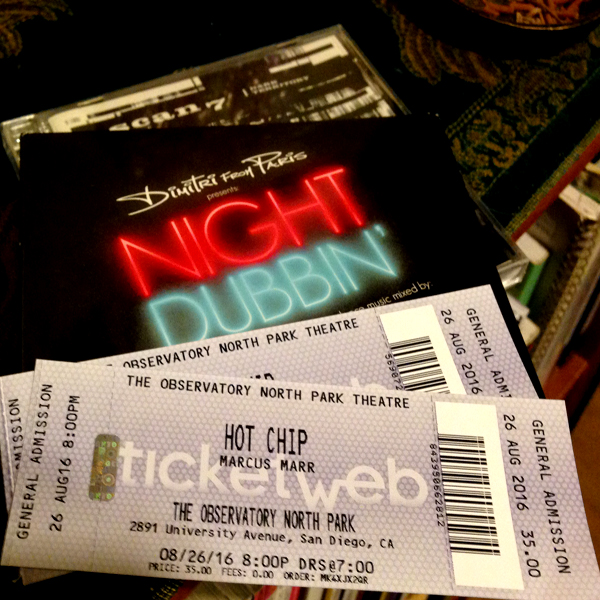 Friday night I was lucky enough to catch Hot Chip live at the North Park Observatory. I'd managed to scoop up tickets a week before, and had been looking forward to finally catching this crew live. In the previous incarnation of this blog (Other99), I'd written about them a great many times, from their epochal debut album Coming On Strong to their DJ-Kicks excursion through left field dance pop (and even random bumper stickers that appeared throughout the city!). However, I don't think I've yet touched on them here.
When Hot Chip first emerged, they were a crucial group at a crucial time. Seemingly rising from the embers of the mainstream's dalliance with electronica but just before the term "EDM" began to gain traction, they were reticent outsiders at a time when DFA and The Junior Boys were making similar moves at the inflection point between indie pop and the dancefloor.
I've kept up with them ever since, and they've remained a faithful indie dance outfit — perhaps the most steadfast of their era — turning out a sequence first-rate records for well over a decade. As easy as it is to take a group this dependable for granted, they've remained one of my favorite crews throughout their extended tenure. So on Friday night, after a dinner of chicken creole accompanied by the sounds of The Idjut Boys' Night Dubbin', Sari and I hustled down to the Observatory and slipped in for the show.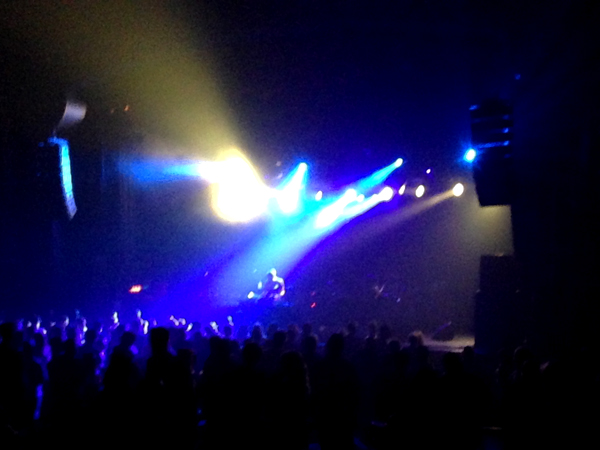 We arrived just in time to catch the opening strains of Marcus Marr's set, a bumping selection of DFA-shaded electronic disco, pulsing through the inimitable Observatory soundsystem. We watched from the mezzanine — taking in the room and catching up on drinks — while Marr did his thing. There was this moment where an almost nu breaks sequence dropped into the 4/4 pulse... it was without a doubt my favorite moment of his set. After a solid hour of moody dancefloor burners — incredibly crisp and crystal clear — the man signed off promptly to wild cheers from the assembling crowd.
While the technicians set up the stage for the headlining band, there was an ace selection of music playing. With a band like Hot Chip, full of connoisseurs and trainspotters end to end, you just know that everything was specially selected. I seem to recall a deejay cut on a Susan Cadogan riddim and maybe something by the Eurythmics, but the tracks that really stood out were the relatively unexpected ones: Fairport Convention's folk talisman Meet On The Ledge and Fleetwood Mac's awesome I Know I'm Not Wrong (from their stone-cold classic double-LP Tusk). A fascinating glimpse behind the curtain, to be sure. We made our way down to the dancefloor as the lights dimmed on the Observatory...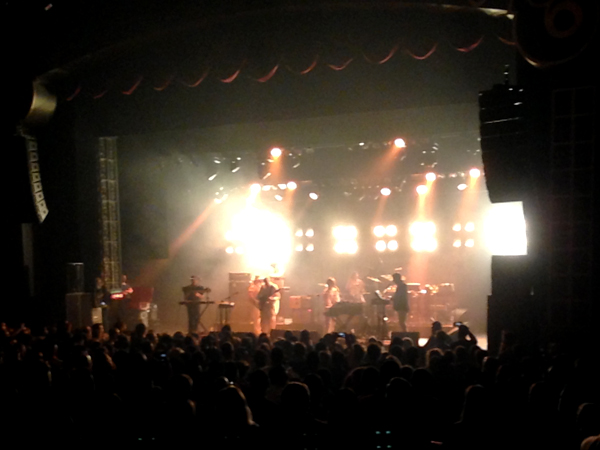 Bright lights shone and the group walked out onstage. Most of the group were posted behind synths — arranged at various angles and heights — with lead singer Alexis Taylor standing perpendicular to the crowd, flanked diagonally by Owen Clarke and Joe Goddard, while Felix Martin loomed in the background. Al Doyle stood at center with his bass and Rob Smoughton wandered back and forth between guitar and percussion, while Sarah James provided live drums in the background.
The band launched into their early hit single Boy From School, Alexis and Joe riding shimmering synth figures on a plaintive melody, operating at an uptempo pace (that they would retain for most of the night) and drawing the room into their singular strains of melancholy dance. I was instantly reminded why this group often suggest a pocket version of prime Underworld, the bright lights and that nagging refrain hanging in the air like a twilight reverie.
Next up, the title track from 2010's One Life Stand brings us into the current decade, with a firm fan favorite. Those rolling Italo-disco synth inflections (with an at times almost steel drum timbre) seem to recall not only My Mine's Hypnotic Tango but also early Depeche Mode at their most chipper and bleep-heavy (squint and the backing vocals of the chorus could almost be Martin Gore). Like early DM, with their bubblegum take on Kraftwerk, I love how Hot Chip eschew widescreen sonics for a more intimate, pocketbook style of electronic pop.
Night & Day continued down this path, its staircase bassline throwing wild analogue shapes around the room (it always makes me flash on Random Noise Generation's chaotic house missives) before flowing into the strange Moroder-inflected post-disco of Flutes, riding a free-release cascade of synths — bleeding into every corner of the Observatory's soundscape — and deftly transcending the studio version in the process. By this point, this ragtag bunch clearly had the room in the palm of their collective hands.
They dove headfirst into Over And Over, that momentous slab of dancefloor madness, and you just know what's coming from the first note. That glorious repetition — in both the vocals and its grinding bassline — in full force, pumping louder and wilder than I'd every heard it before. Then it hit me: this is the closest a band has gotten to capturing the feeling of killer acid house cuts like Armando's Trance Dance and Steve Poindexter's Born To Freak. Even the terse vocals of the verses feel like the clipped phrasing you'd find in acid, and then there's the immortal chorus: Over and over and over and over, like a monkey with a miniature cymbal, the joy of repetition is really within you. Really, what a wonderful sentiment!
The lone track from Made In The Dark, Ready For The Floor descended next, riding its trademark lopsided groove — that illogical chord progression with those bleeps spilling out over its sides. This one's always reminded me of William Onyeabor's Anything You Sow (a record that I was lucky enough to snap up on my honeymoon!). I Feel Better came next, sounding not unlike some improbable soundclash between Jamie Principle and OMD, with its shimmering vocals and hall-of-mirrors string progression driving blank-eyed into the dead of night.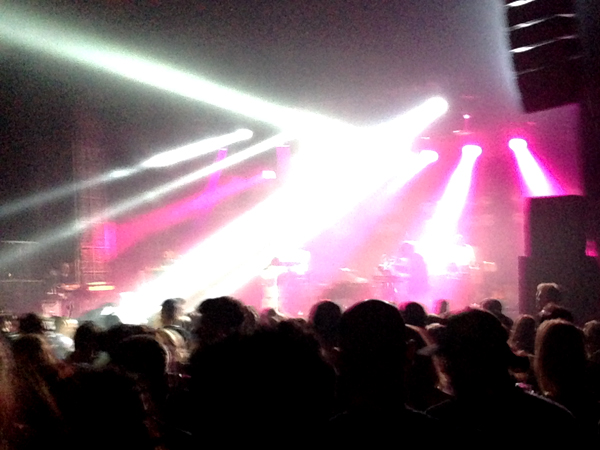 Alexis then introduced a new track, House Of Truth, and the band launched into a deep, introspective groove that reminded me of some of my absolute favorite material they've ever done. I'm thinking specifically of tracks like No Fit State, These Chains and DJ-Kicks/My Piano, with a cycling, moody take on the Reese bassline, similar in spirit to Underworld's (again!) approach in tracks like Dirty Epic. Then without warning, they slipped into a superbly executed cover of Erotic City, proving beyond a shadow of a doubt that the boys are still Down With Prince. An unexpected delight!
Huarache Lights — the evening's lone track from their latest record (Why Make Sense?) — closed out their set in fine style, grooving along at a downright leisurely pace compared to the rest of the band's fiercely uptempo set. Featuring a sample of the vocal ad-lib from First Choice's Let No Man Put Asunder — another peak-period acid signifier — the tune sounded utterly of-the-moment, working through its own internal logic before running down into a looping refrain.
With those closing, unresolved bleeps still hanging in the air, the band slowly began to file offstage. The technicians filtered out once again to tweak the equipment for a spell, synths still shimmering toward silence. Then, the band strolled back out for the encore.
Launching into a Hi-NRG rendition of Bruce Springsteen's Dancing In The Dark — taken from their latest EP of the same name — the group clocked their highest BPM workout of the night. Tuning into that whole micro-lineage of dancefloor Springsteen covers — spanning from Blinded By The Light as interpreted by Manfred Mann's Earth Band to Donna Summer's run through Protection and even Frankie Goes To Hollywood's take on Born To Run Hot Chip rewired Bruce's wistful original into a turbocharged dance into the fire, sequences racing and the crowd swept up once more for the ride.