Woebot with a stack of 10 post punk cds.1 As usual, the man nails it. Do it better, he says? Well, I'll take a stab at it... maybe not better, but here's the Parallax spin: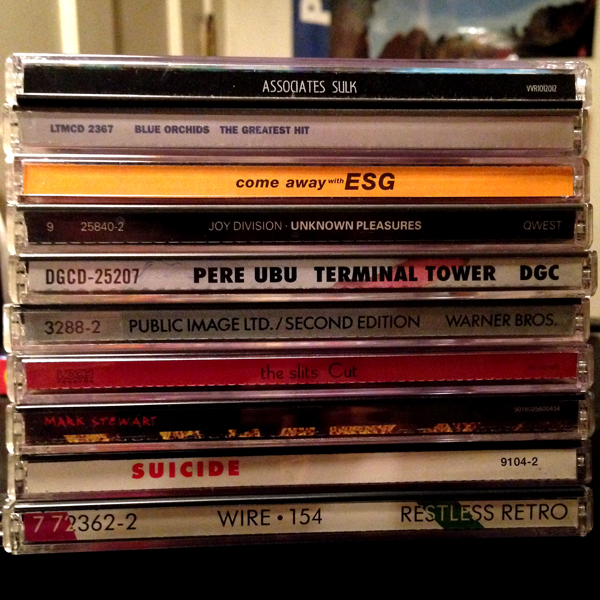 If we're talking post punk, I started out with CDs in the first place. This is turn of the century, late-nineties on the timeline. My vinyl stacks at this point were still largely populated by 12" singles and EPs, the stuff you couldn't get on CD. A lot of Detroit, a lot of Chicago and a lot of Bristol. I actually got hooked up with post punk in the first place through the Bristol connection (Smith & Mighty and Tricky traced back to Mark Stewart via their mutual involvement) and PIL (Jah Wobble and John Lydon, traced backwards from their incursions into dance music at the time). I eventually tracked it all down on wax, but for me it started with the CDs.
First things first: the overlap between our lists. Well, there's just no getting around The Slits and PIL, is there? Dub vibes for miles. And I was delighted to see The Blue Orchids in Woebot's list as well. That's one of my most cherished post punk records. Indeed, when I get around to rolling out the next one-hundred of the Parallax hall of fame, it'll be lodged firmly within its ranks. In fact, there's a few spoilers for the Parallax 200 in this very stack of ten... it's like a sneak preview!
There were quite a few instances where we chose different records by the same artist: Pere Ubu (always liked this round up of their earliest singles), Joy Division (the debut is the one for me), Associates (I've already gone on record about Sulk) and then Wire... tough call between their first three albums. Pink Flag might be my favorite, but you could argue it's a straight punk record. So I've gone with the spaced out vibes of 154, as it's definitive post punk and a knockout slice of wax. Endless replays back in the day...
Then there's the stuff that I'd classify slightly differently. Woebot has the Talking Heads and Television in there, both firm favorites of mine no doubt, but I've always had them down as new wave. That's another feature I've had in the works for some time... 25 great new wave records (I'm planning to drop it as a back to school special). In truth I was hip to new wave long before I truly understood post punk. Similarly, I think of The Feelies as early indie rock. They're right there at the junction.
Then there's the stuff I included on a variation: Come Away With ESG. Love the spooked out vibes, the spacious percussion: they definitely translated the Bronx onto wax here. There's Mark Stewart... that one's central to me, the midpoint between Y and Maxinquaye. I love it when late-period post punk starts cross-pollinating with electro and hip hop, and this just might be the apex. And of course Suicide. Not my absolute favorite of theirs (that would be the second album), but this is definitive post punk and a stone cold classic... just like the other nine pictured above.
Well there you have it, post punk in 10 CDs: The Parallax Edition.