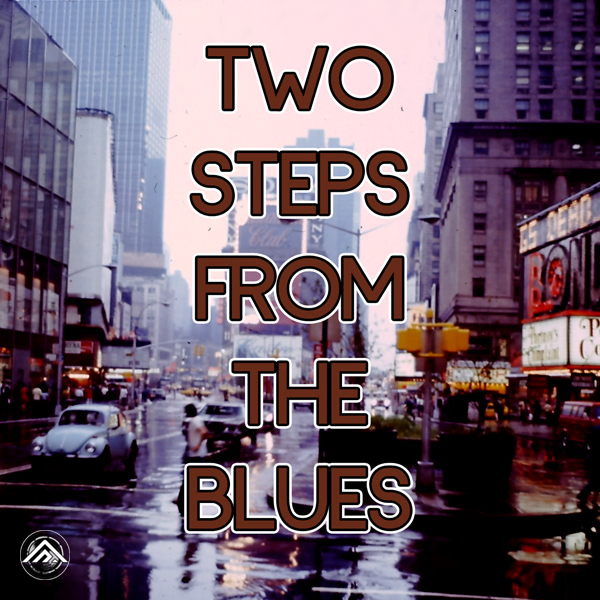 I recently came across this riotous, blazing mix1 by Woebot that he terms this grungey, mutated R'n'B-derived sound. In a weird bit of synchronicity I've been crossing a similar terrain lately. In truth, it's a place where I dwell much of the time.
I've recently been ruminating on this intersection between post punk, trip hop and the blues that's sort of tangentially related to some of the shapes he throws in this mix. This is partially down to working my way through A Cracked Jewel Case2 — long stretches of which run parallel to my own fascinations and obsessions in sound — but also it's a very definite strand of sound that's pretty central to my own musical make up.
In fact, I've long had a loose selection of tracks rolling around that all occupy a similar space in my mind and thought, Why not throw them all together in a mix and see what happens? The end result is a bit of a low slung, moody affair... but then I wouldn't have it any other way.
LISTEN NOW
Two Steps From The Blues

Skip James

Cypress Grove Blues

Yazoo

We start out deep down in the Mississippi Delta, way back in 1931, with Skip James and some of the mightiest blues ever laid down. This is an ancient, desolate sound: loneliness captured on wax. There's this haunting character to James' vocals — his playing too — that really puts you in the room with him.

Goodie Mob

Brandon "Shug" Bennett

Cell Therapy

LaFace

Fast-forward 64 years and Dirty South enters the popular consciousness. This paranoid crawl through shadowy imagery of black helicopters, looming fences and the security state features state of the art production from Organized Noise, yet there's an unmistakable grit here that ties everything back to the Delta.

Drugs

Brain On Drugs

Kraked

Psychedelic soul from the turn of the century. Various players from the contemporary touring lineup of Parliament/Funkadelic get down in the studio with this strange slab of hallucinatory sprawl. In many ways, this is like the midpoint between SA-RA and Moodymann. There was even an excellent deep house remix of this tune on a 12" by French duo Château Flight.

Mark Stewart + Maffia

Survival

Mute

The massive geometric rhythm here has always reminded me of the desolate, wide-open spaces of certain old electric blues records. I think the Maffia certainly do have a bit of the blues in them — filtered through an angular, cyberpunk shaped prism, but there nonetheless — and their early recordings as the Sugar Hill house band bear this out. See also No Wave and Cabaret Voltaire.

Martina Topley-Bird

Too Tough To Die

Independiente

Taken from her solo debut after parting ways with Tricky. Quixotic is of a piece with Tricky Kid's earlier records — thoroughly imbued as they were with Martina's indelible presence — and this track in particular makes the strong blues nature of her microphone presence explicit. Ensconced within the grinding rhythms of this gnarled bit of modern blues, she seems as comfortable in the form as a Bessie Smith or Billie Holiday.

Dr. John

Black Widow Spider

ATCO

Martina's voodoo-steeped soul segues into the New Orleans swamp-blues of Dr. John, from sophomore album Babylon. In his autobiography, Under A Hoodoo Moon, Dr. John states We were trying to get into something... with visions of the end of the world — as if Hieronymus Bosch had cut an album.3

Tricky

6 Minutes

Island

The first half of Angels With Dirty Faces is among the densest, most atmospheric music in Tricky's oeuvre, rivaling even the Nearly God record and his collaboration with the Gravediggaz on The Hell EP. Much of the best trip hop is suffused with the spectre of the blues, and this rolling monster of a track — with that nagging looped guitar figure — is positively drenched in it.

Howlin' Wolf

Who's Been Talkin'

Chess

This is likely my favorite blues song bar none, taken from my most treasured blues LP of all time by my absolute favorite bluesman. That endless, tumbling rhythm seems to predict machine music in its precise repetition, while its stark shapes and spooked-out mood prefigure both post punk and trip hop's modus operandi, respectively. As usual, Wolf himself tears through it all like a man possessed.

Terranova

Cath Coffey

Sweet Bitter Love

Copasetik

The geometric rhythms in evidence here throw similar shadows, only now as if seen through a blurred lens. Sweet Bitter Love, taken from Terranova's first album, is of a piece with their earlier Tokyo Tower record. The title track and its b-side Clone seemed to encompass jazz, blues and Krautrock in one stroke while remaining trip hop through and through. Here, the sumptuous blues tone of Cath Coffey's voice inhabits the bleak soundscape with a gravity all her own.

Gil Scott-Heron

Me And The Devil

XL

This is the lead single from Gil Scott-Heron's final record, and it hits you in the chest straight out the gate with it's apocalyptic tone and cinematic force. The deep, smooth croon of his seventies records has grown into the rough and ragged voice of a man who's seen one thing too many — this is 21st century blues.

Dark Comedy

In My Home

Poussez!

The second Dark Comedy record, from 2005, just might be my favorite thing Kenny Larkin has ever done. This is deep and moody electronic blues from Detroit, a primal swamp of a record with more than a dose a black humor to it... made all the more unsettling in its juxtaposition with dead-serious subject matter on the flipside. In My Home recounts an episode around the time of his Metaphor LP — ten years earlier — when he was shot in his home during an attempted robbery.

Ray Charles

It's All Right

Atlantic

The original soul man's second album, and a true masterpiece of piano-laced rhythm & blues. This one's of a piece with the Howlin' Wolf selection above as some of my favorite blues music ever, with Charles here in the process of shaping it into what would soon become soul music. The Raelettes' exquisite backing vocals haunt this track, the dense atmosphere of which evokes the same sense of dread one might expect in a killer trip hop cut some 35 years later.

Tom Waits

Clap Hands

Island

L.A.'s odd man out, this is the second in Waits' trilogy of avant garde eighties records. This tune always stayed with me, its spooked chords unfold over rolling percussion that sounds as if it were played out on hollow bones, the man's raspy croon smack in the middle as he unfurls another one of his dead end backstreet tales. They all went to heaven in a little row boat, that line always gets me. Pure dread.

Bobby Bland

I'll Take Care Of You

Duke

More spectral blues-bathed soul. A key record in that continuum, and a stone cold classic. This is another one of those tunes, where the atmosphere just swirls around you — encircling your entire field of vision — as Bland's piercing vocal climbs through its murky slow-motion organ runs. Later covered by Gil-Scott Heron in fine style on I'm New Here, the same record that houses Me And The Devil.

Otis Rush

My Love Will Never Die

Take Unknown

Varèse Sarabande

Electric blues shot through with that same steely cold sense of mystery you'll find in Who's Been Talkin' and I'll Take Care Of You (indeed much of the downbeat blues music from this era is cloaked in it). Otis Rush is a giant vocal presence, his guitar figures hang there in suspended animation like glyphs on a brick wall. I'm always half expecting this song to show up in some Tarantino film.

Aretha Franklin

The Thrill Is Gone

From Yesterday's Kiss

Atlantic

Smoldering southern soul from the great Aretha Franklin. The swelling Hammond that shades into her piano's wraithlike progression, paired with backing vocals from The Sweet Inspirations — steeped in that same haunting flavor that The Raelettes lent so effortlessly — provide the perfect environment for Franklin's deep soul stylings. This has long been one of my key downbeat soul numbers. Indeed, in my mind this forms a loose tetralogy with Who's Been Talkin', It's All Right and I'll Take Care Of You, songs whose spectral ambience inform whole swathes of my taste in music.

The Jimi Hendrix Experience

Voodoo Chile

Reprise

Supercharged rock-hard blues from Master Hendrix. From that first sustained note, bending into the heavy silence, this just builds and builds like a great flaming galleon adrift in slow motion across the night sky. Steve Winwood does serious damage here with his smoldering Hammond runs (glowing like embers in the darkness) as Hendrix's blazing guitar figures arc across the soundscape. The night I was born I swear the moon turned a fire red. Very likely indeed.

Jelly Roll Morton

Winin' Boy Blues

No. 2

Rounder

Back in the early days of Napster, a good friend of mine offered to download a couple tunes for me (I didn't yet have access to that sort of thing at the time). My two requests were Soft Cell's Tainted Love and anything by Jelly Roll Morton. This is the tune that he turned up, and it stuck with me for years until I eventually tracked it down on volume four of this Library Of Congress set. To this day, it still knocks me out like it did the first time I heard it. That whimsical melody and Morton's rich croon — it's just perfection.
Footnotes

1.

Woebot [Ingram, Matthew]. I've Got Blisters On My Fingers! Woebot. Hollow Earth, 20 Aug. 2016. http://www.woebot.com/2016/08/ive-got-blisters-on-my-fingers.html. Accessed 22 Aug. 2016.

2.

Pearce, Kevin. A Cracked Jewel Case. Your Heart Out, 2016. Digital.

3.

Rebennack, Mac and Jack Rummel. Under A Hoodoo Moon New York: St. Martin's Griffin, 1994. 155. Print.