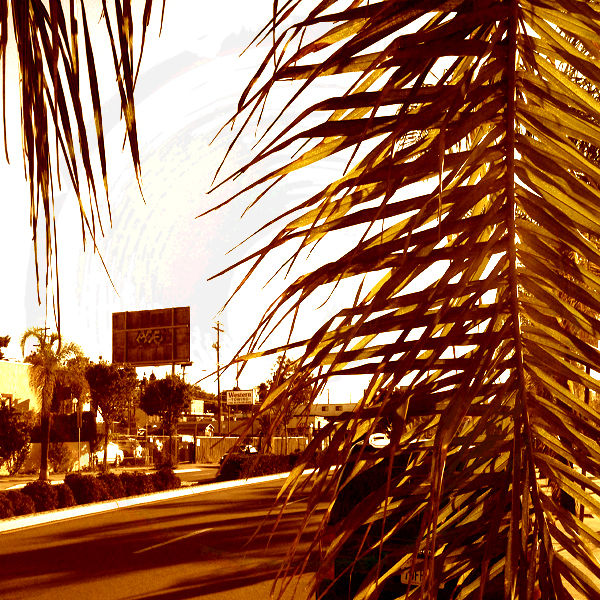 Picking up where we last left off, it was January of 2006. I found myself back in the Heights — living with my brother in a spot off El Cajon Blvd. — after a year spent living between Hillcrest and Balboa Park. The neighborhood was my kind of place, with a varied working class population crammed into a timeworn infrastructure that pre-dates the second world war. There was a public library a few blocks away and an excellent bar down the street called Shamrock's that played a selection of vintage rock (of the San Francisco variety) or block rocking hip hop and r&b, depending on the night.1 As Lamont Dozier might say, I was going back to my roots.
A couple of synchronous events had occurred just before the move that colored the next year or so. For one, I discovered Woebot's blog by way of his epochal list of The 100 Greatest Records Ever (via a timely link from Blissblog2), which — more than any list I've ever found — seemed to align with my own musical priorities.3 It was uncanny! In truth, I'd only heard about half the records in the list, many of which were among my own favorites, and I'd heard of maybe another 30%; the rest represented a new frontier. It quickly became clear that most of them would be right up my alley, and it was time to get hunting.
There were loads of cool revelations, like how often our favorite records by key artists overlapped: Kraftwerk's Computer World, Herbie Hancock's Sextant, The Velvet Underground's self-titled record, Neu! '75, Rhythim Is Rhythim's The Beginning and Captain Beefheart's Safe As Milk.4 His list also tuned me into the music of Scott Walker, Virgo, Edu Lobo, Brigitte Fontaine and Allen Toussaint, sounds that would come to mean the world to me. This isn't even taking into account the writing itself, which always came off witty and warm, coloring even his most esoteric excursions into the avant garde with a down-to-earth flavor. Without a doubt, discovering Woebot's scurrilous activities in sound remains one of the key moments in my musical life.
The other event that went down toward the end of my time at the 1808 was the near-simultaneous appearance of SA-RA and Hot Chip on the pop music landscape: two crews that were so very tailored to my tastes that it was almost comical. There's a piece I've been working up centered around their appearance (in light of the recent Hot Chip show), but for now suffice it to say came along at just the right time for where I was at in 2005.
Moodymann's recent Black Mahogani LP was fast overtaking Silentintroduction as my favorite record of his, and I'd been diving deeper into disco and garage than I'd ever been able to before. The output of labels like West End and Easy Street were in constant rotation, along with some other things that I'd been turned onto by one Kenny Dixon Jr.5 There were loads of greet electro-boogie records to be found for pennies (an ongoing obsession), things like Ray Parker Jr.'s Woman Out Of Control and One Way's Who's Foolin' Who.6 SA-RA dropping at this point only served to bring my various obsessions into focus.
Shamrock's had tuned me into a whole bunch of hip hop and r&b around this time, along with a number or choice rock selections. This the era when Comets On Fire dropped their masterstroke, Avatar, sending me into the past digging up a bunch of storied Head Heritage material like Pentagram, the first three Blue Öyster Cult LPs and early Grand Funk Railroad.7 Augmenting old favorites like the Groundhogs, MC5 and Blue Cheer (not to mention Black Sabbath, Led Zeppelin and Van Halen, of which my brother was a huge fan), it provided the soundtrack to that summer.
Barney Hoskyns' Hotel California had just come out around this time, illuminating the context around the Laurel Canyon scene in L.A. (something I was a bit thin on). Nearly everything I already knew I'd found out by simply following the various lines of flight from The Byrds' orbit. Things like Gene Clark's solo records, The Flying Burrito Bros and Crosby, Stills & Nash. Which then connects to Buffalo Springfield and Neil Young/Crazy Horse, not to mention of the early solo albums by David Crosby, Stephen Stills and Graham Nash. That's how it works, this music thing, you go from node to node. Hotel California simply fleshed it all out, and provided the impetus to dig a little deeper.
All of which sets the stage for the second era of Radio AG, a period stretching from the dawn of 2006 to the close of 2007. I finally had a proper setup for my decks again (I'd had them laid out on the floor at the 1808). The mixes from 2006 were all coming to terms with the above tributaries, threading them into a matrix of groove-based music and taking the intended audience just a little deeper into the realm. There's that one mix where I played out the entirety of Halleluwah because it seemed like the right thing to do. The lions share of the year's mixes were from the summertime, and it shows. Lot's of high desert action, dry and dusty.
2007 was really the sea change. The winter mix was the first where I was really able to run wild with a consistent atmosphere, opening with Asmus Tietchens and closing with When The Levee Breaks. Everything had an glacial cast to it, from an unreleased Kelis tune to late-period Gentle Giant and early Simple Minds (a perennial favorite), it came on like an icy gust of wind. The next few mixes got deeper and deeper into beats, which is something I'd always meant to do. Firm favorites like Drexciya, Scan 7 and Theo Parrish all got a well-deserved look in. The table was finally set.
At the end of the year, G.B. loaned me a stack of records with the stated mission to make a mix out of them. The result was Episode 012. It was a great experience, working with a bunch of records I'd never heard before (I was only familiar with something like five of them), and on the whole pleasantly disorienting (like one imagines deep sea diving to be). Especially eye-opening were the Sneakmove Minicomps and the records on Bully, which were great breakbeat-driven slabs of noise seemingly built atop live drums.8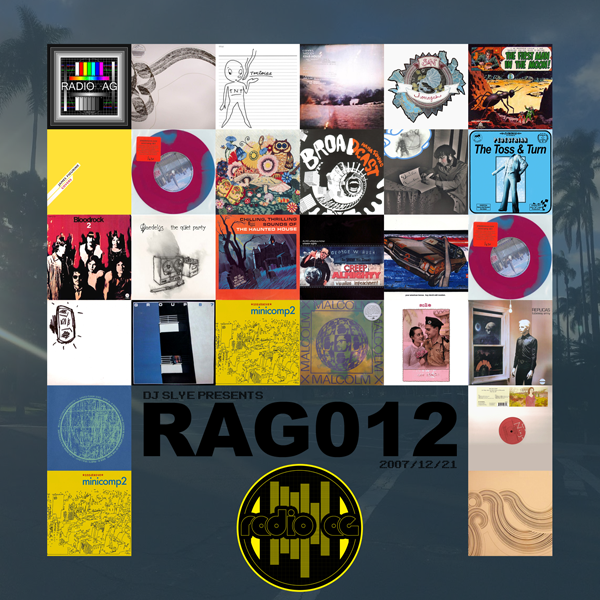 The uniting thread throughout was a sort of post-rock, post-everything even, selection of sounds. There were beats that seemed to blur the lines between IDM and abstract hip hop, like the remix of Boom Bip by Boards Of Canada. There was James Figurine's cover of Other 99 (an old Big Audio Dynamite song that became the name of my original blog back in 2003) along with a G.B. original. It was a fascinating realm to spend some time in, resulting in the second true winter mix. Coming at the close of 2007, it's also the perfect way to close out the second chapter of the Radio AG saga.
---
And then, a long break...
Footnotes

1.

Sadly, the place closed down about seven years ago, ultimately being replaced by a hookah lounge.

2.

Blissout [Reynolds, Simon]. Edifying, controversial. Blissblog, 28 Dec. 2005. https://blissout.blogspot.com/2005/12. Accessed 25 Jun. 2015.

3.

At the time, your typical list seemed to take in 90% classic rock with token soul, jazz, hip hop and — if you're really lucky — electronic entries.

4.

Whereas the canonical picks at the time would have looked something like this: Kraftwerk Trans-Europe Express, Herbie Hancock Maiden Voyage or Head Hunters, The Velvet Underground & Nico, Neu!'s debut, Rhythim Is Rhythim Nude Photo and Captain Beefheart Trout Mask Replica.

5.

Take for instance his DEMF set (available on Groovetech), where he opened with Gil Scott-Heron & Brian Jackson's We Almost Lost Detroit before running through Curtis Mayfield and William DeVaughn chestnuts, ultimately settling into a boogie groove with The Brides Of Funkenstein and André Cymone.

6.

I'd been seeking out this one for ages. It turned up on the floor of some indie rock shop for 50 cents and was the only record I bought that day. Cutie Pie was one of my key jams circa '93 that for whatever reason was in heavy rotation along with The Isley Brothers' Between The Sheets and Kleeer's Tonight on Jammin' Z90. I'd taped them all off the radio, along with Ice Cube's It Was A Good Day, Duice's Dazzey Duks and the Geto Boys' Six Feet Deep, on what was the first tape I ever made.

7.

I'd actually bought a couple of their later records way back in the day based on their name alone, and Snakes and I had sampled some material for some of our earlier beats (see G-Street, for one).

7.

It makes perfect sense that they reissued the Silver Apples compilation, as that duo seem like the logical ancestor to their sound.