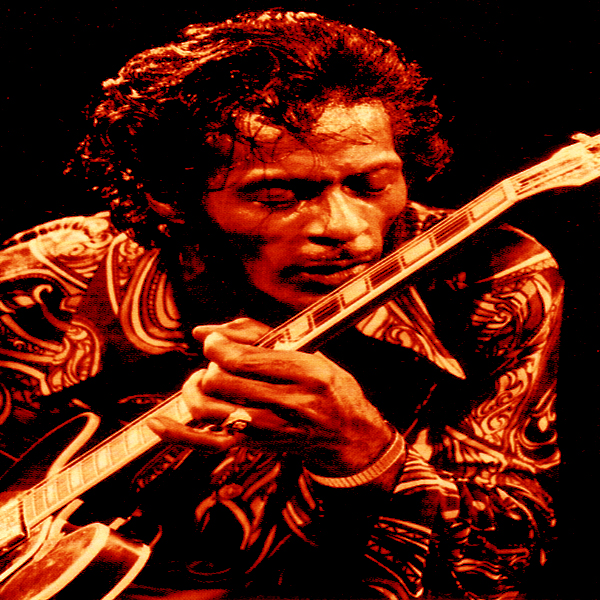 The grand architect of rock 'n roll guitar, Chuck Berry stripped contemporary rhythm & blues down to its framework and rebuilt it like a Detroit muscle car. More often than not, he'd rev the engine of this souped-up sonic machine and race it down the road at a blazing speed, drums pounding at a furious pace — his wild guitar sound at the focal point, cutting through the mix like a straight razor. Along with Bo Diddley's red hot sides and The Sun Sessions, this is where the future was laid down in steel and chrome.
Whereas many of the early rock 'n roll sides would often employ what amounted to a downsized big band orchestra, Berry's sound was rugged and raw; where many of those bands still traded in the rhythm of swing, he accelerated the beat to a motorik stomp. Horns were out, and pianos played but a supporting role. He'd have been rock's first minimalist if he weren't rock's first, period. Where earlier artists might have gestured in the general direction — songs like Ike Turner & Jackie Brenston's Rocket 88 and Hank Williams' Move It On Over offering the first warning shots — he was the living embodiment of rock 'n roll.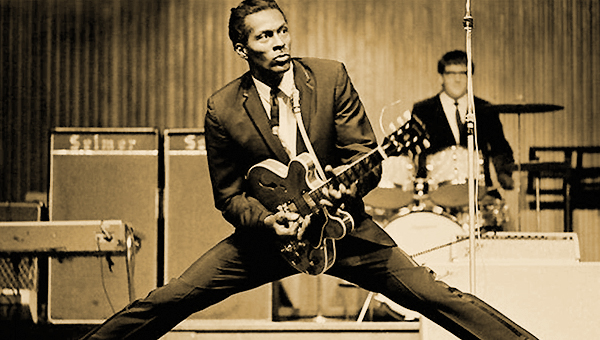 Not only did he redefine the guitar's place in music, he was also an ace songwriter and lyricist: rock's first singer-songwriter-performer... he was the whole package. Songs like Thirty Days To Come Back Home played like episodes in an ongoing travelogue (think On The Road with a sense of danger and a killer backbeat). He'd return to many of his favorite themes again and again — the road, school, women and the music itself — circling back to look at them from another angle, inhabiting different characters and descending into further capers each time out.
You listen to something like The Great Twenty-Eight (where I first started with Berry way back when), and the songs race past thick and fast — Maybellene zoom! Oh Baby Doll zoom!! Johnny B. Goode zoom!! — and the passage of sixty-odd years does nothing to dull the rush, the man's guitar simply tears out the speakers. This was one of my go to records when I'd cruise out past Lake Henshaw on one of my periodic sojourns back in the day, its shimmying beat the perfect soundtrack for hitching Highway 78 — by way of the 67 — and winding out past Santa Ysabel and beyond.
Now obviously that run of singles was red hot (and the basis for his legend), but his trio of excellent fifties LPs — After School Session, One Dozen Berrys and Chuck Berry Is On Top — broaden the scope considerably to include diversions like the Latin-tinged beatless pulse of Havana Moon (also the b-side to You Can't Catch Me, one of my favorite 7" singles ever), Drifting Heart's exotica-in-all-but-name, the circular, proto-surf machinery of Jo Jo Gunne, Down Bound Train's careening pulse and the gutbucket instrumental blues of Low Feeling, all of which betray a vision that expands far beyond the parameters usually ascribed to the man.
And yet even those usual parameters are simply staggering: from the fast-forward groove of Can't Catch Me — with Berry's rapid-fire delivery sliding across its shimmying surface — to the raw swagger of Around And Around and the complex tumbling rhythms of I Want To Be Your Driver, this is is some of the greatest rock 'n roll you'll ever hear. With the exception of Bo Diddley, nobody rocked harder at the time, and while you could call Bo a hard blues man in the tradition stretching from Howlin' Wolf to Captain Beefheart, with Chuck Berry you were dealing with something different altogether.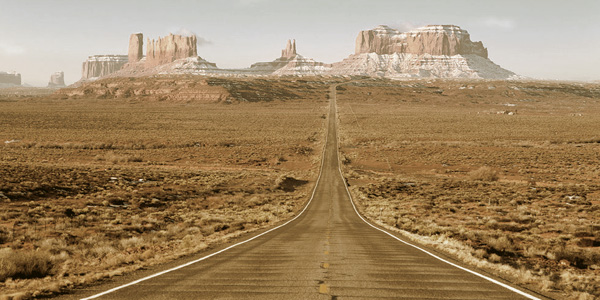 In an era when Eisenhower's Interstate Highway System began its stretch from sea to shining sea, Berry laid down the definitive soundtrack. There may have been car songs before Chuck Berry (see Nat "King" Cole's Route 66 and the K.C. Douglas Trio's Mercury Blues), but he crystallized it into something in which the form matched the content. It's tempting to extrapolate the man's early years working on the assembly line at the Fisher Body automobile assembly plant into the mean machine music he'd ultimately engineer.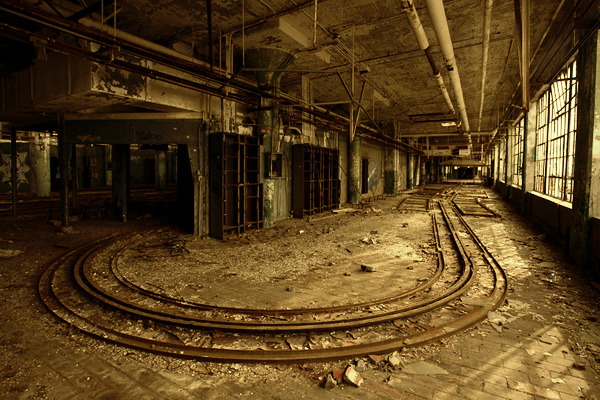 You Can't Catch Me — again! — is the blueprint, but the motorik drive of a song like Carol makes this point as well, stretching well into the future and presaging Neu!'s endless horizons on the Autobahn. Cars, motorik, Detroit... all of this is no coincidence. In the mid-fifties Chuck Berry did to rhythm & blues what Juan Atkins would later do to electronic music in the mid-eighties, rebuilding it into a lean street racer set to overdrive and pointed toward the future.
The man's songs would form the bedrock for early rock 'n roll and beyond, endlessly cribbed (see The Beatles' Come Together, The Beach Boys' Surfin' USA, etc.) and covered, fueling the nascent scene as it gained steam to go on and conquer the world. There's loads of crucial covers — The Stones had their hand in more than a few — some of them even managing to exceed the man's original vision, but then you hear a song like Too Much Monkey Business in its original context — shot through with a spartan elegance and those nagging vocal asides — and it becomes clear that its never been bettered on its own terms.
Along with Bo Diddley's work, this is ground zero for hard-edged rock 'n roll spanning from Link Wray and surf rock to The Rolling Stones and Nuggets and beyond (it's not hard to hear the interlocking gears of Queens Of The Stone Age in Berry's metal machine music). This is where the whole rock endeavor accumulated the energy it needed to reach critical velocity and escape orbit, where it took on molten form and splintered into myriad shards and sounds in the process.
Ushered in by a brown-eyed handsome man from St. Louis, it's a sound that live on in the present day, over sixty years later. All of that, and the man lived to be ninety, riding off into the sunset a legend. So when all is said and done, I say so long Mr. Berry, and thanks for leaving us the music.