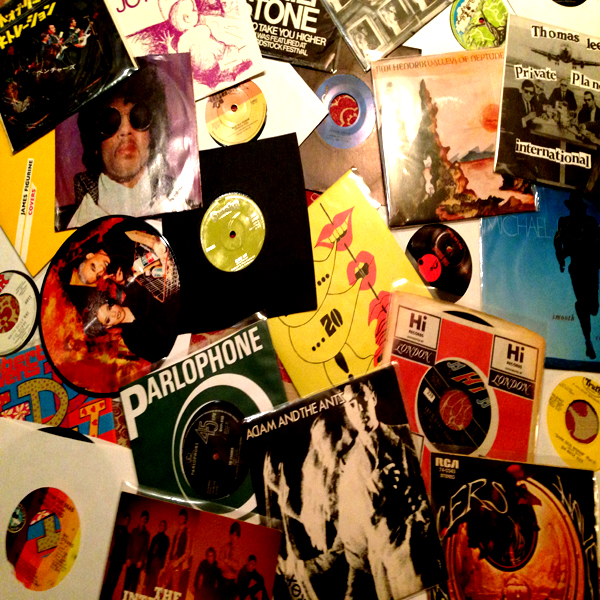 It's 4/5. '45. Little slabs of sunlight cut on seven inches of wax. From rock 'n roll to roots reggae and post punk to soul, it was the great equalizer: the domain where the upstart musician could go toe to to with the stars. Of course some of the biggest names were masters of the form - look no further than
The Beatles
' and
The Stones
' killer run of singles through the sixties for just one example - tucking away stellar tracks on the flip that wouldn't show up anywhere else for years, but figures like
The International Submarine Band
and
The Del-Vetts
would come out of nowhere with records like
Sum Up Broke
and
Last Time Around
and drop heat of their own. Although it would increasingly lean on the LP format in years to come, rock 'n roll was born on the 7" single. If there was one genre that dominated the form, then surely it must have been reggae. From the
Wailing Souls
'
Without You
to
Augustus Pablo
's
East Of The River Nile
and
Zap Pow
's
River Stone
, there was a practically endless stream of brilliant 7" singles flowing from
Jamaica
for decades on end. The other obvious contender is the soul/funk continuum, boasting
James Brown
's run of
People Records
(not to mention his own records!) and
Sly Stone
's genre-defining rubbing shoulders with
The Beginning Of The End
's
Funky Nassau
and
Dark Skin Woman
by
Sir Mack Rice
. This isn't even taking into account the winding catalogs of
Stax
,
Motown
and
Philadelphia International
. Post punk had it's own horde of stone tablets like the five-pronged attack of electronic records coming from the likes of
The Human League
,
Throbbing Gristle
,
Thomas Leer
,
The Normal
and
Cabaret Voltaire
. The flipside was twisted records like
The Pop Group
's
She Is Beyond Good And Evil
,
PIL
's
Public Image
and the
Minutemen
's
Paranoid Time
(indeed, this the era that you'd get loads of 7" records that were essentially micro-LPs, records like
Minor Threat
and the
Meat Puppets
'
In A Car
). In the nineties you had things like
Beck
's
Deadweight
come out on 7" (and why couldn't
White Gold
have been the b-side to
The Dandy Warhols
'
Get Off
like it was on the CD?). There were loads of records that would have lent themselves to the format, even if they never did surface. Records like
Roller Rinks & Chicks
by
Freddy Fresh
,
Scott Weiland
's
Jimmy Was A Stimulator
,
The Orb
's 7" Edit of
Toxygene
... practically any of the
dusted
records of the era would have lent themselves to the form. In the digital era, a lot of exclusively 7" music finally found its way onto other formats, via expanded reissues or compilations like the
Nuggets
box sets. Labels like
Strut
and
Soul Jazz
chronicled entire genres/scenes around the 7" single, breathing new life into the form. And there's still nothing quite like a good b-sides collection...