Tucked away in the shadowy early years of Warp Records' long and winding history, you'll find the debut album by trip hop stalwarts Nightmares On Wax. Originally a duo of George Evelyn and Kevin Harper (aka EASE and Boy Wonder), NOW emerged from the rough-n-ready world of the late-eighties U.K. rave scene, where they made waves spinning at Leeds venues like the Warehouse and Downbeat (the latter of which the duo actually ran themselves). They played a mix of dance music, jazz, soul, hip hop and electro, in keeping with the gloriously omnivorous spirit of the times. EASE quips No segregation in music back then, anything goes!1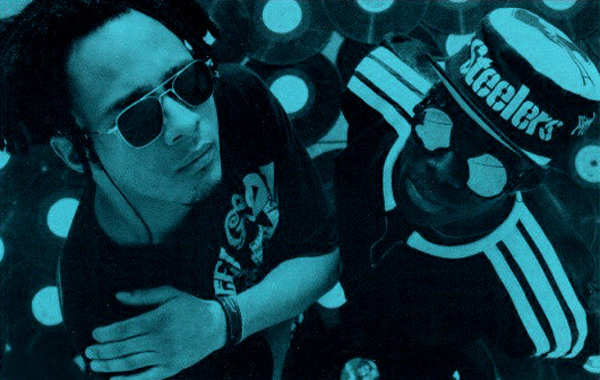 A Word Of Science is suffused with that same anything goes spirit. It's an utterly original record that blends the post-disco sounds of electro, house and hip hop into the sonic equivalent of wildstyle graffiti, its fifteen skeletal tunes belie their spartan nature as they deliriously careen through dazzling, kaleidoscopic terrain. In his breakbeat primer Drum 'n Bass: The Rough Guide, Peter Shapiro rightly singles this record out for praise, calling it the kind of album we'll probably never hear again as it's so full of the innocent joy everyone's scared to show in this age of ludicrous image-consciousness and po-faced taste-makers...2a and that was written nearly twenty years ago.
Certainly straight hip hop tracks like Mega Donutz and How Ya Doin' stand out as hopelessly charming romps, overflowing with a youthful enthusiasm and the optimistic spirit of the times. The rolling Mega Donutz finds MC Tozz 180 recounting the group's history, while How Ya Doin' is essentially a signing-off track, its loping jazz funk beats filled with shout outs to the likes of LFO and Zulu Nation. Both tunes are quintessential U.K. hip hop — coming on like a blunted Shut Up And Dance in rap mode — offering an open-hearted counterpoint to the remainder of the record, which is an unabashedly minimal and moody affair.
The thoroughly smoked-out vibes of Nights Interlude kick the record off with a laidback downbeat rumination sourced in Quincy Jones' Summer In The City,3 laying the blueprint for a decade of languid downbeat splendor in the process. It also commenced NOW's series of Nights excursions that would pepper albums to come (see Night's Introlude, Les Nuits, etc.).
A significant portion of the album trades in downtempo beat collage just as Massive Attack were laying down the gauntlet with their epoch-defining Blue Lines, with the x-ray hip hop of Back Into Time and Playtime sounding like New York beats stretched out in skeletal slow motion.
Elsewhere, E.A.S.E. rides a baroque keyboard arrangement over click-clacking typewriter beats. These tracks are crucial early incursions of what would come to be labeled trip hop, even if they would be improved on sharply by NOW with later records like Smoker's Delight and Carboot Soul.
However, A Word Of Science has something those later albums do not: the maddening electronic grooves of its remaining nine tracks, which stretch the pulse of contemporary bleep 'n bass into unexpected shapes and curious rhythms. Crudely put, bleep 'n bass was the British rave sound that immediately preceded ardkore: sourced in U.S. (particularly New York) house and techno, but with an added bass pressure informed by U.K. soundsystem culture. You'd typically get these great brittle, treble-tweaking shards of sound cutting across a booming bottom end, these blank-eyed droning rhythms dished out by crews like Unique 3, Ital Rockers and the Forgemasters.
Warp Records, now a giant in the world of electronic music — particularly of the ambient, experimental variety — got its start caning this sound, with records like Sweet Exorcist's Testone, the Forgemasters' Track With No Name and LFO's LFO. Warp released the epoch-defining debut album by bleep 'n bass luminaries LFO — who enjoy a reputation as something like the Kraftwerk of British techno —  in the summer of 1991, with NOW's debut hot on its heels a couple months later.4 Interestingly, these two LPs were the first single-artist, full-length albums to come out on Warp.5,6
In the austere company of the rest of the early Warp stable, A Word Of Science stands out by virtue of its blunted, hip hop-inflected edges shot through with a rough-hewn, homespun charm. Once again, Peter Shapiro nails it when he says Nightmares On Wax saw Techno as an outgrowth of the funk and hip-hop scenes and approached it with a herbalist's mindset.2b
The rolling discoid groove of A Case Of Funk, with that massive geometric bassline riding up against the sides of its percussion loops like a tire on the curb, betrays the duos love of vintage funk with its strikingly organic take on New York house music. In soon-to-be familiar British twist, you can hear the x-factor of that implied breakbeat snaking its way through the rhythm.
Aftermath, a 12" smash from the year prior, famously set this equation in stone, looping a sample of Cuba Gooding Sr. to maddening heights against a backdrop of droning vocals, speaker-shredding hi-hats, rolling percussion, the occasional electronic flourish and a bassline rising up deep from within. Similar magic is wrought from Biofeedback, with the N.Y.C. Peech Boys sample intoning the track's title over a loping bassline, stop-start percussion loops and a nagging refrain seemingly played on an out-of-tune keyboard.
Dextrous — taken from a 12" released way back in 1989 — represents this sound at its most minimal, riding some detuned synth tones over a spartan rhythm matrix as eerie chords loom on the horizon. It's all so artlessly constructed, yet it truly gets to the heart of the whole machine music enterprise, as if Kraftwerk had surfaced, delirious, at a Leeds warehouse party.
The brittle textures of Fun are cut from the same cloth, recalling eighties electro at its most dessicated, while Coming Down (a personal favorite) rides an ultra-repetitive, stop-start and rewind groove that captures the feeling of a helicopter hovering on the horizon as it rises and falls on currents of air. Sal Batardes is yet another crisp, electro-inflected endeavor, with ringing percussion figures that seem to recall the atmosphere of The Imperial Brothers' We Come To Dub. The two-minute sketch B.W.T.M. splits the difference between both sides of the record, running its trilling electro percussion and looped vocal snatches at a downtempo pace.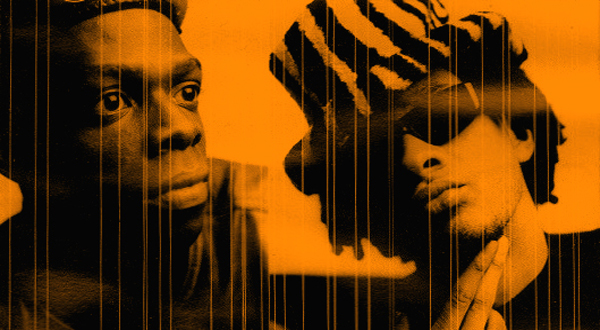 This is just the sort of record that would have been described as dated in the trend-conscious climate of the late 90s (when I first heard it), but — like much of my favorite slightly-older music that I scooped up at the time (think Bobby Konders and Todd Terry) — it sounds fresher than ever in the present. Where most of the big room anthems of that era have by now lost their luster — the overblown sheen rendered absurd by the passage of time — this tough little record really gets down to the heart of the matter, its skeletal rhythm matrix haunted by hieroglyphic ghosts of Sheffield, Detroit and The Bronx, drifting in and out of focus all the time. To borrow the title of their next album, it's a true Smoker's Delight!
Footnotes

1.

Unknown Author. Liner notes. DJ-Kicks. Music by various artists, mixed by Nightmares On Wax. Studio !K7, 2000. CD.

2a.

2b.

Shapiro, Peter. Drum 'n Bass: The Rough Guide. London: Penguin, 1999. 322, 320. Print.

3.

Quite possibly before anyone else thought to (see also The Pharcyde's Passin' Me By and Peanut Butter Wolf's Run The Line).

4.

Bringing to mind SST issuing two stone-tablet double albums, Hüsker Dü's Zen Arcade and the Minutemen's Double Nickels On The Dime mere months from one another in a blitzkrieg of overwhelming talent and ambition, two massively talented groups egging each other on.

5.

All of this just before Warp redrew the parameters with their Artificial Intelligence series and began to focus on ambient electronica at the album level.

6.

Also interesting to note that Nightmares On Wax are the longest serving artist on Warp's roster.