Two years ago, when Kayli was staying at the Parallax Room, I put together this little mix in the spirit of the moment. Summer was dawning, the heat was rising and the palms was swaying, so the time seemed right for a little Compass Point action. Parallax Pier was born, and it became the seventh Cheap Hotel release, seeming as it did to flow naturally from The Clash At The Edge Of Forever compilation.1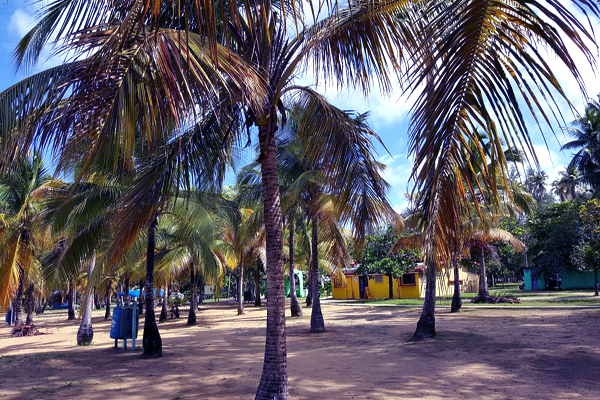 I was all set to upload this mix way back in December but there seemed to be something wrong with the idea of putting such sunny music out there in the dead of winter! This is summertime music, pure and simple, post-disco music with gulf stream tendencies (linking New York to the Caribbean and the Black Ark to the Paradise Garage). This is music born from the place where the ocean meets the shore, hence the compilation's central theme.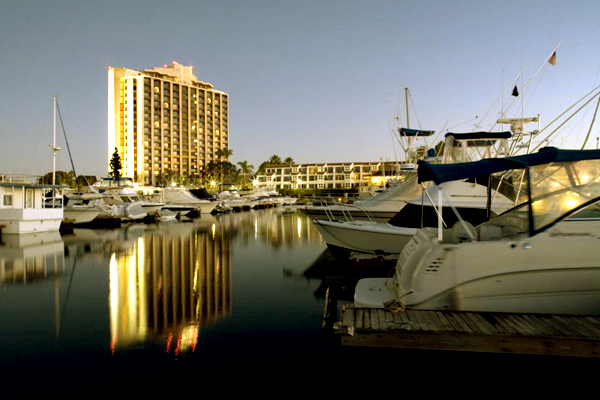 Over the last decade or so, there's been lots of ink spilled on the yacht phenomenon — put crudely, canyon folk and jazz artists getting down with a light disco groove in the mid-seventies onward (see Crosby, Stills & Nash's Dark Star, Pablo Cruise's Love Will Find A Way, Steely Dan's Hey Nineteen, etc.). There's even a yacht cover band making the rounds locally! Of course there's loads of great music that's been mined from this seam, but the sound I'm discussing at the moment is a very different phenomenon.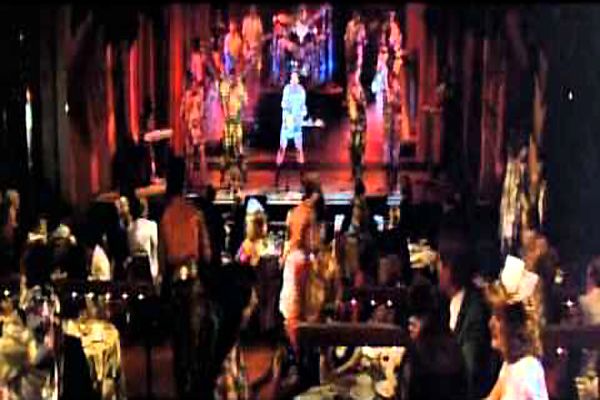 If yacht is muted pastel shades, sports jackets and boat shoes (think Carly Simon at Martha's Vineyard), this music is all vibrant colors, Hawaiian shirts and worn sneakers (inna Club Paradise stylee). This is the sound of post punk new wave going to the beach, the vibes and production techniques of Jamaican dub and Afrobeat creeping their way into the pop charts, the post-disco wave breaking on the shore and pulling back into the sunset to reveal all manner of ocean life dancing in the sand.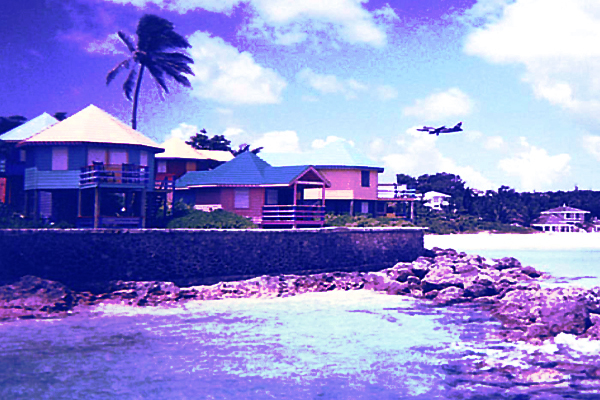 This compilation captures this very select strain of tropical boogie that just so happens to encompass some of the greatest music of its era. Its spiritual home was Compass Point Studios in the Bahamas and on the dancefloor at the Paradise Garage, and its spectre lived on in the output of left field house labels like Nu Groove, Warriors Dance and Jumpin' & Pumpin'.
---
Slye and I have mixed the original compilation into a non-stop excursion through the coastal vibrations of the Parallax Pier.2 Apologies for a few of the more ramshackle transitions... please bear in mind that the original compilation's sequencing was planned without the mix in mind! Simply click the play button below to listen...
Listen Now
Burning Sensations

Belly Of The Whale

Capitol

Pushing off with this slab of calypso-inflected new wave from LA, we find that the Parallax Pier is not a million miles removed from Club Paradise. Discovered this only recently thanks to a Pops-initiated endeavor in which we were scouring the 91x Top 91 songs by year, looking for forgotten gems that he'd dug back in the day. At first you think it's just another zany new wave trifle but then that gorgeous climax hits you like a wave crashing on the shore. Apparently lead singer Tim McGovern re-recorded the song very recently, which is available for download...

Eddy Grant

Electric Avenue

ICE

Surely everyone knows Eddy Grant's electro-tinged post-disco evergreen? Gloriously warped sonix prevail and yet that beat is locked down inna grid Devo-stylee. I've long had a fascination with Grant and his whole ICE setup, the Coach House Rhythm Section, Time Warp and so on. His records predict the spirit of Compass Point more explicitly than just about anything else I can think of (with certain exceptions to follow!).

The original plan was to include Walking On Sunshine — the opening track to his 1978 album of the same name (which also features the excellent Living On The Frontline/The Frontline Symphony suite) — instead, but ultimately figured that Electric Avenue's production was a tighter fit with the rest of the music here. Still, it's something to consider for the inevitable second volume...

Cloud One

Flying High

Heavenly Star

Crisp, immaculately arranged electronic post-disco action from the great Patrick Adams and Peter Brown. Five years on from Atmosphere Strut, this takes that record's Gaussian-blurred psychedelia into the eighties with those same trademark synths writhing against an electroid bassline and geometric percussion patterns while an uncredited vocalist intones the title over and over and over. I've always wanted a copy of Don't Let This Rainbow Pass Me By — the midpoint between both records — but have yet to come across it in the field.

I'm often intrigued by Brown's Heavenly Star imprint, which dealt not only in excellent post-disco boogie but also the sounds of early hip hop. Catching my eye as I was thumbing through Freddy Fresh's The Rap Records some time ago, I only recently noticed that the label put out a remix 12" of Spoonie Gee's Spoonin' Rap,3 my absolute favorite first-wave seventies rap record.

The Police

Voices Inside My Head

A&M

Big chant! Sting echoes the track's title (and not much more) over his own twisting bassline while Andy Sumners cloaks everything in chiming guitars, Stewart Copeland holding everything down with his inimitable presence behind the drum kit. This was big on dancefloors of the era (along with the Common Sense cover version), indeed its gulf stream vibes seem to epitomize the sort of freewheeling exotic moods and grooves you might find at the Paradise Garage at the time. The track's durable rhythm managed to weave itself into the very fabric of post-disco music in the ensuing years, from hip hop (Chill Rob G) to house (KC Flightt) and even r&b (702 featuring Missy "Misdemeanor" Elliott).

Grace Jones

Pull Up To The Bumper

Island

The Compass Point All Stars are all over Grace Jones' Island trilogy. This peerlessly engineered rubberband post-punk disco is from Nightclubbing, the second record in the trilogy and a documented Parallax favorite. I've gone on at great length about the Compass Point All Stars before — what I really ought to do is gather all of this content into a feature — but suffice it to say that they are the The Funk Brothers of this whole sound (that is, the key element in this story).

Only recently discovered the ultra-vibey music video,4 featuring a be-suited Jones doing her thing as Blade Runner-esque cityscapes cycle past in the background. Needless to say, Ms. Jones is a thoroughly fascinating character. I've been looking forward to reading her recently-published autobiography, I'll Never Write My Memoirs, as soon as I get my hands on it.

Madonna

La Isla Bonita

Sire

Along with the Jellybean Benitez-helmed Holiday and Into The Groove, my favorite Madonna tune. Maybe the first hint of her later direction, heralded by the conceptual Like A Prayer LP, which marked her out as a permanent institution in the pop marketplace. The production maybe not quite as fabulous as its surroundings here, it's nevertheless a sumptuous, wistful reverie.

Nu Shooz

I Can't Wait

Atlantic

Killer electro pop. I remember loving this one at the time — it dropped not long before my second trip to Puerto Rico as a kid — and I'll forever associate it with what was a very special time in my life. Nu Shooz were a husband/wife duo from Portland, Oregon. Nevertheless, they managed to capture perfectly the hot fun in the summertime atmosphere: palm trees swaying in the breeze as seagulls circle above, swimming pool reflections dancing off every surface (appropriately, the album is titled Poolside) as the sun settles on the horizon.

Big Audio Dynamite

A Party

Columbia

More dawn of sampling bizzness from Mick Jones and co. Curiously in thrall to the nascent digital dancehall. I've always loved the drum sound throughout this album, but especially in both the electroid Sudden Impact! and this track, which are from it's under-explored second side (all the hits are from the first). Especially cool how Jones chants the lyrics for the first 3/4 of the song's running time before Don Letts drops in to reiterate the selfsame story in rapid-fire ragga chat, squeezing it all into the last fourth before Leo Williams emerges with the baritone response.

Note the presence of Paul "Groucho" Smykle behind the boards, in the midst of his excellent eighties run engineering everything from reggae slates like Gregory Isaacs' Night Nurse (Discomix) and Derrick Harriott's Dub Whip to the post punk disco three-way of Jah Wobble/The Edge/Holger Czukay's Snake Charmer 12", a killer remix of Ja Funmi by juju icon King Sunny Adé and Wally Badarou's sterling mid-eighties work.

Wally Badarou

Chief Inspector

4th & Broadway

Case in point this sublime bit of low key, rolling synth-boogie. Just casually brilliant post-disco magic brought to you by Compass Point's key(board) man, taken from his excellent Echoes LP (which also features Mambo, the basis for Massive Attack's Daydreaming. The 12" version — which I reckon is one of the key records of the decade — is even better (but runs just a bit too long for the purposes of this compilation), featuring Groucho himself behind the boards yet again.

Gwen Guthrie

Padlock

Garage

More Compass Point magic from post-disco chanteuse Gwen Guthrie, this EP of the same name came out on Garage Records (Larry Levan's label associated with the Paradise Garage) alongside N.Y.C. Peech Boys and the Black Mamba record. Levan stretches out five of Guthrie's tracks and dubs them to abstraction, Gwen's voice resplendent throughout, inhabiting her environment like a queen in a crystal palace. One of the great kiss-off tracks, I always love it when Gwen sings You blew it, you blew it, you blew it! just before the chorus hits.

Tom Tom Club

Under The Boardwalk

Island

With Tina on holiday from the Talking Heads, the Weymouth sisters — with Chris Frantz in tow — get down at Compass Point with the All Stars and turn out one of the great girl group records of the era5 (the self-titled debut). This single, a cover of The Drifters' perennial favorite, followed hot on its heels and wrought the same magic from all parties involved.

Billy Idol

Congo Man

Chrysalis

Offbeat coda to the original version of Billy Idol's solo debut, which was replaced by Generation X's Dancing With Myself for the US release. Maybe not as earth-shattering as that hit new wave record, but with Idol chanting nonsense over a dubbed-out conga rhythm for about a minute — bringing to mind Iggy Pop's awesome Jungle Man — it's certainly a strange bit of something special.

The English Beat

Ackee 1 2 3

Go-Feet

The group's debut, I Just Can't Stop It, was so exceedingly brilliant that their follow up albums couldn't help but pale in comparison. This track, however — from their swan song Special Beat Service — is the equal of anything on the debut, seemingly drawing from soca, highlife and South African jive to work up an utterly infectious slice of new wave dance pop. A great song to dance to.

Orchestra Makassy

Mambo Bado

Virgin

Sparkling soukous from Tanzania. From their excellent Agwaya LP, which was among the first African records that I ever owned. The band shifts and turns like clockwork over a wonderful 4/4 pulse, liquid bass propelling from within and driving the whole thing relentlessly forward. Apparently this track also had a 12" release at the time. Band leader Remmy Ongala went on to have a solo career later in the decade, hooking up with Real World for a couple albums.

Haircut One Hundred

Favourite Shirts

Boy Meets Girl

Arista

This was another one that came to light in the Pops-helmed excavation of 91x's old yearly charts. I'd always heard the name and assumed they were synth pop in the vein of Heaven 17, rather than the glittering indie-pop contemporaries of Aztec Camera and Orange Juice that they turned out to be. I djed and my old room mate's wedding a few years back and when my set was over I threw this album on and everyone jumped into the hotel pool, still dressed to the nines. It's A Wonderful Life at The Pearl!

Third World

Now That We Found Love

Island

Incredibly lush and verdant disco-inflected reggae. Like much of Eddy Grant's seventies output, this sounds just preposterously, stupidly ahead of its time. If you played this for me in the late-nineties, I would have guessed it had come out something like five years earlier in the decade. Of course, it's from 1978. A shimmering reggae cover version of The O'Jays' standard, stretched out to nearly eight minutes, its pulsing 4/4 beat and liquid organ-tinged groove is effortlessly propulsive.

Crashers

Flight To Jamaica

Cool Runings

Capo Disco

Bringing it all back home is Crashers' island-tinged post-disco chestnut Flight To Jamaica (Cool Runings). Like nearly everything else here, that central groove is just exquisite, rolling along at a lazy mid-tempo as the uncredited vocalists moonwalk across its surface with their soaring refrain. Those sun-glazed ARP strings and shimmering melodica stylings are just the icing on the cake. Features the immortal line, I'm so cool, I'm about to... freeze! Which, come to think of it, just about sums up this whole affair to a T...
Parallax Pier: The Records
With all apologies to the following artists that were ultimately excluded, not due to quality but CD running time constraints and the very particular vibe that happened to coalesce around this selection: Thomas Leer, Dinosaur L, Billy Ocean, Sheila E., Rockers Revenge, Affinity, Ian Dury, Talking Heads, Liquid Liquid, FSOL, Sam Mangwana, Happy Mondays, King Sunny Adé & His African Beats, Open House, Joe Gibbs, Men At Work, Bobby Konders, Ashford & Simpson, Bang The Party, Lola, The Clash, Central Line, No Smoke & The Mali Singers, Carlton, Arthur Russell, Marianne Faithfull, Robert Palmer, Lizzy Mercier Descloux and The Teardrop Explodes. Some of which will likely be making an appearance when the inevitable Volume Two rolls around...
Footnotes

1.

The Clash. The Clash At The Edge Of Forever. Cheap Hotel, 2015. CD.

2.

Various Artists. Parallax Pier. Cheap Hotel, 2015. CD.

3.

Fresh, Freddy. The Rap Records, 1st Edition. Minneapolis: Howlin', 2007. ___. Print.

4.

Jones, Grace. Pull Up To The Bumper. Nightclubbing. Jones, Grace, Kookoo Baya and Dana Manno. Island, 1981. Music Video.

5.

No mean feat, considering the likes of the Bangles, the Go-Go's, Klymaxx, The Pointer Sisters, Bananarama, the Mary Jane Girls, Vanity 6, ESG and The Slits were all plying their trade around the same time.