Picking up from last time (nearly a year ago!), here's another Garden Grooves session coming at your from the Heights. This outing was strictly in the roots 'n future neighborhood, where dub, house and trip hop all shuffle in the shadows, matching the mood as we cultivated the fern gardens in the shady glen of The Southwest Terrace. Spanning a weekend of work, here's the selection as it played out:
Jumping off into our horticultural escapades with Rodriguez's debut, an unqualified masterpiece. Peerless folk coming from Detroit, masterfully produced and arranged by Dennis Coffey and Mike Theodore, Rodriguez himself is never less than compelling. One of those records packed with potential hit singles (Hate Street Dialogue, Sugar Man, Jane S. Piddy, etc.) that the label nonetheless fumbled, not knowing how to market. Such a shame!
Phenomenally lush chamber jazz on the BYG/Actuel imprint, rendered doubly fascinating in the context of that label's illustrious free jazz pedigree. I reckon this even tops New Africa, Moncur's free outing of the previous year on the same label. Utterly unique, this is one of my key Jazz Mosaic records. It always makes me think of walking around Balboa Park in the late afternoon, the Timkin, the Botanical Gardens, etc.
Supreme Latin funk masterminded by the late, great Eddie Palmieri and his brother Charlie. I've gone on record about Palmieri before, suffice it to say I think he's one of the great visionaries of salsa music, stretching it out in the same way Miles did jazz around the same time. You might call this dread, moody funk tile something of a sister record to The World Is A Ghetto. Carmello requested this and the next one when he rolled up for some digging time.
Awesome discomix version of the Dazz Band's immortal Let It Whip, a key Blacklight Affair track that also gets regular play on Magic 92.5. The Dub Whip version on the flipside is utterly essential, drenching the track in reverb as every aspect trails off into deep space.
Which takes us into Señor Konders rootsical deep house vibes. This indispensable compilation (assembled by none other than Frankie Bones) was my introduction to the man's work after hearing the immortal Let There Be House in the mix. This pre-dates the (also excellent) A Lost Era In NYC 1987-1992 compilation on International Deejay Gigolo by a good seven years; I dig the focus on the early Massive Sounds sides during the latter half of this compilation, prefiguring as they do Konders' latter ragga-infused direction while remaining firmly grounded in New York house.
The lone LP to result from Smith & Mighty's signing with FFRR, an ill-fated deal that promised to deliver a flurry of records before becoming bogged down in label politics. Paired with the Steppers Delight EP, it makes as excellent case for the duo's status as the godfathers of Bristol blues. Carlton himself is a revelation. It's a shame he didn't get to do more vocal work as the decade progressed... one could see him linking up with a UK garage crew and doing serious damage later in the decade.
Roots reggae stalwart and frequent Massive Attack collaborator Horace Andy's LP on Massive's Melankolic setup. Just a great modern reggae record, with tracks like After All and Juggling offering up a shimmering take on roots music. Still, there's a definite modernist tilt to songs like the Johnny Too Bad cover and the awesome Doldrums (produced by 3D). A careening ragga track riding a beatbox rhythm, it's one of those tracks that remain impossible to date: it could have come out in 1989, 1999, 2009 or even two years from now.
Neuromancer post-disco blues. Makes an excellent case for giving supermodels record contracts. Jones cut through the decade like a bejeweled dagger, unfurling a swathe of superb records like Warm Leatherette, Slave To The Rhythm and this record, a Parallax favorite. I've gone on about this one many times before (and many times to come, no doubt), but today I'd like to single out I've Done It Again for praise, a lazy windswept chanson, gently swaying like Luquillo palms at sunset.
Excellent soukous from The Congo. There's not a great deal written about this record, although it does make Muzikifan's illustrious African Top 50.1 The title track is simply exquisite, those lilting guitars do their thing over a pulsing 4/4 beat as an ebullient Mangwana dances atop the whole thing like Fred Astaire. One of my favorite sleeves as well, evocative as it is of a particular time and place.
Peak-era Thomas Leer, on the heels of his 4 Movements EP and basking in the same gulf stream vibes. Leer's bedroom sonics somehow manage to make the whole thing sound anachronistic by about fifteen years — pre-dating the likes of Jimi Tenor and Uwe Schmidt — and betraying unlikely similarities with prime Compass Point material like Wally Badarou's Chief Inspector.
This was a huge record for me at the time. Indeed 2006 (over ten years ago!) was the last time I remember feeling overwhelmed by a surplus of great records (it's been diminishing returns since!). Cheikh Lô's third album finds him truly mastering his writing, with a rich, full bodied production (think Ali Farka Touré). World Circuit were tearing it up at this point, with the aforementioned Touré, Oumou Sangare and Orchestra Baobab releases all surfacing within months of each other. The awesome Kelle Magni Encore is an unacknowledged Balearic chestnut, just waiting for someone to pick up on it in the club. I remember hoping for a 12" release at the time.
Quintessential Warriors Dance magic, this mutant house tile  — like Bang The Party's Back To Prison — is utterly essential listening. Unlike the BTP record, this one never saw release on CD. Don't believe people who tell you there aren't great house albums! This is the next step down the road from Bobby Konders' Massai Women, creeping further yet into fourth world territory and all the better for it.
I've always been a huge Bandulu fan. This was the first thing of theirs I scooped up back in the day (oddly enough, it was the easiest to find, despite Cornerstone being a new release at the time). This is a dubbed-out, Detroit-inflected high desert head trip unlike anything else I've heard. There's plenty of widescreen epics like Earth 6 and Invaders, but a song like Gravity Pull — with its clanking percussion and droning sonics — is a surreal atmospheric missive not entirely removed from Basic Channel/Chain Reaction. I've always adored the bassline in Messenger (a distant cousin to Carl Craig's Psyche/BFC output), and speaking of Craig, the man surfaces here with the Innerzone Mix of Better Nation is, a spiky slab of street-level techno on the 21st century b-boy tip.
Similarly, I've always adored Andrew Weatherall's output, especially from this point up to just before Two Lone Swordsmen went post punk. Weatherall was a huge fan of The Clash, and damn if he didn't create a body of work that approximated what Joe Strummer and co. might have sounded like if they'd caught the vibes at Shoom and descended deeper into electronics. A superb album, hovering at the nexus between dub, breakbeat and techno, where the spirits dwell.
The Revolver of the nineties. The culmination of everything the duo-turned-trio had been up to in their wilderness years, this is strictly rough cut bizzness. I liked the way Kevin Pearce invoked Sandinista! when discussing this album in A Cracked Jewel Case. It's a mess, but beautifully so. With vocal showcases like Drowning, Down In Rwanda and Higher Dub continuing the crew's tradition of first-rate vocal showcases, its the instrumentals like Yow He Koh, Maybe For Dub and Jungle Man Corner that manage to get to the heart of the matter and steal the show.
Awesome digidub compilation on the Nubian setup, which I know next to nothing about. Featuring mostly (but not just) Bristol artists, this features the mind-blowing Peter D. showcase Jah Pure & Clean, which I first heard on Smith & Mighty's fiery DJ-Kicks outing back in 1998. The liner notes rather helpfully have bios on the crews involved, along with label contacts and other background information.
The midpoint between the breakout proto-big beat of Into The Dragon and Beat Dis-era and the breathtaking hip hop blues of Clear. You hear very little about this record but trust me, you want to check it out. Like John Saul Kane's Depth Charge output, it splits the difference between big beat and trip hop while submerging the results in murky waters. Unlike Kane, Tim Simenon works with vocalists like Loretta Heywood and carves out a peerless raw-edged sound (this the same year as Blue Lines!). The Air You Breathe, with its spine-tingling Tell me you were never one of them sample, is quite simply sublime.
Post punk Jacob Miller cover version that predicts trip hop a whole year before Mark Stewart got around to it? Apocalyptic spaghetti western discomix showcase built around dialogue samples from Duck, You Sucker and Once Upon A Time In The West?? Cinematic fourth world dub breakdown straight out of William Gibson's Zion??? It's all here, baby.
Spiraling breakbeat magic on Leftfield's Hard Hands imprint. Bought on sight from the cheap bin (along with Anthony Shakir's Tracks For My Father, if memory serves) at the record store next to Club Elements back in the day, Snakes and I had no idea what was in store. Two sides of marathon wildstyle percussion freakouts, loping basslines and not much else — like Niagara getting down with an AKAI — it turns out. Moog In and Moog Out.
People can get pretty sniffy about this duo, and I've never understood it. This cinematic club music splits the difference between house and trip hop, the results shot through with both dub and techno vibes throughout. Songs like Afro-Left, Space Shanty and Black Flute sound like the lush, organic flipside to Bandulu's electronic dub equations, picking up the same thread laid out by Bobby Konders and Warriors Dance. Who could argue with gentle moments like the widescreen ambient of Melt and Original's downbeat splendor. Perhaps people disliked the Lydon guest spot, Open Up? Snobs! That track is phenomenal. At any rate, even the most hardened purist couldn't knock the wild breakbeat moves of Storm 3000.
Awesome dub platter. I always think of this as the sister record to King Tubby's Dub From The Roots. Houses the epochal dub version of Jacob Miller's Baby I Love You So — in the form of the title track — which should be your first port of call if you've never heard a dub track.
Bonkers dubbed-out roots reggae from the great Keith Hudson, whose sound isn't remotely like anyone else's. This LP quite simply is the sound of the jungle: lush, all-conquering vegetation creeping over everything in sight, from roads and buildings to stone heads and pyramids. There's also a sweet, lovers rock aspect to the record that seems to phase in and out of view before Hunting, Stabiliser and My Nocturne roll back in from the darkness.
And with twilight descending, that the next phase of the project was completed...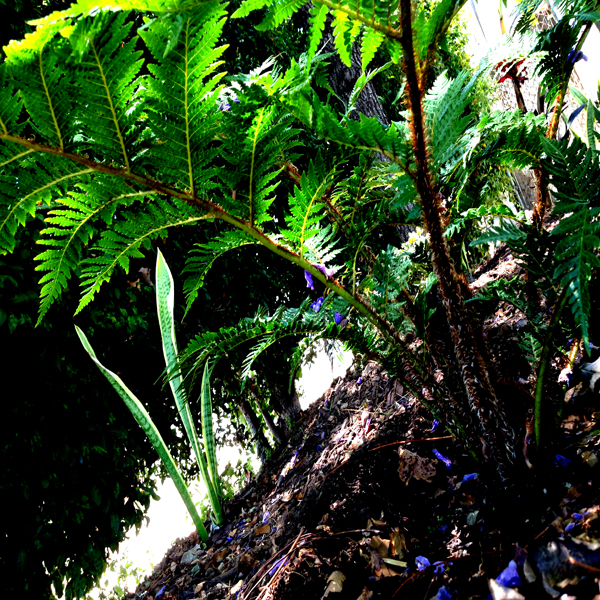 Prehistoric plant life in full effect: the verdant architecture of a tree fern, nestled in The Southwest Terrace of the Parallax Gardens.