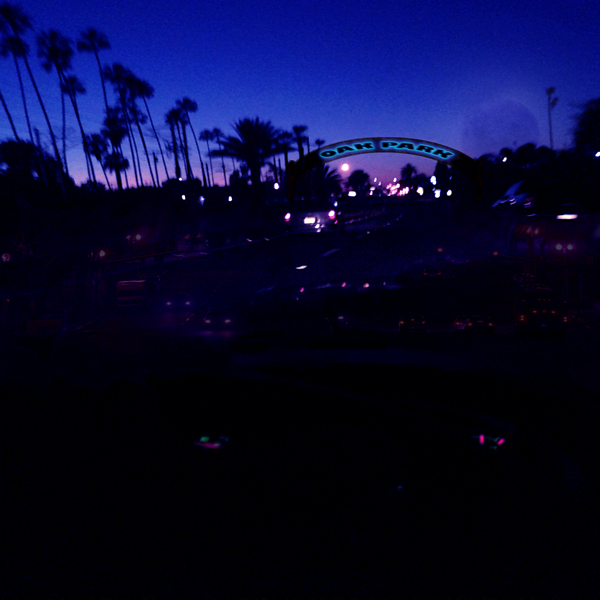 Pieces of the crew were down at the Blacklight Joint the other night, chillin' with Do'shonne and Slye, drafting up the blueprint for the future. Nautilus and Marisol were there, along with half of Palm Grove and Imani, soaking up the vibes down in deepest Oak Park. The subject was a room, not a building but a place where the myriad strands of the Parallax experience could be explored in the depth that they required. A prism through which to glimpse the shadows tucked away within the glorious sprawl of the Heights, this place we call home.
And the evening stretched on and the plans expanded and the music kept right on playing...
The sounds of Bobby Lyle, Silent Phase and Kleeer pulsed out from the swamp deck bassbins, dancing across the surface of Chollas Lake with the ultraviolet lights and the glow of the gibbous moon. This is the Oak Park strut, the glide of your ride on these city streets, all your travels soundtracked by the moods and grooves at the nexus of heavy atmosphere and wild rhythm. It's the stretch of road pouring into Mesa Q, nestled into that spot where the city meets the edge of the world.
Turn right and you're headed downtown; turn left and your trajectory leads up into the mountains where the Gypsum 5 dwell. South takes you to Palm Grove's Skyline acres, street level with Sweetwater just beyond. North leads to the birthplace, the Gardens, flanked by Mission Trails and Ramona further still, where our man in the hills still dwells. All of it stretches out like a matrix from this solitary point, a Maze in the Twilight, vector lines glowing deep blue against the silhouette palm trees and the crisp air of nightfall.
The sound of drum machines and breakbeats sparring on a liquid synth backdrop set in stark relief against the atmosphere encircling in spiral patterns all around. Depth Charge 808s tattoo the pavement beneath our feet while 303s thread the spaces in between, ARPs and MOOGs and sounds beyond the sounds bathe the corner of 70th in sumptuous texture. And all of this remains in mind as pieces of the crew draft up the blueprint for the future.
Emanon and Vega arrive deep into the night, their residencies concluded for the evening, their input in 4/4 time with a wall-shaking bassline to match. Synthesizers like stained glass beamed in from the four corners of the globe, rerouted through the earth beneath our feet, this place we've haunted and will continue to. The designs begin to coalesce as a cool breeze drifts across the glass surface of the lake beyond. Northern Dark played as the moon blazed its path across the sky...
This is Oak Park magic in full effect.