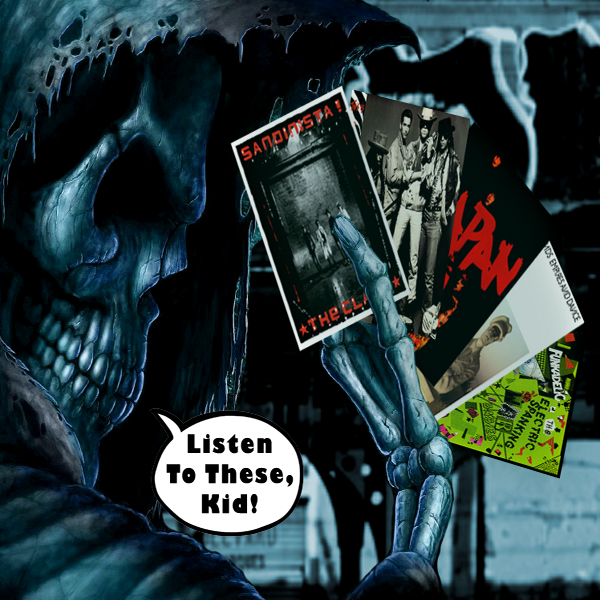 Hey man, I'm back from the bodega. Nothing like a snack, deep fried, to give you a second wind. Here you go my friend. So you like new wave, right? Sure you do... after all, everybody likes new wave. For the moment, let us focus on the dubbed-out dancefloor sides perpetrated by The Clash in that period just after London Calling, which puts us at 1980 A.D.
I'm talking about the triple(!)-LP trawl of Sandinista! and its orbital 12" singles, records like The Magnificent Seven and This Is Radio Clash, the latter of which features four versions spread across its twelve inch surface, each one sequentially more twisted and dubbed to pieces than the last. Outside Broadcast (the third version), is one of the great hidden gems in the band's back catalog, conjuring up images of a careening taxi cab ride through fog-cloaked city streets deserted in the twilight.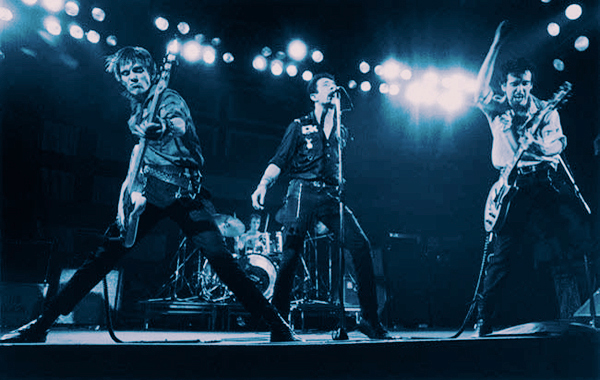 The Magnificent Seven — which must be heard in its spacious, sprawling album version to experience its true sparkling third-eye-tactile black magic — finds, as mentioned in their last episode, this band of outlaws messing around with the Good Times bassline and twisting it to their own swashbuckling purposes. In other words, it's Disco Not Disco at its absolute finest.
Interesting to hear it as Joe Strummer's take on contemporary rap (note The Clash's turn as backing band for graffiti artist Futura 2000 on The Escapades Of Futura 2000, one of the infamous Celluloid rap records), like Blondie's Rapture but even more so. Think killer disco rap like Grandmaster Flash & The Furious Five's Superappin', Kurtis Blow's The Breaks and Monster Jam by Spoonie Gee meets The Sequence (not to mention The Sugarhill Gang's Rapper's Delight if you want to get literal).
Noteworthy in the Parallax sense is also the fact that the intros to both The Magnificent Dance (the x-ray dub version of The Magnificent Seven) and Mensforth Hill form the basis of Reese's You're Mine (the b-side to Rock To The Beat), which suggests that Mr. Saunderson was working with both the album and 12" when vibing out in the studio to create that killer cut.
At moments like this, I'm reminded of Norman Cook/Fatboy Slim's review of Big Audio Dynamite's Sunday Best, in which he offhandedly placed The Clash at the genesis of indie dance. Which sounds about right to me, with New Order and Big Audio Dynamite arriving as fully formed ambassadors of the genre before it would go on to become a way of life.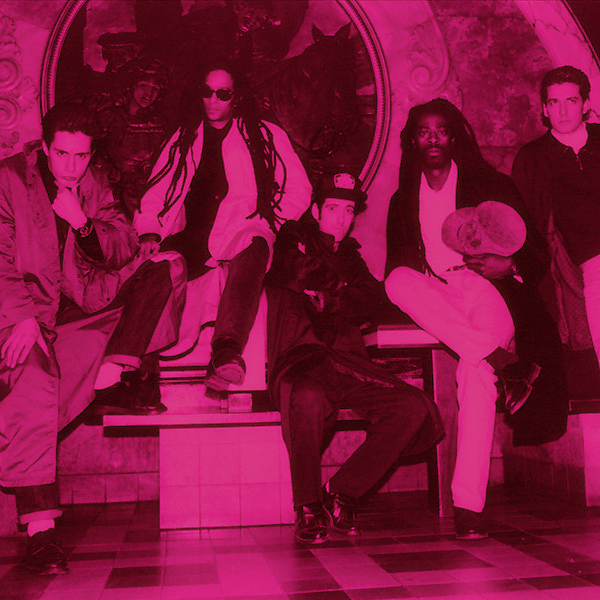 Ah yes, that's right: Big Audio Dynamite! B.A.D. is, of course, a whole other can of worms. Now it's damn near painfully obvious to point out how that crew's merciless caning of the sampler and rewired approach to the dancefloor anticipated whole swathes of music in the nineties and beyond, but records like the proto-house madness of Hollywood Boulevard and Megatop Phoenix (which has nestled comfortably into Sgt. Pepper-status around these parts) serve to drive the point home and then some.
Their debut full-length This Is Big Audio Dynamite boasts not only obvious radio bounty like The Bottom Line, E=MC² and the sublime cool of Medicine Show (recently featured in Woebot's excellent 101-2001 — and for the record I agree wholeheartedly with the man's glowing assessment of the tune), but also a wealth of strange dancefloor material on its under-explored b-side (particularly Sudden Impact's phenomenal short-circuiting electroid groove and the proto-ragga dancehall of A Party).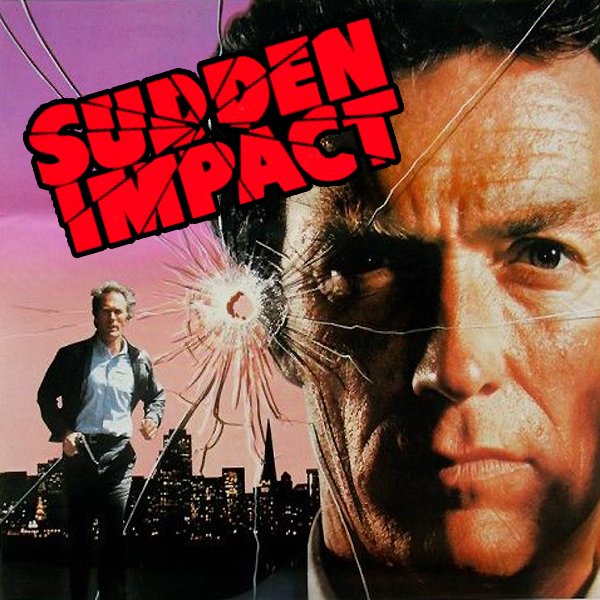 Sudden Impact is particularly interesting in this context, with its strange spaghetti-western-by-way-of-Lee "Scratch" Perry guitar figure riding wicked rails of straight up electro, the track seeming to exist right at the very nexus of a number of contemporary sonic currents. For one, you've got electro boogie along the lines of Aleem's Get Loose, D-Train's You're The One For Me and C.O.D.'s cover of Gil Scott-Heron and Brian Jackson's In The Bottle, all of which predict Sudden Impact's own nimble touch in their wiry, skeletal rhythmic structure.
But why stop there? It doesn't take much effort to draw a short line from Sudden Impact! to honest-to-goodness minimalistic electro missives like Hashim's We're Rocking The Planet, the Imperial Brothers' We Come To Rock and World Class Wreckin' Cru's Surgery, all of which had been tearing up dancefloors for the better part of a year. Of course there's also the flipside of the coin: straight up electrofunk shearing into electro territory, records like Cameo's She's Strange (along with its proto-rap 12" club mix), Whodini's Escape and about a thousand other rap records.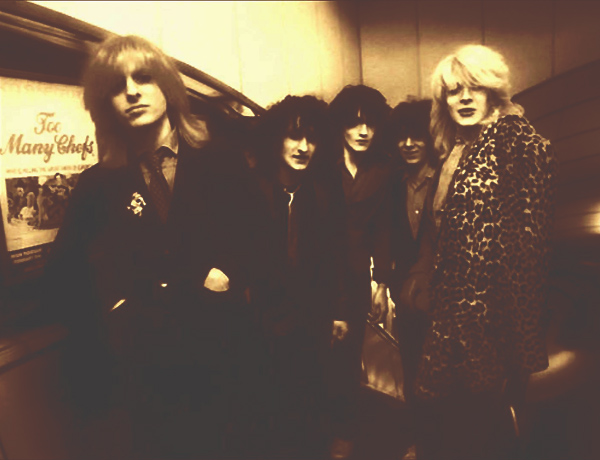 Japan (the band) had their own incursions in this arena, where even amongst their most well-known new pop-era hits like the crepuscular fragile beauty of Ghosts and the supremely funky Visions Of China2 you'd find records like Gentlemen Take Polaroids and The Art Of Parties riding a malfunktioning electroid framework of their own.
Yet it's just before the group's widely-hailed peak that you'll find my favorite music they made, from that period when David Sylvian and co. were still slumming it as twilight era glam rockers operating in a weird interzone between new wave and funk that just shades this side of the (totally imaginary) post punk divide, with not only their blinding Adolescent Sex debut album (which featured in the Parallax 200 just the other day), but also the Quiet Life LP (and it's precursor, the Life In Tokyo 12" warning shot — produced by Giorgio Moroder for those keeping track).
Adolescent Sex in particular is the sleaziest rock 'n funk grind this side of The Stones' Fingerprint File, with real red light district velvet curtain bizzness in tracks like Performance (named after the Nick Roeg film, I wonder?) and the slinky cinematic slow burn of Suburban Love. This is funk the way The Isley Brothers played it. By which I mean turn on a dime rhythmic panache, smeared synth stylings — as if every texture were washed out in sun-glazed daylight somehow in the dead of night — and searing guitar lines rising from the murky depths.
There's shades too of Steely Dan at their Royal Scam grimiest — bringing to mind The Fez and The Royal Scam itself in particular — on tunes like Wish You Were Black and the marathon nine-minute album-closing Television. This sort of half-lit bedroom funk is a personal favorite sound of mine (see Prince's debut For You for another example), and should if there's any sense in the world at all spawn a feature of its own sometime in the future.
If there's a neon-tinged eighties analog to the sound I'm getting at here, then it must be Mtume circa Juicy Fruit. The album's centerpiece is the title track, no doubt, but there's a wealth of sterling rubberband funk in evidence throughout. The high top blacktop moonwalk of Green Light is emblematic of the whole affair in its casual loose-limbed bounce, with the more explicitly electronic grooves of Hips and Hip Dip Skippedabeat shearing into prime electrofunk territory. The production throughout is just perfect, with none of the overly-harmonized, booming drums that you'd often wind up with during in the era.3 It's the flipside of all the canonical new wave records here and a stone cold classic.
And while we're on the flipside, Funkadelic's The Electric Spanking Of War Babies is another unmissable slice of new wave electrofunk — from a crew that's arguably the progenitor of the form — and the flipside to PIL's Metal Box (the founder of this feast). The deconstructed start-stop groove of Funk Gets Stronger — featuring Sly Stone in full effect — is practically straight up new wave and never fails to make me flash on Adam And The Ants' Dirk Wears White Sox4 (particularly the distinctive guitar tone).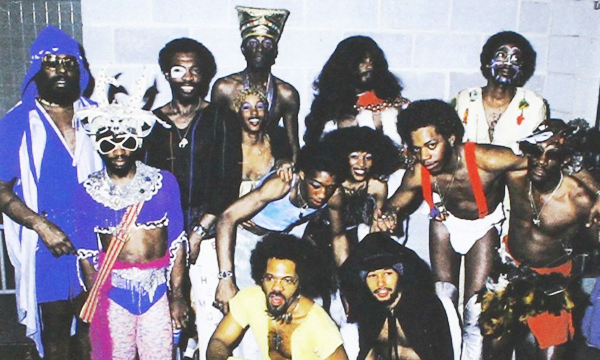 The whole record plays like a roadmap of eighties funk possibilities and beyond, and is absolutely essential listening. It will likely sound patchy at first, but give it time: what you're hearing is the familiar One Nation Under A Groove/Flashlight magic formula being warped and mutated beyond the point of recognition. Its strangeness is its calling card. The band even turn out the Lodger-esque freaky cod-reggae of Shockwaves, which starts out like a joke track (with fake accent to boot) before dropping out into the divine ravishment of the chorus. Definite shades of Bowie and très post punk!
On a related note, I make no apologies whatsoever for the heavy representation of Parallax 200 records here, since the sonic neighborhood on the table today couldn't help but throw up some of my favorite records almost by default. Wrapping up that list definitely put this sound firmly in mind. In truth, it likely inspired the whole trip! No doubt many of the remaining records will make the 300 when the time comes...
Now where was I... Ah yes, Japan. Coming a year after Adolescent Sex, Quiet Life and the Life In Tokyo 12" both seem to predict Duran Duran's self-titled debut in their sleek, chrome-eyed surfaces. Speaking of which, don't sleep on Duran Duran's 1981 debut, a record that is well worth checking out in its own right. The ace new wave disco of Planet Earth stands out as a particular highlight, but really the whole record is golden. Don't listen to the hipster haters — Nick Rhodes is way cooler than any of them anyway. Listened to back to back to back, these three records (Life In Tokyo, Quiet Life and Duran Duran) play like a tour of Europe by high-speed rail.
And while we're still on the continent, it's fitting to round out this strange punk funk-by-way-of-new wave triumvirate with Simple Minds, whose early records belie their Scottish origins and seem to point toward the most shadowy recesses of the Eastern Bloc. From the grimy claustrophobic corridors of Real To Real Cacophony to the sleek steel surfaces of Empires And Dance and even the Steve Hillage-produced widescreen canvases of Sons And Fascination/Sister Feelings Call, this is all prime real estate in the sprawling terrain of post punk/machine funk that just begs to be explored further. I've spent quite a bit of time here myself.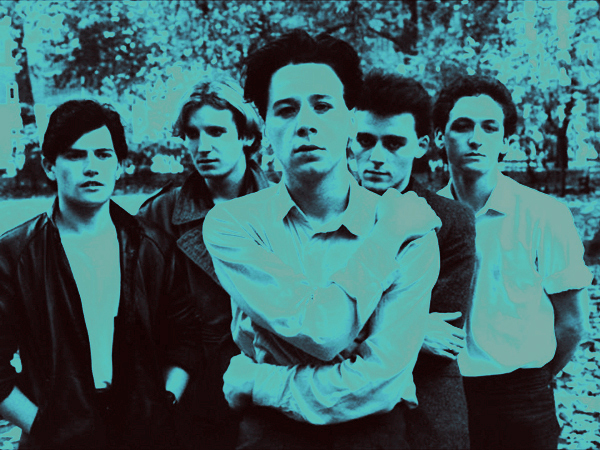 You've got the dead-eyed disco of Premonition, yawning gleefully with cavernous jaws and drip-dropping percussion, the slow-motion punk funk dirge of This Fear Of Gods and Today I Died Again's exquisitely swirling dread on one hand and the Kling Klang clanking funk of Sweat In Bullet (pointing the way to New Gold Dream) and the clockwork, backwards-crab-walking rhythm box black hole League Of Nations on the other. Taken as a whole, the four record run5 is a stellar excursion into post-Bowie In Berlin sonics.
---
So check them all out, the Simple Minds records and everything else here too. They won't do you wrong. I hear that the vendor across the street — yes, that gaunt gentleman in the robe — has them all on cassette, so don't sleep. Trust me... you need these records in your life. So fix up real quick. I'll be in the basement down the way grabbing some records from my homeboy Cornelius for the next chapter...
LISTEN NOW
Terminal Vibration 3: Death Disco

The Clash

The Magnificent Seven

Album Version

Kurtis Blow

The Breaks

Simple Minds

Premonition

Grandmaster Flash & The Furious Five

Superappin'

Japan

Suburban Love

Chic

Good Times

Japan

Life In Tokyo

Disco Version

Duran Duran

Planet Earth

Simple Minds

I Travel

Adam And The Ants

Cartrouble

Part 1

Funkadelic

Funk Gets Stronger

Part 1

Big Audio Dynamite

Sudden Impact!

D-Train

You're The One For Me

C.O.D.

In The Bottle

Aleem

Get Loose

Imperial Brothers

We Come To Dub

Cameo

She's Strange

Funkadelic

The Electric Spanking Of War Babies

Mtume

Green Light

The Clash

Outside Broadcast

Prince

Lady Cab Driver

Big Audio Dynamite

Hollywood Boulevard
Terminal Vibration 3: The Records
Footnotes

1.

Woebot [Ingram, Matthew]. 101-200. Woebot. Hollow Earth, 30 Sep. 2017. http://www.woebot.com/2017/09/101-200.html. Accessed 3 Jan. 2018.

2.

The exquisite low-slung groove Visions Of China even forms the basis for Tricky's Overcome, pointing toward trip hop's place in all this... but more on that later.

3.

Actually, Prince's phenomenal Lady Cab Driver — from the glitzy 1999 double-LP — mines a very similar terrain. It's also got some crossover potential with The Clash's Outside Broadcast, come to think of it...

4.

None can test. I'm on record as preferring the U.S. Version for its inclusion of the Zerox/Whip In My Valise, but only grudgingly so: I hate to give up the killer punk funk mekanik rush of not only Cartrouble Part 1 (which is doubly salient in the current context) but also Day I Met God and Catholic Day. Life's full of tough choices...

5.

Real To Real Cacophony, Empires And Dance, Sons And Fascination and Sister Feelings Call are actually preceded by Life In A Day, a solid new wave record in its own right that's well worth checking out too (especially for fans of early Ultravox and XTC. The ingredients just needed to marinate a little longer before morphing into the fractured splendor of Real To Real and beyond.