I alluded to this record earlier, but seeing as it's turned into Jah Wobble week I figured it was worth delving into it in greater detail. As I was saying, the Snake Charmer mini-LP is a great little record that straddles the nexus between post-Eno/Byrne My Life In The Bush Of Ghosts/Talking Heads Remain In Light fourth world rhythmic madness and the sumptuous post-disco electro boogie of contemporary early 80s dancefloors. As one might expect, the sound here is often adjacent to that of the Compass Point All Stars, with Ollie Marland's keyboards often recalling the synth stylings of the great Wally Badarou.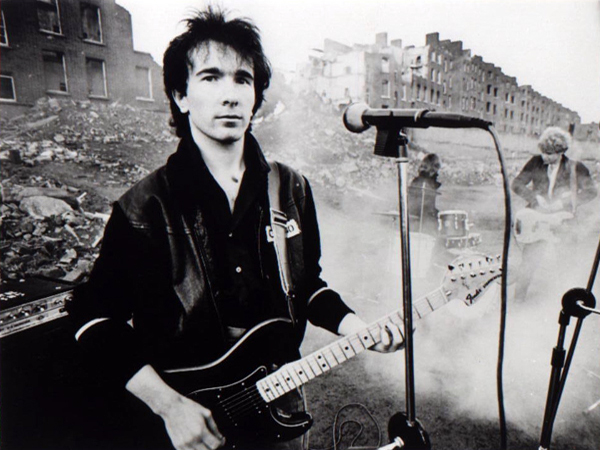 Operating at the interzone between these two of-the-moment sonic permutations, the emphasis is often on atmosphere and texture which is in part down to the presence of The Edge (on loan from U2) and the spiraling guitar architecture that he weaves around the tracks he happens to appear on. Those great arcs of slide-guitar feedback in the title track seems to predict what he'd be up to about eight years later on Achtung Baby, while his crystalline pools of six-string ambience add whole layers of depth and splendor to Hold On To Your Dreams.
Coming as it does between U2's War and The Unforgettable Fire LPs, one wonders how much his involvement in this project played into his band's radical shift into more atmospheric territory the following year. Obviously Brian Eno played a crucial role, but like Bowie with Station To Station, I suspect that The Edge — being the atmospheric gent that he is — was already harboring some ideas of his own.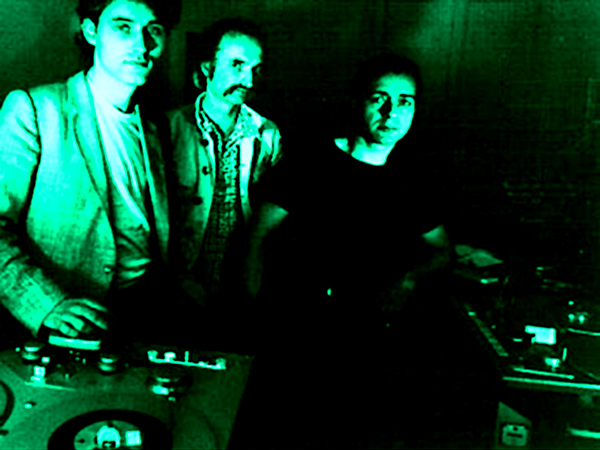 More than anything else, however, the vectors of Jah Wobble and Holger Czukay are what place this record at its unique fourth world vantage point. Interestingly, Wobble's bass seems to be operating at an octave higher than usual, indulging in some slap bass action along the lines of Jeremy Kerr's work in A Certain Ratio rather than his usual dub-heavy bottom-end. Also, while most of the record is given over to instrumentals, Wobble provides vocals to the opening Snake Charmer.
Czukay reprises his role from their previous collaboration Full Circle as the master of atmosphere, contributing blasts of French horn and more of that spooky grand piano sound from How Much Are They? to Snake Charmer, along with guitars and his trademark Dictaphone inserts throughout. Everything here very much informed by Czukay's peerless soundscapes achieved on his 1981 solo turn On The Way To The Peak Of Normal (even if nothing here quite reaches the heights of Ode To Perfume).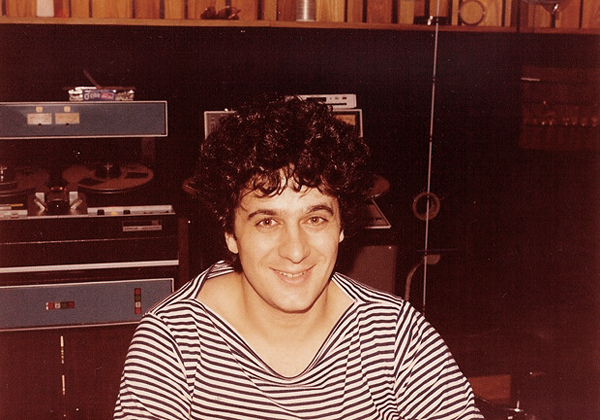 As if the three principals weren't enough, disco heavyweight François Kevorkian takes his place behind the mixing desk alongside the inimitable Paul "Groucho" Smykle, fresh from his sessions remixing King Sunny Adé's Ja Funmi. You're starting to get the picture now, aren't you? It's 1983, and this is shaping up to be an exceptional slab of post-disco magic. Let's put the needle 'pon the record...
---
Snake Charmer provides the opening gambit with a rolling syn drum fanfare before launching into its left-footed digifunk groove, setting the stage for this record's excursion through the shifting sands of the Moroccan outback. Synth flourishes begin to splash into view at the start of every bar, while Jah Wobble goes to work on the bass. A blast of Holger Czukay's French horn splits into the scene front-end-center, making room for his guitar atmospherics and haunted dancehall grand piano to enter the mix. Then, the synths seem to cruise into strangled arabesques as Jah Wobble contributes his maniacal vocals:
Messages beamed from Mars
Straight in my mind.
Try to get in my mind...
They made me do it! They made me do it!
All the while, Czukay's scrambled Dictaphone ramblings spool out in the background. Then, the bottom drops out into a snatch of on-the-one funk guitar from Animal for but a moment, before returning to the groove and that central piano motif. Moments pass and then The Edge starts to strangle great arcing shapes from his guitar as Wobble continues:
My dream orders on my mind's TV camera
I think I'm Bogey living in Casablanca.
Scattered newspapers drift across derelict land,
spreading spurious lies and sordid details of my private life.
An angel swope to my chest swooping all it's glory!
The Edge cools out the groove with his graceful arcs of guitar in slow-motion and Holger returns with his soaring French horn figures. Then, the beat trips into electro funk territory, rolling off into the horizon as Wobble adds:
Yes, but you don't understand
I was the man hanging from the noose.
And you don't understand
I was the world leader, the world dominator.
And the beat goes on. You're cruising across the Sahara, sun setting in the distance. This is all so clearly of a piece with My Life In The Bush Of Ghosts that I feel corny even mentioning it. Also Thomas Leer's 4 Movements. If you love those records, then you owe it to yourself to hear this tune. Trust me. You could build a club night around these three records. Please do that and invite me! Please... please? Anyway, we'll give Wobble the final words to close this thing out:
Many voices going through my head
Voices of the living and the voices of the dead.
Journeys through history, journeys sublime
And even, journeys to the end of time.
And then a flourish of twinkling piano takes us directly into the achingly gorgeous Hold On To Your Dreams. A gentle synth pulses while shades of The Edge's guitar sparkle all around. Wobble enters the fray to push this groove along with a gliding bass figure, and then then a synth slips into a progression to herald the entrance of the beat. Czukay's pal-from-the-Can-days Jaki Liebezeit starts to do his thing behind the drum kit, holding down that slow-motion disco rhythm. Somehow you're now in the best nightclub in town, bathed in blacklight and shards of white light scattering off the disco ball onto the dancefloor below and damn your girl's looking good.
As I've mentioned before, this is pure post-disco boogie, along the lines of the Compass Point records and Ashford & Simpson's Babies Dub Version, which François Kevorkian himself would produce a year later. I wonder if Hold On To Your Dreams was still running through his mind when he was mixing that record down, as the resemblance is uncanny. Uncanny!
Similarly, Wide Awake In America's Love Comes Tumbling almost seems like an attempt by U2 to resurrect the dynamic of Hold Onto Your Dreams and The Edge's crystalline lattice of guitar unfurled here. It's all very much in the vein of a chugging mid-tempo boogie, which places it at the lower-right corner of the Parallax Pyramid's foundation.
As if to make it official, High Fashion's Marcella Allen1 takes the mic for lead vocals, giving us a glimpse at what High Fashion tunes like I Want To Be Your Everything and A Little More Time might have sounded like with her singing lead. The whole effect is quite atmospheric, indeed this is the tune where the presence François Kevorkian and Paul "Groucho" Smykle is felt most dramatically, with layers of guitar swathed in blankets of echo and dub disco bleeps reverberating through the mix almost subliminally. It pulses on for nearly nine minutes before disappearing into the stars.
And so closeth side one. You flip the record over and we're back in the fourth world, with It Was A Camel. Blah blah My Life In The Bush Of Ghosts blah blah. You must be so sick of hearing about this by now. But remember Moonlight In Glory? Well, you could certainly spin this and that one back to back. It's got that same loping groove and low key pumping quasi-brass synth creeping in and out of the rhythm — with Jaki Liebezeit doing his thing behind the drum kit yet again — while Holger Czukay's grand piano takes center stage and his Dictaphone rambles out beneath it all.
Then, a highlife-esque guitar appear out of nowhere like it's the most natural thing in the world. It's all so improbable, but one could imagine a whole scene in the penumbra of these records. Jon Hassell's Power Spot worth a mention here as well. The rhythm just fades out into the dunes...
With no warning, Sleazy cuts in out of nowhere at a breakneck pace about 20 BPM faster than anything else here. Jim Walker's furious, crashing drums and Jah Wobble's frenetic basslines lay down a frenzied rhythmic bedrock for Animal to spray his wailing guitar feedback over. Old Ollie Marland contributes a bit of keyboards too.
I should mention that Jah Wobble's Invaders Of The Heart band is credited on the record's sleeve after all the other luminaries listed, with Neville Murray providing percussion throughout the record. It's interesting to note the Invaders Of The Heart debut 12" from the same year (I'm pretty sure it preceded Snake Charmer, but I'll have to speak with Dignam to confirm), with its similarly pungent fourth world stylings. Today's tile of the day was actually a toss up between the two records.2
The mini-LP closes with an instrumental reprise of Snake Charmer which is actually longer than the original. It plays like a dub version, with added emphasis on the track's electro aspects, and you can hear Groucho's trademark tricks in evidence throughout. It's a fitting close to this record's circular story, which plays like a possible soundtrack to one of William Burroughs Tangier hallucinations. Definitive interzone music. Strangely, it's still not available digitally or on CD... so it's a good thing y'all have a record player.
Footnotes

1.

Interesting to note that Marcella Allen also sang with Norman Connors' Aquarian Dream and on Lonnie Liston Smith's Love Is The Answer. It's a post-jazz funk boogie, proto-SA-RA type thang... I feel it!

2.

Snake Charmer won out because it's got more angles to it, but check out the Invaders Of The Heart 12" sleeve, as its brilliantly evocative of Wobble's windswept desert music of this era.