When I think of records that came out of nowhere as a complete bolt for the blue, any number of iconoclastic tiles spring to mind; records like Model 500's NIght Drive, 4 Hero's Combat Dancin', Tricky's Aftermath, and so on and so on. Yet if there's one (largely unsung) record that belongs in the same league as those future-preempting classics, then it's this bad slab of wax from Colourbox.
Lodged in between the burnout end of post punk and the dawn of Britain's post-hip hop blues in the shape of Soul II Soul, Neneh Cherry, Bomb The Bass, The Wild Bunch and Smith & Mighty (the sound that would come to be called trip hop), this 12" seems to presage Bristol's sound of the nineties in its dub-wise, post-disco grooves.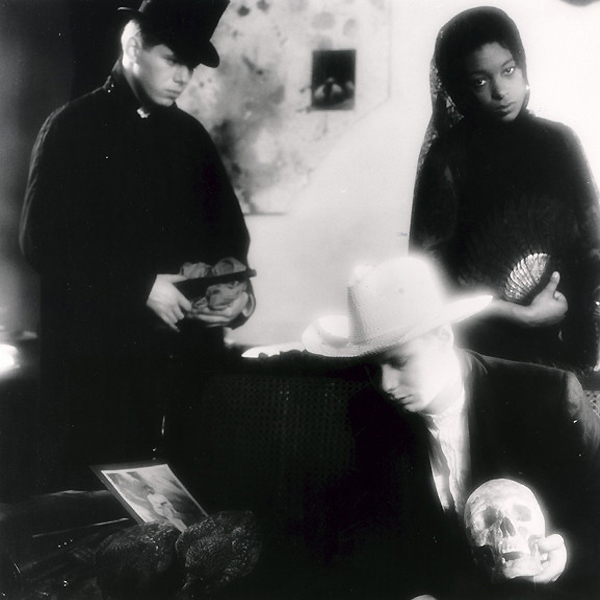 On the face of it, Colourbox were an unlikely proposition: brothers Martin and Steven Young set out in 1982 with a dark, claustrophobic sound reminiscent of the less skronky side of Rip Rig & Panic (just as that crew were winding down with their Attitude LP, in fact). The new pop sounds of ABC and The Human League had swooped in to become the sound of the moment, and the glitz and glamour of MTV and Nick Rhodes were in full swing. Shiny was in, darkness was out, and many of the latter day post punk bands suddenly seemed to be out of step with the zeitgeist. Even in Simon Reynold's epic Rip It Up And Start Again, many of groups of this era merit only footnote status...
And yet... and yet, this Indian Summer of post punk features considerable treasures hidden in its shadows. Much like the contemporary output of Compass Point Studios, these records as often as not served to provide a metaphorical link between Metal Box and Newbuild, that is the post punk past and the electronic future.
I'm talking about records like 23 Skidoo's The Gospel Comes To New Guinea, 400 Blows' Declaration Of Intent, Mark Stewart's Learning To Cope With Cowardice, Fats Comet's Don't Forget That Beat, Section 23's From The Hip, but above all Colourbox's Baby I Love You So - the March 2018 record of the month and a dubbed-out post-disco, proto-trip hop 12" masterpiece.
Cloaked in evocative crimson artwork (provided by 23 Envelope) that springs from the clearly-defined 4AD design aesthetic, it nevertheless maintains a rude, street-level edge that seems to whisper nineties. From the sleeve on downward, this record screams trip hop so clearly that if it were strewn out alongside Maxinquaye, Dummy and Blue Lines one might assume they were all from the moment. After putting the record on the turntable and starting it a spinning, you quickly find out that the sonics are just as forward-thinking.
The record's a-side is a Baby I Love You So, a cover version of Jacob Miller's epochal reggae classic, famously produced by Augustus Pablo (who in turn dubbed it out into King Tubbys Meets Rockers Uptown, easily one of the top five dub traxx of all time). On the face of it, one might think it folly to attempt to version one of the great front-to-back 7" singles on wax, but from the opening bars it quickly becomes clear that you're dealing with something special.
With metallic percussion along the lines of Adrian Sherwood's On-U Sound productions, the beat tumbles forward at a downbeat pace as the bassline throbs with metronomic precision. Then, a searing guitar figure cuts through the track like a knife, following Augustus Pablo's melodica line from the Jacob Miller original note for note. Lorita Grahame bluesy vocals anchor the track in the soil, while her cooing backup vocals seem to drift gently toward the clouds.
Grahame's whole approach is actually the linchpin here, betraying the track's entire m.o.: this is lover's rock rendered as a torch song (sound familiar?). The whole thing simply had the misfortune of coming out about a decade before it's time... in 1995 this record would have fit right in. 1986? Forget about it! It couldn't have been more anachronistic if it featured a Neptunes remix...
Like Mark Stewart's self-titled 1987 LP, the hard edges of this record's digidub percussion and spectral atmosphere seem to outline what would become the roots-n-future mash up of the Bristol sound. With the Burt Bacharach covers of Smith & Mighty and The Wild Bunch and Massive Attack's moody cover of Chaka Khan's Any Love waiting in the wings, the whole thing comes on like an unlikely blueprint for the Bristol blues. Augmenting the record's almost cyberpunk-by-default tone are film samples from John Carpenter's Escape From New York sprinkled liberally throughout the track. If it all sounds too good to be true, then yeah... we're on the same page.
Of course, the b-side's even better. Looks Like We're Shy One Horse/Shootout makes literal the connection between Augustus Pablo's man-from-the-East melodica stylings and Ennio Morricone's spaghetti western OSTs with what amounts to a dubbed-out discomix cover of the theme to One Upon A Time In The West (with samples from the film - along with Duck, You Sucker - once again sprinkled liberally throughout).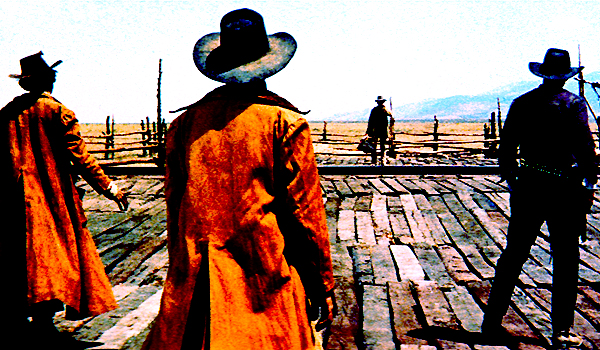 That same searing guitar is back, this time sawing out the theme's refrain as whistling synths soar through the ether, horns punching in ever so often. Picture the midpoint between Joe Gibbs & The Professionals' African Dub All-Mighty records and Bandulu's Antimatters/Cornerstone/Redemption trilogy and you wouldn't be too far off. Once again, simply stunning.
At about five minutes in, the groove cuts out and you're left with droning atmosphere for a spell before the whistling synths return - this time pitched down a couple octaves - in such a way that wouldn't sound out of place scoring Ridley Scott's Black Rain. This is billed as the Shootout portion of the track. Then, a downbeat-the-dub-ruler beat kicks in and Repo Man-esque choirs fill the sky, as the track creeps toward its denouement with clockwork inevitability. This is Deckard in a trench coat, staggering through rain-soaked streets music. Cyberpunk, once again, on both sides.1
---
I can't imagine what it must have been like, hearing this back when it first came out...
Footnotes

1.

If someone ever gets around to making that Neuromancer movie, would they please hire me on to be the musical supervisor? Thanks!