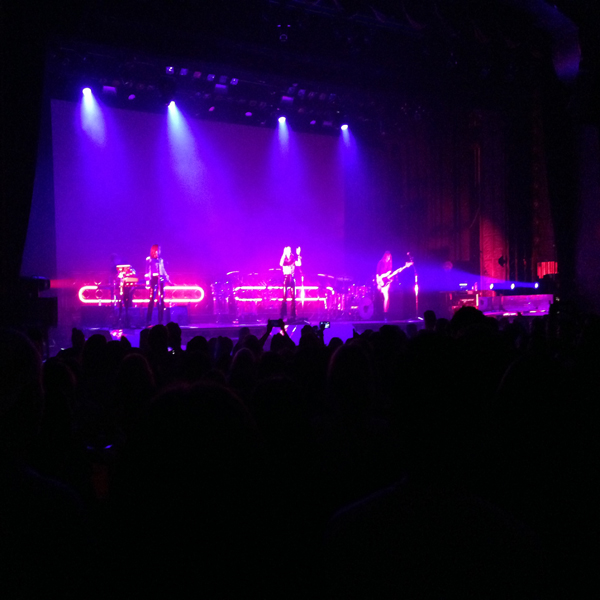 The Haim sisters rocked The North Park Observatory last night (and I do mean rocked). Their glittering sound had a harder guitar attack in the flesh, thanks largely to Danielle Haim's six-string pyrotechnics and the band's BIG beats in full effect. In fact, the ladies commenced the show by pounding out a martial rhythm in unison on a trio of drum kits. The effect recalled The Secret Machines on their Now Here Is Nowhere Tour, that same sense of aircraft-hangar-sized sonic vastness. In the end, it suited their sound just fine.
The band roamed the mirrored stage freely, Danielle striking rock star poses as she unfurled arcing guitar solos, Alana Haim working the crowd like a stand-up and Este Haim doling out some mean bass stage right. At one point, they even strolled down for a synchronized dance (I'm sure all sisters can relate)! The one constant throughout the show was that they seemed to be thoroughly enjoying themselves, and the feeling in the audience was mutual, in thrall as they were to the spectacle (at the show's climax, cannons shot confetti over the crowd).
During one of here soliloquy's, Alana confessed that the inspiration for her to start playing music was seeing Joe Walsh perform Life's Been Good at an Eagles concert, which makes perfect sense. The Haim sound seems to connect with the sound of eighties L.A. (Fleetwood Mac, Don Henley, etc.) that we grew up steeped in, in the same way SA-RA sources their sound in that decade's machine soul, all while carving out their own unique sonic terrain to inhabit with relish.
The end result comes out sounding like nothing else around, transcending even their inspirations in the process, standing as a wholly unique phenomenon in the body pop. Originality certainly has its advantages, setting them apart from much of the moment's landfill chart music. That, of course, and the ability to pen a great tune. Which we will all no doubt still be humming in ten years time...