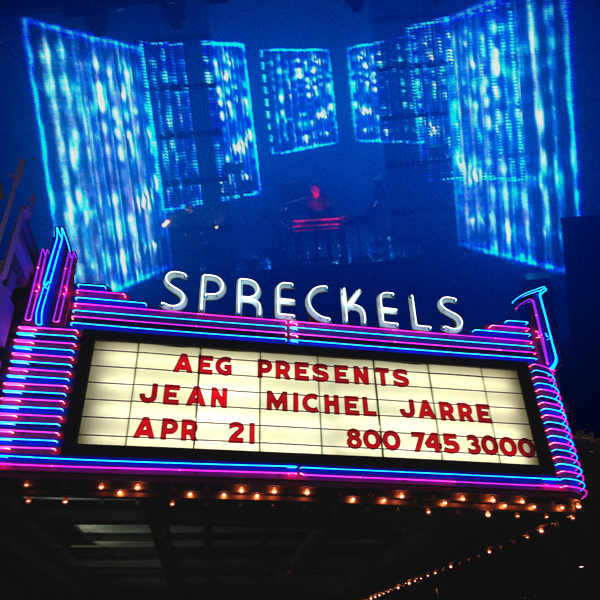 Saturday night, Snakes and I caught Jean-Michel Jarre at the Spreckels Theatre. Being the kind-hearted mensch that he is, Snakes hooked a brother up with a ticket to the show. We and Jarre go way back. It all started back in our school daze, when I was deep in the studio laying down what would become the b-side to Galaxies, Red Planet. On hearing the song, my wise uncle James remarked that it reminded him of Jarre's music. I had never heard of the man, and so he explained that he was one of the original electronic artists to make a big splash back in the day.
Fast-forward a few months to the following Christmas. On opening a gift from this very same uncle (with the tell-tale 5"x5½" dimensions), I was confronted with the Images compilation of Jarre's work. And thus opened up a whole new world of seventies electronica to my ears. As was often the case, Snakes and I would vibe out to the disc in the studio or cruising around town. Ultimately, word spread and eventually a tiny, informal Jean-Michel Jarre appreciation society seemed to spring up nearly overnight in the greater Allied Gardens/Grantville area. Ok, so it was just a handful of mates, but still...
Fast-forward twenty years spent with the man's music — the both of us acquiring various records like Oxygene and Equinoxe on multiple formats, spinning them out from time to time, plus descending further into the world of early electronic music with every passing year — and we're walking into the Spreckels Theatre to see Jean-Michel Jarre live and in person. It quickly became apparent that there was a sizable presence of French ex-pats in attendance, while the age range of the crowd was pretty diverse. I'd guess we were somewhere in the middle.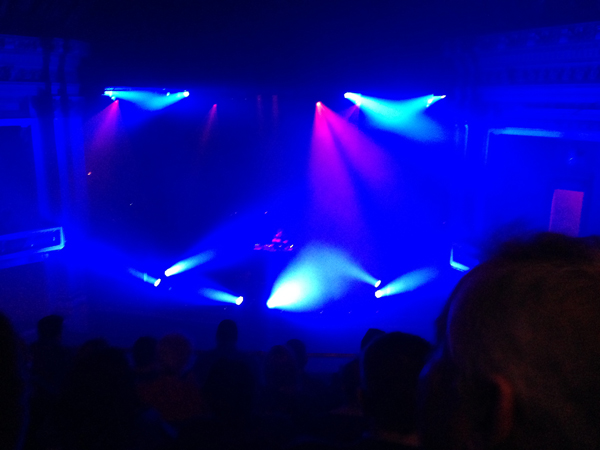 With little fanfare, the opening DJ strode out to set the stage with a sprawling set of cinematic electronica. Picture a hybrid of both Blade Runner OSTs, and that'll give you a decent idea of how it all began, with downtempo industrial beats entering the picture after the sweeping overture slowly gained steam. There was one track that reminded us of Daft Punk's score for Tron: Legacy before the set ultimately eased into a grinding midtempo stomp (think Fluke's Zion from the second Matrix film). There was even one song that sounded like a dead ringer for The Dream-era Kevin Saunderson.
Once the set had concluded, the lights came on for about twenty minutes. It was a stunning set, but no announcement was made of his name until Jarre called it out at the end of the evening (but we didn't catch it at the time!). Thankfully, Snakes did a bit of digging and discovered that the DJ in question was Marco Grenier. Mystery solved! Definitely worth investigating further. We were still reeling from it all when, after a brief wait, the lights dimmed again and show was ready to begin...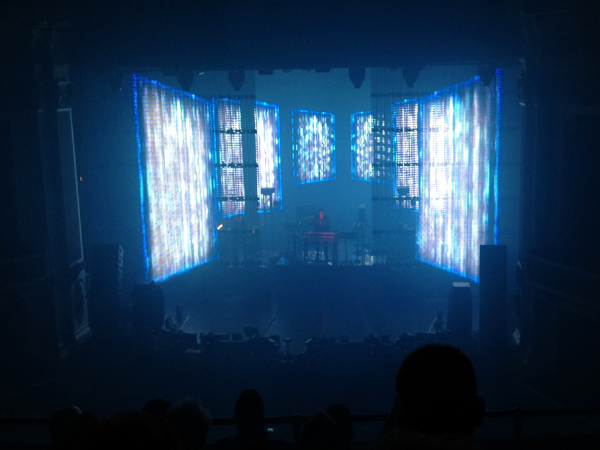 With a wild slab of synth noise cutting through the theater from behind a translucent screen, the first portentous chords of the evening set the clockwork wheels in motion. Suddenly, the screen opened like a doorway to reveal vector door after vector door, revealing Jarre atop a platform center stage, ensconced within his machines. As Jarre conjured massive sounds from his vast array of synthesizers, he was matched by equally dazzling visuals in an remarkable multimedia spectacle. Accordingly, since we were seated for most of the show with no one sitting behind us, I snapped far more pictures than I usually would.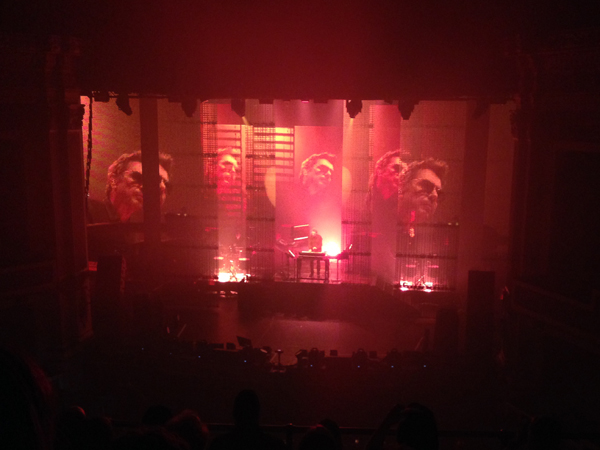 For the entirety of the show, Jarre was flanked by a drummer on his left and another synthesist on his right (actually, they both were manning myriad instruments at various points), bolstering the sound into more muscular groove than one might expect (shades of François Kevorkian drumming against Walter Gibbons' marathon DJ sets at Galaxy 21).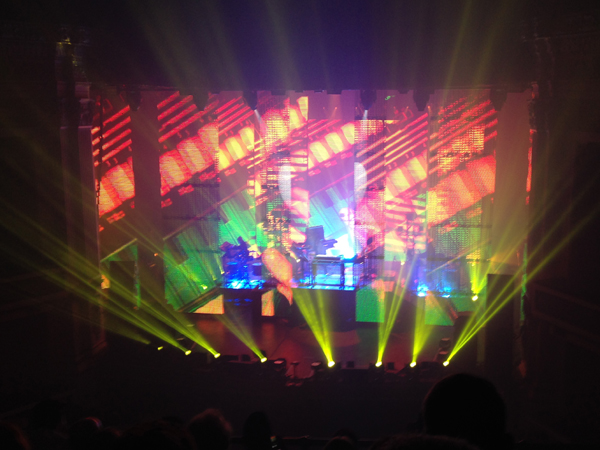 It dawned on me about fifteen minutes in — and I can't believe it hadn't earlier — that Jarre's music exists not only in the continuum of seventies space music (with Oxygene a quintessential head elpee), but also served as a perfect complement to some of the more propulsive dancefloor moves of contemporary electronic denizens like Patrick Cowley and Giorgio Moroder in much the same way The Orb and The Future Sound Of London would have with the likes of Orbital and Joey Beltram. With Kraftwerk fitting into this equation roughly the same way Detroit does (but of course!).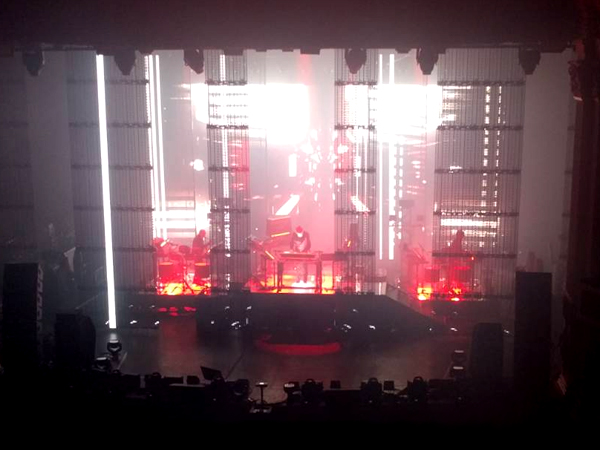 Suddenly, mid-show there was an unexpected shift into almost Wax Trax!-style industrial/EBM music. One tune made me flash on Front Line Assembly's The Blade (it took everything in me not to start repeating stick 'em up muthafucka, this is a hold up!). There was even a collaboration with Edward Snowden titled Exit (apparently from the recent Electronica 2 album), a pounding paranoid thriller of a track that tackled the subject of privacy (and the fight for the right to keep it).
Snowden himself even appeared on screen to give a brief speech mid-song before being sampled to bits during the track's x-ray denouement. It was all very much of the spirit of Cabaret Voltaire's intense interrogations of surveillance and control. Thanks to Snakes for providing the above photo... I was so mesmerized by this sequence that I forgot to snap a picture!
The big surprise came at the end of the extended sequence, when Jarre himself strapped on a guitar to add some rugged crunch to the track's climax. Yeah, that was pretty cool.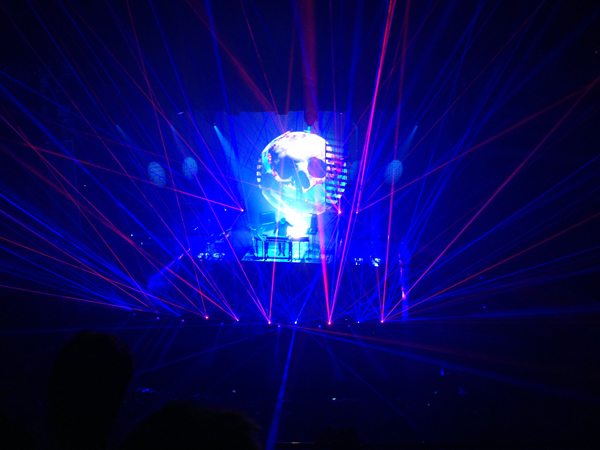 Of course various portions of Jarre's flagship piece, Oxygene were peppered throughout the marathon performance. The first to feature was the stratospheric drift of Oxygene 2, which coming face to face with in a live context drove home the fact that it's very much of a piece with someone like Daniele Baldelli's cosmic visions. I've always loved the way his loping rhythms aren't remotely like anyone else's (and the remain an obvious precursor to ambient house).
Oxygene 4 — perhaps the man's most widely known moment — featured as well, during which people were dancing in the aisles (one woman was doing some very spaced-out dancing — not unlike Keith Flint's car surfing during The Prodigy's Out Of Space music video. The Oxygene 8 (from the 90s-era Oxygene 7-13 record, a sequel of sorts) which I remember fit quite well with some of the more pastoral corners of trance that were happening at the time). I was reminded of Dr. Alex Paterson's remix of the track, which after thorough rejection from Jarre himself, he wound up releasing as The Orb's Toxygene. That was pretty funny.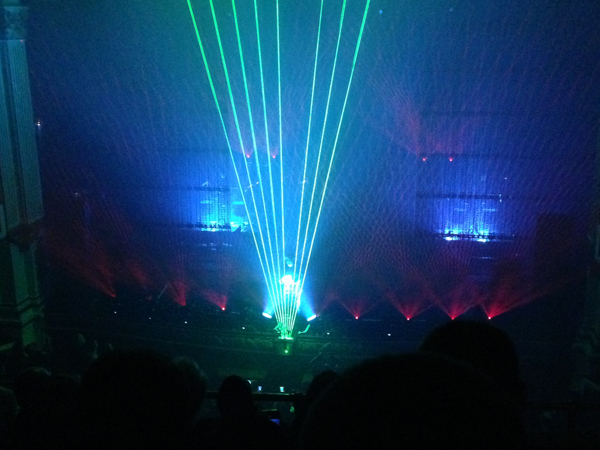 At one point, Jarre — ever the showman — played a series of lasers fanning out toward the ceiling. Every time his hand would break the stream of the laser, a bass note would ring through the theater. Depending on which stream he touched, a different note would sound off. Inevitably, the sequence grew increasingly complex until the man was doling out notes in rapid succession. If I'm not mistaken, this has been a hallmark of his stage show for some time.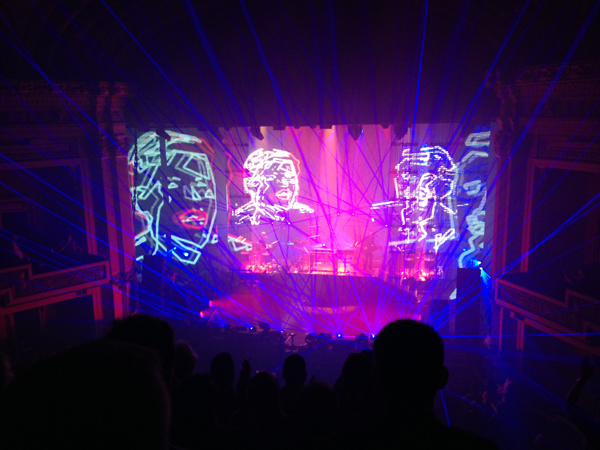 Another surprise (in an evening full of them) was a track that Jarre had recently recorded with the Pet Shop Boys, featuring twenty foot tall digital recreations of Neil Tennant singing to the rafters. A melancholy synth pop epic, it was without a doubt one of the evening's highlights. The visual effect was pretty trippy too.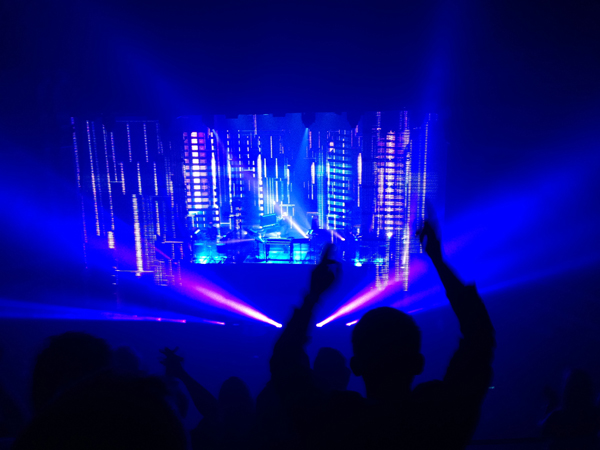 One thing that quickly became evident was how comfortable Jarre had become with the pulsing grooves of dance music, indeed much of the night's music was taken from his recent two Electronica albums. I must admit that I hadn't kept up with the man's more recent music, but after hearing a considerable selection of what he's been up to in the ensuing years, it's painfully apparent that further investigation is essential (along with the Pet Shop Boys and Snowden, Electronica 2 also features collaborations with Jeff Mills, Primal Scream, The Orb, Sébastien Tellier, Yello and Cyndi Lauper!).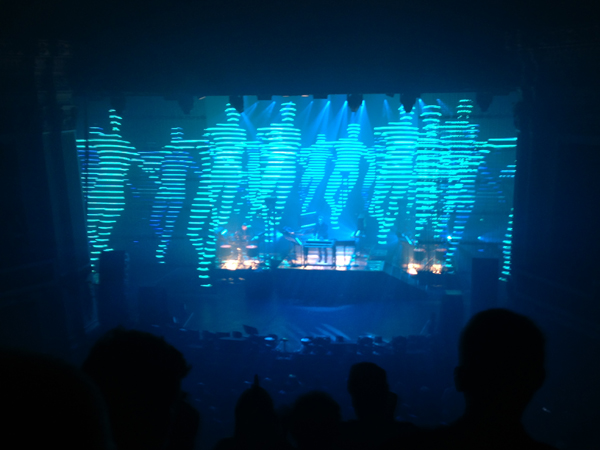 There was one sequence involving stylized dancers that was particularly memorable. Segments that I missed documenting included spooky performances of Equinoxe 4 and Equinoxe 7, featuring rows of parallaxing binocular people from the album's sleeve. At one point, I could swear a giant alien grey appeared in the middle of the screen, and there was also a return of the figures holding up their cellphone cameras in lieu of eyeglasses!
Jarre was a gracious host, descending a staircase to interact with the audience fairly often, which was a pleasant surprise. Towards the end of the performance, he even gave shout outs to his backing musicians along with the opening act. It was rather fitting for a man who's always made electronic music with an unmistakably human core. Seeing him in person was in something I never thought I'd get to experience, and it exceeded my expectations in every way.
---
As the crowd poured out of the theater and into the streets, Snakes and I headed down to catch a ride home, discussing the night's music like we had a thousand times before. And suddenly, it was as if we were teenagers again...