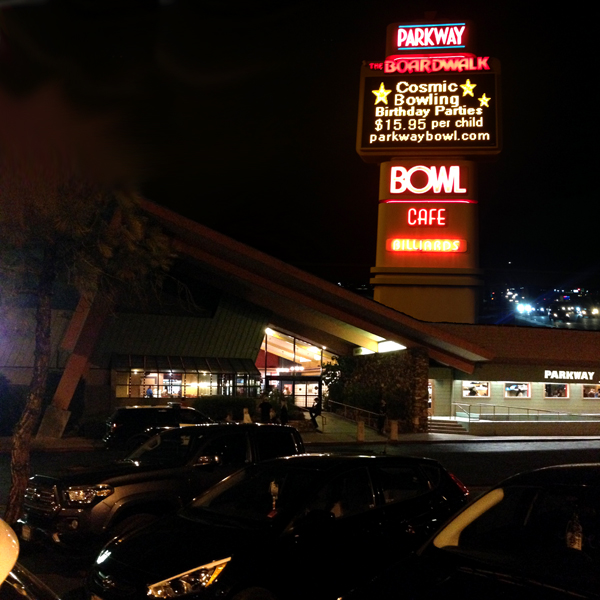 Back in the day, I worked at the Clairemont Library, shelving books and helping patrons. Stimulating work, to be sure. On my lunch break, and occasionally after hours, I'd walk a couple blocks over to the Sunset Bowl to grab a bite to eat, play video games and lay out the plans for Mettrex Recordings. After all, this is where Soul Machine's Essential Funk Files were born. Good times. The general vibe in prevalence was sun-glazed and tropical, which meant of course that it was right up my alley.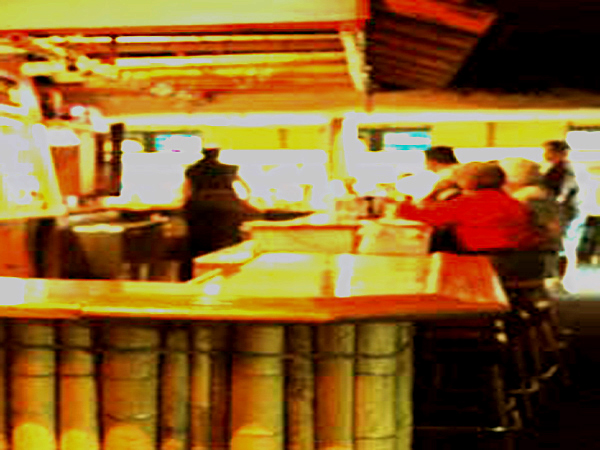 There was a DJ booth near the bar that was all done up tiki-style, and I'd always dreamed of spinning disco at the midnight bowling sessions they held on Friday nights. Records like The Incredible Bongo Band's Apache, Freddy Fresh's Roller Rinks & Chicks, Loose Joint's Is It All Over My Face, Paperclip People's Floor and Stereo MC's Rhino. You know, basically the good good. It was a good dream, but alas the place closed down before I had a chance to hold court in the mix. Now, an apartment complex sits where the bowling alley was once comfortably nestled...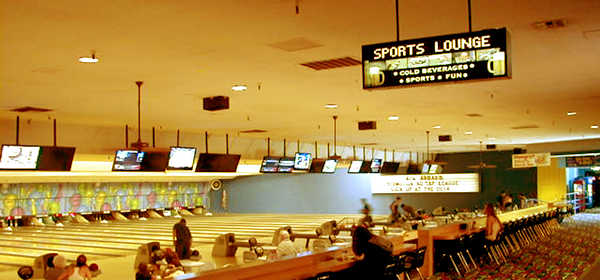 The other bowling alley where I spent a lot of time — and did most of my actual bowling — was the Parkway Bowl, down in El Cajon. I most recently hit the lanes again with my brother Brian and cousins Isabel and Joelle a couple weeks ago to discover that the venue hosts something called Cosmic Bowling, held in a backroom with psychedelic lights and dedicated lanes for the renting. Brian commented that it was like something out of Kingpin...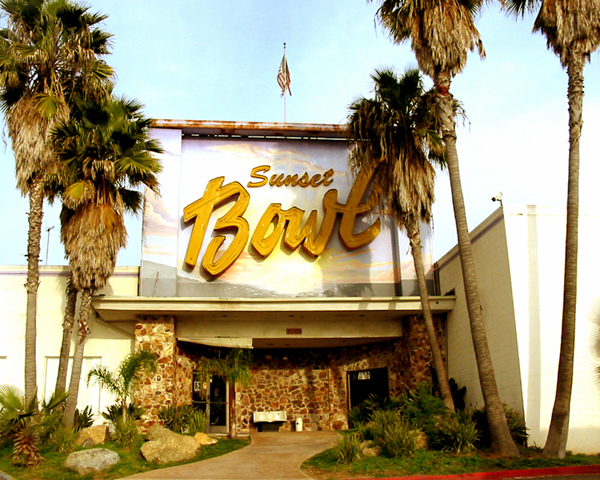 It all brought me back to hours spent at the Sunset Bowl, dreaming up the future, and as is often the case a whole lot of records began to conjure up in my mind. One thing led to another, and I ended up doing a little mix. Within the confines of this two-hour excursion, you'll find dub disco, new wave, Philly soul, French disco, hip hop, boogie, Italo disco, punk funk, gulf stream and disco-not-disco, all anchored to a bedrock of largely straight up disco in the Chic tradition. It's all of a piece.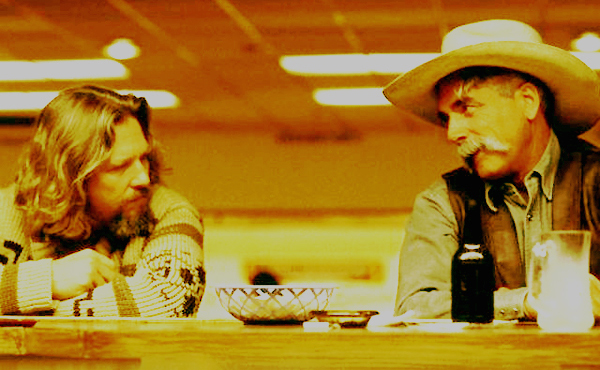 No attempt was made to be historically accurate; there's anachronisms all over the shop, because this is a 2018 disco mix — unapologetically so — filled with music that lived well past its era to fuel dancefloor mayhem through the intervening years and still sounds cutting edge some 33 years on.
---
So without further ado, I give you...
Listen Now
The Parkway Bowl Disco Mix

The Parallax Sound Lab

New York City Intro

Welcome to the show, featuring James Woods, master of ceremonies.

The Mike Theodore Orchestra

Moon Trek

Westbound

Kicking off with the orchestral soul of Moon Trek, from arranger Mike Theodore's Cosmic Wind LP. Mike Theodore actually from Detroit — not New York — but the track does seem to conjure up images of the Big Apple. He not only produced Rodriguez's enshrined Cold Fact (alongside frequent collaborator Dennis Coffey), but also a brace of sides for the Detroit Emeralds. In between, he put out two excellent LPs of instrumental disco (of which this is the first) that remain cosmic disco par excellence.

The Clash

The Magnificent Seven

CBS

Which brings back memories of driving to Patrick Henry back in the late 90s. This jam kicked off all manner of C90s during that period, soundtracking the crisp, early-morning drive to school. The album version, from the triple-LP Sandinista! is where it's at, featuring ever more lush production and further discotheque sonics in evidence throughout. The Clash were cool. I've always assumed that this and Radio Clash were their take on the early Sugar Hill hip hop sound.

Part of what was great about disco is how it ultimately pulled anyone and (nearly) everyone into its orbit, from Marvin Gaye to The Rolling Stones, throwing up all sorts of possibilities and drawing unexpected sounds out of left field (making something like Disco Not Disco a necessary intervention, bringing together a whole raft disparate material together under its umbrella). Nowadays, it serves as shorthand for whole swathes of music. Kevin Saunderson later mined this record for Reese's awesome You're Mine, rugged Detroit techno of the highest caliber.

Démis Roussos

Midnight Is The Time I Need You

Philips

Luxuriant sun-glazed disco from Greek balladeer Démis Roussos, who of started out in art-prog band Aphrodite's Child alongside synth ambassador Vangelis before striking out on a long and winding solo career. This from '75 finds Roussos with an early entry in the disco canon, with gruff, soaring vocals holding sway over a lazy mid-tempo groove. Dig those gently psychedelic organs! Far and away the best tune on the Souvenirs album, although I have a hell of a soft spot for the motorik country-western vibes of Tell Me Now. Great sleeve too!

Martin Circus

Disco Circus

Prelude

When the chips are down, my favorite disco record. Laying the blueprint for Daft Punk, Cassius and Motorbass, this is French disco par excellence, with François Kevorkian reworking the fourteen minute album version by erstwhile-psych rock band Martin Circus into a seven minute rapid-fire edit replete with electro-boogie synths, soaring guitar solos, Moroder-esque sequences, group chants, rolling basslines, a second-line horn section and backing scat vocals that sound something like Bing Crosby duetting with Dieter Meier. I think the kitchen sink is in there somewhere.

Props to Prelude for licensing the track in the first place, putting François K in the studio to work his magic on the masters. Even as this tune perfectly captures the essence of peak-era disco, you can nevertheless hear the implied presence of the 80s waiting in the wings.

Kurtis Blow

The Breaks

Mercury

How come these early rap tracks all of a sudden sound fresh as a daisy? Twenty years ago this would have seemed like ancient history, quaint even, but in light of everything we've discovered in light of the 21st century disco/post punk resurgence it sounds utterly of-the-moment. See also the Jason Nevins remix of Run-DMC's It's Like That, which now sounds hopelessly dated while the OG sounds as timeless as the Nuggets box set. The Breaks glides along on a nimble funk groove, with rolling percussion, juke-joint piano and Kurtis Blow's off the cuff delivery all coming together to conjure up the moody, half-lit atmosphere of Martin Scorcese's After Hours.

Bruce Johnston

Pipeline

Columbia

Erstwhile-Beach Boy-drummer-on-holiday gets in on some tasty solo dancefloor action, taking his place behind the kit to guide a string section through the cresting waves of the Pacific Ocean. A killer groove, and rawer than you might expect. Check that rude drum beat, sounding like something cooked up on an Akai! Everything goes atmospheric halfway through, when the sounds of the surf wash across the breakdown like high tide on the sea of flesh.

Incidentally, I've often thought that The Beach Boys conjured up a convincing proto-disco sound on their Sunflower LP, what with all those sun-glazed sounds and burnished edges. Lee Perry too, which is probably why — as great as Pet Sounds is — it remains my go to Beach Boys record.

Odyssey

Inside Out

RCA Victor

In the popular imagination, disco was supposed to have died on July 12, 1979 at Comiskey Park's Disco Demolition Night. Of course, history's rarely quite that simple. Rather than some behemoth slayed in one stroke by arena rock, disco was more like the virus that mutated to turn up again nearly everywhere — from ABC and Duran Duran's new wave to the electro boogie of The Gap Band and Mtume to Madonna and Michael Jackson's chartbusting pop to the gulf stream sounds cooked up at Compass Point and played out at the Paradise Garage, the pandemic seemingly spread all over — outliving the dinosaurs and ultimately defining modern music via the sounds of house, electro, hip hop and techno.

Of course, in the Big Apple plenty of groups kept on grooving and the dancers kept on dancing to straight up disco. In truth, some of my favorite disco records actually come from well after its supposed expiration date. Take for instance Odyssey's Inside Out, an low-slung slab of passionate modern soul riding a down and dirty gutbucket groove. Should I be embarrassed that I first knew it as a Electribe 101 song? I suspect that I should, but I don't feel it. I'd even go so far as to say that Billie Ray Martin managed to top the original, if by only a whisker.

Montana Sextet

Who Needs Enemies

With A Friend Like You

Philly Sound Works

Salsoul Orchestra mastermind Vince Montana (who also spent time in Philadelphia International's MFSB) in full swing during roughly the same era with a slab of minimal, slap-bass propelled 4/4 magic in which his vibes take center stage. I once awoke from a dream with this tune still ringing in my ears, and as I gradually worked out where it came from — sometimes you can't quite recall the specifics of these things right away — it hung over the morning like a mist.

Eddy Grant

Walking On Sunshine

ICE

I've always loved the way figures like Eddy Grant, Grace Jones and Billy Ocean brought the idiosyncrasies of their island life to the gulf stream flavor to their music. Indeed, to this day they form a loose triumvirate in my mind. What is Compass Point if not the culmination of this notion, with these three toiling away in the seventies only to become bona fide stars in the decade to follow. Eddy Grant later provided the theme song to the blockbuster film Romancing The Stone, while Billy Ocean did the same for its sequel (Jewel Of The Nile). And of course Grace Jones managed to become a bond girl and trade scenes with Arnold Schwarzenegger in Conan The Destroyer!

In light of his high profile, I'm particularly fascinated with Eddy Grant's ICE imprint, formed as he built his solo career from the ground up, he nevertheless stuck with it after hitting the big time with Electric Avenue. Of course he'd already made his mark on dance culture some time before, with this tune and Living On The Frontline being staples at the Paradise Garage (see also Time Warp by The Coach House Rhythm Section). Walking On Sunshine is a brilliantly rewired electro-disco jam dominated by top-heavy afrobeat horns and Grant's loosely-delivered falsetto. The song was later covered by Rockers Revenge, yet not by Katrina And The Waves, who's song of the same title is completely different!

Billy Ocean

Stay The Night

GTO

Early Billy Ocean in this whiplash proto-boogie tune from his sophomore set (City Limit), which is propelled by a uniquely raw-edged drum beat that really snaps the track across the tiles of the dancefloor. Like Eddy Grant, Ocean would later top the charts in the mid-eighties with yacht staple Caribbean Queen.

Ian Dury

Spasticus

Autisticus

Polydor

The great Ian Dury in Nassau, on leave from The Blockheads and getting in on that Compass Point action. Very much of a piece with the surrounding records here, this was also a staple in Larry Levan's record bag over at the Paradise Garage. Dig this little interview1 with old Ian (who in his youth suffered from polio), talking about the story behind the song.

Grace Jones

Pull Up To The Bumper

Island

Yet more peak-period Compass Point (perhaps the peak, in this case) with Miss Grace Jones in the driver seat. The video2 is excellent too (Neuromancer vibes in full effect). In case you haven't noticed, I'm a huge fan of the whole Compass Point phenomenon. At the moment, I have a feature in the works, which I'm planning to post here sometime around the release of the Parallax Pier sequel in June.

Delegation

You And I

Ariola

Lush masterpiece of bedroom disco from the premiere British soul group. I've heard tell that this isn't even their greatest record, but it's the only one I own. You And I perfectly captures the tipping point between the string-laden groove of peak-era disco and the nascent machine boogie coming just around the bend. Check those aqueous, immersive synths straight out of the deep house playbook. Sublime, in a word, and a gorgeous tune.

The Whispers

And The Beat Goes On

Solar

Chartbusting disco, with a two note organ vamp that stands as one of the great tossed-off hooks of all time. Later propelling Will Smith's Miami into the charts, it also kicked off Jason Forrest's The Unrelenting Songs Of The 1979 Post Disco Crash record. Of course, none of that can touch the original. The L.A.-based Solar Records would later come to define the eighties electro boogie sound with artists like Shalamar, The Deele and Midnight Star.

My Mine

Hypnotic Tango

Progress Record

Italo disco. Like early Depeche Mode, this is bubblegum synth music with an even greater affinity for the dancefloor. That moody synth sequence was later sampled by both Bandulu and Carl Craig, for Thunderground's Amaranth and 69's Rushed, respectively, which is how I found out about this track in the first place. Sporting a peerless play of dynamics between the moody verses and joyous candy-coated refrain, Hypnotic Tango itself is a computer love masterpiece.

Giorgio Moroder

Palm Springs Drive

Polydor

From Moroder's third score, after Midnight Express and Foxes, for the film American Gigolo. This is probably my favorite of his OSTs. Everyone knows Blondie's Call Me, but this album also boasts the sleek motor-disco of Night Drive and The Apartment's moody paranoia (the latter even sounding like the lost score to The Parallax View). Palm Springs Drive — featured here — is my absolute favorite moment from the soundtrack, fusing Moroder's trademark motor-disco sound with an epic chord progression straight out of the Ennio Morricone playbook.

Ashford & Simpson

One More Try

Warner Bros.

Gloriously lush disco from the dynamic husband and wife songwriting duo of Nickolas Ashford and Valerie Simpson,. Penning some of the great soul songs of the era for other artists, including Ain't No Mountain High Enough, I'm Every Woman and You're All I Need To Get By, they also managed to put out twelve solid albums between the years 1973 and 1984. One More Try — from their third — finds the duo confidently entering the disco arena with a desperate plea for a second chance gliding over tricky dance rhythms, soaring ARP strings and some of the finest guitar soloing to ever grace a disco record.

D-Train

You're The One For Me

Prelude

The D-Train project was collaboration between James "D-Train" Williams and Hubert Eaves (previously responsible for the Esoteric Funk LP and later to play on some records with Mtume). Appropriately, this record lays down the blueprint for eighties electro boogie, with the zig-zagging synths that would come to define the decade's machine funk sound (see also Jam & Lewis), and took its rightful place as an immortal dancefloor classic. Even Liam Howlett couldn't help sampling its synth-squiggle magic for The Prodigy's Girls.

Forrrce

Keep On Dubbin'

With No Commercial Interruptions

West End

The quintessential dub disco record, featuring François Kevorkian yet again reworking an original track to a higher plane altogether. West End had a phenomenal run as the 70s gave way to the 80s, putting out loads of great records hovering on the interzone between disco and dub. In fact, this is as close to the Black Ark as disco would ever get. You can practically imagine Lee "Scratch" Perry's trademark ad-libs over the top. Underground disco par excellence.

GQ

Disco Nights

Rock Freak

Arista

Conversely, this is disco from high street, crashing the charts and the airwaves alike. Studio 54 music. I first heard this on Magic 92.5, way back in it's early years when it was on fire with live DJs and a killer selection of soul/disco/funk/boogie the order of the day. I remember driving home from the Clairemont Library one day, crossing the bridge from Mission Bay onto Friars Rd., when suddenly Disco Nights comes on the radio. I'd already become unknowingly aware of pieces of it — looped by Chicago's Stacy Kidd in a house cut that had come out recently — and the rush of recognition upon hearing the original for the first time hit like a ton of bricks.

That was one of the great things about branching out from beats, hearing all those records that had fueled the music I grew up with for the first time (and still at such a young age!. The realization that there was this vast continuum stretching back to figures like Curtis Mayfield, Miles Davis and James Brown, rather than everything being these solitary islands of sound, well it was quite a trip. All of this must sound so boring to someone coming in the era of Youtube, where all that information lay at one's fingertips! Well, back in the day, it was a big deal, trust me. And I wouldn't trade it for the world.

Love Committee

Just As Long As I Got You Disco Re-Edit by

Dimitri From Paris

BBE

If there's a pre-disco sound that was disco's most logical precursor, then it's surely Philly soul. Groups like The Three Degrees, The Intruders and MFSB were dealing in proto-disco way back in '73 with tunes like Dirty Old Man, I'll Always Love My Mama and TSOP, and they all wound up dovetailing naturally into the scene once it was in full force. As if that weren't enough, full-fledged disco groups like Double Exposure, The Trammps and Love Committee all hailed from Philadelphia, starting out under different names earlier in the decade as pure Philly soul. Double Exposure's Ten Percent and Love Committee's Law And Order are both great examples of good LPs in this vein.

This is Dimitri From Paris' exclusive edit from his (excellent) Disco Forever mix. I remember picking this up in San Juan way back when. My cousin balked at the sleeve (I can't believe you're buying that!). This remix is brilliant, opening up the locked-down original to aircraft-hangar size. Transforming those baritone backing vocals into the lead, echoing lonely from within with that same sense of isolation as Bernard Sumner on the early New Order records. Chopping the horn fanfare into a looped refrain that builds and builds the tension to the breaking point before releasing in a single strummed guitar. Exquisite stuff.

Kano

I'm Ready

Emergency

Good old Kano. Kano were great. They must have the highest volume of classics out of all the Italo disco groups (shoot me down, I'm no expert on the stuff). Rather than a Moroder-derived machine pulse, I'm Ready is driven by loose-limbed live drumming (as is its b-side, Holly Dolly, famously the template for the proto-Detroit techno of A Number Of Names' Sharevari). The production on this record is just perfect, it's rubberband rhythm underpins gently trilling synths, vocoders and those delicate lead vocals.

Kebekelektrik

War Dance

Les Disques Direction

This the original version, rather than the Tom Moulton mix. I go back and forth on which one I like more, each of which have their undoubted merits. Moulton's version grooves better, but this really places the synths front-and-center. Part of me thinks I made the wrong decision... like I said, it's a coin toss! This is Moroder-esque motor-disco of the highest caliber, always making me picture some motorcade/caravan cutting through the desert under the blazing sun, synth-lines melting in the heat.

Donna Summer

I Feel Love

Casablanca

The godfather of motor-disco disco tracks, produced by Giorgio Moroder for the prototypical disco diva, Donna Summer. Remember a few years back when everyone was calling themselves a diva? That was pretty silly. Donna Summer is the real deal. When I first heard this track, I assumed it was a recent remix and not the original version from 1977! Despite the utterly brilliant chrome-plated futurism in evidence throughout, Summer still manages to outshine everything else with soaring vocals eight miles high and rising.

Bettye LaVette

Doin' The Best That I Can A Special New Mix by

Walter Gibbons

West End

Going out with a bang! More West End, this time with Bettye LaVette at the wheel of a steadfast galleon constructed by none other than disco super-producer Walter Gibbons. It's impossible not to be moved by this beautifully rendered tale of getting over somebody one day at a time.

At the track's midpoint, when that plaintive organ line erupts out of nowhere, well if you're anything like me you're in disbelief. You've never heard anything like this before! Then, the strings cut back in — horns bobbing and weaving over that groove — and the whole thing goes triumphant, proto-acid lines tearing across the soundscape like it's the most natural thing in the world, before the organ returns and a sublime piano line drives the tune to it's natural conclusion. Every element woven into a disco symphony. She's herself again now. I Will Survive, indeed. An impeccable example of the magic that can be wrought from a 12" slab of plastic, and a perfect ending to our disco odyssey. Hope you enjoyed it!
The Parkway Bowl Disco Mix: The Records
Credits
Mixed By: Flynn & DJ Slye.
Special Edits: Do'shonne & Slye.
Samples: Fifty Foot Hose Opus 11, The Beach Boys Let's Go Away For Awhile, James Woods in Against All Odds, Nastassja Kinski in Paris Texas.
Vibes: Gil Scott-Heron & Brian Jackson, FSOL ISDN, Sudden Impact, Moodymann, assorted El Cajon dive bars and nightclubs, Disco Godfather, David Bowie's Station To Station, Patrick Cowley, Jefferson Airplane, Atari 2600 and those endless exquisite gradient skies, ARP Solina String, Palm Desert, Jedi Knights, Dee Dee Bridgewater, Club Stratus, Summer Of Sam, The Mizell Brothers, Arthur Russell, Bobby Konders, swimming in A.G., Morgan Geist's Moves, Hohner Clavinet, Herbie Hancock, Eddie Russ, Battle For The Planet Of The Apes, Jack Kirby, Paul's Boutique, Lakeside discotheques, Lil' Louis & The World, Beck Hansen, Harlem River Drive, Night Moves, Scott Weiland, Wild Style, Terranova, The Parallax View, Innerzone Orchestra, Spoonie Gee, Radio Mettrex, Steely Dan, Fender Rhodes, the Op-ART Hall Of Fame, Calypsoul 70, Opinionated Diner, Kirk DeGiorgio, Sly Stone, Sam Mangwana, The Isley Brothers, Glenn Underground, BBE, Parliament/Funkadelic, Ubiquity, Gram Parsons, The Honey Bee Hive, G-Street, East Village, Warren Zevon's Night Time In The Switching Yard, and of course Woebot.
Footnotes

1.

Granada Reports. Ian Dury Speaks About Spasticus Autisticus inc. The Bus Drivers Prayer. Granada Reports, Ian Dury, 1981. Interview.

2.

Jones, Grace. Pull Up To The Bumper. Nightclubbing. Jones, Grace, Kookoo Baya and Dana Manno. Island, 1991. Music Video.
---
...
Disco is dead.
Long live disco.