I caught The Afghan Whigs live at the North Park Observatory last night with my main man Gryphon. They were opening for indie rock stalwarts Built To Spill, whose output I'd always meant to explore but hadn't yet gotten around to. Jim assured me that they were a crucial influence on countless indie bands to come in their wake, bands like Modest Mouse and Death Cab For Cutie. My limited knowledge of the group included a handful of the titles for their nineties records and the fact that they were often (perhaps lazily?) compared to Neil Young. So this was my chance to finally hear them.
The Whigs and I go way back though. I was in high school when I first heard Somethin' Hot, a tight little slab of throbbing rock 'n roll wired to a slinky, serpentine groove. It seemed to make sense in the wake of records like Primal Scream's Vanishing Point and U2's Pop (especially tunes like If They Move, Kill 'Em and Do You Feel Loved), records that spiked rock with a healthy dose of dancefloor dynamics. From there, I slowly worked my way back through their catalog in reverse chronological order, as it turned out. Of course, they broke up before I got a chance to see them live...
Their swan song (at the time) was 1965, which featured Somethin' Hot as both the opening track and lead single, a record that had a profound impact on me. To this day, it's probably my favorite album of theirs (although Black Love certainly gives it a run for its money). Tunes like City Soleil, Omerta and John The Baptist in particular, epitomize what made them so unique, with rich, cinematic production flourishes (horn charts, radio chatter, Spanish guitar, etc.), winding, full-bodied grooves and a blinding, white hot intensity.
They were simply unlike anything else at the time. Their avowed love of soul music played a crucial role in their sound as well, with an incredible cover of The Supremes' Come See About Me and a gloriously drunken cover of TLC's Creep tucked away on various b-sides and EPs.
At least where I was coming from, they seemed to connect with the shadow self, that dark fuel that keeps you going when the chips are down. A dirty energy perhaps, but bury it at your peril. The Sneaker Pimps keyed into a similar frequency circa Splinter (another personal touchstone of mine from the era).
The Whigs' sound was often a play of tension and paranoia, echoing the taut, wiry energy of post punk in a way few others were doing at the time, setting them apart from the landscape of 90s alternative rock. While maintaining a devoted following and consistently wowing the critics, they never really crossed over with that song, and it seemed as if they were destined to remain out of step with the times, doing their own thing (until they stopped doing it).
Imagine my surprise when they went and reunited fifteen years later, releasing a new record in 2014. Even more surprising was that it was a great record! Do The Beast is a worthy successor to the path laid out by 1965, Black Love, Gentlemen and Congregation, featuring new favorites like Matamoros and Algiers that update their sound in an era that — after fifteen years of post punk priming — their sound seems strangely enough more at home than it ever did back in the day.
Then, they did it again with last year's In Spades. It's rather rare for band's to come back this focused, but there you have it. As one might expect, with the new records came a new tour. I missed them last time they came to town due to circumstances beyond my control, but this time I wasn't gonna let the opportunity pass by. So Wednesday came and Gryphon and I found ourselves below the stage at The Observatory, waiting for the show to begin.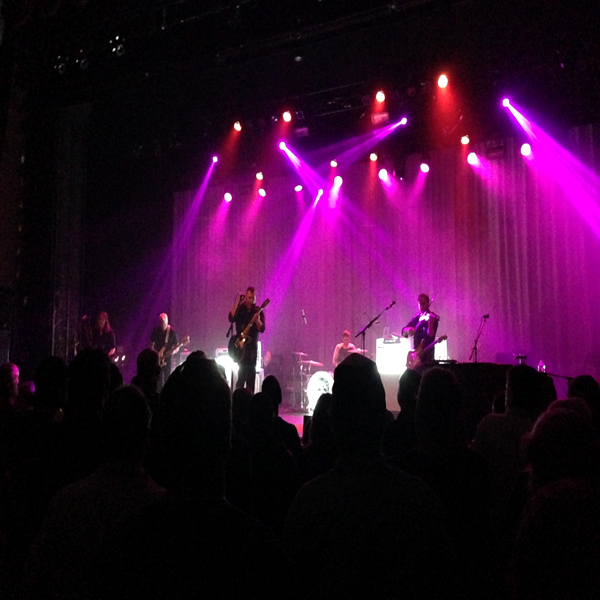 The Whigs hit the stage more or less on time with little fanfare and kicked into one of the new songs, Arabian Heights. They were tighter than I was expecting, losing none of their old intensity as the band unleashed a taut stream of focused energy conducted across furious breakbeats. It's so rare to hear a band you love actually improve with age. Greg Dulli's vocals in particular are far sharper than they often used to be on record.
Hearing Algiers live was a real treat. I remember being in total disbelief the first time I heard it on record (comparable to hearing Scott Walker's The Seventh Seal or Milton Nascimento & Lô Borges' Tudo Que Você Podia Ser for the first time), the gorgeous falsetto vocals, shimmering slide guitar and Be My Baby beats all swirling into a radiant crescendo. Great to hear Matamoros too (which, if you haven't seen it, has an excellent video), a tune with a focused intensity that sounds like something that should come from a band's debut, not tucked away on a reunion record thirty years later!
Thankfully, of the older moments that the band included was 1965's mini-epic John The Baptist, which made up for the loss of its considerable studio flourishes (backing vocals, strings and a horn section) with a diamond-hard intensity, really catching fire for the denouement. They also played Somethin' Hot, which brought it all full circle for me, back to when I first heard them as a 17 year old. Alongside what must be their best known song — Gentlemen's Debonair — these were the only songs from the band's original run to feature tonight.
The set actually leaned far more heavily on new material than I expected, but it was all the better for it. These new records aren't nostalgia trips but vital records in their own right, featuring a different group of musicians sporting a different chemistry, so why not focus on the material they'd worked up together? Besides, if they had played more of their older material, I doubt personal favorites like City Soleil, Faded and Honky's Ladder would have featured anyway! The band closed with the one-two punch of Light As A Feather and Into The Floor, and without warning it was all over...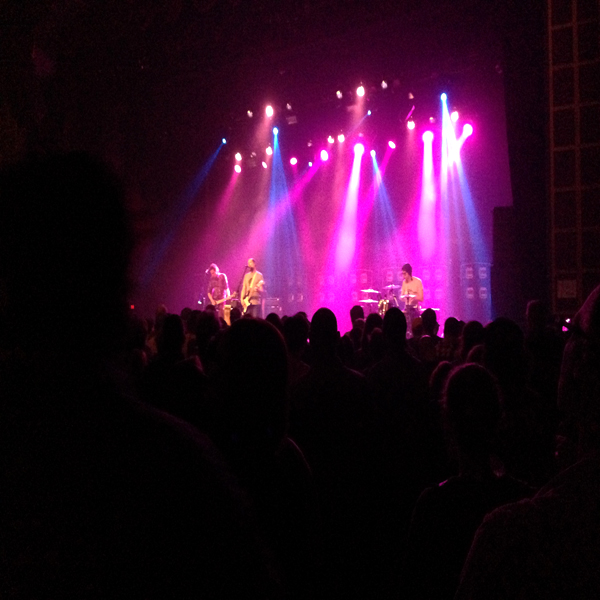 About half-an-hour later Built To Spill took the stage. The first thing that shocked me about their sound was just how sprawlingly loose their sound was, on the order of the great 70s downbeat canyon funk jams like Wooden Ships, Bad Night At The Whiskey and Down By The River, smoldering with a ramshackle glory like some great galleon banking toward the heavens. As I said, I'd known about the inevitable Neil Young comparisons, and this tough little three piece really did get down like peak-era Crazy Horse, but I'd forgotten about Doug Martsch's status as an indie rock guitar hero (in the post-Dinosaur Jr. mold).
With the band laying down a cradle of swaying rhythm and Martsch working an array of pedals as he pulled great arcs of noise out of his guitar, it was hard to believe that such a swaying wall of sound was being conjured up by just three musicians. Martsch's vocals were phenomenal, complementing the music brilliantly in that quintessentially whiny (in the best possible sense) indie way (reminding me alternately of Eric Bachmann, Mac McCaughan and even Michael Stipe).
Unfortunately, as I'm not familiar with their records, I won't be much use to you as far as the specifics of the setlist. There was this one tune fairly early on that had a tremolo-laden surf guitar thing going on that was absolutely incredible. Real fantasy jam session stuff. Another highlight was a moving rendition of the Pretenders' immortal Back On The Chain Gang, which they rendered beautifully with a smeared post-Velvets drawl.
---
This morning, I checked the setlist on-line and set about figuring which tracks came from which albums, and they seem to have been pulled at a pretty even spread across their discography. With a definite desire to get familiar, I'm resolved to pick up records like Perfect From Now On, Keep It Like A Secret and There Is Nothing Wrong With Love, which happen to be the ones that I had been kinda-sorta aware of, along with their latest, Untethered Moon.
All 'n all, it was an impressive show. Seeing a great band with such a rich history live (before I'd ever knowingly heard them) paired with one I'd grown up on was quite a dramatic experience. The Afghan Whigs and Built To Spill, live in San Diego at The Observatory... in a way, it was like taking a joyride to Algiers.