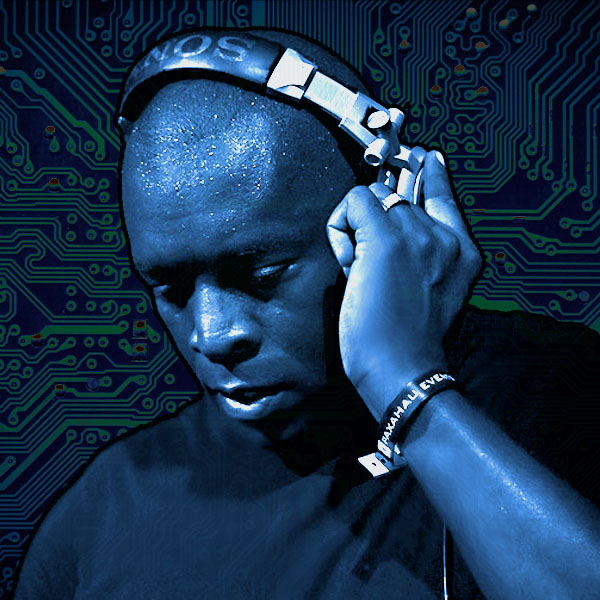 Where does one even begin?!? I've gone on record putting the man in my upper echelon — alongside Tricky and Adam Ant — with my absolute favorite recordings artists ever. That's a pretty odd bunch, I'll admit, but without question the figures that have done the most to shape my own musical path. In the twin worlds of house and techno, the man stands like a towering colossus astride the realms of chart-busting post-disco dance and the deepest recesses of the underground (both of which he's long ago mastered). So like I said, it's hard to know where to even begin...
Well, you could begin at the beginning: in the early 80s when he was mixing it up in the shadows of Detroit with the Deep Space crew (which included similarly storied figures like Derrick May and Juan Atkins, among others). Then, in the wake of No UFO's, venturing into the studio to begin a recording career (and his KMS imprint, which has been doing it's thing for nigh on thirty years now) in earnest: first with the Kreem record — Triangle Of Love in a post-New Order/Into The Groove-stylee — and then the minimalist techno of Intercity's Groovin' Without A Doubt (recorded with Derrick May). A preview of things to come, to be sure...
This kicked off a series of heavy underground records, raw traxx released seemingly from beyond the dawn of time like Keynotes' Let's Let's Let's Dance and the Reese & Santonio records — recorded with one Santonio Echols — rough-and-tumble tiles like The Sound, Truth Of Self Evidence and Bounce Your Body To The Box that surfed the interzone between house and techno before just about anyone else. This era was masterfully anthologized on the Faces & Phases compilation, a veritable treasure trove of the rawest techno one could ask for.
So at the dawn of 1988, the table was set for the Reese records — where Saunderson's knack for vibed-out productions really began to take flight — burning hot techno sides like Just Want Another Chance, Rock To The Beat and Funky Funk Funk. These were probably the heaviest electronic grooves laid down down up to this point, each of them were built on a towering structure of bass, percussion and the sort of strange, funky synths that one never forgets. Kevin Saunderson had a vision of massive, floor-filling electronic dance music before just about anyone else. It's his calling card, really... but then so is the undeniable sense of vibe that he imbues his productions with. And that, as they say, is what makes all the difference.
Just Want Another Chance seemed to be his take on the heavy-breathing atmospheric style of Jamie Principle (prefiguring the likes of Blake Baxter and K-Alexi Shelby), with spooked electronics and a ten ton bassline that remains one of the deepest to be found on wax and would go on to fuel decades of darkside excursions to come. Rock To The Beat took a left turn into cinematic territory, especially in its warped Mayday Mix, but the flipside's traxx like the pure acid frenzy of Grab The Beat and You're Mine's emotive Clash sampling epic were equally revelatory techno par excellence. And Funky Funk Funk is just sick, with that sawing bassline and whistling synths nailing the buzzing mayhem of the rave.
He continued down this path with the ardkore madness of the Tronikhouse records, with awesome proto-jungle tunes like Up Tempo, Spark Plug and Straight Outta Hell Back To Hell Mix, anchored by the more straight up techno of The Savage And Beyond and Smooth Groove (techno perfection in 3½ minutes). The flipside to these rave excursions were the deep techno missives unleashed under his E-Dancer guise, with the (just as hardcore) stomping electric madness of Velocity Funk (which started life as a Cameo remix, doncha know?) and the killer digital disco of World Of Deep serving up dancefloor perfection.
Both of these tunes anchored Saunderson's epochal X-Mix: Transmission From Deep Space Radio, which essayed the Detroit-area broadcasts of no-nonsense techno that Reese and crew had been unleashing for the better part of a decade. Featuring DJ Minx as the master of ceremonies, it boasted appearances from Detroit techno stalwarts like Octave One, Carl Craig and Sean Deason alongside Outlander's Belgian techno, the widescreen garage of D.C.'s Deep Dish (in their Chocolate City guise) and a whole brace of tracks from Dutch techno mainstays Dobre & Jamez. The whole affair remains a high water mark in that interzone between deep, moody house and dirty Downtown techno.
It was during this era that Saunderson released E-Dancer's Heavenly LP, a stone cold classic that scooped up a decade worth of tracks like The Human Bond and Pump The Move (along with the aforementioned Velocity Funk), juxtaposed with new killer cuts like Banjo, Warp and Behold. There was even an awesome Juan Atkins Re-mix of Heavenly, which put a deeply moody high-desert spin on the original version's delicate electronic groove. This whole trip culminated in the widescreen cinematic techno of The Dream, which seemed to draw from the same filmic corners of Saunderson's sound as Rock To The Beat had: this was Saunderson scoring films yet to be made.
And then there's the matter of his remix work, which found the man redefining the possibilities of what could be achieved on the b-side of a single (much as King Tubby had done about a fifteen years earlier) with his complete reworks that crafted totally new grooves around a few of the song's original elements (as opposed to the more common edit-style remixes of the day). People usually point to the Acid House Remix of The Wee Papa Girl Rappers' Heat It Up as the moment where it all took shape, which found him transforming a little hip-house ditty into a well-deep slab of moody acid decked out with a monster bassline.
The man's most mainstream guise, Inner City (with dancefloor diva Paris Grey), took on a life of its own with killer pop-inflected cuts like Good Life, Pennies From Heaven and Praise, storming the dance charts again and again. I remember hearing dubs of Good Life on Jammin' z90's afternoon dance show, which would hold sway after the station's usual hip hop and r&b bread-and-butter, and the frisson of hearing Reese productions on the drive home from school (this before I even had a tape deck) was palpable. Be sure to check the awesome Power Of Passion (left off the U.S. version!) for a rare example of the man at his most delicate, with a singular take on r&b-inflected machine soul that's nestled somewhere between Kraftwerk, Roberta Flack and The Neptunes.
Inner City's cover version of Stephanie Mills' Watcha Gonna Do With My Lovin', which reached its sublime peak with the 8½ minute Def Mix by Frankie Knuckles and David Morales, was a masterstroke of impossibly lush house music that seemed to predict Massive Attack's Blue Lines in its languid, downbeat grooves. And then there were all those garage sides by The Reese Project, which managed to smuggle remixes by the likes of Jay Denham and Underground Resistance onto high street like a Trojan horse.
Bringing it all back home, the man unleashed the awesome Ahnongay, a techno outing of the highest caliber replete with remixes by Dave Clarke and Carl Craig. Still, it's the original version that remains the standout. Deep and spiritual techno soul, it's a prime example of Saunderson at his absolute finest. One could imagine slipping it on amid things like SA-RA, 4 Hero, Underworld, J Dilla and Moodymann without too much trouble, like it was the most natural thing in the world.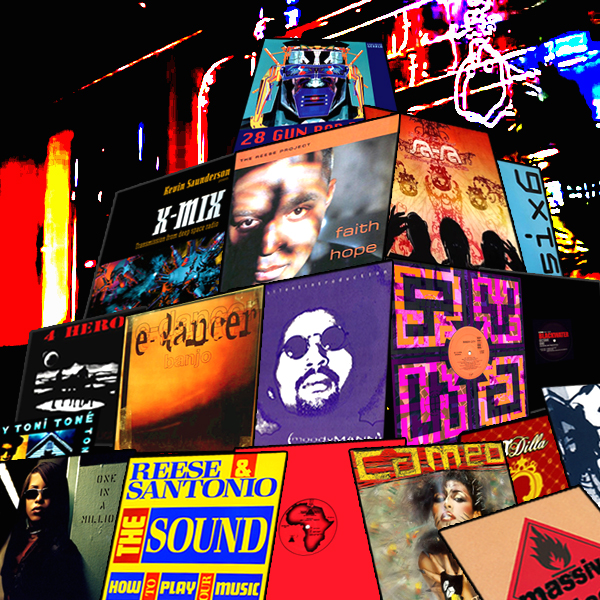 This is part of the reason why Saunderson's work means so much to me: he routinely squares the circle between the worlds of post-disco dance, rave, techno, r&b and even hip hop — worlds that are often treated as if they were light-years apart — folding one over the other like an origami crane as everything overlaps with the casual ease of a Venn diagram. He traverses these worlds like a man who's seen it all, expertly crafting those singular grooves with style and finesse.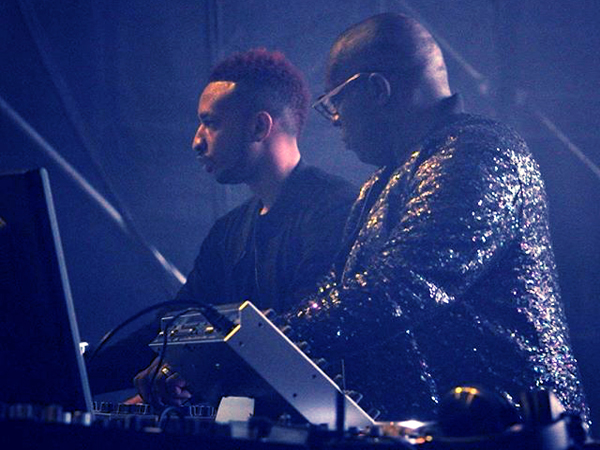 Because above all else, that's what he'll be remembered for: conjuring up heavy, atmospheric, stomping sonix like no other (no matter how often the imitators may try to flatter sincerely). Take Esser'ay's Forces — a one off under that alias, no doubt for Saunderson just another day vibing out in the studio — and you'll find a wild, weird and deeply funky slab of killer dancefloor madness... techno as only the Master Reese could do it. Seeing him decked out in a sequined jacket, holding court last weekend at Movement (aka the Detroit Electronic Music Festival), it's clear that he's gonna keep right on doing it for years to come. And thank goodness for that.