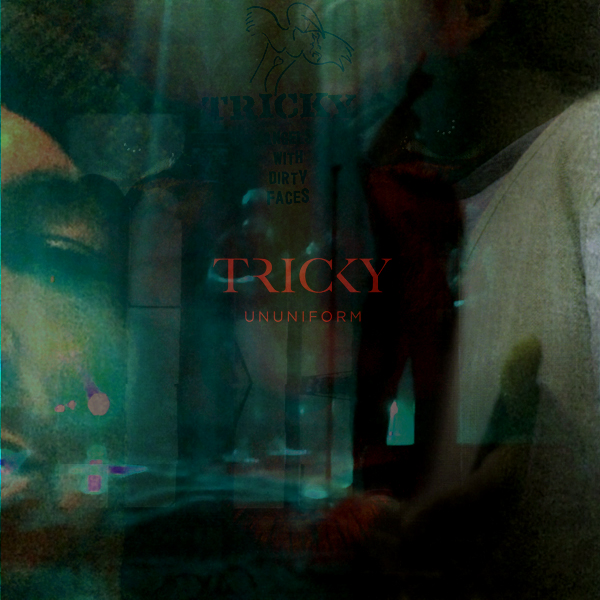 After twenty years as a massive fan of the man's music, I finally caught Tricky live last Thursday at the Music Box. After work, I cruised down Harbor Drive, past Lindbergh Field and the Embarcadero toward the San Diego Harbor. I stopped off at the Fish Market to grab some fish 'n chips (soulful as Maxwell) for a solitary dinner overlooking the docks. Squeezing in a bit of writing, I washed it all down with the darkest beer I could get my hands on.
From there, I parked at Lot 1023 — on the corner of Pacific and West Broadway — and walked through the American Plaza Station, continuing down India Street for a couple blocks before the Music Box appeared before me. I handed the doorman my ticket and was in the place before you could say Six Minutes, I'm On.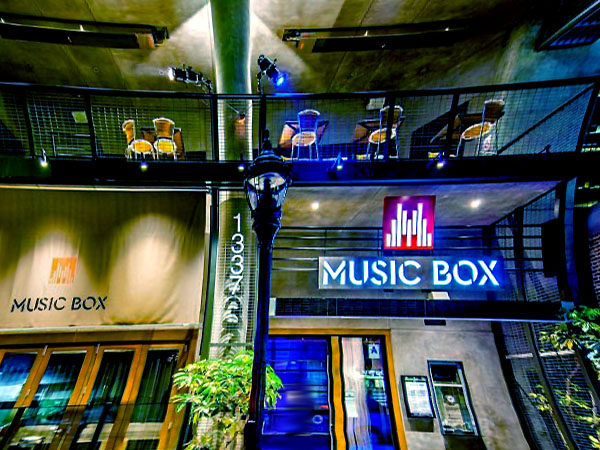 Walking through the front door, I was confronted with a truly evocative atmosphere: now this was a proper venue. The Music Box now inhabits the space that was previously known as Anthology, an after hours jazz club that I'd been to a few times in the past, before it unceremoniously shut down a couple years ago. Anthology was on the upscale, aspirational tip, like the South Seas Club meets Norman Connors sleeve art, which fit the late-period jazz vibes in evidence on the venue's stage and soundsystem perfectly.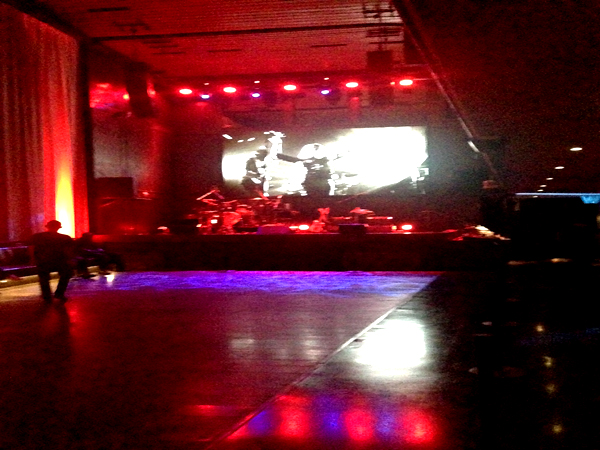 The Music Box, in contrast, seemed to intimate a sort of post-industrial warehouse atmosphere, a million miles from the sleek surfaces of Anthology but still teeming with vibe. I could see the original stage in the distance as I made my way through the anteroom, where a handful of cocktail tables were scattered beneath the half-light in lapis lazuli. The bar was located to my left, so I got fixed up with a drink and made my way toward the dancefloor (which at this point was still empty).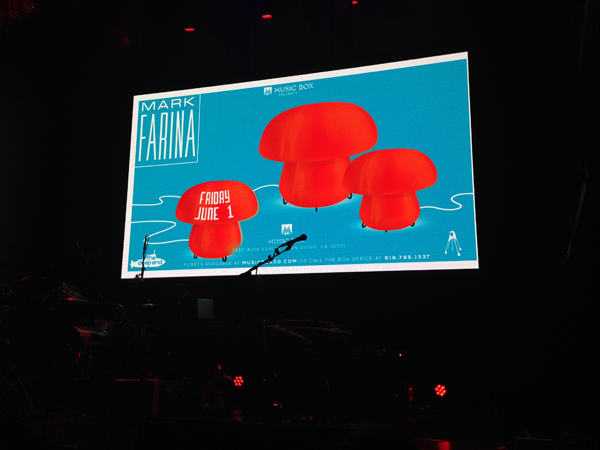 The plush booths of Anthology had been cleared out on the ground floor (although they appeared to have been retained on the upper floors), replaced by high chairs hugging the right wall in semi-circles around narrow cocktail tables in order to maximize floor space on the dancefloor. On the left was one long bench hugging the wall, much as it always had. The dancefloor spread out between.
There was a giant video screen behind the raised stage displaying coming attractions (Slum Village, She Wants Revenge, George Clinton with Parliament/Funkadelic, Mark Farina, etc.), and the walls were emblazoned with the shades of rust and iron. In other words, it was the perfect place to catch a trip hop show, especially in an era where the music seems to make even more sense than it did in its own time.
That time was the nineties, which is when I first dove into the music in earnest. Tricky's Angels With Dirty Faces was one of the first dozen or so records that I ever owned. In truth, I'd wanted to catch the man live since way back then, but for various reasons it never really happened. In the first instance, it was down to being too young to get in the door (circa Angels With Dirty Faces) and then it was because — in an era when I was going to school, working to pay for school and digging ditches — I was broke and (truth be known) living the trip hop life a little too fully. After that, it just never really came together. Sometimes it just goes that way...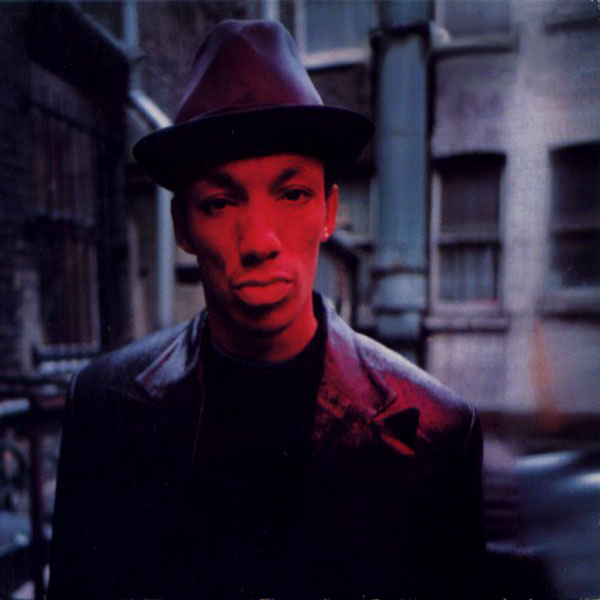 So it was thrilling to be in a venue like this to finally get to see see the man live in person. I'd bought two tickets back in January, but unfortunately as the day rapidly approached no one else could make it. I was somewhat disappointed at first, but ultimately realized that it was rather appropriate to be at this show alone: this is just as it would have been back in the day, when no one else I knew that was into this sort of thing. As much as Detroit techno or ragga jungle, this was a music that I'd had an intimate relationship with, and it hit me at the deepest level. I suppose that picking it up in a way so totally out of step with my prevailing surroundings only made me love it more. So not much has changed, then.
A selection of trip hop's greatest hits were playing over the soundsystem as people started to stream in, and damned if it wasn't a cross-section of a certain corner of my record collection back in the day. I'm talking about Massive Attack's Unfinished Sympathy, Portishead's Sour Times (and Glory Box *cough* even though Hell Is Round The Corner is better *cough*), DJ Shadow's Midnight In A Perfect World and Building Steam With A Grain Of Salt, Björk's Headphones and Radiohead's Talk Show Host.
Talk Show Host was especially a real surprise, much as it had been when I first heard it — on seeing Romeo + Juliet in theaters — and placing it immediately as Radiohead, even if it was drastically more beat-oriented than anything they'd done up till then (this just before their new direction was mapped out with OK Computer).
Perhaps the demanding trip-hopper in me would have loved to hear some Smith & Mighty, Nicolette and Terranova as well, but then you can't have it all. In truth, it was a bit of a rush hearing these songs together in one place again, all swirling around the black hole sun that lay at its center. And make no mistake, I'm speaking of Adrian Thaws.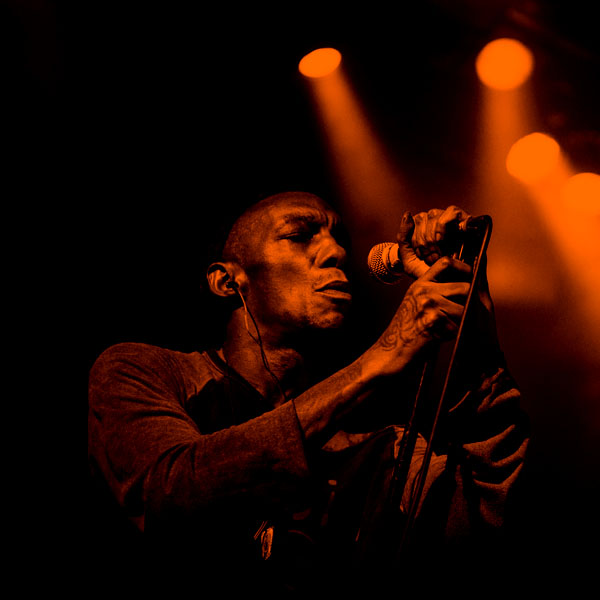 Where I'm coming from, it simply does not get much better than Tricky. He's on my short list with Adam Ant and Kevin Saunderson, those musical figures that had the biggest impact on me growing up (indeed, right up to the present day). You hear songs like Aftermath, Hell Is Round The Corner, Poems and 6 Minutes as a teenager and it's bound to leave an impression. I suppose that for me, he was something like David Bowie, Rakim and Howlin' Wolf all rolled into one. Upon reflection, I'd admit that — once again — not much has changed!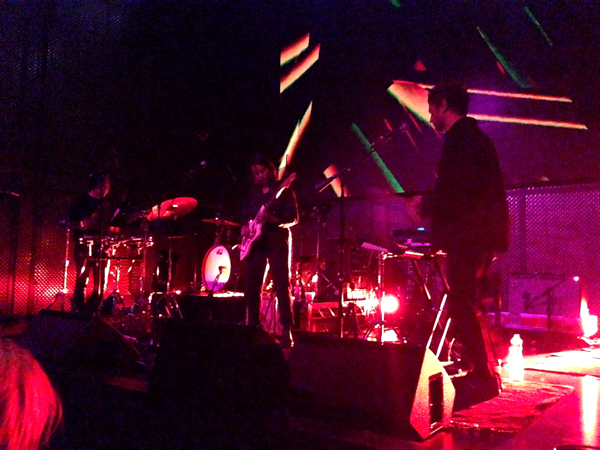 After a bit of waiting, the opening act took the stage. They were a three-piece called Young Magic, and they plied a sort of hallucinatory dream pop with slightly menacing overtones, centered around ethereal lead vocals. They filled the digital backdrop with a stunning Buggy G. Riphead-esque video loop projected behind them as they played. Exotic imagery and 3D terrain clashed in sometimes rapid fashion, much like the indoctrination video from The Parallax View. The whole experience was a perfect point of entry into the evening, setting the mood brilliantly. Young Magic: definitely one to look into.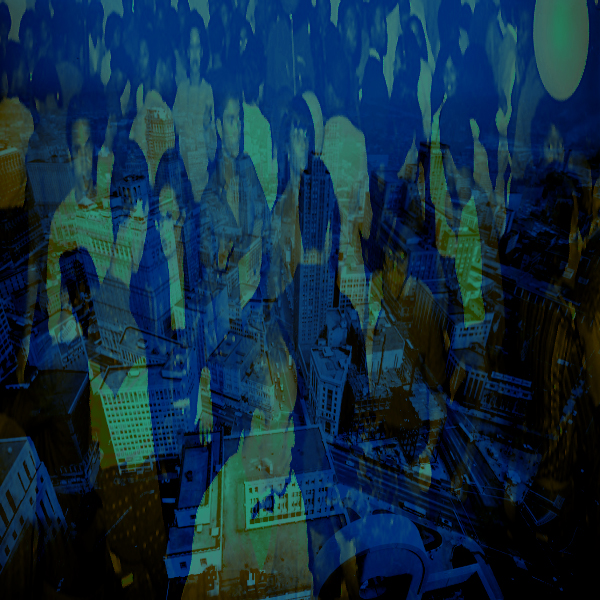 In between Young Magic's exit and Tricky taking the stage, a bunch of peak-era hip hop like Nas, Mobb Deep and The Pharcyde played over the P.A. I looked around at the crowd, which seemed to be an interesting mix of people, ranging across every spectrum imaginable. I was reminded of Detroit's progressive scene of the early 80s, where a sort of adventurous anything goes spirit ruled the day, resulting in a fantastic mash up of futuristic funk, synth, disco and new wave music that ultimately coalesced in the sort of lightning-in-a-bottle phenomenon that happens once a generation (if you're lucky).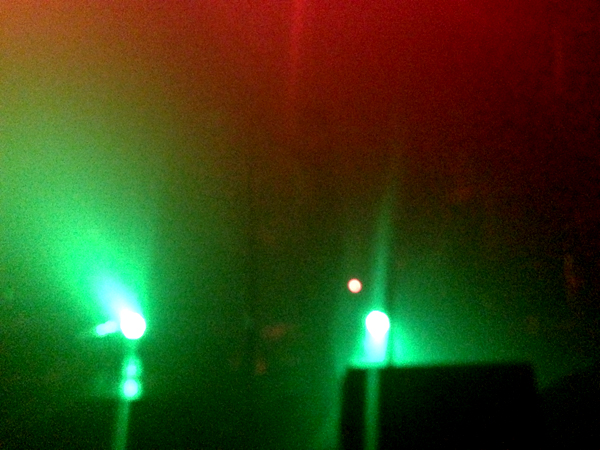 I purposefully hadn't checked prior setlists from other shows, because I wanted to be taken completely off guard by whatever would unfold tonight. Would the set be full of older material from the Maxinquaye/Pre-Millennium Tension era, or would it lean heavily toward his more recent material (drawn from an era where he seems to have reignited the old spark with a vengeance)? Would he go off on some unforeseen variation? In truth, any such possibility would have been fine by me: just being here tonight was a dream come true. After all, it had been a long road that took me here...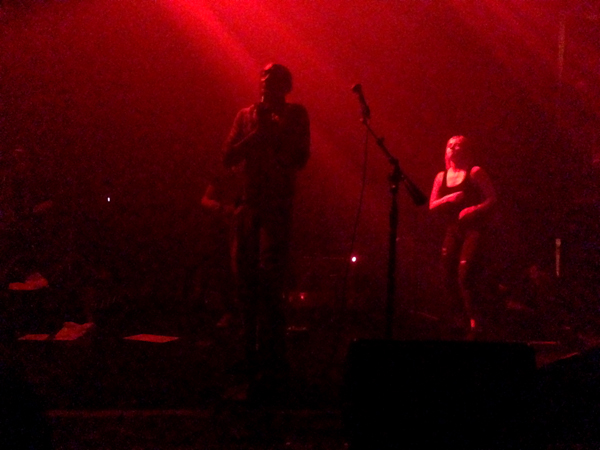 When Tricky hit the stage, he strolled out with his band to the sound of Vybes before kicking into an instrumental rendition of You Don't Wanna (from 2001's Blowback). What it may have lacked in Ambersunshower, the band more than made up in live crunch, with the song taking on a sort of Alice In Chains feedback-soaked voodoo. Tricky faced the drummer, his back to the audience, just vibing out on the music. That Sweet Dreams synth, sawing through the track in deliberate slow-motion, was absolutely monolithic in a live setting.
Without warning, the band dove headfirst into the clipped raw stylings of I'm Not Going (from 2016's Skilled Mechanics). At this point, they were just getting started, vibing up the room as clouds of smoke began billowing all around. A familiar fragrance coursed through the room and Marta walked out of the shadows to take the lead. The song has always come on like one big build up, and in this case it was building up to what would be an incredible night.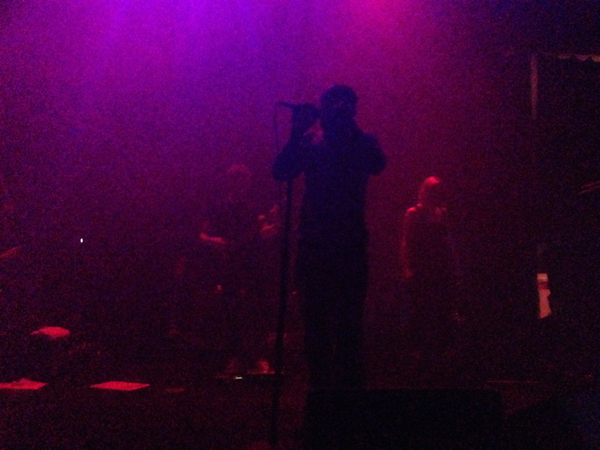 In passing, I must say that I really dig the way Tricky seems to have taken a left turn at some point, veering down this winding path of blues-soaked Gothic without hesitation. One suspects that he's revitalized himself on the arty, new wave-inflected sounds of his youth, particularly things like Japan's Tin Drum, Melt-era Peter Gabriel and The Cure.
Where Massive Attack faltered (losing their identity in the crystalline architecture of 100th Window), Tricky excels. Bringing his own considerable voodoo to the table, he reshapes the sound in his own image. The results sound unlike anything that's come before... a genre that should have existed (you can almost feel the distant memory of it), but never did. Well, now it does...
The crew dropped into three songs from Tricky's latest, Ununiform, starting with the staggering twilight dirge of New Stole. Firmly in the tradition of post-hip hop blues like Broken Homes and Singing The Blues, it finds Marta in fine form, taking on the vocal duties from Tricky's latest foil Francesca Belmonte. It manages to be cinematic and totally stripped-down at the same time, something that Mr. Thaws has handily mastered by this point. The Only Way followed swiftly, rounding out the first trio of songs from Ununiform, and finally Tricky was front and center.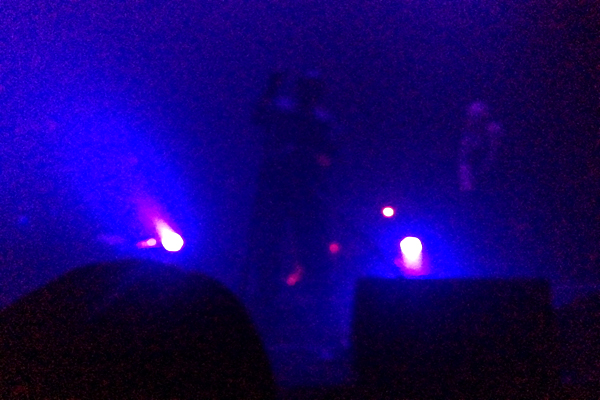 I wasn't prepared for the man's intensity in a live setting, which often took the sound in a significantly different direction from what had previously appeared on record. He was a man possessed, moving wraithlike and punching the air as he delivered his words, often in a shrieked punk-singjay tone that he rarely employs in the studio. He grasped two microphones, one with heavy slapback echo and the other more-or-less straight-up-clean, singing into both of them at once.
He moved the mics at various distances and angles to manipulate the sound of the room, dragging their stands with him across the stage as he moved. A tune like Parenthesis was ideal in this setting, with its dirge-like pounding chorus offering Tricky the perfect storm to inhabit like a spectre. All week, I'd been envisioning him playing Money Greedy live (which wasn't meant to be), but he did imbue each of these songs with that same sense of barely controlled fury.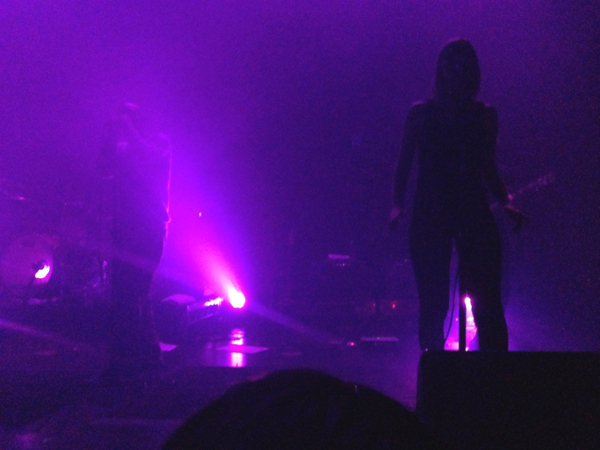 The one cover version of the evening was an awesome take on Courtney Love's Doll Parts, delivered by Marta, and it was an incredible reading. It's actually another one from the new record, which isn't totally surprising. One of the many things I always dug about Tricky was his musical omnivorousness — you could picture him vibing out to Smashing Pumpkins, Gregory Isaacs, Gravediggaz and Kate Bush back to back — and the way it could be felt on his records.
It was something that I noticed increasingly as time passed by (although in retrospect it was always there), and circa Mission Accomplished (if not For Real and Contradictive on Juxtapose) I remember feeling this strange post punk/new wave element taking shape in the sound. In truth, it had probably been there since Black Steel...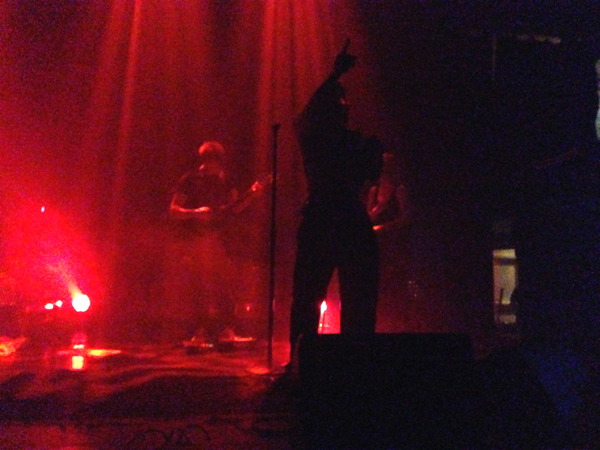 This shadow buried deep within the sound reached its apotheosis on 2014's False Idols, which against all odds turned out to be his finest record since Maxinquaye. Rather appropriately, the setlist focused on this post-reinvention period, only occasionally digging further back into the past. All but three songs were from the last five years, and a solid third were from last year's Ununiform. False Idols is clearly the point of inflection. The sparse, desperate sound of Nothing's Changed submerged these proceedings deep into the doldrums before the 4/4 pulse of Here My Dear pushed back above the waterline, only for it all to sink back beneath the sub-zero bass pressure of Running Wild.
Digging into My Palestine Girl (from the Adrian Thaws LP) made perfect sense in this context, it's slithering guitar figures sounding like a distant cousin of Massive Attack's Dissolved Girl. Of course, the guitar presence here is far more informed by post punk than the quasi-metal shapes of Mezzanine. Another slashing, bluesy guitar figure drove the no-nonsense 4/4 pulse of Dark Days, its killer hook taking the room by storm. And then, just as quickly as it had begun, the tune concluded and the band left the stage.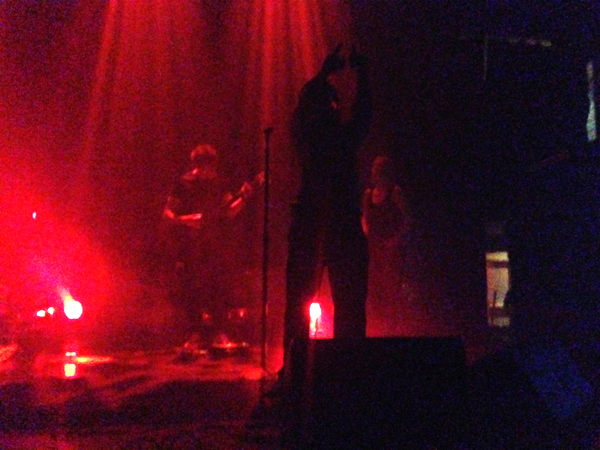 I should mention that the crowd was going absolutely crazy at this point. It was clear that this was a room full of die-hards. It turns out that I wasn't the only one here who Tricky's music has had a serious impact on... not by a long shot. And all of us were up for anything. Everyone began chanting, Tricky, Tricky, Tricky! in unison. Then, the band came back out — sans Tricky — for the encore, kicking into Overcome. Needless to say, Marta took the lead.
The results were undeniably psychedelic, with the drunken, dizzy sway of the chorus crashing like waves across the room. Sun Down followed, with Tricky back in the mix now, it's staggering beat flowing seamlessly into When We Die. On record, it's a gently unfolding chanson, featuring the triumphant return of Martina over its filmic drift. Live, it was a guitar-crunching epic, with Tricky drawing the full power of his punk-singjay vocals.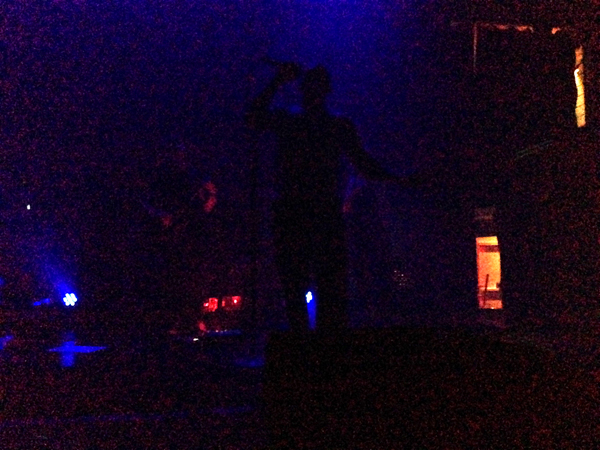 Then, the mother of all basslines starts rolling across the stage, and a drastically reworked version of Vent is upon us. Tricky's going crazy, the music's flowing through him at this point. Just like when it kicks off Pre-Millennium Tension, heard by me for the first time all those years ago, everything feels wrong. She's the one, makes me feel these ways. Sheer paranoia creeping in from every angle, unstable drums threatening to collapse beneath the track even as they propel it forward like a lurching soldier. She hides my Ventolin. It all cuts out for a moment before the band wheels it back again for the climax one last time. That bassline rolls on...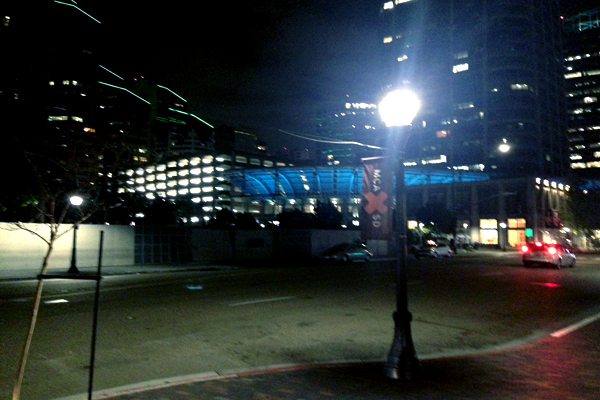 Then, it's all over. Like a true gentleman, Tricky thanks the crowd before retiring backstage for good. Everyone seems somewhat stunned, clearly blown away by what they've just taken part in. I weave through the crowd, through the anteroom and out the front door (where the doorman is asking if anyone has seen Korben Dallas), down India Street past American Plaza Station, slowly making my way back to the car. In the crisp night air, I can hear an echo of every spin I've given Tricky's records from day one right up to this morning. There's a lifetime in there...