It's time to talk about Deep Space. An album dropped by Juan Atkins amidst a flurry of activity in 1995, it was released smack in the middle of the nineties and bisecting the decade both literally and metaphorically. Slotting in quite comfortably within the currents of outer space imagery running through techno at the time, from Galaxy 2 Galaxy to 4 Hero's Parallel Universe and the Red Planet EPs, it also predicted the tronik r&b moves and minimalist grooves of the late 90s, sounds that take us right up to the present day. Deep Space remains a fascinating record for the way it blends techno, machine soul, micro-house and jazz inflections into a swirling nebula of sonic possibility.
With Atkins tugging the curtain that conceals tomorrow from all of us, he's invited you to catch a glimpse of tomorrow's music looming just around the bend. This is a 21st century soul record, playing like a star map to the future. To this day, it remains one of those records so singular, so forward-thinking, that it's difficult to assess just where exactly it came from. How did Deep Space happen? To answer that question, where the future came from, one must take a look into the past. A decade in the past, to be precise. So let's set our time circuits back to good old 1985...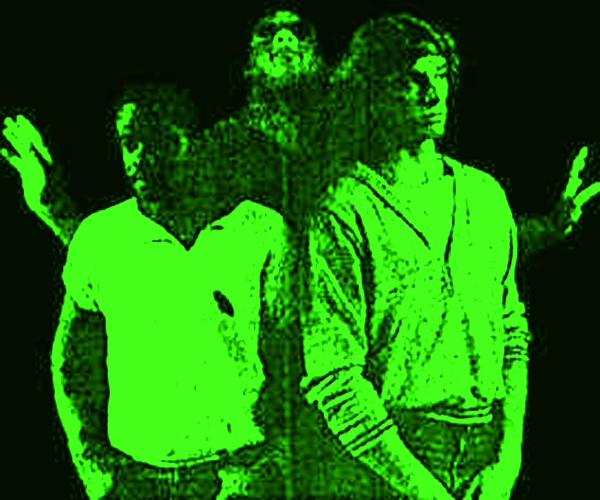 It's 1985. Juan Atkins had been a member of Cybotron (alongside Richard Davis aka 3070) for a few years by this point. Cybotron were seminal purveyors of electro operating concurrently with Afrika Bambaataa & Soulsonic Force, who released Planet Rock just as Cybotron began unleashing records like Alleys Of Your Mind and Clear upon an unsuspecting public.
Cybotron's sound was a rude, street-level update of Kraftwerk's man-machine music, shot through with dark, psychedelic inflections that felt like a hangover from Funkadelic's early acid-tinged LPs (especially Cosmic Slop). The combination of Planet Rock and Clear (in particular) laid the foundation for the whole electro craze (see also Hashim, Planet Patrol and The Egyptian Lover), a sound that would go on to rule the first half of the 1980s.
The group added guitarist John Housey (aka Jon-5) for the album Enter, which expanded their sound to include a derezzed acid rock dynamic sprawling out in songs like Industrial Lies and the title track. Cosmic Cars rocked a 4/4 rhythm in a way that predicted the rugged, ramshackle techno traxx of 1987, while the digital funk of The Line and El Salvador split the difference between the black new wave of Alleys Of Your Mind and Clear's stripped-down electro punch.
The record also featured the awesome Cosmic Raindance, a skeletal tune built on a nimble rhythm matrix of crisp drum machines and a descending funk bassline, all of which propelled these great spiraling clouds of whining synthesized sound across a stormy digital sky. Ending in a crash of computerized thunder, it set a thrilling template for the elegant, minimalist electro of Drexciya and Elecktroids that would surface about a decade later. Cybotron swiftly followed Enter with the Techno City, at which point Atkins decided to strike out on his own.
This is where we came in. That is, 1985, when Atkins started his own label, Metroplex Records, and released his first solo record: Model 500's No UFO's. The record was a perfect fusion of tightly regimented electronic sequences and raging percussive chaos, boasting a richer, even-more-psychedelic sound than Cybotron. I'll put it this way: if Kraftwerk were James Brown circa Sex Machine and Cybotron were Sly & The Family Stone circa Stand!, then Model 500's No UFO's was Funkadelic circa Maggot Brain. Can you get to that?
The flipside was dominated by the slithering rhythm of Future, which found Atkins pumping electro moves the same way Hendrix played Killing Floor (see also Channel One's Technicolor), which is to say faster, more fluid and with more authority than anyone else around. This is ground zero for that 90s electro sound we all love so much, what with the tighter sound and sharper edges, it laid the blueprint for whole swathes of the scene. Aux 88 were certainly paying attention.
Night Drive (Thru-Babylon) followed, and somehow it managed to be even better. A masterpiece of neon vectors colliding in a phantasmagoria of motorik digital funk, it pierces your consciousness with tumbling bleeps and then just rolls for six minutes. Atkins narrates the nocturnal journey over eerie computer blue sonics, adding claustrophobic Jamie Principle-esque vocal stylings that give the whole trip a shadowy, spectral effect.
This is the first glimmer of what would come to define the Deep Space sound, and as such it kicks off a little potted history we're about to indulge in: a history of Atkins' music within this rarefied terrain. The following four records each outline key developments that would culminate in the Deep Space sessions. Context is key. After all, an investigation into this impulse within Atkins' discography plugs you directly into what is — by my estimation — the purest manifestation of machine soul.
After blazing a singular path through the remainder of the decade with records like Off To Battle, Interference and Other Side Of Life, Atkins rang in the 90s with the Ocean To Ocean EP. Kicking off with two versions of Ocean To Ocean, which played like a smooth-groove summation of everything he'd been up to in the intervening years, it was the flipside that offered a stunning preview of things to come.
Rocking a 4/4 pulse threaded by a resolute string/bass melody inna Off To Battle-stylee, Wanderer played like a stop off at the connecting station for the bullet train trip from 1985 to 2001. I've noted before how this EP was something of a blueprint for the more reflective side of UR's endeavors, and nowhere is that more evident than in Wanderer. It also neatly sets the stage for the final song of the record, its undeniable highlight.
Infoworld starts with a memorable bleep refrain before revving up the 4/4 engine once again. A geometric bass pulse threads the beat matrix while electronic string staccatos seems to fuel the track's propulsion. The sound here defined by a sleek, aerodynamic quality, with a greater emphasis placed on nimble grooves and lush synth atmospherics. Ah yes... those synths! Like Larry Heard and Carl Craig, there's just no mistaking Juan Atkins' synths for anyone else's. As clear an oracle as one could ask for, Infoworld lays out the foundation for the next decade plus of Atkins' journey.
Case in point being this three track EP, Atkins' first engagement with R&S Records — via their ambient subsidiary Apollo — which finds him expanding the sound of Infoworld into sprawling intergalactic shapes. The motorik techno soul of Vessels In Distress finds Atkins in collaboration with Martin Bonds (aka Reel By Real), offering up a Moroder-inflected take on the Motor City sound shot through with shimmering shapes and textures.
Mind Changes features Atkins' dreamy vocals in duet with android intonations over a bouncing, compact house rhythm. With the track's austere 4/4 pulse defined by a sort of ethereal synth architecture, it's of a piece with the proto-micro-house sides that he'd begun circulating under the name Infiniti, records like Flash Flood and Think Quick. All of which would ultimately lead to his collaboration with German duo 3MB (Moritz von Oswald and Thomas Fehlmann) on the awesome Jazz Is The Teacher EP (more on this later).
The title track finds Atkins incorporating crashing breakbeats into his sound, the breaks sparring with his usual 808 dynamics and a chiming bleep matrix in a flowing tide pool of ethereal synth and atmosphere. Apparently the tune got some action at contemporary drum 'n bass sound systems, where it'd be pitched up at a sped-up '45rpm (proto-ambient jungle!). I suppose that does make sense. Above all else, its mode is pure machine soul and a clear indication of the shape of things to come...
Tucked away on Atkins' own Metroplex imprint is this nearly forgotten 12". Whereas much of the Metroplex catalog has been serviced quite well, to the best of my knowledge this has never been reissued. Which is a shame, because this is one of Magic Juan's absolute greatest records. I See The Light is a spectral electro symphony built on a cycling 808 chassis with a staircase bleep pattern and wispy synth figures swaying across its ocean-like refrain. Atkins intones the title's lyrics in a deadpan whisper. It's all very Aux 88.
Of course, the b-side is even better! Pick Up The Flow commences with one of Atkins' trademark sci-fi synth progressions, computer sounds fading into view on a tumbling drum machine rhythm as a rolling bassline unfurls across the length of the track. The whole thing seems to drift by on a cosmic wind, bleeps intoning between the verses as Atkins' gentle raps ride the rhythm in this gently pulsing astral hymn. Deep Space music, to coin a royal phrase. Stunningly beautiful, it flows quite naturally into our next record, which is the final way station before we reach our destination.
Back on R&S — this time with Basic Channel's Mortiz von Oswald in the engineering booth — Atkins delivers Sonic Sunset, his first extended sequence of solo material. Nominally an EP, with three versions of the title track, it clocks in at nearly an hour. Built on a rapid-fire synth sequence that seems to bounce across the rhythm's surface, Sonic Sunset spans the beatless freeform of the Calm Mix to the Cave Mix's dubbed-out reverb architecture (shades of Basic Channel). The Third Wave Mix, which I suspect to be the original version, is of a piece with Jazz Is The Teacher (those unpredictable rhythms a signpost for tech jazz).
Neptune's iridescent, hall-of-mirrors trip stretches out horizontally across its sprawling twelve minutes, sounding like trance music played at a disco pace. Also comparable to the ambient house moves of The Orb and Sun Electric, it affirms the implicit connection between Detroit, Berlin and London (a figure like Thomas Fehlmann moving freely between the three). The machines here left to spool out into infinity on a vector-plotted course, sounding like nothing so much as a deep space probe gliding through the deep black of space.
Rather appropriately for this deep space journey of a record, Sonic Sunset's longest track also happens to be its greatest treasure: I Wanna Be There, a skittering slab of motorik techno soul, lasts the better part of twenty minutes. Dig that nagging shuffle of a rhythm and the bassline bounce, parallaxing against those great twisting atmospheric synths in the background. More than anything else here, it runs parallel to the proto-micro-house of Infiniti, albeit shot through with jazz-inflected shapes and a set of tender vocals from Atkins.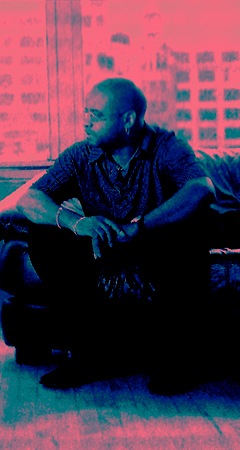 His delivery strikingly different here in comparison to his earlier man-machine moves, revealing Magic Juan the introspective soul man. Alongside those jazzed-out keys that dance across the surface, punctuating the groove even as as they spar with ethereal, flute-like sonics, it brings to mind the disco-era cosmic jazz moves of figures like Norman Connors and Idris Muhammad, rebuilt and rewired for the 21st century. Kompakt funk, to a man. The whole trip takes us through the final stretch of our journey, setting the stage perfectly as we arrive at our destination....
This is Juan Atkins' debut album... now you're in Deep Space.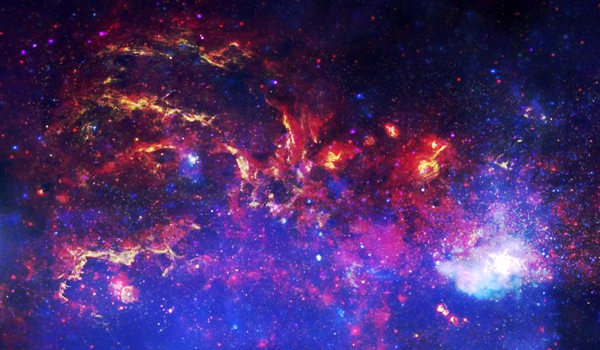 You switch on the music. Surfing in on a great wash of synthesized stardust, the ethereal chords of Milky Way drift across the soundscape before a gently shuffling drum machine rhythm comes into focus. This is liquid techno soul, soaring upon Atkins' trademark synth architecture and drums a tad tougher than you might expect. Computer sonics thread the groove within the groove, and post-Herbie Hancock sequences hop across the spaces between the spaces. It all fits in perfectly with what Carl Craig was up to circa Landcruising and More Songs About Food And Revolutionary Art, particularly songs like At Les and Science Fiction.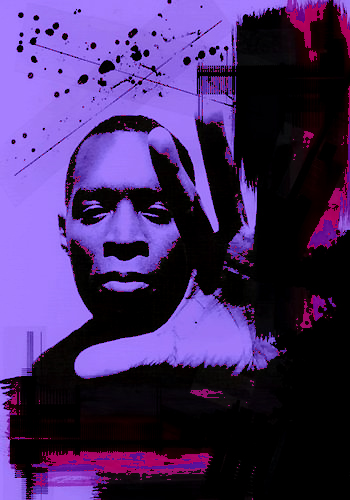 Notably, the track was co-written with fellow Detroit icon Kevin Saunderson. This at the height of Deep Space Radio, a recurring show that found the Deep Space Crew (rounded out by Atkins, Saunderson and Derrick May) bringing techno music to terrestrial airwaves. Undoubtedly, those heady vibes can be felt in this record as strongly as they could Saunderson's X-Mix: Transmission From Deep Space Radio (a mix album dedicated to enshrining the show's vision on disc for posterity) a couple years later.
As if that weren't enough, Milky Way was mixed by the great François Kevorkian. It certainly does have a touch of the cosmic about it. Cosmic jazz? Cosmic disco? You got it. Above all else, this gently unfolding deep space psychedelia often reminds me of peak-era Neptunes (during the whole Star Track trip they'd kick off a few years later) at their most blissed out. Needless to say, very strong SA-RA vibes are in evidence throughout as well.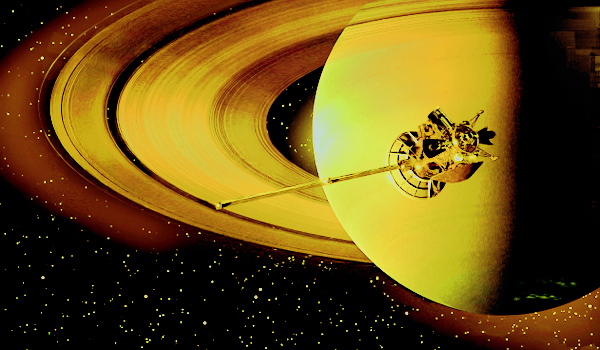 A bubbling synth rises from the silence, heralding the arrival of the next track. With a pulsing 4/4 groove punctuated by a clanking sound one might encounter on a Rob Hood record, Orbit is on a slightly minimalist trip. One might even notice shades of Basic Channel in there somewhere. However, the strongest signal I'm getting here is from Jazz Is The Teacher. Despite it's minimalist intent, Orbit's got that unpredictable, anything-can-happen feel of the 3MB record. Maybe it's the splashing hi-hats, maybe those synths bubbling under, maybe even the crystalline synths that drift into the mind's eye every so often, but it's unmistakably there.
Until it isn't, of course, as Orbit collapses into a bubbling pool of synth and texture receding into the horizon. A menacing acid line rises from the chaos, announcing the arrival of The Flow.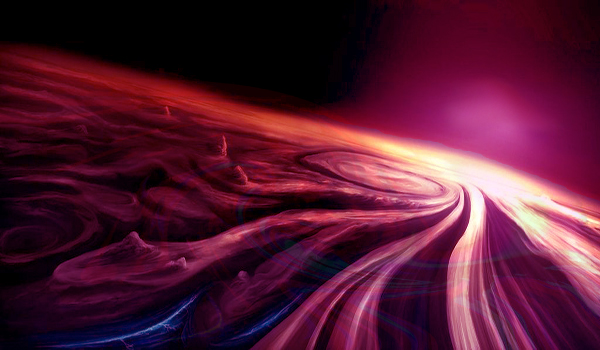 Which is quite simply incredible. A perfect fusion of Kraftwerk and Janet Jackson, this is the Ur-text of machine soul. A shading of struck bells and that menacing electronic sequence drive crisp 808 beats that couldn't sound any more different from 1995 r&b if they were produced by Steve Reich. Of course a year later, Timbaland would single-handedly make it the sound of cutting edge r&b, bringing the form into the 21st century a few years early.
Aisha Jamiel's vocals alternate between spoken word and songbird (which becomes doubly haunting for the ethereal chorus) just like Missy Elliott would on Supa Dupa Fly two years later. The sonic similarities to Night Drive (Thru-Babylon) are undeniable as well, with The Flow recalling Atkins earlier opus only s-l-o-w-e-d d-o-w-n considerably, making it the definitive link between Metroplex and One In A Million, and as such the cornerstone of machine soul.
Notably, The Flow spawned three separate 12" singles, featuring a bevy of remixes spread across them. You get a deliciously retro electro workout from the Jedi Knights, a jazzy drum 'n bass reading from Alex Reece, Frank De Wulf's proto-speed garage mix, a Howie B. machine funk take and two hard-edged speedfreak mixes from Underworld. However, the best remix is by Magic Juan himself.
The G-Funk Mix a wall-shaking house party monster jam, featuring a lascivious bass groove yoked to a Zapp-inflected robot voice. Aisha Jamiel's vocals duel with a jazzy Rhodes up and down the groove. Atkins grasp of the dynamics here quite simply impeccable, this ought to have gotten serious radio play. Shame, really. Along with J Dilla, who had a shaping influence on both Janet Jackson's The Velvet Rope and D'Angelo's Voodoo, their impact didn't break through to the popular consciousness. Like krautrock, innit?
Still, it makes perfect sense that the era's r&b would have some serious Motor City vibes lurking just below the surface. Shades of The Velvet Underground & Nico... peel slowly and see.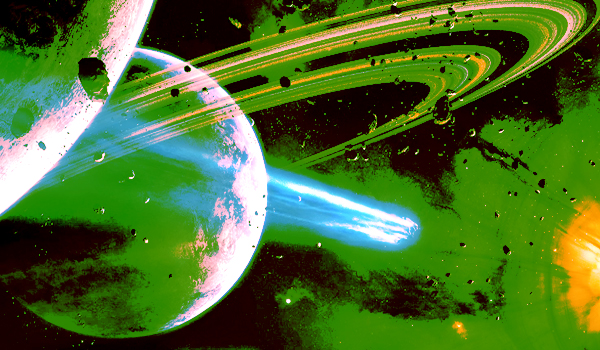 Warning follows with a similar spirit to Orbit's, The Flow bookended by two erratic slabs of minimalist jazz electronica. Another high-pitched sliver of Rob Hood-recalling noise taps out a rhythm across a bouncing pendulum of clockwork synthesizer. These great detuned synths seem to squeeze up from beneath the cracks in the rhythm like iridescent magma. Still jazzed-out, but tweaked to abstraction. Playing like a tone poem, there's shades of onomatopoeia to the whole affair. Think Drexciya's Draining Of The Tanks or X-103's Eruption: this is a synthetic recreation of the events depicted in its title. You're on red alert.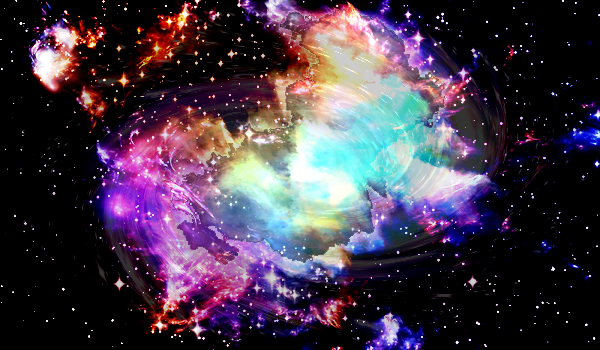 At the last moment, you're carried away on the sweet sway of Astralwerks, a nebula of a track, an enigma, with rolling rhythms that seem to split the difference between downbeat and junglist double-time the way a certain Tim Mosley would a year later. The synths seem to speed up and slow down with the rhythm, the whole effect pleasantly disorienting. It's of a piece with the ambient jungle of A Guy Called Gerald circa Black Secret Technology, 4 Hero circa Parallel Universe and Jacob's Optical Stairway (a 4 Hero one-off that featured Atkins on The Fusion Formula).
The spectre of drum 'n bass hangs over the entirety of this record, in fact. I suspect that the unpredictable rhythmic danger felt throughout is sourced in jungle as much as it is in jazz. There's almost a sense of Atkins raising his game to match the innovations of the U.K.'s junglist auteurs. Noteworthy also the explicit drum 'n bass connections in the shape of 12" remixes by Wax Doctor and Alex Reece.
Starlight is similarly forward-thinking work, this time in a thoroughly Basic Channel mode. Built on a gently chugging rhythmic figure, the melody is carried by a single synth pulsing at regular intervals as its run through the filters. Sailing on a solar wind in perpetual motion, the whole thing so slight but profound. It's worth noting that from the prior tune onward, the remaining tracks on this album are engineered by Moritz von Oswald. Nowhere is that more evident than on Starlight, which even got a 12" release on Metroplex with a remix from Oswald.
One thing that's always intrigued me about Starlight is how much it sounds like an Infiniti record. There's that same sense of linear expanse stretching across a great horizontal plane that one finds in tunes like Moon Beam or Think Quick. In fact, it's an even more skeletal outing than even most of the Infiniti output, with the same x-ray architecture that Oswald and Mark Ernestus had essayed in Basic Channel. As one might expect, this sense is amplified in the Moritz Mix on the 12", with its striking tonal shifts and great caverns of reverb.
Fans of Isolée, Luomo and Villalobos would love both versions of Starlight, which have the same shimmering, tactile quality one finds in Beau Mot Plage, Tessio and Dexter. Like I was saying before, Kompakt funk. Fascinating the way this record weaves its micro-house and machine r&b shapes together, envisioning an unlikely sonic pact between the two forms before they'd even fully come into their own. The juxtaposition certainly makes far more sense in 2018 than it would have at the time. But then, they don't call Juan Atkins The Originator for nothing...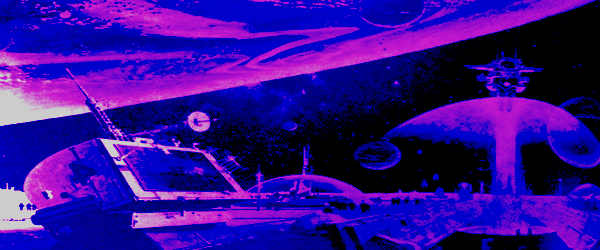 Last Transport To Alpha Centauri, which plays like a downbeat, deconstructed take on the earliest Metroplex releases, is to No UFO's as Funk Gets Stronger Part 1 is to Flash Light. It's a great little piece of electronic funk that very strongly recalls Kraftwerk circa Computer World, but with a glitch in the machine. There certainly seems to be a fair bit of mischief about it, the delivery executed with a wink and a nod.
It's reminiscent of what Gerald Donald was up to around the same time with projects like Dopplereffekt, the Elecktroids and Drexciya, bearing that same sense of 2600-inflected retro flavor it's nevertheless bang up to date. Once again, you could picture this coming out a few years later with Timbaland in the production chair (check those quasi-xylophone fills). Just add Busta Rhymes or Bun B rapping over the top, and it might as well say ©2000 Blackground Records on the label...
The record's penultimate track is a tight edit of I Wanna Be There, which you'll remember originally appeared on Sonic Sunset. Within the context of the record, it's the mirror image of The Flow, an r&b-inflected pop song at sea in abstraction. The third of the singles from this record (after Starlight and The Flow), the I Wanna Be There features an aqua tint drum 'n bass mix from Wax Doctor and a lush tech jazz rework from Dave Angel. Once again, however, the kicker is the remix by the man himself. Stripping the track down to a sleek spacecraft simplicity, Atkins aligns it even more closely with Infiniti's digital micro-funk moves.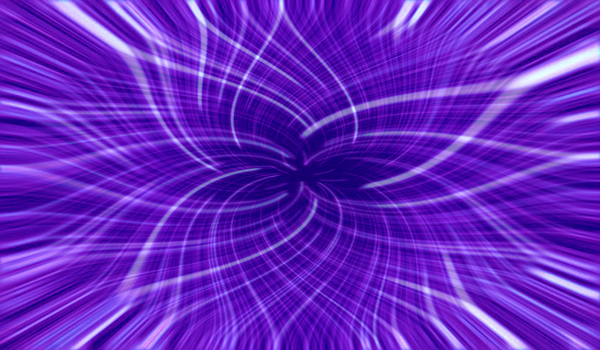 Which are also writ large on Lightspeed, the closing track to the Deep Space saga. Fusing the celestial atmospherics of Starlight with the shuffling catch-up groove Milky Way, it's as if the scrambled memories of the record are being rearranged in the slipstream across the dark side of Jupiter. Beyond the infinite. With just a snatch of almost subliminally funky bass and the occasional synth shimmer, it's the perfect ending to this intergalactic voyage.
---
As I said before, Deep Space feels more futuristic with every passing year. At the time, one might not have noted the implicit connections made between Pony, Beau Mot Plage and Finley's Rainbow, but with the benefit of hindsight, they're all here clear as crystal. Somewhere in the record's DNA lie the whisper of future figures like SA-RA, Dâm-Funk, Spacek and the music they would bring. Juan Atkins mapped out this strange point of intersection where cosmic r&b, shimmering micro-house, electronic jazz and straight up techno all collide to form the basis of machine soul: the art form of the 21st century. You're in deep space.