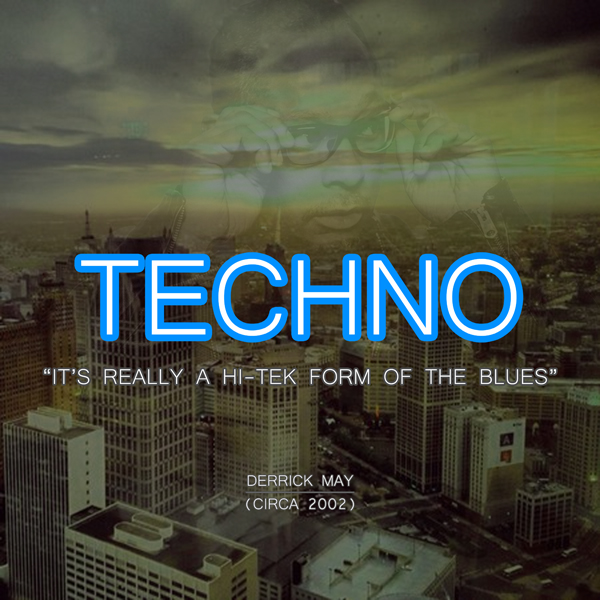 I've always loved this quote from Derrick May, which is quite crisply evocative of the rich undercurrents of depth and mystery running through techno music. Actually, I'm worried I might be paraphrasing somewhat (in fact, it's rather likely, since I can't seem to find the interview I heard it in anywhere). But what the hell, it's a great quote and really ought to be in wide circulation. I'm willing to risk it... so there you go. Needless to say, if anyone can point me in the right direction for the original interview, I'd be most grateful...
---
Anyway... Techno. Born in the shadows of Detroit's 1980s progressive scene and forged in the unforgiving crucible of the global stage, it's truly one of the key building blocks of modern music — alongside house and hip hop — in the post-disco diaspora. One could trace a thin line leading back to 1970s Düsseldorf, all the way back to the Autobahn and Trans-Europe Express, when excavating its prehistory.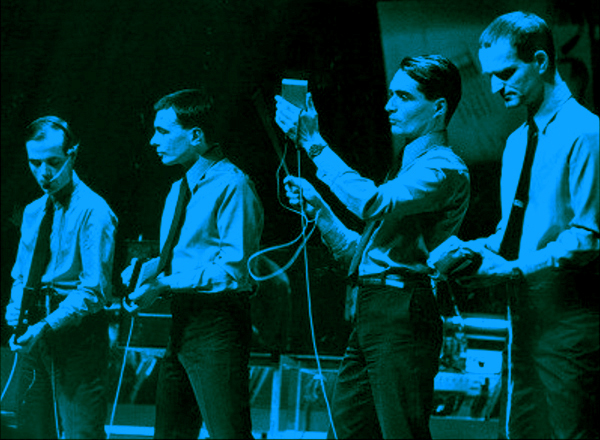 As Kodwo Eshun brilliantly put it, Düsseldorf is the Mississippi Delta, and expanding on that idea, Kraftwerk are to Techno as Muddy Waters is to The Rolling Stones.1 Detroit is where the sleek German engineering of Computer World got rebuilt like an American muscle car, souped up for its joyride across dancefloors the world over. Juan Atkins just plugged it all in.
To further extend the metaphor, Atkins' Metroplex was to Sun Records as Derrick May's Transmat was to Chess (with Fragile standing in for Cadet), with Kevin Saunderson's KMS corresponding to Atlantic Records. Ok, ok, I realize that the timeline is inverted, but please believe the comparisons are airtight! You've got the laboratory on one hand and the conservatory on the other, with the proto-Motown assembly line of KMS/Atlantic waiting in the wings. And at that point, it's time to play domination.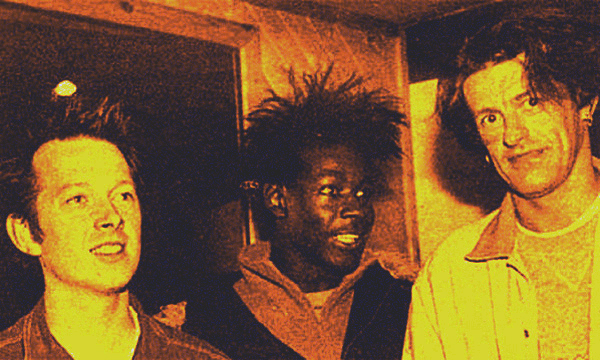 Very quickly, it becomes a global affair. You've got vibrant forms springing up all over the place, from Sheffield bleep 'n bass to Belgian new beat and elegant Dutch techno to London ardkore. Auteurs start springing up everywhere, untethered to any sort of centralized scene (albeit often in orbit of crucial outposts like Warp, Sublime and R&S). The meme spreads and mutates and spreads and mutates and spreads... it's a beautiful thing.
---
The interesting thing to note with techno is how nearly everyone knows the term but so often they haven't actually heard any. Has there ever been a genre so misunderstood? Images of 2 Unlimited and Dance Dance Revolution hang in the public consciousness, even if neither have nothing much to do with techno qua techno. If you tell someone you listen to techno, chances are what they're hearing in their head isn't techno at all but some caricature drawn in broad strokes (the phrase boom boom boom springs to mind).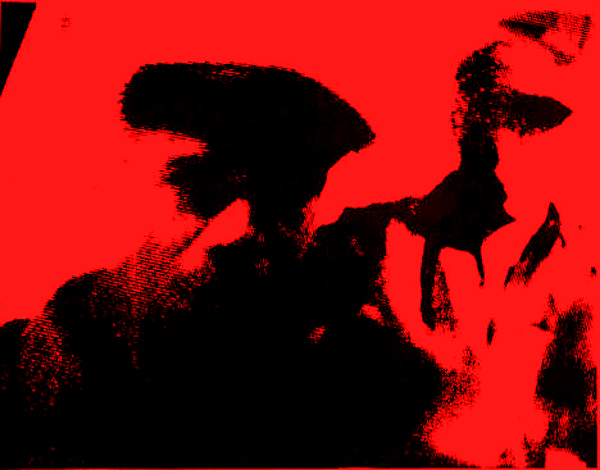 So at some point I just started saying Detroit Techno when the subject comes up. Not because I'm some sort of purist (I've actually got no time whatsoever for the impulse), but because it short circuits all the pitfalls that might wrong-foot whoever I'm talking with. Suddenly, you're starting from scratch rather than working against a bunch of assumptions. And you've reimbued the term with a sense of mystery which was its birthright all along...
---
I'd dug dance music in it's various forms going back to Janet Jackson circa Control (hell, Michael Jackson circa Thriller), running alongside the new wave of Depeche Mode and the Talking Heads on through what you'd call early indie dance (New Order and Big Audio Dynamite). Plus the obligatory swingbeat and hip hop, things like Tony! Toni! Toné!'s Sons Of Soul, Wreckx-N-Effect's Rump Shaker and the Jungle Brothers. All of which seemed to flow naturally into things like Massive Attack, Underworld and The Prodigy.
Still... I can remember like it was yesterday when I got hit by the straight stuff.
It came in the form of Kevin Saunderson's X-Mix: Transmission From Deep Space Radio, and it quite simply blew my mind wide open. This was like everything I'd ever loved in music, only more so. Pure, uncut. I remember wondering about all the names on there: Who is this mysterious Outlander (R&S sorted me out right quick)? What sort of crew is Octave One (for whatever reason, I imagined them as a gang of Germans)? Why are half of these tracks credited to Dobre & Jamez (because they're awesome)?!
From there it was a short step to discovering techno strongholds like Submerge, R&S and Studio !K7 (surfing a rather hardcore crest at the time). I was set for life. I still remembering placing my first mail order, getting things like Kevin Saunderson's Faces & Phases compilation, Octave One's The Living Key (To Images From Above) and Drexciya's The Quest on a hot summer afternoon. Give all those to a high school kid in the late 90s and see what happens!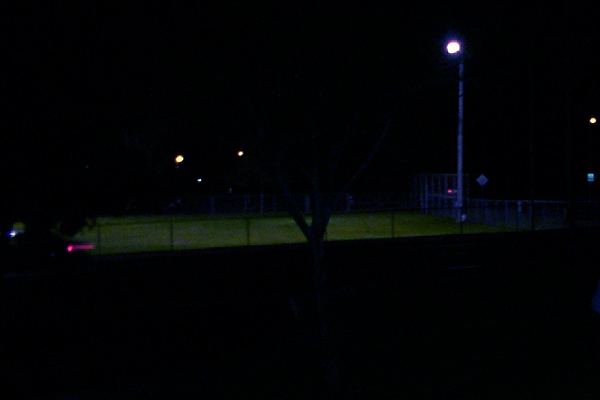 As a kid, I grew up in various apartments with my parents — who were actually quite young in retrospect (usually around a decade younger than the parents of my peers) — and later my brother Brian once he came along. We moved once a year for the first five years of my life before sneaking into the suburbs once school started. I remember nothing quite made sense again. The kids were different (some awful kids, truth be told! But some cool ones too... it all evens out), etc. Whatever. I suppose I should have adapted, and I suppose that in my own way I did, but then I always was a dreamer...
I used to dream to books, movies, video games... whatever I could get my hands on. I remember just laying on my back looking up at the sky, imagining other worlds. Then, around junior high music hit me full force. Before that I'd been into music at the level of osmosis, the ambient sounds around when you're young, but suddenly it was everywhere! I was feelin' it MAN!!
Like I said, stuff like new wave, hip hop, r&b, certain alternative records. I suppose deep, rhythmic music always appealed to me at the most basic level. Intercut it with a heavy sense of harmonic mystery, and I'm sold. So when I came across techno it was a match made in heaven.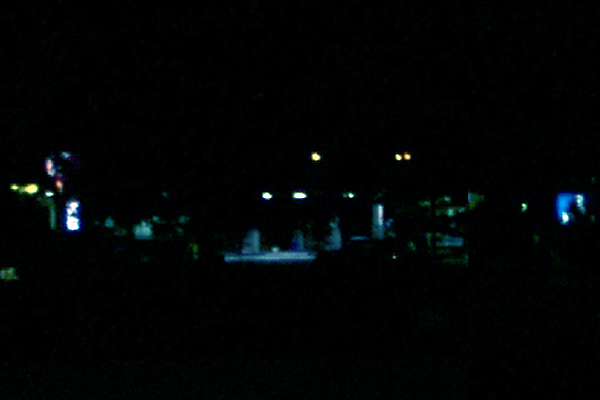 Walking around town, it wasn't the sound of Nas or Nirvana that would swirl in my mind, but things like 69's Ladies & Gentlemen, Mental Cube's Q and Jark Prongo's Spadet (that and Tricky's Aftermath, Primal Scream's Trainspotting and Bomb The Bass's One To One Religion Skankapella Mix on the downbeat flipside). It all seemed to move at the speed of life. At the end of the day, the vibes just synced up with my frequency I suppose...
---
So what do I like about techno? For one, it's the frequency, the vibe. Amiri Baraka's changing same. That low-slung groove, the scratchy high-end funk chopping between the beats, the compression of ideas. It's the Bug In The Bass Bin, the ever present spectre malfunktion that nevertheless pulses faithfully on. It's the ghosts of jazz and funk and kosmische and disco and industrial and juju lying just beneath the surface.
Not to mention the sense of longing, the alien wonder running through its core. It's Stranger In A Strange Land music, so naturally it made sense to me. Connected to the earth, the stones beneath my feet, but always surrounded by strangers. Something like Theme From It's All Gone Pear Shaped by Digital Justice makes the point better than I ever could... I mean where the hell else are you gonna find something like that but in techno?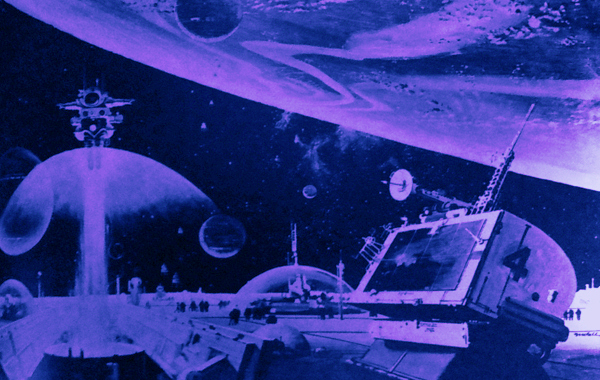 It all routes back to a time when I used to dream about living alone on Mars (ha, used to he says!), riding some ancient starship with vast corridors and digital readouts in vivid crimson, three-year-old dreams back on Mollison in the hazy afternoons of late summer. Come to think of it, that was the last time I had a room of my own until college!
Space in both sense of the words. Room to think, room to breathe! That's what I found in techno. No matter what was going on, I could put on some headphones and play Dark Energy's Midnite Sunshine and everything would come into focus (or drift out of focus, if need be).
Put simply, it was an escape route into the rest of my life, when things would begin to make just a little bit more sense. Future music that gave me the gift of a future. Its beat pulsed faithfully like lights along a runway, guiding that starship into the pitch black darkness of the midnight sky. And all along, without a doubt, it helped a young brother find his way...
Footnotes

1.

Eshun, Kodwo. More Brilliant Than The Sun: Adventures In Sonic Fiction. London: Quartet, 1998. 100. Print.

2.

Bova, Ben. Visions Of The Future: The Art Of Robert McCall. New York: Abrams, 1982. 107. Print.