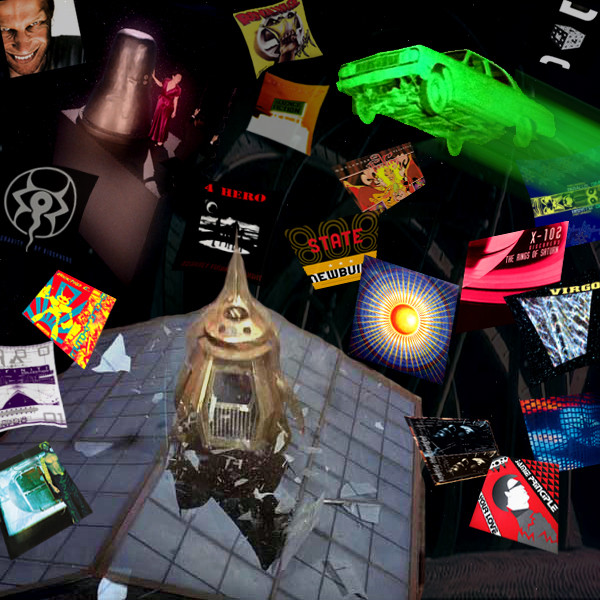 The music is just like Detroit — a complete mistake. It's like George Clinton and Kraftwerk stuck in an elevator.
When discussing dance music — particularly of the electronic variety — the next logical step onward after electro crept out of cities like New York, Chicago and Detroit at the midpoint of the 1980s. Yeah, I'm talking about house and techno. These two covered at once, as it's more illuminating to discuss the sounds of deep house and acid alongside techno's stripped-down funk (and vice versa). I believe that this will become increasingly apparent as we continue. So much music draws from both simultaneously, from Slam to the Earthbeat records, that the two forms clearly excel in each other's company as post-disco dancefloor head music.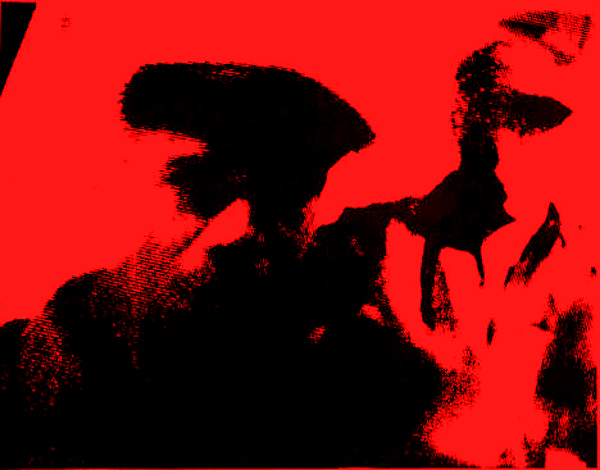 Where better to begin than Underground Resistance? Perhaps the spiritual embodiment of techno music, they nevertheless retain strong shades of house in their music's DNA (indeed, their first couple records were house endeavors). More than any other crew, UR (alongside orbital figures like Drexciya and The Martian) seemed to continue the good work Juan Atkins began when he alchemized the form in the first place. One could even make the case that Model 500's 1990 EP Ocean To Ocean laid out the blueprint for the UR sound a couple months in advance.
It does quite literally seem to be the foundation of the whole Nation 2 Nation, World 2 World and Galaxy 2 Galaxy series of records, which shear into the same pioneering tech jazz vein that UR would continue to explore with records like Codebreaker and The Turning Point. The label art for the latter featured the likes of James Brown, Ravi Shankar, Aretha Franklin, Carlos Santana, Stevie Wonder, Florian Schneider and Chuck D, placing their music within the context of a wide continuum of visionary iconoclasts.
As Tim Barr writes in Techno: The Rough Guide:
Detroit's Underground Resistance occupy a territory that is somewhere between the reclusive mystique of Kraftwerk, the radical politicization of Public Enemy and their own unique interpretation of Afro-futurist tropes.
This unique interpretation would often take the crew into deep space, which they explored in the form of records like The Final Frontier and X-102 Discovers The Rings Of Saturn — even veering into trancelike shapes with the (closely-affiliated) Red Planet records — reading the undiscovered country as freedom from the tyranny of the perpetually closed mind. This often manifested itself in a similar shade of utopian vision as those conjured up by 4 Hero's Parallel Universe.
However, like their counterparts on Dollis Hill, there was an undeniable darkside to UR's endeavors. The baleful shapes of the Sonic EP are quintessentially Terminal Vibration, their rhythmic dexterity matching anything discussed thus far in the realm of post punk. See also Suburban Knight's Nocturbulous Behavior and Andre Holland's City Of Fear. There are a number of DJ mixes that UR put out at the turn of the century that essay this territory brilliantly: DJ Rolando's Vibrations and The Aztec Mystic Mix are full of brilliant electronic noise. On overhearing the music, a friend once commented that it sounded like a washing machine!3
Even better was Nocturbulous Behavior: The Mix. Credited to 011, which was the catalog number for Suburban Knight's original 1993 EP of the same title, it found James Pennington tearing through the label's back catalog and working up a killer mix throughout which urban paranoia reigned supreme.4 This approach mirrored his own records like The Art Of Stalking and the By Night EP, on which Pennington proved himself one of the great manipulators of sound, moving it in great slabs across tracks that were pure hard-edged Gothic funk.
This fit perfectly with UR's hard music from a hard city aesthetic, which informed large swathes of the labels output. Records like X-101's Sonic Destroyer, UR's The Punisher and The Riot EP refracted Belgian hardcore back across the Atlantic, inspiring ever-intensifying experiments in sonic extremism from The Mover's wickedly deranged techno to the zombie brigades of Dutch gabber. Message To The Majors even sounded like a particularly dystopian slab of U.K. ardkore that Liam Howlett would have killed to have included on The Prodigy's Music For The Jilted Generation!
The original Belgian new beat as essayed by figures like Set Up System, Human Resource, 80 Aum, Outlander and Frank De Wulf raised a dazzling cacophony and razed everything in their path. The latter was the most prolific auteur, unleashing a series of B-Sides EPs over the first half of the 90s. Tunes like Dominator, The Vamp, Mindcontroller and Factory Parallax Mix were the sound of techno at it's most gloriously unaffected, noise music for the ravefloor pure and simple. Oftentimes, these tracks would take their cue from industrial EBM (Electronic Body Music), although there was significant inspiration taken from hip hop as well.
Outlander even seemed to hoover up the club pianos of Italo house and set them to overdrive in his acid-tinged missive The Vamp. Much like U.K. ardkore, if there was a standard operating procedure, then it was throw everything against the wall and see what sticks. New beat itself had a serious impact on the nascent ardkore sound, and vice versa, with both forms instigating each other to ever higher levels of intensity. However, if there was one key input that had a greater impact than any other, it was a trio of roughneck producers from New York City.
I'm talking about Joey Beltram, Lenny Dee and Frankie Bones, whose sick noise was writ large on records like Energy Flash, Mentasm and the Bonesbreaks series of EPs (not to mention the output of Lenny Dee's Industrial Strength imprint). Beltram's prime inspiration for Energy Flash was Black Sabbath, while the twisted synth sounds of Mentasm introduced the world to the indelible hoover sound (so named because it sounded something like a vacuum cleaner firing up!). Even taken on its own, the latter was a crucial building block in Belgium's rave hardcore and the hooligan sounds of U.K. ardkore jungle alike, which makes it one of the key records of the decade almost by default.
This sound was arguably taken to its diamond-hard apex by Germany's Marc Acardipane across a whole raft of records on his own Planet Core Productions and Dance Ecstasy 2001 imprints. Mescalinum United's Reflections Of 2017, which featured the epochal We Have Arrived on the flip, out-nastied everybody up to that point and set a benchmark for the harder wing of rave producers to pursue.5 My absolute favorite record on PCP is The Mover's Frontal Sickness, which combined two blistering EPs into one unmissable double-pack rounded out by the proto-gloomcore of Body Snatchers Impaler - First Mix and Reconstructin' Instructions cyborg hip hop science.
Another Teutonic auteur of the abrasive was Martin Damm (aka Biochip C.). In contrast to Arcadipane's pounding rhythms, Damm spent a satisfying amount of type working with breakbeats, which he splintered across his tracks sounding like nothing so much as wickedly twisted video game music. His debut album, Biocalypse, is one of rave's crowning achievements, gliding from grinding downtempo to speedfreak hardcore with nary a thought given to convention. One of the most impressive records of the decade, taking electronic music's development well past the breaking point, it deserves to be more widely available.
If you rewind back to the 1980s, there's a handful of figures that laid the groundwork for all these lofty achievements. I've spent some serious time on the unassailable merits of Kevin Saunderson, and we've already discussed New York's terrible trio, but there's one man I've left out: Mr. Todd Terry. Across a whole mess of records released under names like Black Riot, Lime Life, Royal House, Orange Lemon and Swan Lake, he near singlehandedly defined the sound of cut-and-paste house music. His music often played like hip hop reworked to a 4/4 beat.
The output of labels like Fourth Floor, Atmosphere and Nu Groove were defined by this sound, putting out records both abrasive and deep (and everything in between) over the course of their limited run. This strand gets picked up by Strictly Rhythm in the 90s, a label that put out later records by Todd Terry and refugee from Chicago DJ Pierre (alongside scores of new artists like Damon Wild, George Morel and Roger Sanchez), coming to dominate the city's club landscape throughout much of the decade. At its best, it was the sound of raw, rough edges and floor-busting dance.
Appropriately, there's a particular wing of techno that runs parallel to all this, a rough and tumble sound a million miles away from the sleek futurism of Kraftwerk. I'll place its genesis with Eddie Flashin' Fowlkes' Goodbye Kiss (which was for all intents and purposes a house record), but I have none other than Carl Craig down as the true guardian of the form. The original trio of 69 records (4 Jazz Funk Classics, Lite Music and Sound On Sound) enshrined this sound around rough cut rhythms, raw analogue basslines and tarnished synth textures, offering a hard-edged take on his Psyche/BFC-era material and the dreamlike, synth-smeared stylings his earlier Retroactive imprint.
Operating at the interzone between house and techno, it's no wonder that Craig's Paperclip People project often sheared into similar territory on tracks like Oscillator, Paperclip Man and Tweakityourself, where breakbeats and tricky polyrhythms are usually as prominent as the pulsing 4/4 groove. See also Designer Music and his remixes for figures like Alexander Robotnick, Telex and Cesaria Evora. Tangentially, I've often thought that Stacey Pullen's Black Odyssey records from the turn of the century (particularly Sweat and The Stand) were in thrall to this slabs-of-synth sound, albeit executed with a far more linear approach.
Interestingly, despite his reputation as Detroit's mellow man (see records like Metaphor and The Narcissist), my favorite stuff by Kenny Larkin is often his rawest. His sophomore release was the Integration EP, an ace selection of four percussion-heavy technoid outings shot through with wild bleeps and built on chunky drum machine riddims. He also indulged in the harder stuff with his Dark Comedy moniker, culminating in the Seven Days LP (which featured the pulverizing techno claustrophobia of The Bar).
I remember Larkin performing at the DEMF with a deep, blues-inflected sound unlike anything we'd yet heard from the man. I remember asking around about it at the time and no one seemed to know anything! It remain was to a mystery until the release of the second Dark Comedy album, Funkfaker: Music Saves My Soul, which presented a hybrid of both the shimmering shapes found in his most gentle LP material and his spectral Seven Days maneuvers on the darkside.
The other area where Larkin excelled was in the remix. Of the top of the dome, I can think of his shimmering remix of Carl Craig's Science Fiction, a speaker-shredding edit of E-Dancer's Pump The Move and the Sade Surrender Your Love remix for Illegal Detroit. He turned in a duo of serious dancefloor burners on the KMS label with Paris Grey's Smile/Life double a-side 12" at the turn of the century, and then doing it again more recently with his remix of Kevin Saunderson's Future.
Three of his vintage remixes of Inner City material turned up on the label a few years back on the aptly titled The KMS Remixes 12". These remixes often seemed like a chance for the usually contemplative Larkin to get down and pump some bass on the dancefloor.
Of course even Derrick May, Master of Strings himself, had his own fair share of down-and-dirty techno in the shape of Kaos, Salsa Life, Emanon and even that untitled track tacked to the end of the Strings Of Life 12". Plus, don't forget that Intercity's Groovin' Without A Doubt was May and Kevin Saunderson jamming out some basic jack trax in the studio. Even the most ethereal producers often had something darker hidden just around the corner...
In point of fact, I can remember that the techno grind of Strand's Bloated Juggernaut Mix (from the EP Floyd Cramer's Revenge) had me imagining they were this mysterious, ultra-underground crew (along the lines of UR) when in reality they were a trio of deep house mavens (who usually recorded under the name T.H.D. for Antonio Echols' Serious Grooves imprint) getting freaky with the machines. Records like this exist at the very axis where the jagged edges of post punk intersect with the moods and grooves of machine funk.
If you remain skeptical, I direct you immediately to Claude Young's entry in the DJ-Kicks series, which was mixed on two decks in a friends bedroom.
In the liner notes, Young elaborates:
I wanted it to feel live. You can hear a few pops and crackles. Everything's a bit too sterile these days. I take a more street level approach...I usually play with two copies, bounce the beats around, do spinbacks and scratch tricks. I don't mind taking a chance. Sometimes it works and sometimes it doesn't, but life is all about taking chances.
Claude Young (DJ-Kicks, liner notes)6
Sure enough, its a down-and-dirty vision of no-nonsense street techno that sidesteps the often linear nature of much of the more typically stripped-down techno. Skating on the edge of a funktional minimalism, it's nevertheless informed by a healthy dose of wildstyle spirit that finds Young rockin' doubles like a hip hop DJ. This is to Cybotron what Cybotron was to Parliament: a no-nonsense distillation of the funk into highly concentrated form.
Featuring multiple appearances from Clark's Lofthouse, both sides of the Man Made EP and two tracks from The Skinless Brothers supremely funky Escape From Vienna, it's an absolutely blinding mix of juke joint machine funk busting out some street corner dive on the edge of the city. See also Patrick Pulsinger, especially his classic Dogmatic Sequences records (which have recently been collected on the Dogmatic Sequences: The Series 1994-2006 compilation), all of which offer up similar hard-as-nails shapes with a restless, nimble touch.
All of which have their roots in the granddaddy of elastic machine funk (a dead giveaway being the presence of Young's own Acid Wash Conflict), the vintage acid house that seeped out of Chicago in the latter half of the 80s like a contagion. Phuture's Acid Tracks is often considered the prototypical acid house record, but to my mind the don of the form is Armando, whose Land Of Confusion remains the perfect acid house track. Also worth a look-in is The New World Order double-pack from 1993, packed with stripped-to-the-bone acid jack trax like Venture 001 and Trance Dance.
It's interesting to note that there's this whole side of acid house that was mapped out by the dons of deep house, with Mr. Fingers' Washing Machine being first out the gate and sharing space with the epochal Can You Feel It way back in 1986. Larry Heard also pumped the 303s on those Gherkin Jerks records (also recently compiled on the appropriately titled The Gherkin Jerks Compilation), and even as late as 2005 he was still flirting with acid alongside his more typical deep, jazzed-out cuts on Loose Fingers: A Soundtrack From The Duality Double-Play.
Deep house icon Marshall Jefferson also got stoopid Sleezy D.'s I've Lost Control, on which a sustained paranoia ran rampant, while sometime associates like Adonis and Bam Bam went on to represent the acid life to an even greater degree. Farley "Jackmaster" Funk, who made waves with his careening house covers of Isaac Hayes' Love Can't Turn Around and Stevie Wonder's As Always (even turning in one of the great unsung deep house cuts, Farley Knows House), had plenty of time to deliver acid trax of his own, particularly on the No Vocals Necessary LP.
All of this got picked up on in the U.K., where it fomented a revolution in the form of the Second Summer Of Love. Intriguingly, many of the early figures to adopt acid house were post punks lurking in the shadows of the movement, figures like 808 State's Graham Massey (of the Biting Tongues), Warriors Dance kingpin Tony Addis and The Orb, which was masterminded by the triple threat of Dr. Alex Paterson and Youth (roadie and bassist for Killing Joke, respectively) and Thomas Fehlmann (of German post punk group Palais Schaumburg).
I've always loved the wild shapes thrown on 808 State's Newbuild, perched as it is midway between acid house and techno, cut while Gerald Simpson was still in the fold. The dark psychedelia of Narcossa still stands as one of the great acid/techno workouts ever conceived, and the remainder of the record remains a brilliantly rude fusion of the forms. Rephlex did a timely reissue of the record at the turn of the century that I was lucky enough to snap up at the time (please believe a young man's mind was blown).
This was mirrored by the early stirrings of The Future Sound Of London, who had their own thing going in the late 90s with the Humanoid project. Their output ranged from the vocal house of records like Slam, The Deep and the Global Humanoid album to the wasp buzz mayhem of Stakker Humanoid. Even as their records grew ever more lustrous, they still had plenty of noise left to bring in the form of tunes like We Have Explosive, Moscow and The Tingler. The archival Sessions 84-88 compilation (curated once again by Rephlex) is a veritable cornucopia of such unreconstructed electronic noise.
One record that I was always surprised that Rephlex hasn't gotten around to reissuing is Bleep's The North Pole By Submarine, a record that label boss Richard D. James at one time admitted to listening to once a day! (Barr 52)2b The 1990 debut techno outing of Geir Jenssen, who started out in 4AD-esque group Bel Canto, North Pole featured an intricate web of samples, synths and drum machine rhythms that was utterly of the moment (if not even slightly ahead of it).
These angular shapes lived on in certain corners of Jenssen's later output as Biosphere, moments like Baby Interphase, Novelty Waves and his score to the movie Insomnia. Jenssen hailed from Tromsø, Norway, a city located 350 kilometers within the Arctic Circle, and the glacial climate of his hometown would be increasingly felt on his music as his recording career progressed. On later ambient excursions like Substrata and Cirque, he seemed to be standing shoulder to shoulder with figures like Brian Eno and William Basinski.
Rewind back to the Bleep era, when across the North Sea The Black Dog were following up their preposterously ahead-of-their time Virtual and Dogism EPs (both 1989) with the Techno Playtime EP. Arguably the godfathers of the whole Artificial Intelligence strain of electronic music, which they explored extensively across albums like Temple Of Transparent Balls and Spanners, they were also somehow messing around with proto-ardkore breakbeats before everyone just about everyone, from 4 Hero to Genaside II and even Shut Up And Dance!
Actually, SUAD did put out 5 6 7 8 in 1989 as well, but that was largely still a relatively straight-up U.K. rap record. It was the following year's £10 To Get In that really cemented their status as drum 'n bass trailblazers, the promise of which they fulfilled time and time again with records like Raving I'm Raving, Death Is Not The End and The Ragga Twins' Reggae Owes Me Money. Without a doubt, SUAD (the artist and the label they masterminded) were one of thee key institutions in jungle's protracted genesis. Rave records don't come much better than the cloud-stomping mayhem of Cape Fear!
The most stripped-down — and dare I say techno — of all the acts on Shut Up And Dance were Codine, who put out two 12"s on the label, and Rum & Black, who were thankfully a bit more prolific with four 12"s and even a full-length album. 1991's With Ice yoked abrasive bleeps and synth textures to sample-heavy breakbeat burners, essentially hammering down the sound of quintessential ardkore with tunes like Wicked, Tablet Man and We Were Robbed Of Our... Religion, Culture And God, winding up with a stone cold classic in the process.
At this point we descend into the kaleidoscopic whirlpool of ardkore rave, darkside and straight up jungle. Figures like Genaside II, Foul Play, Acen put out genre-defining records, and true to Nuggets style there were blazing records cropping up all over. My absolute favorite progenitors of the form, 4 Hero, brought the music through its dawning years to the depths of its twisted darkside before Journey From The Light launched them through the stratosphere into to the cosmic jazz utopia of Parallel Universe.
Their lone album as Jacob's Optical Stairway ploughed a similar furrow of deep space ambient jungle, while Nu Era records like Beyond Gravity and Breaking In Space found them essaying their own unique vision of techno music. This vision was showcased further on the two-volume The Deepest Shade Of Techno that they curated on their own label, featuring luminaries from Detroit and beyond (but mostly Detroit!) alongside Nu Era's own lushly produced Cost Of Livin'.
A Guy Called Gerald blazed a similar trail on his Juice Box imprint, when — after a solid discography of prime techno output like Voodoo Ray, Emotion Electric and Inertia's Nowhere To Run (released on Carl Craig and Damon Booker's Retroactive imprint) — he transitioned into pure breakbeat music, blazing a singular path from the genre-defining ruffneck vibes of 28 Gun Bad Boy to the shimmering ambient jungle of Black Secret Technology in the space of a couple years.
At this point Goldie — who had been closely aligned with the Reinforced crew — became the figurehead of the scene in the public imagination after unleashing records like Rufige Kru's Terminator, Metalheads' Angel and the Ghosts EP on an unsuspecting public. His Metalheadz imprint put out loads of genre-shaping records like Dillinja's The Angels Fell, Photek's Natural Born Killa EP and Ed Rush's Skylab. The latter presaged the cold robotics of techstep that would swarm across jungle over the next few years, arguably the point at which it became drum 'n bass, and therefore something else altogether.
Figures like Source Direct and Photek epitomized the moodiest (and in my opinion greatest) corner of drum 'n bass, with records like Exorcise The Demons and Modus Operandi (respectively) moving the music in a deliciously paranoid direction that would have been the perfect musical counterpoint to The Parallax View and actually ended up scoring Darren Aronofsky's debut feature film, Pi (see also Blade, which made great use of Source Direct's Call & Response). Dom & Roland's The Planets explored similar isolationist territory, its fragmented breakbeats and lonely textures offering up the perfect metaphor for the deep black of space.
A figure that — much like Marc Arcadipane and Martin Damm — took these sounds to their absolute limit was Alec Empire, with a brand of post-rave noise he dubbed Digital Hardcore. Forming Atari Teenage Riot with Hanin Elias and Carl Crack, the crew raised much mayhem over the course of the decade, fusing the spirits of punk and rave more literally than just about anyone else ever has. However, Empire released his finest music under his own name, with records like Low On Ice and Les Étoiles Des Filles Mortes rivaling even that of the abstract dons of electro-acoustica.
By the mid-nineties, there had developed a strange détente between the abstract wing of electronica and jungle, figures like Squarepusher, µ-Ziq and Aphex Twin, whose 1995 record Richard D. James Album was a masterstroke of insane digital programming. This was music that had little relation to the dancefloor proper; rather like prog or the even more abstract end of jazz fusion, it was music to enjoy while daydreaming in your living room, ideally while leaning back in a comfy armchair.
Even outside the more obvious Warp-related records of Autechre and Boards Of Canada were a cadre of figures from all across the globe specializing in warped techno, ranging from Germany's Alter Ego (especially in their Sensorama guise), Italy's Bochum Welt and Japan's Ken Ishii (whose records sound galaxies away from anyone else's). U.K. figures like Cristian Vogel and Neuropolitique were also key progenitors of a particularly skewed brand of techno. The operative word in this wing of techno being idiosyncrasy.
In one of those lovely twists of fate that seemed to happen every other week in the 90s, Japanese girl group Nav Katze were remixed by a brace of U.K. techno artists rounded out by The Black Dog, Aphex Twin, Global Communication and Ultramarine. If you've ever read The Parallax 100, you'll know that its one of my favorite records ever. The Retro 313 Future Memory Mix of Crazy Dream, perpetrated by Global Communication in their old-time Reload guise, is a jacking techno workout along the lines of the whole 69 continuum (Carl Craig even included it in his DJ-Kicks mix that he did at the height of his genre-defining work within the form), albeit with a dreamy, cinematic haze moving across its surface like mists over the ocean.
The lion's share of the record, however, is dominated by gently skanking downbeat numbers like Nobody Home Ultramarine Mix and the unclassifiable — but above all else utterly beautiful — Never Not Black Dog Mix #1. Often whimsical but never frivolous, I've often thought that Never Mind runs parallel to the spliffed-out electronica of To Rococo Rot's Veiculo and Mouse On Mars (especially early records like Autoditacker and Iaora Tahiti) as a sort of languorous electronic head music that never takes itself too seriously.
This thread gets taken to its logical conclusion at the dawning of the 21st century by certain stateside figures, the best of which were Blectum From Blechdom, whose scatological take on electronic music seemed to rewire it all back through pre-dance forms in the days of The Nonesuch Guide To Electronic Music. It was brash, irreverent, restlessly creative and miles away from the stuffy climate of much abstract electronica to surface during the era. Matmos were another duo who went against the grain of the times, applying Burroughs-derived cutup techniques to their music and arriving at a sound that felt of a piece with electro-acoustic music modes of operation.
Similarly, there was a wing of abstract electronica that reared its head as the 90s progressed exemplified by Oval's glitched-out symphonies and Panasonic's abrasive black leather desolation. The latter tapped into the same sense of isolationism as the post punks, even collaborating with Suicide's Alan Vega on the Endless LP. This was the sound of flutters and flashes of light in the loneliness of a pitch black room, with nothing but a madman to keep you company.
Slightly later the German duo Funkstörung combined the glitched production techniques of Oval with Panasonic's abrasive isolationism to arrive at the cold brutality of Appetite For Disctruction, which featured the awesome Grammy Winners (featuring Triple H of Antipop Consortium). The track seemed to update the white noise hip hop of the Death Comet Crew and Gettovetts for the 21st century, with all the subsequent developments in complex rhythmic tricknology that implies. This is the sound of computers deconstructing one another.
The isolationist side of the coin was taken to its logical conclusion by Pole, with a glitchy take on electronic dub that transformed the music into android tears in the rain. In some ways, one could read the Pole trilogy as a precursor to Burial's lonesome dubstep architecture. Richie Hawtin — who became ever more abstract as the decade wore on — checked into similar territory with Plastikman's Consumed, an awesome dub-scape that found the man veering from his past in acid-tinged techno into the elegant architecture of minimalism.
Now the minimalist streak in techno was never my favorite strain of the form, and in many ways I think it sounded the slow-motion death rattle of the scene's vibrant immediacy. Still, there were a handful of auteurs that I wound up warming to. Surgeon's black country sound was a bracingly physical take on minimalism, informed as it was by krautrock and his alliance with Scorn's Mick Harris. Tracks like Badger Bite and Reptile Mess (from the Pet 2000 EP) were crumbling Gothic noisescapes that actually delivered on minimalism's promise of back-to-basics hi-jacking intensity.
His full-length albums were worthwhile as well, with Basic Tonal Vocabulary being the definitive document of the early Surgeon sound (and mimicked a Faust sleeve in the process!), while Force + Form arrived at a sort of machine funk elegance over the course of its four marathon suites. Perhaps minimalism was the point where the chin-stroking tendencies of IDM were re-absorbed into techno's base dancefloor intent? In passing I should also note Luke Slater's Planetary Assault Systems output, which consistently delivered great clanking slabs of minimal techno that remain my favorite stuff he's done.
Of course there was a healthy brace of Detroit minimalism, with the widely acknowledged dons being Jeff Mills and Robert Hood. However, I tend to prefer their more introspective material to banging records like Waveform Transmission Vol. 1 and Internal Empire. Jeff Mills' re-imagined score to Fritz Lang's Metropolis remains my most treasured of his albums, the flickering sonics of tracks like Perfecture: Somewhere Around Now perfectly matching the films monochrome futurism.
Similarly, my favorite Robert Hood records are his Nighttime World trilogy, which seemed to reroute their energy through machine funk back to classic soul records like Marvin Gaye's I Want You, Leroy Hutson's Hutson and Leon Ware's Musical Massage. Jeff Mills struck a similar chord with his Every Dog Has Its Day series, full of lush techno soul like Now Is The Time, Arcadia and Dr. Ice, songs that would have sounded right at home on any relatively adventurous r&b radio station at the time.
If you want to talk minimal Detroit, then my favorite material comes down to things like Black Noise's Nature Of The Beast, Sean Deason's The Shit (which is the stateside cousin to Dave Clarke's Red 2) and Scan 7's Black Moon Rising. However, if there were one auteur that I'd single out for praise, then it's Kalamazoo's Jay Denham. His involvement in techno dated back to the early years, and he debuted with Fade II Black's In Synch on Transmat's Fragile subsidiary, a record that already betrayed a blistering simplicity that would come to define his work in the intervening years.
He launched his Black Nation imprint in 1992, the output of which included records like Blackman's Redrum EP, Vice's Player Hater EP and the awesome Birth Of A Nation Part II compilation (which featured Chance McDermott aka Chancellor's blistering Insane). Denham's records were minimal the way Chicago records had been: by default (even down to the artless grit of those almost-photocopied center labels). Which all makes perfect sense when you realize that Kalamazoo sits equidistant between the cities of Chicago and Detroit.
Denham was perhaps the most successful of all the minimal producers in capturing the raw jack of Chicago's original acid trax. In fact, the output of Black Nation bears a striking similarity-of-intent to the banging post-acid sounds of Chicago producers like DJ Skull and Steve Poindexter. However, despite the fact that their no-nonsense approach resulted in some of the most blank-eyed nosebleed techno imaginable (see Skull's Guard Your Grill and Poindexter's Short Circuit), they nevertheless possessed a scientific precision that somehow prefigured the pristine hall-of-mirrors sound of micro-house.
Similarly, The Holy Ghost Inc.'s Mad Monks On Zinc turned up preposterously early (1991) for this sort of oneiric trance-inducing minimalism. One almost imagines the titular monks wandering out of the mountains to unveil secret knowledge to the villagers below. I'm reminded of Bandulu's Guidance, which similarly invokes images from the caves in Altered States. Another crew that seemed to hint at minimalism before its time, they delved deeper yet into dub techniques and everything they did was imbued with a spectral mysticism lying just beneath the surface, forever setting them apart from the pack.
If we're speaking of dubbed-out techno — and we are — the dons are undoubtedly Basic Channel. Their pulsing, motorik grooves were quite simply magnetic, drawing tiny particles of sound into their orbit as they slowly coalesced into discrete tracks. Hypnotic 4/4 slates like Quadrant Dub stretched out toward infinity, while Lyot Rmx nearly eschewed beats altogether in its glorious descent to the center of the world.
Detroit's Terrence Dixon gradually developed a similar approach in the wake of Basic Channel's innovations, a sound showcased on his Minimalism and Minimalism II 12"s, ultimately culminating in the awesome From The Far Future LP. The record was shot through with the shadows of machine soul, its ghost funk best heard in the game grid techno of Shuffle All Circuits (the sound of the Tron: Legacy soundtrack ten years early). Convextion was another minimalist auteur that walked the path with elegance, and his early records coming out on Sean Deason's Matrix Records essayed a spectral vision of techno's soul in the machine.
I remember first hearing the track from the debut Convextion EP in the context of Juan Atkins' MasterMix, which even in the esteemed company of Martin Circus, Black Noise, Blaze and A Number Of Names spun me around and caught me completely off guard. It was the first time I really grasped the idea of minimal techno's implied funk, and whenever those skeletal sequences starting shaking up up and down the soundscape I was slayed. That mix, presented by the godfather himself, remains an unmissable romp through techno/house/disco/machine soul, moving through their varied worlds with ease. I imagine that it must capture the spirit of all those early shows the Deep Space Crew put on back in the mid-eighties.
Of course alongside these trailblazers Magic Juan himself certainly had a hand in shaping micro-house's path with his Infiniti output. The early works were all scattered across various 12"s and compilations before being handily compiled for The Infiniti Collection. Listen to Flash Flood and tell me that isn't pure micro-house. And in 1993, no less! He followed up with the Skynet album and the Never Tempt Me 12" which featured remixes from Cristian Vogel and 3MB (Thomas Fehlmann and Basic Channel's Moritz von Oswald).
It was a perfect fusion of the machine soul shapes of Model 500's 90s records and the minimalist austerity of micro-house, a circle that he'd begun to square as early as 1995 with the Deep Space LP. The majority of the album was engineered by Moritz von Oswald (who also remixed Starlight for the 12"), with the machine soul of The Flow and I Wanna Be There rubbing shoulders with the gentle techno of Milky Way (co-written with Kevin Saunderson and mixed by François Kevorkian) and the sparse digital funk of Last Transport To Alpha Centauri.
The final piece in the roots-of-micro-house puzzle is the lustrous, playful techno that emerged from Cologne in the 90s best represented by Jörg Burger and Wolfgang Voigt (aka Mike Ink). Burger turned out the Gaussian-blurred techno of The Bionaut's Lush Life Electronica before bounding into 1997 with The Modernist's pristine Opportunity Knox. Its liquid machine funk pooling somewhere between house and techno, it was micro-house avant la lettre.
Mike Ink's early classic Life's A Gas, which featured snatches of everything from T. Rex to Kraftwerk and Roxy Music, just might be the first instance of a straight-up micro-house full-length. Coming in at 1995, its nimble grooves and spangly textures still sound like the future. Ink descended ever further into ambience with a succession of four records under the name Gas, before starting Kompakt Records, the spiritual home of micro-house.
Micro-house proper as defined by the likes of Isolée, Villalobos and Luomo really came to the fore around the turn of the century. Isolée's debut LP Rest is widely acknowledged as a classic, and rightly so, as its mind-tickling tactile micro-funk is utterly engrossing. Even better are the 12" mixes of Beau Mot Plage (which does feature on Rest in edited form), particularly the glistening hall-of-mirrors tango of Heaven & Earth Re-Edit and Freeform Reform Parts 1 & 2's 11-minute tech jazz rave up.
When it comes to micro-house, my favorite micro-house long-player remains Luomo's Vocalcity, a six-song set of marathon (only one track clocks in under ten minutes) deep house workouts that veer into a sort of neon-lit bedroom funk. One can almost sense the flicker of SA-RA in the rolling, deconstructed boogie of Synkro (unsurprisingly my absolute favorite cut on the album). The half-lit, burnished edges of Vocalcity make readily apparent that, when all is said and done, micro-house was always an outgrowth of the initial deep house impulse.
One needs look no further than Virgo's lone self-titled album for all the proof you need. The record is as perfectly realized as prime Kraftwerk: Ride's perpetual trance dance is the blueprint for the deeper end of micro-house, while the gentle machine soul of School Hall is quite simply sublime. Virgo fulfilled the promise of everything Larry Heard laid out on his early Mr. Fingers sides (collected on the absolutely essential Ammnesia compilation). See also Marshall Jefferson's Jungle Wonz records, rounding out this trio of Chicago deep house auteurs.
This mirrored in New York by the Nu Groove imprint, particularly the output of the Burrell Brothers and Bobby Konders. Records like Aphrodisiac's Song Of The Siren and the N.Y. House'n Authority APT. record epitomized a quintessentially Big Apple, cosmopolitan take on deep house, while Bobby Konders' House Rhythms and Dub Poets' Black & White opened the floodgates of Jamaican dub pressure into the music. Those nimble, casually funky rhythms of the New York mix of Open House's Seven Day Weekend add a healthy big city swagger to the Compass Point vibes in evidence throughout.
All these deep, dark maneuvers formed the perfect backdrop for the lonesome vocal stylings of a certain type of house producer exemplified by Jamie Principle, who pioneered a murmuring, moan-inflected sound that figures like K-Alexi Shelby, Blake Baxter and Bernard Badie then went on to run with. Records like Your Love, Cold World and Baby Wants To Ride established an icy, new wave-informed style heavily indebted to Prince (and I've often thought you could hear a bit of Bowie in there as well). These all informed by a distinctly European flavor that I suspect overlaps significantly with that of progressive-era Detroit.
Unfortunately, Principle never got to deliver an album in the 80s (making that happen is on my Doc Brown bucket list). Thankfully, Lil' Louis did, and From The Mind Of Lil' Louis was every bit as iconoclastic as one might hope from the author of the ten-minute orgasmic house masterpiece French Kiss (its pulsing sequences often pointed to as the birth of trance). Moody, spiritual and introspective, it was nevertheless intercut with a deeply freaky bent, boasting the original stalker track (I Called U) and the apocalyptic Blackout. An undeniable classic, it deserves a spot on all the 80s lists.
Curtis Jones aka Cajmere aka Green Velvet brought out the freak in full force for the 90s on his Cajual and Relief imprints. Tunes like The Stalker and Land Of The Lost picked up where Lil' Louis left off, bringing an added punch of technoid minimalism to bear on the sound. Indeed, Velvet brought the noise too, as anyone who's heard Answering Machine or Flash will tell you. On Whatever, the martial rhythms bled into EBM/industrial territory that was thoroughly post punk (and well before it was cool again!), with La La Land even becoming something of a hit.
We're now rounding into the home stretch for all of you falling asleep back there! Moodymann's post-post-soul sound, featuring dense layers of overlapping synths and textures, resulted in some of the earliest filter-disco music (a sound French acts like Daft Punk and Cassius would later take into the charts. Other Detroit figures like Terrence Parker, Alton Miller and Theo Parrish had similarly rootsy sounds that seemed to stretch back to the days when Westbound was king of the city, all three equally comfortable with deep, spiritual slates and tracky noise in equal measure.
I've often thought that if there was one crew that unexpectedly mirrored all this Motor City activity, it was the Lords Of Svek. Hailing from Sweden, the trio of Adam Beyer, Jesper Dahlbäck and Joel Mull formed the core of the output on the Svek label. This lot were the real Swedish house mafia! Offering up a perfect fusion of technoid futurism and jazzed-out house, the label's rich discography deserves to be more widely heard. You could do a lot worse than to start with the Stars compilation, which features not one but two tracks from Conceiled Project's awesome Definition Of D (my favorite of which is the loping deep house paranoia of D-Weqst).
Aside from the obvious stylistic comparisons (of which I'd venture that Svek was ECM to KDJ's Impulse! and Sound Signature's Blue Note), there were also a number of literal connections made around this time. Not only did Aril Brikha's Deeparture In Time and Art Of Vengeance EP (which featured the micro-house classic Groove La Chord) came out on Transmat, but Wild Planet's post-bleep 'n bass-era output like the Vocoder 12" and the Transmission full-length were released by Octave One's 430 West imprint. The Transmitter album in particular is a great little record that I never tire of, its sound hovering twenty feet above the ground in the interzone between techno, house and electro.
Octave One themselves are one of my key groups, in the upper echelon with SA-RA and Smith & Mighty. Everything they put out in the 90s is solid gold, with tracks like Siege, Black On Black and The Neutral Zone holding up as perfect techno workouts (see also the exquisite Art And Soul EP). Random Noise Generation was the sample-warping anything goes side project in contrast to Octave One's geometric precision, tunes like Hysteria and Falling In Dub the dark, twisted flipside to the Inner City records.
From the very beginning, there was a distinct machine soul current running through Octave One's output. Most obviously in I Believe (especially in its Magic Juan Mix), but also the lush, low-slung rhythms of Nicolette and The Neutral Zone's rewired funk (not to mention Burujha's 1970s soul OST inflections). However, it all came crashing into the foreground at the turn of the century with Blackwater (featuring the vocals of Ann Saunderson), a rework of an earlier instrumental that found the tune remixed by Kevin Saunderson to brilliant effect. All of this two steps away from Ginuwine and Aaliyah.7
I hear similar ties to machine funk running through Stacey Pullen's discography. Going back to his earliest Bango sides, records like Ritual Beating System Tribal Rythim Mix and Sphinx had more than a bit of vintage soul about them. Pullen's Kosmic Messenger output — as compiled on the Electronic Poetry collection — makes an excellent case for picking up where Funkadelic's The Electric Spanking Of War Babies left off (alongside the electrofunk of Zapp and Mtume), especially tunes like Eye 2 Eye and Death March that rewire the funk to ever deeper levels of abstraction.
The Silent Phase record that Pullen recorded for Transmat made similar connections (especially in the Curtis Mayfield-reminiscent stylings of Love Comes And Goes), although in tracks like Body Rock and Spirit Of Sankofa one can hear distinct pre-echoes of The Neptunes. This strange pact between the two sides of the coin was further developed on Todayisthetomorrowyouwerepromisedyesterday, a record whose undeniable jazz funk sensibilities were backed by a distinctly 21st century rhythmic tricknology.
Which reminds me of Anthony Shakir's quote about only getting into techno because he didn't like the last Parliament record! (Sicko 86)1b More than any other figure his music seems to be shot through with the fragmented remnants of soul. His more dancefloor-oriented sides like Breathe Deeper are post-Funkadelic music in the same way Kosmic Messenger is, reminding one of the imagery around progressive Detroit and The Electrifying Mojo. New wave and funk colliding on the airwaves. See also the wild house shapes of That's What I Want. Mesopotamia, innit?
His moodier, more introspective sides might be even better. Often dealing in splintered breakbeats, he seemed to formulate the broken beat sound near simultaneously to 4 Hero. My absolute favorite the Tracks For My Father EP, a record that I managed to pick up after school back in the day for a few dollars from the cheap bin at the record store next door to Club Elements. It's a great four-track EP, showcasing broken beat shapes and the mutant electro-soul of Fact Of The Matter before it all collapses into the flickering machine soul of Travelers. Shakir later actually worked with the German post punk band F.S.K. in 2004 on First Take Then Shake.
Which brings us to the final outpost in today's elevator ride, the music of young Jimmy Edgar. Any further over the line and you're literally listening to Supa Dupa Fly, which is too far (at least until next episode!). Edgar released the jaw-dropping Morris Nightingale/Kristuit Salu record to little fanfare back in 2002. It should have been massive. Machine funk deconstructed, this liquid r&b is the split of Kraftwerk, J Dilla and Timbaland.
The largely instrumental work later caught the attention of Warp Records, where Edgar found a home for a spell, releasing the Bounce, Make, Model mini-album and the Color Strip LP. Both of which are prime android funk in the Juan Atkins/Prince tradition. True machine soul, in other words, and the perfect segue into the final episode of Terminal Vibration, when we go searching for the soul in the machine...
LISTEN NOW
Terminal Vibration 9: Elevator Music

The Mover

Body Snatchers

Impaler - First Mix

Planet Core Productions

Second Phase

Mentasm

R&S

4 Hero

The Power

Reinforced

The Black Dog

Seers & Sages

Black Dog Productions

Smart Systems

Tingler

Four By Four Mix

Jumpin' & Pumpin'

Outlander

The Vamp

R&S

Royal House

Party People

Idlers

69

My Machines Parts 1, 2 & 3, including

Extraterrestrial Raggabeats

Planet E

Strand

Bloated

Juggernaut Mix

Frictional

Suburban Knight

The Art Of Stalking

Stalker Mix

Transmat

The Skinless Brothers

Backyard

Central

Armando

Land Of Confusion

Westbrook

808 State

Narcossa

Creed

Patrick Pulsinger

Looq

Disko B

Jeff Mills

Perfecture:

Somewhere Around Now

Tresor

Blackman

Black Power

Black Nation

Octave One

Siege

430 West

Underground Resistance

Codebreaker

Underground Resistance

Alec Empire

SuEcide

Mille Plateaux

The Holy Ghost Inc.

Mad Monks On Zinc

Holy Ghost Inc.

Convextion

Convextion

AA

Matrix

Round One

Andy Caine

I'm Your Brother

Club Version

Main Street

Virgo

Ride

Radical

Jamie Principle

Baby Wants To Ride

Trax

Moodymann

Basement Party

Scion Audio/Visual

Kosmic Messenger

Eye 2 Eye

Elypsia

Shake

Breathe Deeper

Frictional

Conceiled Project

D-Weqst

Svek

Anthony Shakir

Fact Of The Matter

7th City

Morris Nightingale

Dope Soft Intake

Merck
Terminal Vibration 9: The Records
Footnotes

Sicko, Dan. Techno Rebels: The Renegades Of Electronic Funk. New York: Billboard, 1999. 26, 86. Print.

Barr, Tim. Techno: The Rough Guide. London: Penguin, 2000. 34, 342-343. Print.

Naturally, I was chuffed to bits on hearing this, what with Larry Heard's Washing Machine having made the connection literal some fifteen years earlier!

I remember Pennington turning in burning hot mix on Groovetech around the same time. Unfortunately, that site (which was something of an online record store, only so much more) is long gone, but someone seems to have uploaded the mix to Youtube:

Pennington, James. Suburban Knight @ Groovetech. Groovetech, Suburban Knight, 23 Nov. 2001. Live DJ Mix.

We Have Arrived was even famously remixed by none other than Mr. Nasty himself, Richard D. James.

Unknown Author. Liner notes. DJ-Kicks. Music by various artists, mixed by Claude Young. Studio !K7, 1996. CD.

See also Never On Sunday's Urban Rains, from the first Detroit Techno City compilation, which is wistful techno soul to weep to.