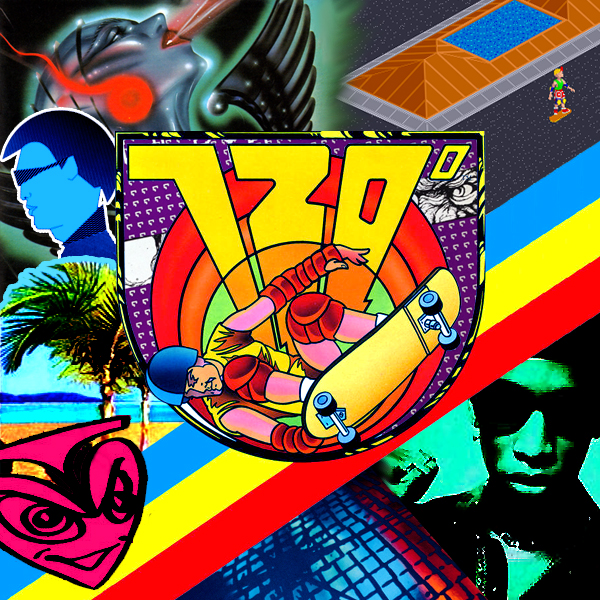 Summer in full swing, electronics in the system, the bug in the bassbin. Triggered breakbeats and rhythm boxes in full effect. Theme From Hot Burst by Yage unfolds in fractals of digital color (exclusives from Earthbeat — compilations, the art form of the 21st century). Jumpin' & Pumpin' grooves rotate on spinning wax, the vivid colors feathered in stark relief against the Westside records, tiles like Slam and Tonight. Debut with Chile Of The Bass Generation, Mental Cube's Dope Module and Q: Art Science Technology, I Can See For Miles.
So This Is Love... who put this thing together? Yage's Quazi and Coda Coma (from the Fuzzy Logic EP alongside Papua New Guinea Dumb Child Of Q Mix (perhaps it should have been Journey To Pyramid or the 12" Original on the beatbox tip). Indo Tribe's Owl and Semi-Real's People Livin' Today in full effect, rubbing shoulders with Smart Systems' The Creator and Candese — You Took My Love. By Any Other Name...
Humanoid's The Deep and Crystals, Sunshine & Brick Global Humanoid. Dance traxx by The Future Sound Of London and Kevin Saunderson (Inner City, The Reese Project, et. al.) and Underground Resistance all intertwine in a pre-minimal subliminal. The absolutely sublime Knuckles/Morales Def Mix of Watcha Gonna Do With My Lovin' and those beachfront pianos ringing that jazz across the ocean breeze. Jeff Mills and Made Mike hit the clubs with Your Time Is Up and Living For The Nite, mixing it all down with the Happy Records. Davina's Don't You Want It and Kenny Dixon Jr.'s Soul Sounds. Meanwhile Back At Home...
Something Happened On Dollis Hill. Earthbeat and Parallel Universe, 4 Hero mutate the breakbeat, dwellin' in tha lab. The Octagon Man and Depth Charge messing with the same breaks and different speeds, the nodes connecting Free-er Than Free to The Demented Spirit to Disko Airlines and beyond. Did it all happen to soon? The Freestyle Files Vols. 1-4 coming thru on X-Radio in the summer heat, Blue Note pianos wrapping the Fine Young Cannibals' Good Thing, Class Action's Weekend, Free-er Than Free and Massive Attack's Unfinished Sympathy in a Gaussian blur.
Electro mixes for miles lead to The Egyptian Lover's Egypt, Egypt pick out of a crate on Zion circa 1998. Electro in the Heights, bombing down Grantville streets to the strains of the Elecktroids' Midnight Drive. Dave Clarke selects the records but you miss him when he comes to L.A. The Octagon Man pushes on from Aux 88's Take Control Mix of Electronic Warfare by UR... that was an institution! Think back to the Hack TV introduction sequence and that Lockedown Rebirth beat that seems to have vanished from the record altogether.
TB-303s over a downbeat rhythm (the Miami Sunrise effect). Early days messing around in the studio, interfacing with the music. Cutting up the waveforms like Burial, seven years before the fact. The Robotz Garage Mix of U2's Miami, all those Pop traxx much-maligned but sounding even better with every passing year:
Do you feel loved?
Do you feel loved?
Do you feel loved?
Do you feel loved?
Said let the music play...
Cyberpunk in the sunshine and The Playboy Mansion. The Black Dog remix of Radiohead's Talk Show Host — dusted beats in the El Cajon heat, The Chicago Transit Authority on the car radio (Armando, Lil' Louis, Jamie Principle and Adonis), picking it up from Parkway Plaza in a beat up Impala and on to the ska show down the street where The English Beat's Mirror In The Bathroom plays and three brothers sit in the back looking on, echoes of Stolen Documents and Open Up still ringing in their ears.
Those sun-glazed visions in Disco Godfather technicolor light, The Dust Brothers' Nickel Bag mix of Filter's Hey Man Nice Shot, Soul Coughing's 16 Horses and Beck's Deadweight set in stark relief against Scott Weiland's electro vision Jimmy Was A Stimulator. Shades of Bowie in Berlin and Peter Gabriel 3: experimentation in broad daylight. Nuggetsin the 90s. Dude's got an 808 he's gonna use it.
Late summer bizzness, seen: Pharoah Sanders' Elevation, Alice Coltrane's Journey In Satchidananda and Dorothy Ashby's Soul Vibrations like the steam rising from sticky asphalt streets. The World Is A Ghetto coming from War and Harlem River Drive's Idle Hands. Galaxy's Innerzone version sings It's out of sight! Like Eddie Palmieri said, Condiciones Que Existen. Excise it from the radio waves (are you crazy!?), you leave only the sterile pulse of what you're left with today. I start to lose interest... back to the drawing board I'm afraid.
When the radio won't suffice, you improvise. Driving down Jackson Drive with tapes of techno in the heat as July gives way to August. Ken Ishii's X-Mix and the strange shapes of Buckfunk Discotheque, Flare's DIR.R and United Future Organization's Fool's Paradise (acid jazz to a man, memories of Paso Picacho and the self-sames tapes surfacing in the Suburban) rubbing shoulders with Ishii's totally singular Echo Exit and the Ghetto Brothers Pumpin' Bass Manoeuvres, the Jedi Knights' Dances Of The Naughty Knights and Mood Optimystic Mix by Symbols & Instruments (house don Derrick Carter, Chris Nazuka and Mark Farina — he of Mushroom Jazz fame — working the machines way back in 1989). That's Terminal Vibration territory for real.
The juke joint house of The Innocent's Theme From Blue Cucaracha (more Derrick Carter for your eardrums) and Basement Jaxx's Fly Life, and then off to Bumbuphone and the Holistic jazz of Fretless AZM. Organs pulse subliminally, those drums back techno as if it were before its time. Ultimately, it all leads down to the rabbit hole until one day you realize you've tracked down every CD, every 12" of Max Brennan's oeuvre. Alien To Whom? O.H. Krill's The Krill Papers. Allegedly.
Underground Resistance and Drexciya against the backdrop of the selfsame Ken Ishii and Dave Clarke mixes, orders from Studio !K7 and Submerge arrive by mail weeks at a time. C.O.D. Reese traxx the perfect counterpart to the Lakeside heat, dot matrix Submerge catalog printouts pored over for hours in search of 430 West, Fragile and Red Planet 12" records. John Arnold's Universal Mind tracing those stripped down traxx back through boogie and disco, funk, jazz and beyond.
Wonderland and Twin Golden Dragon — it's 1994 again — with cabinets like Toobin' and Discs Of Tron. Kleeer's Tonight and Green Light by Mtume... Deep Space Radio, off the hook. G-funk traces routes back to back in the day. Remember old school? people say, low riders and Cadillacs and whole sections I wish I could have seen. I Still Love You by Kleeer and You Did It Again too, smooth as silk and predicting Nate Dogg's cadence on Warren G's Regulate in it's lustrous languor.
That same summer and J. Beez Wit The Remedy, the Jungle Brothers — Crazy Wisdom Masters — warping the fabric of hip hop moments before it twisted into the darkness forever. Cypress Hill, Cypress Hill, Rammellzee raps on stage at the park, cold rocking the party. Raphael Saadiq's Instant Vintage and the whole dusty soul trip traced back to Sons Of Soul and I Couldn't Keep It To Myself. The Breeders and Björk, Invisible Man Come To Me. Janet Jackson's That's The Way Love Goes, chillin' up at Palomar Mountain... it all happened that same summer.
Norman Connors sleeves down in A.G. as the Nautilus rises from the bubbling depths, Captain Nemo pumping keys on his organ set to ramming speed. The kids playing Rub A Dub Stylee in a kidney shaped pool, Starship Orchestra and Bobby Konders records spinning on the Technics again. Let There Be House and The Future. Those same blue note pianos return, like a feather on the breath of memory, and those deep, deep basslines echoes in the mist, dub disco vibrations push waveforms as they twist and turn through the cool night air.
Ten, twenty, thirty years after and the song still remains the same...
Summertime, and the livin' is easy
Fish are jumpin' and the cotton is high
Your daddy's rich and your mama's good-lookin'
So hush, little baby, don't you cry"
George & Ira Gershwin (Porgy And Bess, 1935)
It's a midsummer night's dream, and where I come from we don't play.