Funk. The term has been rinsed thoroughly through the years — applied and mis-applied all over the shop on a seemingly loop — but at the end of the day, what is it really? The groove, hitting on the one, interlocking parts of a rhythm, all of them cycling in clockwork motion, players playing deep in the pocket all night long. Is it tight, is it loose, or somewhere in between? In attempting to answer that question, perhaps it makes sense to rewind to the man who dreamed it all up in the first place...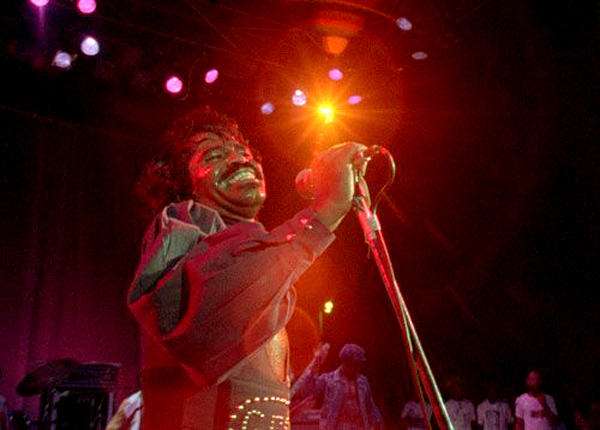 Smack in the middle of the 1960s, James Brown released the epochal Papa's Got A Brand New Bag, a frisky bit of proto-funk that took the nimble soul shuffle of early records like Think and Night Train to its logical conclusion. With an agile rhythm that found Melvin Parker's beats seemingly dancing three feet off the ground, while the bassline (played either by Bernard Odum or Sam Thomas, depending on who you ask) hopscotches across the spaces in between, it set the template for funk proper that would be hammered home further in records like Mother Popcorn, Give It Up Or Turnit A Loose, all the way up to Sex Machine, The Payback and beyond.
James Brown famously rehearsed his band The J.B.'s mercilessly, even going so far as to dock a musician's pay if they made a mistake live! The result was perhaps the most tightly regimented rhythmic unit ever assembled, with a style that moved so far beyond precision that they somehow wrapped around into looseness again. In essence, he constructed a a perfect machine from a group of individual human players, an innovation that set the course for large swathes of music's development in the years to come.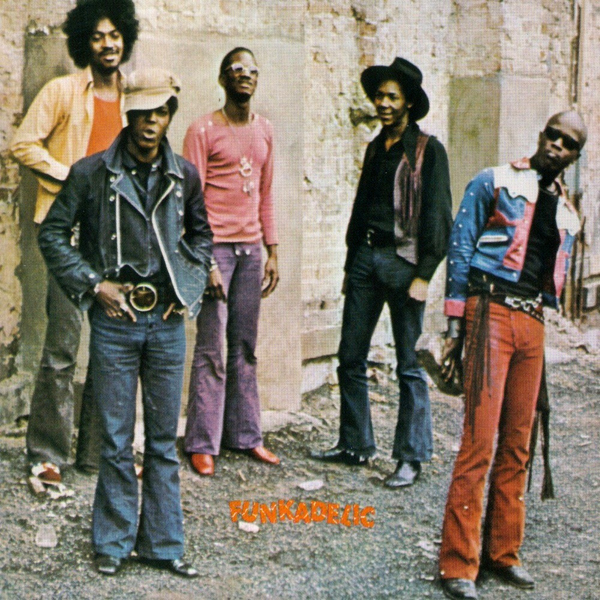 George Clinton's Detroit-based empire slowly developed in parallel, off-record in the shadows of Motown's artist roster before exploding with the twin debuts of Parliament's Osmium and Funkadelic's self-titled LP in 1970. Picking up where artists like James Brown and Sly & The Family Stone left off at the tail-end of the sixties, both groups spiked their funk/soul strange brew with a healthy dose of acid. Records like Maggot Brain and Cosmic Slop were shot through with post-Hendrix psychedelia, adding a dirty edge to the proceedings that was in thrall to the times.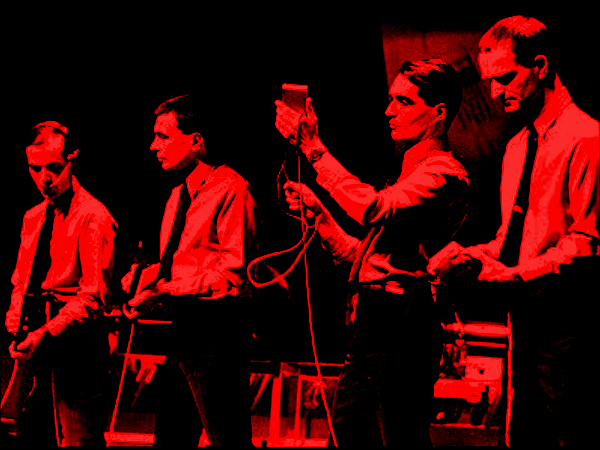 Seemingly on the flipside of the coin lies that other institution that would prove to be so crucial in the development of Detroit's nascent progressive scene: Kraftwerk. They're often placed on opposite ends of the spectrum, Kraftwerk and Parliament, machine music and funk, but the truth — as is so often the case — is far more messy than one might expect.
There's that oft-quoted remark from Detroit club kids that Kraftwerk were so stiff, they're funky. Then, you hear something like The Model and Sex Machine back to back, and the parallels between the two become striking. Both tracks glide three feet above the ground on the horizontal tension of tautly arranged components interlocking like clockwork: rolling rhythms finding joy in repetition.
Somewhere in all of that was the sound of the future...
Whole worlds would spring from this fertile nexus — from techno and g-funk to r&b and electro — in the years to come, post-disco realms of sound stretching out in every direction, dazzling in their strange shapes and oftentimes even their distance from each other. And yet if there's one record that embodies this point of intersection — and did so before the fact, even — then it's surely Funkadelic's The Electric Spanking Of War Babies.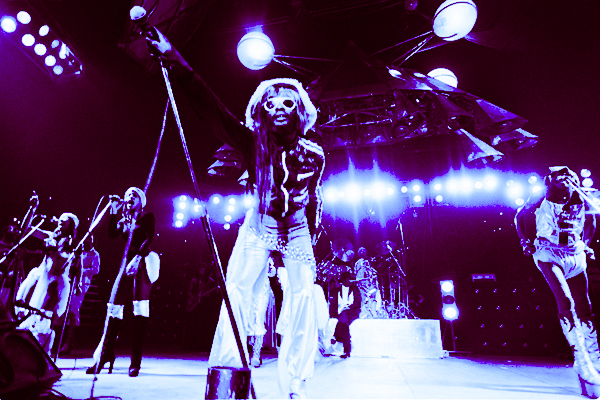 The Electric Spanking Of War Babies is the final album from P-Funk's original run, the last stop before George Clinton's Computer Games (which made the connections between funk and the machine explicit), an album that it also presages in many ways. War Babies is the illogical conclusion to everything that had come before, a record that throws everything from Flash Light and Not Just Knee Deep to Hit It And Quit It and There Is Nothing Before Me But Thang into a blender of abstraction and comes up with the adrenaline rush of pure future shock.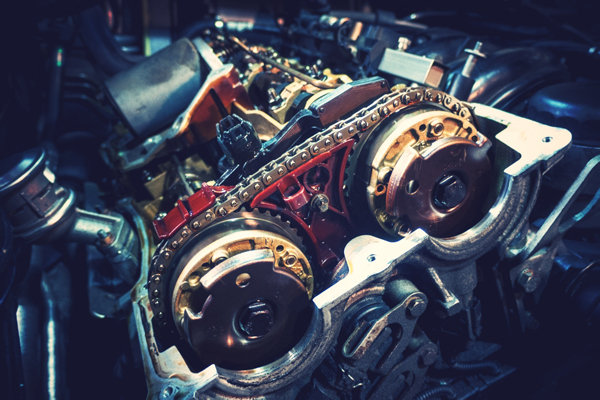 I often think the record works like a bizarre fusion of garage and laboratory, nestled deep in the heart of the Motor City, a place where mechanics and mad scientists disassemble vehicles and rebuild them in strange new combinations. Then, they flip the switch and machines spring to life, sputtering and scurrying like unwieldy insects across the shot room floor.
This shop operates at the interzone between post-disco, new wave and the nascent electro funk (the latter which Parliament/Funkadelic had a large part in birthing via Bernie Worrell's rubberband electronic basslines and gliding Arps). Rising stars like Prince and Zapp were soon hot at their heels, mapping both parallel and intersecting territory with their own innovations.
And yet, Funkadelic managed to up the ante one last time. Just as Kraftwerk rose to the challenge of new wave upstarts like The Human League and Gary Numan with their masterpiece, Computer World, Funkadelic went out with the left field big bang that is The Electric Spanking Of War Babies. Recorded after many key figures had left the group, including the aforementioned Worrell, the record is nevertheless the band's twilight era masterpiece.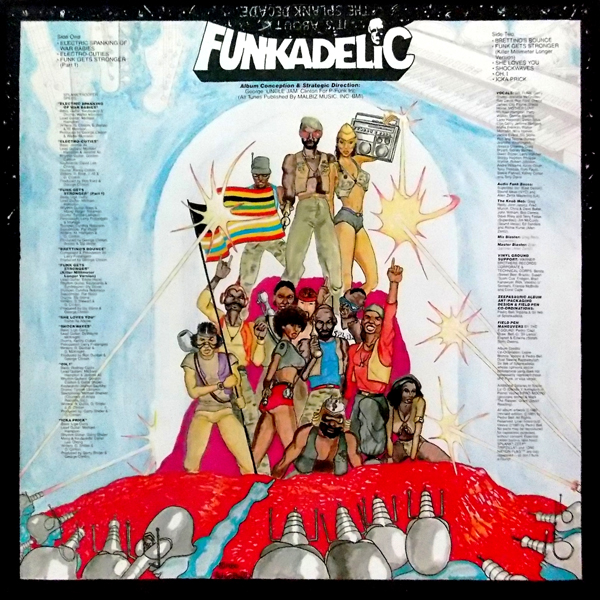 The record opens with the title track, which kicks off with what sounds like one of Eddie Hazel's Maggot Brain guitar phantasmagorias (although it's actually played by Michael Hampton). Outer space sounds swirl as a booming voice intones the following madness:
Hi there...
You probably don't remember me, but...
But I remember you.
You probably won't believe this, but, uh...
I, at the early age of 72... was adopted by aliens. [bursts into laughter]
Was adopted by aliens... [bursts into laughter again]
That's right, I said aliens.
They have long since programmed me to return with this message...
Then, a bouncing groove at the intersection of new wave funk and video game music pounces into the fray for the repeated refrain, When you learn to dance, you won't forget it, before it all turns into a trademark p-funk groove in the tradition of Not Just Knee Deep and One Nation Under A Groove, only with an added sense of creeping desperation swirling in the mix. The phrase End Of The World Party springs to mind whenever I hear it, the band standing on the verge of the precipice, still getting it on. I suspect Prince was listening closely (see 1999).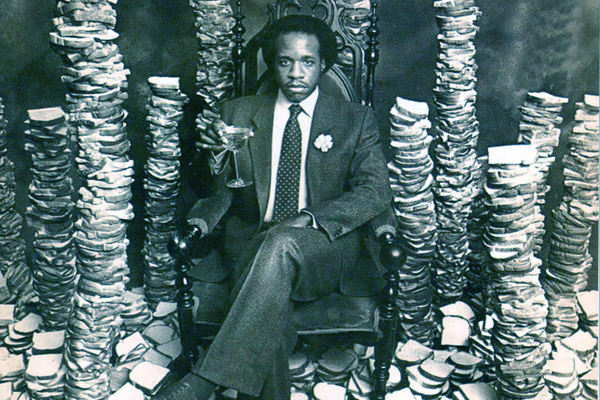 The track is almost entirely built on Junie Morrison's electro funk foundation in the form of squelching neon synth architecture, throbbing basslines and a hybrid man-machine beat, while Michael Hampton shreds guitar into post-acid sparks across the track's entirety. Various members of Parlet and The Brides Of Funkenstein turn up on the chorus, giving their trademark input in the form of a gloriously sneering sing-song of the track's title, while Junie punctuates every bar with synth stabs that punch through the mix like electric-shock therapy.
Truth be told, it probably even edges out Not Just Knee Deep as my favorite P-Funk dancefloor rave-up ever...
After such a mind-bending opening, Electro-Cuties might feel just a little bit less extraordinary. A minor track, even. Nevertheless, it manages to connect the band's disco funk present with their rock hard roots, fusing a slap-bass fueled groove with a Cosmic Slop-esque riff in the bridge. Like the previous track, it has the lurching feel of disparate random parts recomposed into a brand new machine. The Brides even turn up on backing vocals again, with one even delivering a proto-rap in the track's extended second half.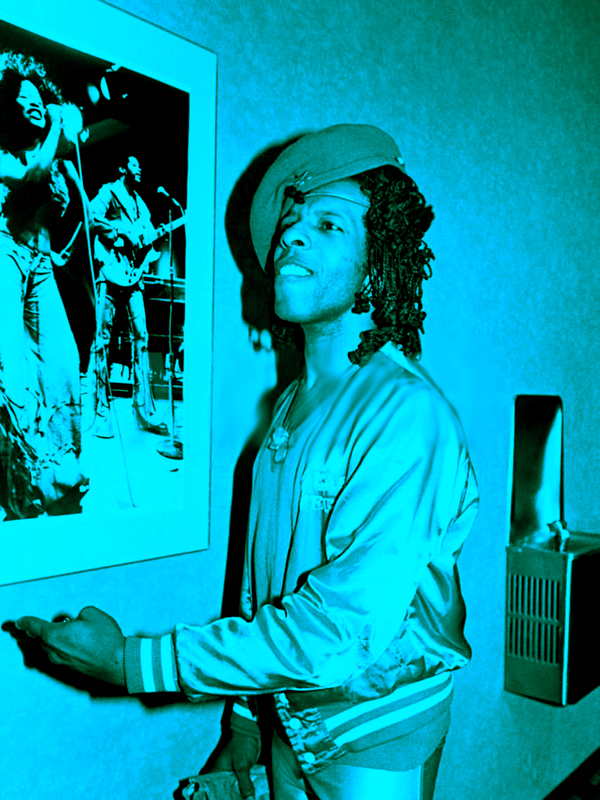 Funk Gets Stronger Part 1 is another matter entirely: featuring the great Sly Stone, it's the indisputable peak of the record. Opening with a talking drum figure and psychedelic voices drifting in the ether, it kicks into a whirring, stop-start beat that seems to perpetually trip forward over it's own throbbing bassline. It seems another strange machine has been conjured up from spare parts, and more than any other track here, it embodies the record's modus operandi.
Lurching in one direction before swooping and diving in the other, the rhythm seems to be powered by unstable elements, its tripping beat kicking into high-gear double-time every so often as the band struggles to catch up. You're just waiting for the tune to shift gears again, and in its Doppler rush of acceleration and deceleration on can almost feel an eerie pre-echo of jungle.
All the while, the track's held-down by Zapp mastermind Roger Troutman's new wave-tinged rhythm guitar that's always struck me as a dead ringer for the sound on Adam And The Ants awesome Dirk Wears White Sox (the American version, of course). There's strong new wave/post punk currents running through the entirety of War Babies, and nowhere is that more evident than here. Think Metal Box, but coming from the opposite direction. Mike Hampton's incredibly pretty lead guitar threads the rhythm almost subconsciously, adding another dimension of emotion to the whole affair.
Sly Stone famously in the mix here, credited as co-producer alongside George Clinton and Bootsy Collins, and combined with staccato trumpet lines provided by Sly's old band-mate Cynthia Robinson in the chorus, there's a definite Sly & The Family Stone flavor to the whole strange affair. There's even a lush organ passage in the breakdown in the breakdown that would have fit right in on There's A Riot Going On! I'd swear it was laid down by Sly Stone himself, but the only keyboards on the track are credited to Roger Troutman, who works the Moog synthesizers. However, as with Riot's famously hard to navigate album credits (see also the Talking Heads Remain In Light), I suspect that it's not the whole story. It's a late-era, extended band kinda thing...
The tune gets reprised a couple tracks later in the Killer Millimeter Longer Version, which finds the machine being started back up, its heartbeat pulsing quickly before tugging into shape. With its slightly more languid, open-ended arrangement, this version sounds even more like something from Riot. What's more, Sly Stone is credited on drums and keyboards, and late-period Family Stone member Pat Rizzo is present on saxophone. According to the album credits, it also features the lone contribution from original Funkadelic guitarist Eddie Hazel, who had already released his solo album Game, Dames And Guitar Thangs back in 1977.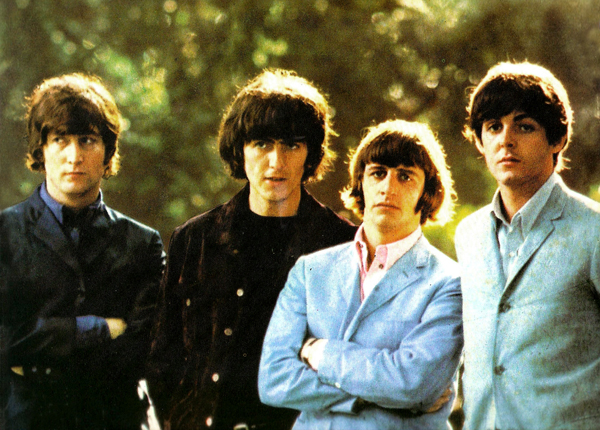 There's an errant quote from The Beatles' All You Need Is Love before it all fades out and then back into place, with a thirty-second reprise-within-a-reprise cover version of She Loves You over the same rhythm. A drunken group chant, to be sure, and the perfect way to wrap up the Funk Gets Stronger saga.
Running parallel to these new wave/post punk moves, the record also spends a satisfying amount of time messing around with fourth world rhythms, with the extended rhythm sequence Brettino's Bounce nestled between both versions of Funk Gets Stronger. It's the sort of Caribbean-inflected groove that a post punk band like A Certain Ratio would kill for, with the band seemingly effortlessly unfurling a rolling percussion frenzy that lasts the better part of four minutes. A gong brings it all into focus, chattering polyrhythms and talking drums careening across the sound stage, before another gong sounds to conclude the jam session. Some might call it filler, but I think it's great!
The other big fourth world moment is Shockwaves, a cod reggae number that rocks a malfunktioning skank across the showroom floor. Once again, strange machines are afoot in the sound lab, this time with parts imported from Jamaica... Crazy!
At first it almost seems like a joke song, complete with ridiculous fake island accent in the verses, but like Chuck Berry's Havana Moon it quickly bolts toward the sublime. The sprightly rhythm slowly goes overcast with the descent of soaring backing vocals and its incredible chorus:
I'm from the first world,
I like to groove.
Don't want no problems,
Set up that groove.
I'm probably out on a limb here, but it always makes be flash on Bowie. Particularly contemporary things like the proto-Remain In Light fourth world stylings of Lodger (the most obvious example being Yassassin), Up The Hill Backwards and even twenty later with Earthling's Looking For Satellites. It certainly fits right in with the wider My Life In The Bush Of Ghosts drift of the times. Interestingly, aside from the title track, it was chosen as the only other single from War Babies, coming out on 7" wax. Shades of new wave's détente with reggae (see also The Police, Jah Wobble, The Clash, et al.).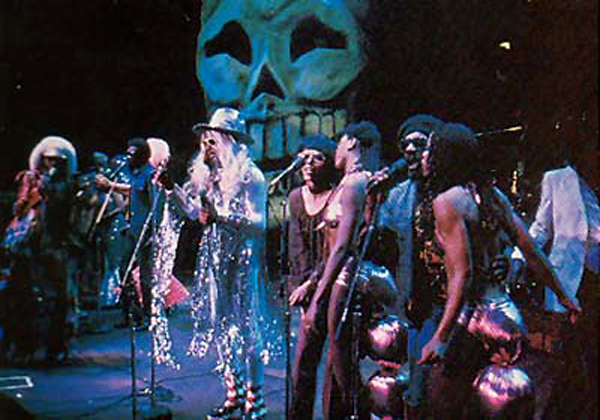 The following Oh, I almost feels like a breather after the breathless experimentation of the record's mid-section. It's the most straight-up p-funk number here, relaxing in a gently mid-tempo manner the way that Mothership Connection and Aquaboogie were. Adding to its sun-glazed aura is the acid-tinged, Ernie Isley-esque guitarwork of Michael Hampton and Jerome Ali. Interestingly, an unreleased 12" version of the tune later washed up on Parliament's The 12" Collection And More.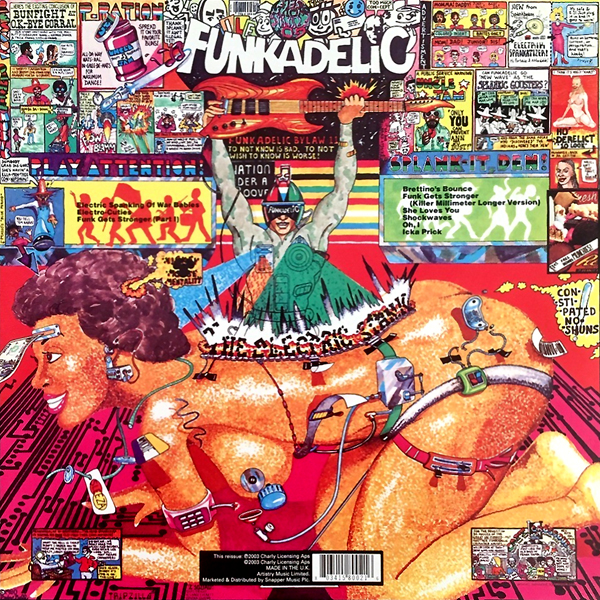 The record closes with the rubberband electro funk jam Icka Prick, the key final track in this song cycle. With its machine box rhythms rolling along at a hip hop pace, it's practically a g-funk track. David Lee Chong holds down synthesizer duties here, injecting the track with squiggly day-glo boogie shapes, while Michael Hampton returns (yet again) for some crunchy lead guitar work. One's immediately reminded of Zapp, but this is much looser, and less locked down, coming on like an amorphous, jell-o take on the electro funk sound.
As the song opens, Michael Hampton ad-libs Oh, you ain't seen obscene yet, We gonna be nasty this here time, and he ain't lying. Icka prick and iron pussy, yucka fuck and muscle cunt, while we servin' pussy from the shoulder, she servin' dick from the head, and Elmo MacNasty, mental masturbation, psychological perversion (hey, hey), are just some of the couplets you're treated to after he warns you to Put on some protection for your ears. Ain't no decent dick in Detroit! The Brides' backing vocals retort That's disgusting!
Without warning, it all goes supernova in the track's denouement, with soaring Hit It And Quit It vocals, whining Drexciyan synths and metallic guitars elevating the track toward its epic conclusion before it all fades without warning...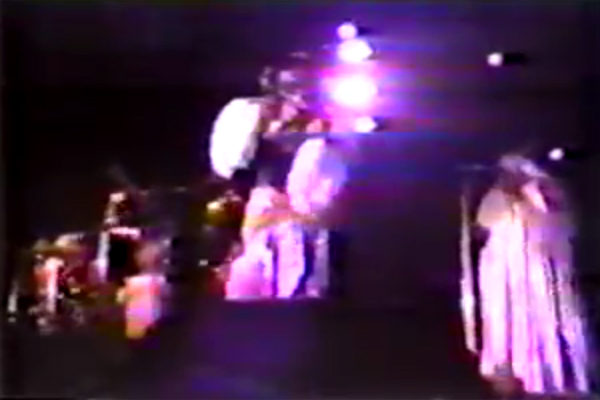 Over the years, The Electric Spanking Of War Babies has crept up on me to become my favorite piece of the P-Funk story. I've never seen it singled out for praise as such, but for me it distills nearly everything great about Parliament/Funkadelic into a sleek capsule aimed toward the future. Its man-machine hybrid draws together disparate contemporary strands — the post-disco funk of Zapp and Funkadelic themselves, the new wave shapes of Prince and the Minneapolis sound, and fourth world sonics straight out of the My Life In The Bush Of Ghosts playbook — all while pointing the way toward Cybotron, Model 500, Kosmic Messenger and beyond.
And as such, it's myriad routes stretch right up through the present day... not to mention the fact that it's a killer party record.