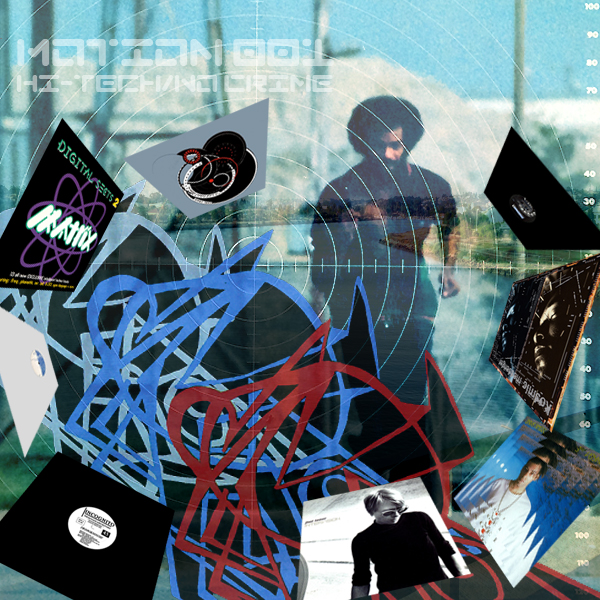 Seeing as we've moved into the dog days of summer, the moment seems right to bring back the Motion series. A couple entries tumbled out of the Other99 blog (this site's precursor) back in the day, which were basically playlists to accompany long distance runs in either the early morning and evening. Perhaps I'll dig up some of those old playlists — if I can find them — but for now, we're resetting the counter to 001.
The Motion reboot begins with a sequence born in the crucible of the early morning circuit in the Heights: down Reservoir Dr., along the trolley tracks in Alvarado Canyon and looping back again. However, it found its true home in an early evening route along the San Diego Harbor, alternately as the sun set on the horizon or beneath overcast August skies.
This selection happens to include some of my all-time favorite techno music — which places it comfortably among my favorite music, period — so it made sense to start it up again here. In light of the general technoid-come-r&b drift of this summer (as we enter the final chapter of the Terminal Vibration saga), it makes perfect sense within this context as we descend deeper yet into the realm of machine soul...
LISTEN NOW
Motion 001: Hi-Tech/No Crime

Dave Angel

Endless Motions

R&S

Classic tech jazz inna UR stylee, this one had a profound impact on me back in the day. I used to study Dave Angel's unmissable Classics compilation, of which this was undoubtedly the centerpiece, back when I first started making beats. A round up of Angel's material on the R&S/Apollo labels, it also happens to include the entirety of the excellent 3rd Voyage EP.

This liquid groove runs at an accelerated European pace, a searching bassline and lush pads holding down the groove as sparkling sonics flutter across it all. This the next step on from Eddie Russ' See The Light, it sets the perfect tone for a sequence that hovers in that verdant interzone between techno and soul.

Jimi Tenor

Can't Stay With You Baby

Warp

Ostensibly, this is the other side of the coin (see also Compost Records, Kirk Degiorgio, et. al.), Jimi Tenor nevertheless had a distinct approach all his own. Conjuring up images of some lounge singer solo on an organ in some hotel bar, he epitomized the sort of 90s-era profound unlikeliness that also tossed up figures like Beck and Stereolab.

I often think of Tenor as a post-Thomas Leer troubadour of bedroom electronica, offering up an idiosyncratic take on the music in the clubs, thoroughly warped and sounding like nothing else around. Can't Stay With You Baby finds the man in the glitzy cascade of city lights just as rush hour begins winding down. With shades of Prince in the vocal delivery and strong undercurrents of modal jazz, this is above all else a killer pop song. Should be far more widely known.

Tronikhouse

Smooth Groove

The Smooth Mix

KMS

Vintage Kevin Saunderson from the dawn of the 90s, this takes a laidback angle on his Reese material, with the trademark organ-esque bass figure one comes to expect from the man who brought you E-Dancer's The Human Bond and Reese's Just Want Another Chance.

Dig that ever so subtle, Blue Bayou synth hovering over the whole thing like an Everglades mist. Skeletal and vibed-out to the extreme, and locking in at only three-and-a-half minutes, it's another great pop moment and one of the first tunes I'd direct someone to if they were curious about techno.

Freq

Waveaura

Matrix

An exclusive from the Digital Sects 2 compilation (although it later appeared on Submerge's Depth Charge 3 compilation), a showcase for Sean Deason's Matrix Records which was only just on the rise. A tune from the man himself (in his Freq guise), this organ-led number finds Deason pumping some serious keys over a moody, half-lit groove.

This the secret cousin to Paperclip People's Steam, only on the after hours, 3 In The Mornin' tip. One of the great night drive traxx for real, this is right up there with peak-era Hashim and Underworld. As far as I know, this never made it to wax... so CD-only techno in full effect!

Yennek

Serena X

Inner Zone

Mix

Buzz

Arguably Kenny Larkin's finest hour, this Carl Craig rework (featuring an early allusion to his Innerzone Orchestra project), which takes the original version's pristine aquatic groove and funks it up with the same febrile rhythms you'd find in his AMAZING Psyche/BFC material.

Those synths though! Such style, gliding as it does over that loping bassline and clattering percussion, and as such instantly recognizable as the work of Craig. A match made in heaven, Kenny Larkin returned the favor a couple years later with his equally brilliant remix of Craig's Science Fiction.

Carl Craig

Sparkle

Planet E

This exquisite slice of digital disco is cut from the same cloth — and generally speaking, the same era — turning up on a timely reissue of Carl Craig's epochal Landcruising (re-titled The Album Formerly Known As... for the re-up). Hard to believe that a tune this mind-blowing — from the Landcruising sessions — sat unreleased in the vaults for a decade!

Similarly, this has a great swinging rhythm and insane synth work, traveling in great arcs in the Blade Runner mode and deliciously tactile bleeps flowing all over the shop. Once again, that nimble bassline and and shuffling beat epitomize the type of techno I dig above all else.

Kosmic Messenger

Death March

Elypsia

I'm a huge fan of Stacey Pullen. Indeed, I have a long-delayed feature dedicated to the man coming at you later this month. Until the doors opened on his Black Flag imprint, Kosmic Messenger was his most dancefloor-dwelling moniker, with tunes like Eye 2 Eye, I Find Myself and Flash omnipresent for much of the 90s. It's a perfect complement to his more contemplative material as Silent Phase, picking up where the Bango records left off.

I first heard this tune on Pullen's excellent DJ-Kicks, where its grinding chord progression and shimmering loops perfectly matched the record's Blade Runner file-under-futurism ambience. Pullen's shadowy history as a drummer in his high school marching band seems to surface between the cracks in that rolling martial rhythm. I've often thought that Kosmic Messenger output was a direct descendant of Parliament/Funkadelic's freakiest moments.

The 4th Wave

Electroluv

Planet E

The grand finale! The most lush, incredibly baroque synth work soars over an clattering, intricately arranged techno rhythm. It makes sense that Carl Craig would snap it up for release on Planet E, fitting in as it does with the label's mid-period output (post-Intergalactic Beats and pre-Silentintroduction) brilliantly.

The 4th Wave was British techno purveyor Steve Paton, who later washed up on both Kirk Degiorgio's Op-ART and James Lavelle's Mo Wax imprints. This tune is quite simply amazing, hailing from the three-track Touched EP (the sole 4th Wave release on Planet E). There's something very rich and ancient lurking somewhere in its DNA (those organs in the breakdown are the kicker) that seems to call back the 70s (it always makes me think of those early-morning training sequences from the first Rocky movie).
As the mix winds down, the closing misty bards of Electroluv ringing in our ears, we arrive at our destination. I hope you've enjoyed the journey...