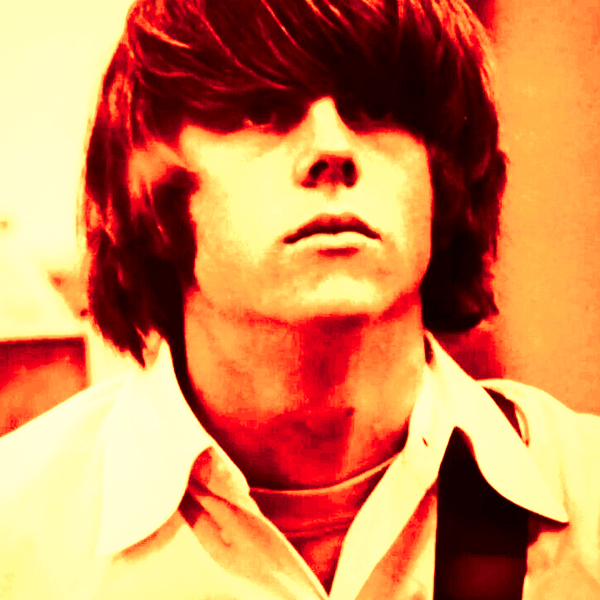 In putting together The Canyon 25, I went back and listened to a bunch of my favorite records from in and around that scene. In the process, it quickly became clearer than ever how quietly important Chris Hillman's contribution had been to the whole scene's development, not only as a musician and songwriter but also a strange attractor of sorts, bringing people and ideas together at just the right time.1
In there right at the beginning with The Byrds, his bass was the steady anchor of that band, the propulsion behind Eight Miles High's liftoff into the stratosphere, Inner Space and beyond. Even as early as Mr. Tambourine Man, the band's debut, his four-string input imbued the proto-garage punk of It's No Use with a sense of rhythmic danger. And who can knock the rapid-fire Bo Diddley punch of Don't Doubt Yourself, Babe?
However, it's with The Byrds timely invention of acid rock that Hillman's bass really takes on a life of its own, his throbbing basslines on tracks like I See You, 5 D Fifth Dimension and the awesome Psychodrama City (left off the record for some reason that's always escaped me!), pushing Mike Clark's drums into gear like a locomotive and providing the perfect environment for Roger McGuinn's Coltrane-inspired guitar pyrotechnics to take flight. There's no getting around it, Hillman's bass is the very heartbeat of Fifth Dimension.
Notable also is the fact that he's credited as co-arranger alongside McGuinn and David Crosby on both Wild Mountain Thyme and John Riley. One can't help but wonder if it's his fingerprints in evidence on the former's lush country-western-inflected filmic strings and the latter's shadowy midnight chamber orchestra. Later developments seem to confirm my suspicions...
After three albums spent largely enhancing the material of Roger McGuinn, Gene Clark and David Crosby, the gloves come off on the following record (Younger Than Yesterday), when — much like George Harrison's ascent in The Beatles on Revolver — Hillman emerges as a formidable songwriter in his own right. The humming Beatle-esque power pop of Have You Seen Her Face is wonderful, but Thoughts And Words — with the overcast proto-alternative haze of its verses playing musical chairs with the bouncing breakbeat chorus — is the highlight of the record... a record that from the standpoint of songwriting might just be the band's strongest.2
His most timely contribution, however, comes in the shape of Time Between and The Girl With No Name, two country-inflected rockers that proved to be startlingly prescient as the next few years would come to pass. His love of bluegrass and country was felt early — on 1965's Turn! Turn! Turn! — with the band's cover A Satisfied Mind (the de-facto birth of country rock), an influence that would increasingly be pushed to the fore until it ultimately changes the band's entire direction altogether on Sweetheart Of The Rodeo.
The following year's The Notorious Byrd Brothers opens blast of the horn-driven rocker Artificial Energy — the result of Hillman's suggestion that they write a song about speed — and sure 'nuff has another trademark Hillman bassline rumbling beneath it. The remainder of the record maintains an atmospheric, dreamlike quality throughout, with even the guitars swirling in an ethereal mist. Hillman's country flavor is further pursued (and sounding more natural than ever) in songs like Old John Robertson, Change Is Now and a country-inflected take on Carole King's Wasn't Born To Follow, foreshadowing the band's big change in direction in less than a year.
Of course, it's all eclipsed by Hillman's Natural Harmony, the album's absolute finest moment. I've gone on about this track before, the way it rises from within the surrounding fog sounding like The Beta Band thirty years ahead of schedule. That clicking hi-hat rhythm collapsing into a tricky shuffling breakbeat, guitars drifting mirage-like as the spooked orchestral tunings of John Riley are pitched into total eeriness. Roger McGuinn's prized Moog synthesizer (played here by Paul Beaver of synth pioneers Beaver & Krause) rising from the depths of the track like the Nautilus from the ocean, stalking its prey. What even comes close!? In fact, this might well be my favorite song in the band's entire oeuvre.
It was a chance meeting with Gram Parsons (in line at the bank, of all places) that eventually resulted in Hillman bringing him into the fold for the recording of Sweetheart Of The Rodeo. With Hillman and Parsons' shared love of country music in full force, the band's focus shifted entirely toward the form. Often considered the first country rock record,3 Sweetheart Of The Rodeo finds Hillman's songwriting receding into the background for the moment, making room for Parsons contributions like One Hundred Years From Now and Hickory Wind. All of which presages the direction the duo would take next as they left The Byrds (first Parsons, then Hillman) in a mere matter of months...
No longer Byrds, Parsons and Hillman holed up in their fabled Burrito Manor and conceived the perfect synthesis of rock and country, co-writing epochal songs like the rollicking Christine's Tune and Sin City's weepy balladry. Similarly, I've always loved Juanita, another tear-stained masterpiece, while the lackadaisical rolling country rock of Wheels features undisclosed bursts of satisfying feedback. Interestingly, Hillman switched to guitar for this record, leaving the bass duties to Chris Etheridge. I've gone on record about "Sneaky" Pete Kleinow's sublime steel guitar contributions, but suffice it to say that all the guitars on this record are just exquisite.
After one more (weaker) Burritos album, Parsons quits again, leaving Hillman to pick up the pieces. However, its the following self-titled album — while never reaching the heights of the debut — that is quite worthwhile, a minor gem even, full of gorgeous tunes like Colorado, To Ramona and Four Days Of Rain. I've often felt that it gets a bad rap mainly because it exists in the shadow of The Gilded Palace Of Sin, much as Can's later work gets unfavorably compared to Tago Mago. In both cases, the bands still manage to transcend their imitators and turn in something special.
After leaving The Burritos, Hillman spent the rest of the decade collaborating in various configurations of like-minded musicians, for instance the Souther-Hillman-Furay band and even reuniting with old band-mates Gene Clark and Roger McGuinn for a couple McGuinn-Clark-Hillman albums. Playing on a whole brace of canyon records, he even winds up in Stephen Stills' Manassas big band for the storied sessions of their debut recording.
Another stone cold classic, it resurrects the concept originally intended for Sweetheart Of The Rodeo, celebrating the breadth of American music spanning from folk, bluegrass and country to blues, rock and jazz, with even the distinct shades of Latin music felt throughout. Billed second only to ringleader Stills, Hillman is listed as co-producer (alongside Stills and Dallas Taylor) and co-writes two of the record's highlights, It Doesn't Matter and Both Of Us Bound To Lose.
In 1976, Hillman embarks on his solo career in earnest, debuting with Slippin' Away. This is a truly stellar record, and one I'd like to single out for praise. A minor gem, perhaps, like the third Flying Burrito Bros record, only more so. I've only recently discovered it... like why even pretend?! This is country rock of the highest caliber. The record is defined by its impeccable arrangements, gorgeous harmonies and great rolling basslines, more often than not played by Hillman.4 Indeed, this is a great bass record, showcasing that rich, telltale tone played with trademark nimble precision.
From the jazzy shuffle of the title track — with it's non-trivial arrangement and multi-plane harmonies —  to the burning rocker Take It On The Run and the filmic sweep of Witching Hour (a Stephen Stills cover version), its an undeniable treasure trove of rock solid canyon songwriting. The closing Take Me In Your Lifeboat even touches down with Hillman's bluegrass roots, presaging an obsession that would become increasingly central to his sound in the decade to come.
With the dawn of the 1980s, Hillman reached deep into bluegrass and Bakersfield for inspiration, turning out a pair of excellent records on Sugar Hill (no, not that Sugar Hill!) in quick succession. First with Morning Sky and then with Desert Rose, he delivered a more intimate, stripped down sound that was often strikingly beautiful, defined by his gorgeous mandolin picking. Three years later, The Desert Rose Band found Hillman in a working band again, releasing a series of albums stretching well into the nineties. After that, further collaborations (most frequently with Herb Pederson) and solo records round out the long and winding career of a lifelong musician, a career that leads right up to the present day.
Last year's Bidin' My Time found him working once again with old Byrds McGuinn and Crosby, not to mention the late great Tom Petty (who also produced the record). With nearly sixty years lived in music, Hillman is still going strong (check out his website here4). In fact, there's currently a tour in progress with Roger McGuinn for the 50 year anniversary of Sweetheart Of The Rodeo, which sounds rather interesting. It looks like the second leg of the tour has yet to be announced... so hopefully they make their way down to San Diego in the near future.
---
In signing off, I'll leave you with this performance from a couple years ago, featuring Hillman working his magic on mandolin and harmonies alongside Herb Pederson live in the studio. Just two old-timers doing their thing, like it's no big deal, and achieving casual perfection.
Footnotes

1.

Did you know that he was the one to convince the Whisky A Go Go to give Buffalo Springfield a shot?

2.

Of course, he's still doing his inimitable thing on bass: check the dive-bombing bassline from So You Want To Be A Rock 'N' Roll Star (featuring Hugh Masekela on the trumpet solo).

3.

Although The International Submarine Band's Safe At Home — another Parsons-related endeavor —  did hit the shelves a few months earlier.

4.

I once had a friend who confessed that — generally speaking — she couldn't tell what the bassist contribution was. I told her to listen to dub reggae for a weekend and everything would make sense(!). Of course, I could just have easily said to listen to a bunch of records that Chris Hillman played on.

5.

Chris Hillman [Hillman, Chris]. https://www.chrishillman.com. Accessed 6 Jul. 2015.

6.

Chris Hillman [Hillman, Chris]. https://www.youtube.com/watch?v=fOjcoCAFTho. Accessed 6 Jul. 2015.