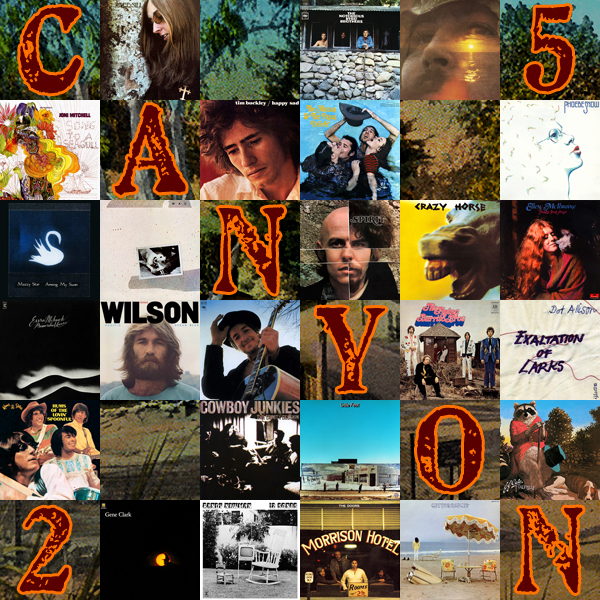 Music from the canyon played a large part in my musical youth by virtue of my Dad's formidable record collection. I remember hearing things like the Eagles, James Taylor, Dan Fogelberg and Loggins & Messina — alongside canyon-adjacent figures like Jim Croce, Simon And Garfunkel, Cat Stevens and Gordon Lightfoot — in heavy rotation, particularly on rainy days. Pops worked construction, and since rain meant his job site was too wet to pour concrete, he'd have the rare day off and often spend the early morning chilling in the living room listening to records. To this day, much of that music reminds me of stormy days staying home sick from school.1
However, my true way in came sometime later, when I first heard the records of Van Morrison and The Byrds (circa 2003). My initial trajectory took me from trip hop and techno through jazz, funk and soul (peppered with new wave, naturally) into this music. It was the next stop. Needless to say, it made a huge impression. I have distinct memories of running after dark in the dead of winter, descending the hill above my old high school to the triumphant strains of Van Dyke Parks' organ solo at the climax of 5 D (Fifth Dimension). My mind also turns to digging trenches in the early summer morning while Astral Weeks swirled around me on the morning mist, the clank of my pickaxe striking the ground in time to the music.
This exposure sent me off searching deeper into the extended canyon scene by way of The Byrds' various tributaries: Gene Clark, Crosby, Stills & Nash and The Flying Burrito Bros, alongside other canonical figures like Joni Mitchell, Carole King and Neil Young. I remember hiking around Mission Trails in the aftermath of the great Cedar Fire (2003) — nothing but great hills of ash left in its wake and not a soul in sight — with all of this music alongside CCR, Dylan, Cash and the rootsy Stones records ringing in my headphones. I also remember the sight of those great rolling hills slowly coming back to life in the long months to follow, a spectacle that remains inextricably linked with this soundtrack whenever I reflect on my memories of the era.
Fast-forward to about a month ago. Sari and her sister Leah get to talking about canyon folk, and they start working out what is canyon and what isn't canyon. After all, some of the best canyon records aren't from Laurel Canyon at all, and some figures actually from the canyon aren't remotely canyon-esque in sound.2 Confused yet? Well, it gets worse. There's also the timeframe to consider: too early and you're dealing with straight up folk (Judy Collins, Fred Neil, Buffy Saint-Marie, et. al.); too late and you veer into yacht territory (as purveyed by figures like Ned Doheny and Steely Dan). The sweet spot is right there in the middle... that's where the canyon lies.
The Laurel Canyon scene was defined by a coterie of singer-songwriters to emerge from L.A. as the sixties turned to the seventies: figures like James Taylor, Joni Mitchell and Crosby, Stills & Nash. The heart of this scene was found in Laurel Canyon (located in the hills rising to the east above Los Angeles), where various refugees from sixties bands like The Byrds, Buffalo Springfield and The Mamas & The Papas had retreated to get back to basics after the blazing phantasmagoria of the 1960s. Along with The Beatles' The White Album and The Rolling Stones' run of rootsy records starting with Beggars Banquet, this was part of a broader back to the roots project in the culture, a retreat from the Icarus heights of acid rock and psychedelia future shock into the comforting, sepia-toned mystique of the past.
With a few notable exceptions, the Laurel Canyon people's roots were in folk and its subsequent plugging into the electrical grid by one Bob Dylan. Records like Bringing It All Back Home and Richard & Mimi Farina's Reflections In A Crystal Wind sprung from well outside the canyon scene but were nevertheless a crucial influence upon it, blending as they did straight folk with shades of rock 'n roll while the arrangements became increasingly ornate and sophisticated. Critically, this is also the point when the more declamatory style of folk singing gets softened into something far more intimate.
Bands like The Byrds and Buffalo Springfield ran with these innovations across a stretch of great folk rock records, records like Mr. Tambourine Man and Buffalo Springfield, paralleling Dylan's own forays into rock 'n roll best exemplified by Highway 61 Revisited. Coincidentally, all three figures gradually injected the crucial ingredient of country into their sound — culminating in Sweetheart Of The Rodeo, Last Time Around and The Basement Tapes, respectively — at just the moment that psychedelia's luster had started to wane. And at that point, there was no turning back...
Gram Parsons often gets the credit for bringing country to the canyon, but the truth is far more complicated. Growing up in Kansas City, Missouri (incidentally the town where my maternal grandfather was from as well), The Byrds' Gene Clark famously grew up listening to Hank Williams records, while band-mate Chris Hillman shared a similar affinity with the form. One need look no further than the band's 1965 sophomore album Turn! Turn! Turn!, which features a cover of Jack Rhodes and Joe "Red" Hayes' Satisfied Mind, possibly the first example of country rock on the ground. The Beatles even covered Buck Owens on Help! Linda Ronstadt — who had been a fixture of the L.A. scene since its infancy in the mid-sixties with her group The Stone Poneys — was also firmly rooted in country, with a well-documented passion for covering old warhorses like Crazy and I Still Miss Someone.
It's at this axis of folk and country that the canyon sound happens, with the warm afterglow of the 1960s still felt between the lines of its rootsy sway. The sound is typically mellow, albeit occasionally spiked with more than a hint of darkness (after all, it was the dawn of the 1970s). Elements of Delta blues and jazz sometimes can be felt as well (especially the latter). Listening to a whole brace of these records over the past month, it became clear that jazz was nearly as important a contagion as rock and country on the burgeoning folk scene. In fact, the latter might be the crucial ingredient in synthesizing the whole yacht rock phenomenon, just as country had been for canyon.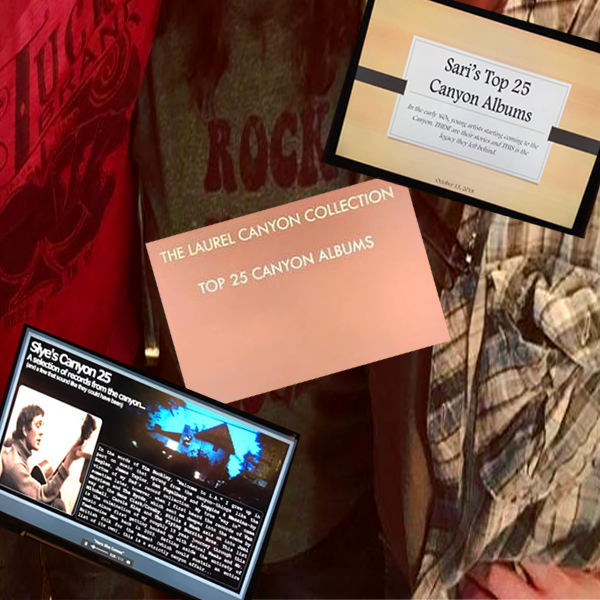 All of which (in a round about way) brings me back to this protracted canyon discussion between Sari, Leah and myself. In the process of working through the canyon ideal, we each decided to put together a little list of our top 25 canyon albums. We even had a little party and put on presentations while Leah was in town, the whole nine! Well, that was a lot of fun certainly (Sari and Leah's lists were incredible), and I even got turned onto a bunch of great records — especially recent ones — that I hadn't yet heard before. So I've got some serious listening to do, which is always a great place to be.
In the spirit of this whole endeavor, I figured I'd post the director's cut of my own list up here to kick off a little Laurel Canyon mini-series. It's an early autumn thing, seen. If I'm not mistaken, Sari and Leah will be posting theirs up as well in the near future. Don't worry, I'll extend a link their way when the time comes. I should note that I'm setting aside the entirety of British/Celtic folk for the moment (even Van Morrison!), which obviously could sustain an entire list of its own. Maybe next time! Today, it's a strictly canyon affair...
So without any further ado, this here list is the culmination of my roughly 15 year journey through this music since first getting hooked up with Astral Weeks and Mr. Tambourine Man way back in 2003. Regulators, mount up!
The Canyon 25
I can think of no better introduction to the canyon than The Mamas & The Papas. The third album from the canyon's first family, Deliver features the intricate arrangements of John Phillips reaching their peak (even if their debut still beats it on the songwriting front). The focus on lush production and Michelle Phillips' ethereal vocals mark it out as canyon-esque, pointing the way toward what would become the dominant sound in L.A. in the coming decade.
Strictly speaking, this is actually proto-canyon: emerging as it does just in time for the Summer Of Love, it mostly lacks the confessional nature of the singer-songwriters. In truth, I almost included John Phillips' country-tinged solo album instead. Ultimately, I see Deliver as a crucial building block in the whole canyon enterprise, veering away as it does from earlier British invasion influences toward a sort of folk-inflected chamber pop. One could even read The Mamas as the midpoint between The Beach Boys and CSN. Shoot me down, but I hear it!
Kicking off with their definitive take on The Shirelles' Dedicated To The One I Love, the group also trade verses on Creeque Alley, a Lovin' Spoonful-style folk stomper that namechecks John Sebastian's gang in an autobiographical hootenanny laying out The Mamas' origin story in detail (both groups rubbed shoulders in the Greenwich Village folk scene). Also of note is the strung-out version of Twist And Shout, which remains my all-time favorite version of the song, beating out The Beatles and even The Isleys' original.
The founder of the feast gets down to business in Nashville, breaking down the walls once and for all between the rockers and the good ol' boys with some tasty country rock action. The culmination of his Basement Tapes sessions with The Band, this finds Dylan going to the source, so to speak. The previous year's John Wesley Harding may be the more consistent record, but the highs on Nashville Skyline are so sublime that one can't help but be won over by their rustic charm.
The sumptuous production and Dylan's unexpectedly soothing year vacation from smoking vocals are a special treat, especially in the moving rendition of Girl From The North Country (originally from 1963's The Freewheelin' Bob Dylan), featuring a duet with the great Johnny Cash. The key to this record's charm lies is its unfussy, lived-in character. This is a million miles away from the stark dust bowl portraits of Blowin' In The Wind and A Hard Rain's A-Gonna Fall! In fact, Peaceful Easy Feeling might be the best way to describe songs like One More Night and I Threw It All Away.
---
In fact, it's almost too easy! This feels like a setup... definitely a setup. We need something weird, right away... our survival might just depend on it.
Ah yes, this fits the bill! Kinda obscure, but not really. Spirit were rising stars at the turn of the decade (Led Zeppelin even opened for them early on), generating a lot of buzz in the burgeoning rock press at the time even if they were largely forgotten by classic rock radio over the ensuing decades. That's a whole class of band right there,3 isn't it, bands that made the charts and appeared on American Bandstand or Top Of The Pops but ultimately got beveled away from mainstream consciousness by the passage of time. Such a shame! Surely oldies stations would have benefited from spicing up their rotation a little with songs like Uncle Jack and Fresh-Garbage? I suppose there's always Radio AG!
At any rate, this lot dealt in a sort of jazz-inflected art rock — shot through with a strong dose of folk and country — that was L.A. to its core. You can hear echoes of The Byrds, Love and even David Axelrod in multifaceted excursions like Mechanical World, Straight Arrow and Gramophone Man (later sampled by fellow Californian Peanut Butter Wolf!), where the band cycle through these ever-changing movements with a turn-on-a-dime precision that prefigures the rise of progressive rock. The melody of Taurus was even lifted by Jimmy Page two years later for the opening to Stairway To Heaven!
Post-techno country folk by Scottish chanteuse Dorothy Allison. Starting out in the dream pop group One Dove, she later went solo even as she continued to regularly collaborate with groups like Death In Vegas and Slam (which is how I first found out about her, incidentally, on Alien Radio's sublime Visions). Her wispy vocals were instantly recognizable no matter the context, and it was only a matter of time before I picked up her first record (and then her second, when it came out).
This was her third, coming five long years after We Are Science (my favorite thing she's done),4 and its dreamy Appalachian balladry couldn't be further from Science's electropop stylings if it had sprung directly from the grooves of Harry Smith's Anthology Of American Folk Music. I remember once hearing Andrew Weatherall compare it to Gene Clark at the time, and sure enough songs like Sunset and Quicksand seem to resurrect ghosts of the sessions for White Light and The Fantastic Expedition Of Dillard & Clark.
---
It's worth noting that this album perfectly distills the spirit of Death In Vegas' Scorpio Rising most canyon-esque moments (Help Yourself and Killing Smile) into a potent album-length statement. I really wanted to include Scorpio Rising in this list, steeped as it is in a sort of sweeping desert mythology, but like Kenneth Anger's film of the same name, it's just that little bit too preoccupied with leather/Velvets imagery to qualify for the down-home Canyon 25. Next!
The Lovin' Spoonful were the playful other to The Byrds' heavy folk rock trip, with John Sebastian's breezy tunes perfectly capturing the more wistful currents of the times. Sunshine pop, to a man. This record finds them at their absolute rootsiest, bigging up country music in Nashville Cats, perfecting their springtime folk pop in Lovin' You and Darlin' Companion, and even predicting the canyon sound in the gentle shades of Rain On The Roof and Coconut Grove (thus facilitating David Lee Roth's solo turn twenty years later!).
Another proto-canyon moment (and East Coast to boot), I nevertheless could not in good conscience exclude it. Factoring as they do into The Mamas & The Papas' origin-story showcase Creeque Alley, The Lovin' Spoonful were a crucial agent in buttoning down folk and loosening it up a little for the good times, and nowhere more than on Hums. In the reissue liner notes, R.E.M.'s resident music historian Peter Buck even names Zal Yanovsky his favorite guitarist of the 1960s. Good man!
Against all odds, The City Of Angels happened to have their very own Rolling Stones in Lowell George's outfit, a band that drunkenly ran roughshod across the canyon scene for the duration of the 1970s like they were The Clash. Outlaw bizzness in full effect! Much like The Clash, Little Feat were increasingly influenced by the sounds of New Orleans r&b as their career progressed, but their anomalous debut was a different story altogether. Riding westward on the strung-out sounds of country rock, this plays like the blueprint for Exile On Main St. and Sticky Fingers.
Rootsy rock 'n roll jams like Strawberry Flats and Snakes On Everything play like FM staples beamed in from a parallel dimension, while the gritty stomp of Forty Four Blues/How Many More Years offers up some of the dirtiest blues you could ask for. Then, Lowell turns around to tear out your heart with Willin' — featuring the exceptional slide guitar of Ry Cooder — a sparse, deeply soulful bit of country balladry. Any and all fans of "roots-era" Stones (roughly speaking 1968-1974) owe it to themselves to hear this one.
The square root of P.J. Harvey, Ellen McIlwaine comes on like a one-woman Led Zeppelin. The first side of the album (recorded live at The Bitter End in New York) largely features blues workouts showcasing her virtuoso slide-guitar work. Tunes like the breakneck Toe Hold and a cover of Up From The Skies (originally by her old pal Jimi Hendrix) make a virtue of their stripped-down arrangements, while Losing You is naught more than a slide-guitar frenzy that would make Tony McPhee proud. She even ropes in salsa legend Candido Camero on congas for Pinebo My Story.
The second side plays like an extended trip through the mountains, with the early morning balladry of Can't Find My Way Home kicking off the travelogue. Like side one's Weird Of Hermiston, it keys into the same mystical folk vibes that Zep did on tracks like That's The Way and (rather appropriately) Going To California. Then, out of nowhere comes a cover version of Kitty Wells' It Wasn't God Who Made Honky Tonk Angels, done as a straight up Nashville number heavily indebted to the great Loretta Lynn. Lord have mercy!
In which Morrison & co. reinvent themselves as a hard blues band, beating all contemporary blues-boom merchants (with the exception of Beefheart and the Groundhogs) at their own game. Heavy-hitting numbers like Waiting For The Sun and Maggie M'Gill appeal to the part of me that wants to pudge out like Marlon Brando and sort of go about town dressed in a straw hat and off-white suit, looking — as my man Snakes once put it when describing The Score to me — like I had a washing machine stashed in my shirt.
However, it's gentle reveries like Blue Sunday and Indian Summer that run parallel to what was happening in the canyon, albeit with a strong dose of sun-glazed psychedelia mixed in for good measure. Perhaps the most controversial entry here, I nevertheless find it to be of a piece with the self-titled debuts of Little Feat and Crazy Horse. In fact, to my mind these three records form a loose trilogy, embodying as they do the sound of an L.A. before the steel and glass and concrete took over. It's a reminder that beneath it all, beneath the roads and the sidewalks and the skyscrapers, one still finds the parched earth of a desert stretching westward to meet the sea.
The bad Beach Boy gets down with some tasty post-Surf's Up canyon pop action, turning in a stone cold masterpiece at a time when his band was at its lowest ebb. This is manna from heaven for fans of Wilson's idiosyncratic songwriting found on late-60s/early-70s Beach Boys records like 20/20 and Sunflower (particularly things like Slip On Through and Be With Me). Needless to say there are plenty of Wilson's trademark malfunktioning bleeps and skewed synth flourishes in evidence throughout.
Playing like a cloudy day at the beach, towering ditties like River Song and Dreamer sound just like the churning waters of the Pacific Ocean, while near-ambient works like Thoughts Of You and Farewell My Friend play with great washes of oceanic sound in such a way that would make his brother Brian proud. In fact, it's the sad-eyed other to some of The Beach Boys' absolute finest moments. As one might expect, that evocative cover speaks volumes about the raggedly soulful sounds contained within...
Randy Newman's sophomore album sidesteps the intricate orchestration of his debut to fuse his New Orleans roots with the quintessential sound of the canyon, tackled head on in a dream jam session featuring canyon stalwarts like Ry Cooder and various Byrds (Clarence White and Gene Parsons) in attendance. The stylistic détente turns out to be the perfect setting for Newman's caustic tales of various burnouts, stalkers, losers (and more!), sounding unlike anything else in the man's extensive discography.
More than any other record here, 12 Songs maintains a strong foundation in the blues. Songs like Suzanne and Lucinda conjure up a bluesy swagger festooned with Ry Cooder's deliciously atmospheric slide guitar, while Have You Seen My Baby and Mama Told Me Not To Come recall peak-era Ray Charles. There are plenty of surprises in store as well (Old Kentucky Home even offers up a sneaky bit of bluegrass), while songs like Underneath The Harlem Moon and Yellow Man are quintessential Newman.
Notoriously hard-to-impress rock critic Robert Christgau called it a perfect album, and true enough, there's not another one quite like it.
Sure, this out-of-time masterpiece may have been the Rosetta Stone of alt. country, but it manages to transcend the confines of its own scene to stand shoulder to shoulder with the classics of the genre. Everyone knows the band's revelatory re-imagining of The Velvet Underground's Sweet Jane, but also check their stunning take on Blue Moon, a reading that for my money tops even the storied Elvis Presley and Billie Holiday versions.
Factor in dark, bluesy numbers like I Don't Get It and Working On A Building (sounding like nothing so much as Spirit Of Eden-era Talk Talk), and you've got an out-of-time masterpiece that paradoxically could have only happened in the late eighties.
J.J. Cale's low slung slacker blues, in tune as it is with the canyon, remains utterly in a universe of its own. Naturally was Cale's debut, recorded on a shoestring in light of the apparent fact that everyone seemed to be covering his songs. Cale made a virtue of his meager resources, utilizing rhythm boxes and a Gaussian-blurred, lo-fi aesthetic that gives the whole affair a hazy, dreamlike quality. Songs like Crying Eyes and River Runs Deep seem to emerge naturally from the sunset sound of songbirds and crickets when you're fishing down at the creek.
I once played this album for my Dad, who was blown away by the contents but remarked how would you ever think to check out a record with that cover? To which I replied, how could I not?! True enough, the sleeve is a perfect representation of the backwoods country blues sounds found within, where Cale fashions oft-covered songs like Call Me The Breeze and After Midnight into their definitive versions.
Not my favorite Byrds record, but undeniably brilliant nonetheless. The Notorious Byrd Brothers plays like a sprawling vision of American roots music, juxtaposing state-of-the-art country rock like Wasn't Born To Follow with the lush folk pop of Carole King's Goin' Back and David Crosby's Tribal Gathering (which offers a glimpse of what he'd be up to with CSN in but a few months). Taken as a whole, it all marks this out as The Byrds' definitive proto-canyon moment.
Of course, they couldn't neglect their status as pioneering space rockers (see Fifth Dimension), with Chris Hillman turning in the peerless Natural Harmony and Roger McGuinn commemorating the Apollo 11 moon landing with Space Odyssey (both of which feature cameos by McGuinn's newly-purchased Moog synthesizer). Natural Harmony in particular sounds like something The Beta Band might have come up with at the peak of their powers.
Fusing aspects of jazz, Broadway, folk and the blues, Phoebe Snow was the quintessential New Yorker who nevertheless had a strong sonic affinity with the canyon. Her gentle urban folk — with its plush, velvet-cushioned production — is the cosmopolitan flipside to L.A.'s earthy nature boy reveries. At times, one can even hear pre-echoes of Tracy Chapman in her extraordinary no-nonsense approach to deeply personal songwriting.
Boundless in the most subtle of ways, her self-titled debut opens with Good Times, featuring unmistakable shades of The Beach Boys, before following immediately with the impossibly intimate cool jazz (that other West Coast touchstone) torch song Harpo's Blues. The hit single Poetry Man would be the perfect Laurel Canyon song if only it weren't from the wrong coast. Beyond that, all sorts of surprises are in store, including unexpected flourishes of Mellotron.
Despite earlier incursions like The Byrds's Sweetheart Of The Rodeo and The International Submarine Band (both of which were also profoundly shaped by Gram Parsons), this remains the quintessential country rock record. But set aside Gram for a moment (he gets plenty of props already). Let's talk about Chris Hillman, the Bruce Willis of the canyon, the glue in not only Burritos but also The Byrds before them, who quietly wrote killer song after killer song while his more garrulous band-mates got all the column inches.
And then of course there's "Sneaky" Pete Kleinow, the John Coltrane of steel guitar and the x-factor behind this record's atmospheric magic, paving the way for later pedal steel iconoclasts like B.J. Cole and King Sunny Adé. It's no small coincidence that it's with Kleinow departure, rather than Parsons' exit a year later, that the band's wholly unique sonic presence largely seeps out of of the music (in fact, I actually prefer the self-titled third album to Burrito Deluxe — the latter made when Gram was still kicking around). Here, they're unstoppable.
Ooh, this is a good one now: we're in the top ten with a bullet! Blissed out dream pop from L.A.'s coolest band of the nineties. Part of the reason I love the decade so much5 is that it'd routinely toss up something like this, which you'd swear was vintage but then nothing from the sixties or seventies ever sounded remotely like this. I dare you to find anything this languid and hypnotic from the peak era of canyon (but if you do, please send it my way!). You needed someone with the Gen X sensibility to make it all feel so achingly melancholic.
Take a song like Cry, Cry, with its smeared steel guitars dragging that weary rhythm along in a morphine haze — all the while Hope Sandoval cooing her lunar country couplets out into the ether — before droplets of liquid guitar rise up like fractals to meet the gorgeous chorus. Weep to the bittersweet balladry of Flowers In December and free fall downstream on the slow-motion cascade that is Roseblood, then lose yourself in Umbilical's organ-drenched black hole before Look On Down From The Bridge comes in to guide you back home.
I used to daydream hard to this record back in high school. You have no idea... I don't know what else to add, other than David Roback is a genius and Hope Sandoval may have actually been an angel.
Bleak canyon blues from The Loner himself. It would be the quintessential 70s record if only it didn't sound so much like the future. From Watergate and the OPEC oil crisis to Cielo Drive and Hollywood narcissism, its all here in black and white. Appropriately enough, three songs have the word blues in their title! Of course you'd never guess it from the relatively upbeat opener Walk On, which finds Young literally leaving his troubles behind.
Similarly, the sparse bluegrass of For The Turnstiles — featuring Young's lonely picking on a banjo — might be the coolest fuck you song ever written. Revolution Blues — a slow-burning rocker rumored to be about the Manson family — was famously played by Johnny Rotten on his Capitol Radio show with Tommy Vance (that's kind of like a gold star around here), while the title track sounds like post rock/Radiohead twenty years before the fact (unsurprisingly, they've covered it live): blank-eyed and beautiful.
From its stunning cover photo on down, On The Beach is the perfect low profile denouement to Young's self-styled ditch trilogy and one of the key records of the decade.
Lindsey Buckingham's obsessive tour de force, which manages to capture rock, country, folk, yacht and even proto-new wave within its sprawling 75 minutes. Raw and lush in all the right places, some moments even sound like a sun-baked Krautrock, with a title track that would sit comfortably on Faust IV, while the skewed country hoedown of The Ledge and That's Enough For Me negotiate roots music even as the band have one foot planted firmly on the yacht.
Of course, there's more to this record than Buckingham going wild in Mick Fleetwood's home studio (including an episode where he freaked out and cut his own hair with a pair of nail clippers!), with Stevie Nicks in particular turning in some of her most gorgeous songs: look no further than Sara and Sisters Of The Moon and swoon. I'd be willing to bet Bryan Ferry did... (see Avalon for details).
When it came time for Joni Mitchell to record her debut album, rather than recording songs that she'd previously written for other artists (as was common practice for songwriters at the time) she decided to write a whole set of entirely new material. The resulting song cycle — an oblique take on her experiences moving to the West Coast — is absolutely stunning, and remains my favorite thing she's ever done (for me, even beating out more obvious contenders like Blue and The Hissing Of Summer Lawns... but then I'm extremely abnormal).
From the opening notes of I Had A King, you can tell you're in for an adventure. Joni's restless, searching tales bear an almost medieval quality that prefigures the most bewitching corners of prog, and David Crosby's spacious production gives the alternate tunings of Mitchell's spidery guitar work an isolated, wintry atmosphere through which her soaring voice swoops and dives with unshackled abandon. The stunning sleeve art — which was actually painted by Joni herself — goes some way to describing the wonders found within.
At the dawn of the seventies, the man who wrote Eight Miles High and I'll Feel A Whole Lot Better conjured up this stone tablet of canyon folk informed by the Hank Williams tunes he treasured growing up in his native Kansas City. Filled with fragile country-inflected numbers like Because Of You and For A Spanish Guitar (a song Bob Dylan famously said he wished he'd have written), its a treasure trove of quivering, open-hearted songcraft. Songs like With Tomorrow and Where My Love Lies Asleep are impossibly tranquil ballads unparalleled on those terms by anyone else in the canyon.
The title track — the record's one truly upbeat moment — was once compared to The Velvet Underground's Sweet Jane by none other than Woebot himself, and it undoubtedly shares that song's sense of boundless freedom. Like everything on White Light, it is defined by Gene's rolling harmonica shadings and peerless country croon, both imbued with the pathos of endless longing. It's a deeply affecting sound, both soulful and searching, and timeless in every sense of the word. Even with clipped wings, this Byrd soars.
Emerging from the deepest recesses of David Geffen's West Coast empire, Essra Mohawk turns in this criminally overlooked collection of fathoms-deep piano chansons. Informed by a broad musical vision that takes in everything from folk, soul and country to baroque pop, rock 'n roll and Broadway, these songs tend to unfold in the most surprising ways, casually twisting and turning through their various movements as if it were the most natural thing in the world.
Mohawk's vocals soar throughout, sometimes over unexpectedly funky backing in tunes like Spiral and I Have Been Here Before, while Looking Forward To The Dawn — the album's gentlest moment — quietly sneaks in to conquer all. If the Laurel Canyon scene had a Charles Mingus or a Salvador Dali, that is a visionary iconoclast effacing into abstraction all preconceived notions of what is possible within their chosen idiom, then it was undoubtedly Essra Mohawk.
After early years as The Rockets and then Neil Young's backing band, L.A.'s secret weapon step out from behind The Loner to deliver this masterpiece of dirty country rock. Against all odds, they manage to transcend Young's own formidable body of work with a selection of gutsy rockers like Beggars Day and Gone Dead Train, even managing to sneak in weepy ballads like Look At All The Things and I Don't Want To Talk About It into the spaces between the spaces before breaking into full-on hoedown mode in Dance, Dance, Dance.
Essential listening for any and all roots rock aficionados (and everyone else besides), it features blazing guitar from a teenage Nils Lofgren (who joined just in time for the recording sessions) and Ry Cooder on slide guitar (he's everywhere today!). Notably, this also bears the unmistakable fingerprints of Jack Nitzsche behind the mixing desk (and piano), adding to its skewed aura of gritty outsider charm (imagine putting out The Wild Bunch while everyone else was still doing Dodge City!).
It's also the only Crazy Horse album to feature founding guitarist and ringleader Danny Whitten, whose untimely death by o.d. but a year later would inspire Neil Young's tortured The Needle And The Damage Done.
Zero gravity canyon folk from the ex-Byrd/CSN rabble-rouser. Featuring a huge cast of luminaries from both L.A. and San Francisco — including Neil Young, Joni Mitchell, Jerry Garcia, Carlos Santana and most of Jefferson Airplane — Crosby's networking pays handsome dividends in the shape of ethereal missives like Laughing and Traction In The Rain, while the low slung canyon funk of Cowboy Movie finds him telling the tale of CSN's disintegration through the western lens of The Wild Bunch.
Of all the records to spring from the CSN nexus, this remains the absolute strongest, coming on like an entire LP extrapolated from the low-slung widescreen funk of Crosby/Kantner's own immortal Wooden Ships. The pair of ethereal closing tracks — Orleans and I'd Swear There Was Somebody Here — are a particularly visionary masterstroke, evoking an oceanic Pacific endlessness as the record slows gently to its inevitable close.
The bewitching Judee Sill unfurls a spellbinding selection of delicate country folk songs that belie her rough-and-tumble past and tragic life story. Her vocals deftly weave through these great cathedrals of lush orchestration, sounding perfectly at home within them as if she were simply curling up by the fireplace... and doing so with such unforced grace that it makes you feel at home too.
Tunes like Enchanted Sky Machines and Jesus Was A Crossmaker (the latter produced by Graham Nash) have an almost Broadway-informed punch to them, while Ridge Rider and The Phantom Cowboy ply an uncomplicated country seemingly informed by the wide open spaces of Charles Ives and Aaron Copland. The peerless Lopin' Along Thru The Cosmos, meanwhile, is quite simply too beautiful for words.
Number one, and without a moment's hesitation either. Folk crooner drifts languid and bittersweet along the Pacific coastline on a jazz-kissed breeze, the largely straight up folk of his first two records transformed here into a swirling slipstream of existential proto-canyon songcraft. Sun-glazed reveries like Strange Feelin' and Buzzin' Fly are the order of the day, while the poignant Sing A Song For You harks back to the sombre corridors of his folk roots.
The real kicker is a pair of marathon tracks that combined eclipse the running time of everything else here. The sprawling Love From Room 109 At The Islander On Pacific Coast Highway is defined by Buckley's mournful reminiscence against the crashing waves of the Pacific Ocean. Conversely, the unexpected monster groove of Gypsy Woman swerves bravely toward the kosmische future, predicting not only Buckley's sensual, r&b-inflected Greetings From L.A. but also the inner space funk of Damo Suzuki-era Can (try and beat that!).
Like a lonely hawk surfing thermals high above Topanga, this isn't just canyon folk... it's the whole canyon.
Footnotes

1.

If it's raining then it's cold out, which means if you're a kid you get soaked on your walk home from school... so chances are you'll catch a cold sooner or later. Which meant that if there was a day Pops and I were both home on a weekday, it was during winter.

That's why, to this day, when I hear Cat Stevens I still feel like I'm getting a sore throat. The mind is a crazy thing... I can practically taste the Sucrets!

2.

In fact, Frank Zappa's oeuvre is practically the polar opposite of the canyon sound!

3.

Yeah, I'm talking about bands like Family, Atomic Rooster, the Groundhogs and Blue Cheer.

4.

Solo, I mean. Slam's Visions, to which here breathy vocals play an integral part, is — on the right day — my favorite song of the 21st century so far.

5.

The other great thing about the nineties is that you could listen to this back to back with trip hop, r&b and techno! It was quite a heady mix, after all, going from Among My Swan to One In A Million and Sean Deason's Razorback.