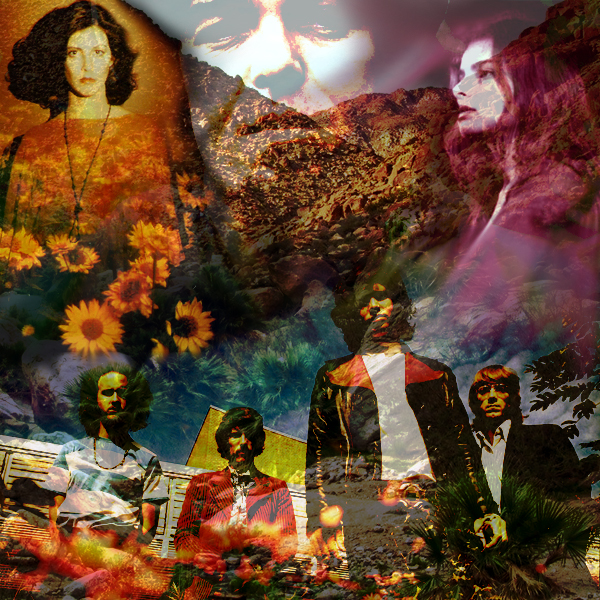 I'm forever threatening to start to leaven these monster features with more bite-sized posts and off the cuff dispatches, only to let two weeks go by before checking in with y'all. One of these days I'll have to break down and start doing just that... so consider this the first of many dispatches from the coalface. Hopefully I can keep it up!
As you might expect, I've been knee deep in loads of great canyon and canyon-adjacent music ever since diving into The Canyon 25 project, only some of which has made its way up here. Last time out, I hinted that I've got another feature in the works which will serve as an analogue to the canyon proper 25: the deep geology list, tracking the myriad routes running beneath the canyon and stretching out in all directions.
I'm not exaggerating when I tell you that one can feel this music while going about town, as if the charge were still emanating from the city's canyons and palms. Just as I'm haunted by jazz mosaic sonic imagery when I traverse Balboa Park (with the Museum Of Man bell tower keying into real David Axelrod/Song Of Innocence vibes when it rings in the late afternoon), the faint spectre of Spirit, Love and Morrison Hotel serve as a skeleton key for unlocking the desert beneath the asphalt girding this town.
I've been rocking out to Love's Four Sail, blues-era Doors (see also L.A. Woman) and especially Captain Beefheart. Yea, that's right, the good old captain. The big revelation this time 'round has been Mirror Man, a record that I'd never spent a lot of time with but very recently came out and hit me with Ark Of The Covenant, pile driver force.
This is a great record, recorded hot on the heels of The Magic Band's awesome Safe As Milk in 1967 (but held back from release until 1971), it offers a third eye vision of this band in light of that record's warped garage punk and the abstract blues of 1969's Trout Mask Replica. Consisting of four marathon blues workouts (the shortest is eight minutes long, the longest nineteen!), Mirror Man is striking in its single-minded focus on running these stomping grooves down like a well-oiled machine.
Strangely enough, the comparison that immediately springs to mind is Malcolm Mooney-era can, indeed the same pounding minimalism found in a song like Monster Movie's Yoo Doo Right is shared by tunes like Kandy Korn and 25th Century Quaker. Similarly, Tarotplane and the title track play like extended ruminations on Safe As Milk's most righteous grooves (think Electricity and Abba Zaba), making it the perfect companion piece to that classic record.
It all makes the perfect soundtrack to this early-November Indian Summer we've had going for a bit now, a mini-heatwave to tide us over as we gear up for the long winter...