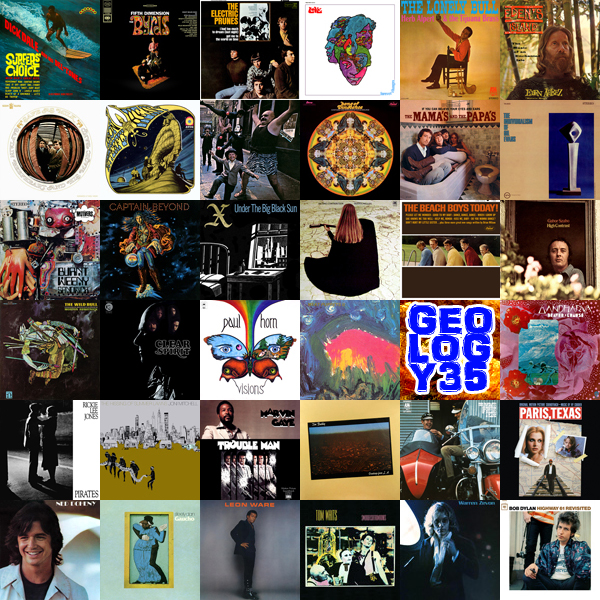 Now we go Into The Mystic as Van Morrison might say, venturing beyond the cozy climes of Laurel Canyon and assorted outposts into the realm of the metaphysical(!). That's right, now it's time for a little (psycho)geography lesson delving into the sounds beneath the sound. This is the music that lies at the fringes of canyon proper, framing the era and and putting its context in stark relief within the history books. Be it psychedelia, garage punk, yacht disco or the avant garde, this is all music that touches the records found in The Canyon 25 in some way, either in the form of trace deposits found within the music itself or as an edifice that the canyon defined itself against.
Nearly all of these records originate from L.A. (or at least Southern California), and the rare exceptions are nonetheless inexorably linked to the discussion. Many of these records represent a music and culture that the canyon scene saw itself as a respite from (psychedelia, garage punk), while others were freely acknowledged antecedents in the logical progression (folk rock, jazz, baroque pop). Some plainly represent what the canyon sound ultimately mutated into as the decade wore on (yacht) and the sounds that came in its wake (rootsy punk and alternative). Some figures from the canyon do manage to crop up in both lists, but only the ones who managed to somehow transcend the era with a combination of stylistic breadth and all-encompassing vision.
So what's the story then? As much as Tim Buckley's Happy Sad or Spirit's self-titled debut, this is all music that I can hear when I step outside every day to greet the California dawn. You can practically feel it emanating from the cracks in the pavement, embedded in the geology itself and running beneath your feet like an electric charge, through the canyons, ravines and riverbeds, stretching out in every direction: north toward the Sierra Nevada mountains and down south into Baja California, stretching east toward the vast deserts of Anza Borrego and the Mojave, and west into the Pacific Ocean. It practically haunts every corner of the landscape, a spectral reminder of days of future passed.
So let's take a look into these secret sounds, hidden like whispers beneath the rocks and soil, a chronology measured not in strata and sediment but in records and songs. Like minerals locked into the sand and stones, it all lies dormant, waiting: a spectral reminder of sound and visions sprung from the corridors of this Golden State and the lives lived within it, all through the long drawn passage of time. In the spirit of geology, we'll do this thing chronologically, starting us out at the dawn of the sixties. Yeah, I thought about beginning with cool jazz and figures like Chet Baker and Stan Getz, but that's all shadowy pre-history, and a whole other tale of its own.
When it comes to today's story, it all starts with Eden Ahbez...
A man ahead of his time, living free up in the hills above L.A. — long before the word hippie had entered common parlance (let alone become a lifestyle choice) — with his wife and son, Eden Ahbez offered up a glimpse of the coming counterculture decades before the fact. Here was a man who lived as a vegetarian, studied Eastern mysticism, communed with nature and claimed to live on only three dollars a day. Ahbez famously wrote the song Nature Boy on a scrap of paper that found its way into the hands of Nat "King" Cole, who turned it into a standard that lives on to this day.
The stunning Eden's Island is largely cut from the same cloth, giving Ahbez a whole LP as his canvas. In that sense, it's the original singer-songwriter record. The sound perched midway between exotica and a jazz-tinged precursor to The Doors' sprawling beat visions (at times Ahbez even sounds like Jim Morrison), its drifting tone poems accompany Eden's tales — told in the first person as The Wanderer — chronicling a wayward journey to the shores of an enchanted isle. The whole trip flows together brilliantly, like a head elpee before its time.
Herb Alpert's lush, Mariachi-tinged sound was defined at the outset by his immortal instrumental The Lonely Bull. Inspired by a bullfight that Alpert attended in Mexico, the song was a winning attempt to capture the atmosphere of the arena: the palpable excitement, the banda playing from the balcony and teeming crowd chants of Olé! I've always loved languid moments like Never On Sunday and A Quiet Tear, hidden delights to be found here as well. This is the sound of old California, the forests, deserts and beaches, the muted glamour and Spanish architecture captured in films like Vertigo and It's A Mad, Mad, Mad World. Accordingly, songs like The Lonely Bull and (later on) Love Potion #9 were massively successful, era-defining instrumental pop.
Perhaps the sound was too successful? For whatever reason, The Tijuana Brass never seemed to get the same critical reappraisal that other easy listening/exotica purveyors like Esquivel and Martin Denny experienced in the 90s. Critics seem to write them off somewhat, don't they? Pay no mind to the haters, I see this as an integral, instrumental antecedent to the likes of The Mamas & The Papas, Brian Wilson and The Free Design, and it gets filed as such in the Parallax Collection. Don't forget that it was Herb Alpert's trumpet sound and sumptuous production techniques that influenced Arthur Lee in crafting the windswept vistas of Love's Forever Changes.
If there was a sound that defined L.A. before The Byrds, then surely it was surf rock. Dick Dale was one of the prime auteurs of the form, splitting his time between riding waves and capturing said experience in musical form, working with Leo Fender to perfect the sound of his Stratocaster guitar. Dale's Let's Go Trippin' which is often considered the first surf rock song, closes out this solid LP of early rock 'n roll, released on Dale's own Deltone imprint. There's nothing quite as savage as contemporary single Misirlou (although Dale reprises it here as Misirlou Twist!), but songs like Surf Beat and Shake N' Stomp certainly do the trick.
Surf rock was quickly brushed aside as yesterday's news in light of the British Invasion, but one need only look at its rediscovery at the hands of cultural institutions like The Cramps and Quentin Tarantino to see that history always has the last laugh. In fact, adjacent figures like Link Wray and later Randy Holden often make me wonder what this sound might have grown into if the British Invasion had never happened1 and it were given a few more years free reign to mutate and develop in the limelight. The result? Rock is less vocal, more instrumental? Less lyrical, more grooved-out?? Less ego, more id??? Well... that or the record companies mess it all up anyway!
It may have been recorded in New York and Jersey, but this record's sprawling orchestral jazz is definitive West Coast splendor. Gil Evans arranged classic Miles Davis records like Miles Ahead and Sketches Of Spain in the wake of the L.A.-based cool jazz sound, and here he uses the big band to his full advantage in the middle of the hard bop era (with the nascent free jazz waiting in the wings). Tracks like El Toreador and The Barbara Song perfectly capture the lazy feeling of long afternoons in the summer, just as the first hints of dusk begin to creep in.
This is perhaps the key record in my running Jazz Mosaic concept, which I think I mentioned last time, its rich tapestries of sound bringing to mind the sweeping vistas and mid-century architecture stretching along the Pacific. This is the sound of strolling around the back roads of Del Mar or old La Jolla, of traversing the length of Balboa Park and stealing a moment in the shade of the Botanical Gardens. Real Jimmy Stewart in Vertigo vibes, shades too of Chinatown and The Parallax View. Records like these, once you hear them... well, you can still feel their presence in the surrounding world as you simply go about town.
When discussing L.A., there's no getting around The Beach Boys. Today! captures the band in the process of leaving the surf rock sound in earnest to focus on Brian Wilson's lonely teenage symphonies, resplendent with the very finest harmonies of the era. Arranged in classic Bowie in Berlin fashion, side one features upbeat pop magic like Do You Wanna Dance? and Help Me, Rhonda, while the entirety of side two is given over to Brian Wilson's gentle, contemplative numbers like Please Let Me Wonder and In The Back Of My Mind. So in a sense, a glimpse of Pet Sounds just around the corner.
I'm a huge fan of the atmosphere found in The Beach Boys' post-Pet Sounds records, the homespun proto-Beta Band sound of brilliantly sun-glazed records like Friends, Sunflower and Surf's Up. This the era when Dennis Wilson emerges as a key songwriter (see Pacific Ocean Blue), these often uneven records nevertheless contain a wealth of utterly unique music. Where else would you find songs like the skewed ambient pop of Feel Flows (shades of Brian Eno's vocal records), Diamond Head's low-slung stoned exotica and the clockwork r&b panache of Slip On Through all rubbing shoulders?
In fact, I was originally planning to include Sunflower (which you'll recall is actually my favorite Beach Boys moment), but ultimately decided to defer to chronology: after all, Today! is the original well that all those glorious sounds spring from.
Dylan the benchmark for singer-songwriters to this day. Inescapable. It was a toss up really between this, Bringing It All Back Home and Blonde On Blonde, but Highway 61 wins because it captures him mid-stride, approaching folk rock from the opposite direction as The Byrds' shimmering sound, with a rude, shambling garage-inflected attack defining the whole affair. As far from down-home roots music as can be, this is future shock music firmly in step with the zeitgeist.
You can't knock the raw power of Like A Rolling Stone, carried on a cloud of Al Kooper's brilliant Hammond B3 organ licks, while Tombstone Blues and the title track continue to develop the rowdy garage rock sound first essayed on Subterranean Homesick Blues. Standing in stark contrast is the closing Desolation Row, a sparse and elegant eleven minute ballad that plays like the blueprint for the sensibilities (and in some cases, the entire careers) of many key canyon players.
The first and the best. The lush arrangements and dreamy atmosphere of Deliver assured its place in The Canyon 25, but it can't match the pure pop blast of this record. The epochal Monday, Monday and California Dreamin' are masterpieces of sunshine pop, capturing the phantom Autumn atmosphere of Southern California better than anything else I can think of, while the remainder of the record is no slouch either, with traces of folk rock and Merseybeat feathered into John Phillips' baroque arrangements. Note Spanish Harlem, with its unmistakable echoes of Herb Alpert & The Tijuana Brass.
One could make the case that If You Can Believe Your Eyes And Ears is as much a response to Rubber Soul as Pet Sounds was, with the kinetic Somebody Groovy and Straight Shooter mirroring that record's proto-breakbeat pop rock rollers. Believe it or not, there was a time when I liked this lot even more than The Beach Boys (a time before I owned any of the lads' later records, in fact). Even now I suspect it's a closer call than you might think, especially if you factor in John, The Wolfking Of L.A. and Cass Elliot's solo records!
This was my original Byrds pick for The Canyon 25, but then it would have been lodged in at #1 (after all, it's only one of my favorite records of all time). Fifth Dimension is the point where — with no warning — The Byrds transform folk rock into acid-drenched West Coast psychedelia once and for all. And topping off the canyon list with the cornerstone of acid rock would have been missing the point a bit, don't you think?! However, in the context of the outsider's Geology 35, its quite simply definitive: the skeleton key in making sense of today's entire musical selection.
Everyone knows Eight Miles High (Gene Clark's parting gift to the band), the grooved-out psychedelic rocker that rides Chris Hillman's bassline like a jet engine into the abyss, but the journey continues with further acid excursions like I See You and David Crosby's What's Happening?!?! All of which betray the band's fascination with the music of both John Coltrane and Ravi Shankar, particularly felt in Roger McGuinn's stunning quicksilver solos.
Conversely, the band still finds plenty of time to perfect the folk music wherein their roots lie. The gentle pastoral drift of Wild Mountain Thyme is perhaps their finest folk ballad, rendered even more majestic by the wistful frontier orchestra that accompanies it, while the subdued folk rocker John Riley is haunted by ghostly chamber strings of its own. Meanwhile, Mr. Spaceman delves into country rock (albeit of the space cowboy variety) before just about anyone else managed to get around to it.
---
In passing, I can't help but note that the CD reissue of this album has maybe the finest bounty of bonus tracks I've ever had the pleasure to find tucked away at the end of a disc. The contemporary, non-album single Why — which essays similar precincts to I See You and What's Happening?!?! — fits in with the preeding record perfectly, while I Know My Rider is a sparkling bit of country rock that makes a perfect counterpoint to Mr. Spaceman. And I've always felt that above all else the grooved-out Psychodrama City, along with the instrumental John Riley I, should have made the final cut of the original album. Come on guys!
At any rate, taken as a whole its a stunning package, and one of the best rock CDs you could ask for.
Acid-psych garage punk, picking up where Fifth Dimension left off. I Had Too Much To Dream Last Night, which famously kicked off the Nuggets compilation, is the very definition of the form. Get Me To The World On Time, which was also included later on in the expanded four disc Nuggets box set, is similarly definitive. Both tracks representing the cresting of psychedelia 's reign in the wake of Eight Miles High and Tomorrow Never Knows, the record nevertheless does falter a little with a few missteps like the tepid ballad Onie (which, to be fair were foisted upon them by the record company).
Indeed, the Prunes seemed doomed from the start, plagued first with record company meddling on their debut, and then only getting to do their own thing on the sophomore Underground. It was a superior album experience, albeit one without a hit single, and the public had long since moved on anyway. Discontent, they hooked up with visionary L.A. producer David Axelrod, who had grand visions of merging psychedelic rock and Gregorian chant with a full orchestra in tow.
Alas, the original band members were gradually replaced by session men when they were unable to keep up with the demands of the material, and records like Mass In F. Minor and Release Of An Oath ultimately featured next to no involvement by the original band! And that as they say, was that. The music industry is a cruel mistress indeed... although we'll be returning to Axelrod shortly.
If The Electric Prunes couldn't quite make it happen, The Doors were the quintessential self-contained band in possession of a singular vision all its own. With a visionary frontman in Jim Morrison, they cut an unparalleled path through the seedy back end of the sixties, sowing the seeds for the bad vibes of the coming decade over the course of six stellar records running the gamut of moody psychedelia, dark cabaret and hard blues (often within the space of the same record) like no one before or since.
Strange Days — the second album — is their masterpiece, kicking off with the organ-smeared apocalyptic visions of the title track and not letting up until the epic eleven minute closer When The Music's Over comes crashing to an end. Jim Morrison at his Gothic peak here, although its the spectral gravity of Ray Manzarek's organ (wielded like a proto-synth) and Robbie Krieger's lunar guitars twisting and bending around John Densmore's nimble rhythms that give the Lizard King a crystal palace to haunt in the first place.
Songs like Moonlight Drive and I Can't See Your Face In My Mind embody the otherworldly atmosphere the band achieve here, which always reminds me of cruising around the deserted hills of the Heights after dark, the city spread out like a matrix of lights beneath.
Sublime orchestral pop from Arthur Lee's original crew, shot through with tinges of florid psychedelia and acid rock. In terms of the core group, Johnny Echols' guitar — as showcased in songs like A House Is Not A Motel is the crucial factor here, but part of the record's appeal is how it transcends the parameters of the typical rock band. That the complex string arrangements and distinctive Herb Alpert-flavored trumpet lines are integrated so thoroughly into the band's sound is particularly ahead-of-its-time.
I'm not sure whether I'm alone in thinking this, but Forever Changes has always struck me as a hazy, overcast record, like one of those summer days in early August where the fog never lifts. Bringing to mind a day at the windswept cliffs of Torrey Pines, scaling the rocks down to the crashing waves below. I actually touched on this record for a moment here, in my record of the month write up on Four Sail. Indeed, I do slightly (and perhaps heretically) prefer the ragged acid country sound of the mighty Four Sail, but only by a whisker.
Still, a song a song like Maybe The People Would Be The Times Or Between Clark And Hilldale — with its dueling horns and deft rhythmic flourishes, not to mention that soaring trumpet solo — is untouchable, sounding like a ray of sunlight scattered through the marine layer into a million shimmering diamonds on the surface of the ocean.
One of the figures that seemed to keep cropping up in The Canyon 25 was Ry Cooder. A strange attractor of sorts, he played on the Crazy Horse, Little Feat and Randy Newman records. Well, here's another one: he was actually in The Magic Band early on, and his signature slide guitar work is all over this tasty record, which in my humble is the greatest blues rock album of them all. This plays like a high speed chase through the Mojave desert, where incidentally the good Captain (aka Don Van Vliet) would later retreat with The Magic Band to work out the tricky compositions for their fabled Trout Mask Replica double-album (the quintessential difficult album).
This record however — while still plying an abstract form of the blues — is far more approachable, radio-ready even. With prime garage punk like Zig Zag Wanderer and Abba Zaba, the twisted blues nightmares of Electricity and Plastic Factory and even shades of San Francisco (particularly The Airplane) in Where There's Woman, this record never tires for me. I mean, even Grown So Ugly — technically the boneyard track — plays like the birth of abstract blues and the blueprint for the entire oeuvre of The Mighty Groundhogs! Beefheart's one of those figures — up there with Can, James Brown and The Beatles — that's just impossible to critique, unparalleled, leaving behind an extensive, deeply unique body of work in their wake.
---
Incidentally, Ry Cooder left the band shortly after this record, due to a disastrous performance at the Mt. Tamalpais Festival. Apparently, as the band began to tear into Electricity, Van Vliet froze, straightened his tie, then abruptly walked off the 10ft stage and landed on manager Bob Krasnow (later claiming to have seen a girl in the audience turn into a fish, with bubbles coming from her mouth),2 effectively blowing any chance for the band to perform at the upcoming Monterey Pop Festival. Now that's style!
One of the great bands to emerge from San Diego, Iron Butterfly upped the ante on hard rock with a gloomy organ-drenched sound that split the difference between Cream and Jefferson Airplane. Everyone knows their marathon In-A-Gadda-Da-Vida, which in edited-down form became a smash radio hit and propelled the record to the platinum status in the U.S. (the first record to do so, in fact). Perhaps I should have included that record instead, but I've always had a soft spot for the debut (particularly the closing instrumental Iron Butterfly Theme). Heavy indeed!
My earlier comments regarding surf rock apply here in full, with its doom-laden hard rock wailing to the heavens sounding like something from Can's Soundtracks, it's a sound almost completely devoid of ego. The stunning sleeve does seem to cement the band's image as the grandfathers of doom metal (shades of Sleep and Monster Magnet ahoy!). In the cold light of day, perhaps its not as hard-hitting as San Francisco's Blue Cheer, but a great blast of proto-metal nonetheless. I did want to include Blue Cheer as well, but only just now discovered that they were not in fact from L.A. (a misconception I've labored under for well over a decade) but were instead ragged outsiders terrorizing the Bay Area scene.
---
I'll always have a lot of love for much of the American hard rock and proto-metal — as forged by Iron Butterfly and Blue Cheer, along with things like early Blue Öyster Cult, Pentagram and Grand Funk Railroad — seemingly terminal underdogs to the big guns in the British Isles like Led Zeppelin, Black Sabbath and Deep Purple (although Grand Funk were a hugely successful proposition in their own time). There's an inherent dusty, sun-baked quality to these band's high desert sound that's turned out to be remarkably prescient in light of later stoner metal bands like Queens Of The Stone Age, Earth and The Melvins.
Ah yes, David Axelrod's triumphant return. Inspired by proto-psychedelic visionary William Blake's collection of poems and illustrations Songs Of Innocence And Experience, this LP in widescreen features a crack studio band jamming out a kaleidoscopic soundtrack to an invisible film of the mind. This is one of those records that you'd swear someone traveled back in time to make, just to impress his buddies back home in the nineties: an entire orchestra balances atop hip hop-friendly breakbeats and Carol Kaye's well-deep basslines, while guitar hero Al Kasey pumps out acid-tinged guitar solos in the foreground. The whole thing executed with a jazz-informed turn on a dime precision, it's almost too good to be true.
Axelrod followed up with two similar records (the accompanying Songs Of Experience — yeah, U2 stole that idea too a few years back! — and Earth Rot) before delivering deep jazz funk slates like The Auction and Heavy Axe in the seventies. All of this prime material for roaming around the rolling hills, canyons and Spanish architecture of Balboa Park, its sweeping sonic vistas the perfect accompaniment for stops at the Museum Of Man, Botanical Gardens and the Timkin. Just ride the skyway over the San Diego Zoo as the bell tower tolls and you'll see what I mean.
Bonus Beat:
David Axelrod's main gig was as an a&r man, arranger and super producer, working with artists like Lou Rawls, David McCallum and Cannonball Adderley, with whom he had the most long-lasting relationship over the course of something like 18 albums. Records like Accent On Africa and Soul Zodiac were ambitious outings that melded soul jazz with cutting edge production techniques, more often than not with a heavily conceptual drive. I almost included the latter — with its timely collision of hard funk and flower power psychedelia — but couldn't resist the temptation to include this stellar compilation, which is a fascinating object in its own right.
This double-disc anthology provides an invaluable snapshot of the decade-long Axelrod/Adderley partnership, pulling first rate material like Taurus, Khutsana and Tensity together into one essential package. I've always thought that Tensity predicts the mood of something like Can's Halleluwah, albeit rendered with straight jazz stylings. I'm also reminded of Adderley's contemporaneous appearance in Clint Eastwood's great slacker-thriller film Play Misty For Me, when the gang go catch Cannonball's band performing live at the Monterey Jazz Festival.
That movie — with the windswept cliffs and rustic charm of Carmel (aka KaR-a-MeL) as its background — is another prime example of today's vibe de jour captured in film. Maybe I should put together a companion movie list or something... wrap it all up into a tidy trilogy?
Los Angeles native Morton Subotnick was the crucial purveyor of West Coast electronica, turning out records like Silver Apples Of The Moon (which you might remember was featured in the Deep Space 100... although I'll forgive you if you don't) in 1967. That the year of the Summer Of Love and Sgt. Pepper's Lonely Hearts Club Band, so well before such a thing was to be expected. The Wild Bull was his follow up, featuring another pair of sidelong inner-space excursions. What sets this record apart from preceding electronic music is its almost rhythmic propulsion, in which his sequenced machines unfurl these great chirping, clanking mechanical grooves beneath long, arcing synth drones. That's bleep-tastic!
It's worth noting that this came out on the Nonesuch imprint, a sub-label of Jac Holzman's Elektra Records, the spiritual home of folk in the fifties, and later The Doors, Love and Tim Buckley. Nonesuch was originally envisioned as an outlet for budget-line classical records oriented toward the youth market, but it gradually expanded into all sorts of strange arenas including electronic music, out psychedelia and even the Nonesuch Explorer Series, featuring music recorded around the world on records like Ram Narayan's Sarangi/The Voice Of A Hundred Colors, Los Chiriguanos Of Paraguay's Guaraní Songs & Dances, and David Lewiston's Tibetan Buddhism - Tantras Of Gyütö: Mahakala.
Sublime incursion of shimmering country music from this dynamic duo of hard-partying folkies, a true meeting of the minds between Gene Clark (formerly of The Byrds) and Doug Dillard (formerly of, well, The Dillards). Another one that I very nearly included in The Canyon 25, but Sari reckoned that it crossed that invisible line into real-deal country. I suspect it hinges on Doug Dillard's bluegrass-informed mandolin picking, faithful as it is to the legacy of old-time stalwarts like Lester Flatt And Earl Scruggs, although the Eagles did later cover Train Leaves Here This Mornin' on their self-titled debut. In the context of today's rag tag crew of outsiders and iconoclasts, it fits in rather nicely.
This also standing in for the whole Bakersfield gang. I almost included Merle Haggard's I'm A Lonesome Fugitive but couldn't fit it into the schema. After all, Bakersfield is but a couple hours up the Interstate 5 from Laurel Canyon and yet worlds away. I quite like the early part of Barney Hoskyns' Hotel California, where he describes the rootsy scene surrounding the Troubadour (where Dillard & Clark held court).3 Doug Dillard started out in bluegrass group The Dillards, who I've always wanted to check out. In fact, I don't know half of what I should about this era's shadowy pre-history. Another one I want to hear is Chris Hillman's pre-Byrds bluegrass crew, The Hillmen. Maybe now is as good a time as any?
Spirit's debut was the closest any record came to making both lists, but its trace country inflections marked it out for the canyon list alongside records like The Notorious Byrd Brothers and Nashville Skyline. Still, the band made a whole brace of records that further codified their unique sound, culminating in Twelve Dreams Of Dr. Sardonicus, which is often usually the band's classic recording. However, their third album, Clear, is probably my favorite of the records to come in the wake of their debut. What's more, I remember hearing the record feted by none other than Kirk Degiorgio back in the day (this around the time of his canyon-friendly project The Beauty Room with frequent collaborator Jinadu)!
Spirit's sound is a jazz-inflected tonic that exists in that same heady slipstream as The Doors, Love and David Axelrod, all of which create these great nebulous sonic paintings that seem to reflect their Sunset Boulevard surroundings back at you through a dreamlike, kaleidoscopic lens. Do you remember those old Disney movies that merged reality with animation to surreal effect (movies like The Three Caballeros), when the artist's brush would paint a scene and then it would come to life as in the real world? Well, that's a lot like the effect these records tend to have.
Ah yes, Frank Zappa. You didn't think I'd forget old Frank, did you? Zappa's an inescapable figure when discussing L.A. scene of the era. He actually lived in Laurel Canyon and was a mover and shaker on the L.A. scene, releasing records by Captain Beefheart, Tim Buckley, Alice Cooper and Wild Man Fischer on his twin imprints, Straight and Bizarre. Still, his own music had little to do with the canyon, in fact his flowing avant garde suites seem to exist in intentionally stark opposition to the mellow drift of the times.
I've never been a huge fan of the man's music, although he does give a great interview, and I do have a handful of his records. This one's pretty cool, offering up a knotty, West Coast vision of prog rock that's the maximalist cousin to Beefheart's Lick My Decals Off, Baby. Note the presence of future Little Feat ringleader Lowell George on guitar throughout. The Little House I Used To Live In is an extended twenty-minute suite that drifts through a piano sonata, fast-forward marching band, acid rock solo, jazz fusion stomp and harpsichord breakdown over the course of its long and winding trip.
I was this close to trying squeeze this one into The Canyon 25, but it would have been pushing it, B.B. It really would have. At least that what Sari tells me, and she's usually right about these things. Still, these gently flowing bucolic jazz landscapes make a perfect counterpart to the groovier currents of the canyon. Recorded in L.A. with Bobby Womack, it is — like the great Gil e Jorge record — an excellent head-to-head guitar duel between two masters in a sympathetic setting. Like the Axelrod/Adderley link up, this is emblematic of the L.A. interchange happening between jazz, soul and rock at the time, a trend that against all odds slowly begins to be felt in the canyon itself.
The opening Breezin' was later taken into the charts by George Benson (who had a Weekend In L.A. of his own), but hearing the original for the first time is a real treat. A wistful daydream in musical form, it manages to strike the unlikely balance between the earthy and ethereal over a gently rolling soul jazz beat. The sultry Amazon follows, a shaken-not-stirred bit of sensual exotica, a soundtrack in search of a film in true Axelrod/trip hop style. Similarly, Azure Blue seems to conjure equally cinematic vibes, recalling the softest moments of soundtracks to films like Trouble Man, Superfly and The Mack about a year early.
In a particularly canyon-esque twist, the record even closes with I Remember When, a wistful country-western styled rumination that gradually builds into a subdued rave up of a sort, bringing the record's trans-continental journey all back home in an unexpectedly rootsy conclusion. Taken in its entirety, High Contrast is something like an instrumental counterpart to David Crosby's If Only I Could Remember My Name, and remains one of my favorite records to chill out to.
Beaver & Krause were synth pioneers on the L.A. circuit, turning a whole lot of people in the rock world onto synths for the first time in the mid-sixties. George Harrison recorded his Electronic Sound LP on their kit, while Roger McGuinn famously bought a Moog after witnessing the duo's demo of the instrument's potential at the Monterey Pop Festival. Krause even played it on The Byrds' awesome Natural Harmony, which is easily one of my favorite songs ever. The duo debuted on record with The Nonesuch Guide To Electronic Music, a demonstration of the possibilities of the Moog synthesizer.
I always wanted to be blown away by their subsequent records but came away somewhat disappointed once I finally tracked them down. Not as savage as Silver Apples or as otherworldly as Fifty Foot Hose, nor as radical as Morton Subotnick or as fully realized as Tonto's Expanding Head Band, their records play more like a collection of minor experiments rather than any sort of sustained experience. Still, there's interest to be found in scattered moments like the sustained drone of Nine Moons In Alaska or Walkin's lonesome ambient gospel.
However, it's the on disc's second side — which was recorded at Grace Cathedral in San Francisco — where things really click. The sleeve of the record is emblazoned with the declaration A MUSICAL SOUNDTRACK FOR A NON-EXISTENT FILM, and melancholy tone poems like By Your Grace and Good Places certainly fit the bill. Their eerie reverb-drenched organ/saxophone duets are even somewhat redolent of later practitioners like Heldon and Lard Free at their most delicate, or even Bowie's Neuköln and Vangelis' Blade Runner Blues! Shades too of ECM. In passing, I've never understood why their Ragnarök album never made it to CD...
The Scott Walker of the canyon, Shawn Phillips employs his soaring pipes over a backing of funky beats and lush chamber orchestra. Blink and you'd swear it was one of David Axelrod's chamber phantasmagorias, but is none other than Elton John's main man Paul Buckmaster conducting the orchestral arrangements. That's rad. Songs like She Was Waiting For Her Mother At The Station In Torino And You Know I Love You Baby But It's Getting Too Heavy To Laugh — in addition to beating Love out for today's longest song title by some distance — are quite powerful, their vast soundscapes gliding over furious rhythms in a striking tapestry of motion. I'm reminded of the gravity in Scott Walker's The Seventh Seal and (perhaps more abstractly) Carl Craig's Neurotic Behavior.
This is actually another one that I really wanted to include in The Canyon 25. Another one that nearly made it, but on reflection it was almost too much on the proper folk tip, staying true to the original spirit of the music Phillips often seems to intone like a herald rather than indulge in the more confessional nature of the canyon singer-songwriters. There's a strikingly ancient quality to his music as well that seems to key into the same eldritch medieval vibes that British folk groups like Fairport Convention and Steeleye Span were exploring around the same time.
Indeed, Texan Phillips never seemed to totally fit in with the canyon crowd, splitting his time in the sixties between Los Angeles, San Francisco and New York's Greenwich Village. That in 1967 he finally up and moved to the coastal village of Positano in Campania, Italy — where he stayed through most of the seventies — seems to bear this out. Thankfully, he didn't stop recording and albums like Second Contribution and later Rumplestiltskin's Resolve were the triumphant result.
Captain Beyond were a supergroup back when that sort of thing was still a hot proposition, featuring lead singer Rod Evans (of Deep Purple), drummer Bobby Caldwell (who played with Johnny Winter's band), guitarist Larry Reinhardt (aka Rhino) and bassist Lee Dorman (both of Iron Butterfly). The sound they strike up epitomizes everything I said earlier regarding the dusty, high desert sound of American proto-metal, in this case delivered with rugged hard rock shapes and turn-on-a-dime rhythmic precision. The drum sound alone is worth the price of admission on this incredibly breakbeat-laden LP, which features some of my favorite rock-hard beats of all time. Really, the drums sound just exquisite!
I especially dig Rod Evans' vocal attack, chest-beating and macho inna working class Mark Farner stylee, yet never descending into cock rock leering, he seems to have his eyes set firmly on the stars (even delivering spoken word interludes from time to time). Indeed, as hinted by the cosmic sleeve art there's a satisfying amount of space rock feathered into the proceedings, as heard in As The Moon Speaks To The Waves Of The Sea (two steps from Hawkwind) and the interstellar bolero of Myopic Void. As The Moon Speaks Return even recalls the orbital heartache of Space Oddity, and for a moment you'd swear it was Bowie himself singing lead!
Dig that sleeve! Shades of Soylent Green, Omega Man and Conquest Of The Planet Of The Apes. I bought this record for my brother when he moved to Los Angeles! Tim Buckley, like Don Van Vliet, was a visionary iconoclast that managed to transcend his L.A. surroundings and blaze a singular path through the musical landscape as the sixties bled into the 1970s. Shifting and morphing through myriad phases, first by bending the rules of their chosen form (folk in Buckley's case, blues in Beefheart's) and then breaking them completely with increasingly abstract records like Starsailor and Lorca (or the Captain's Trout Mask Replica and Decals) before swerving back into the mainstream with increasingly r&b-soaked sides, their careers almost seemed in step to an eerie degree.
Greetings From L.A. picks up where the awesome proto-kosmische monster jam Gypsy Woman left off, with tunes like Get On Top, Devil Eyes and Sweet Surrender snaking on exceptionally carnal, loose-limbed rhythms. Notably, this record came up when John Lydon — then at height of his Sex Pistols notoriety — guested on Tommy Vance's Capitol Radio show, which found the punk playing Buckley's Sweet Surrender alongside selections from Can, Peter Hammill, Nico, Bobby Byrd, Captain Beefheart and Augustus Pablo, not to mention fellow canyon dweller Neil Young's Revolution Blues. Goodbye Johnny Rotten, hello Public Image! And the rest, as they say, is history.
In 1972, Berry Gordy moved the focal point of his Motown empire from Detroit to L.A., where he hoped to break into the film industry (ultimately doing so with films like Lady Sings The Blues, Mahogany and The Wiz). Soul purists often mark this as the beginning of the end, but here at The Parallax Room we know things were just getting started. Marvin Gaye's string of lush, dreamy records like Let's Get It On, I Want You and Here, My Dear begin with this record, the soundtrack to the movie of the same name and follow up to his epochal stone tablet What's Going On.
Tellingly, the film's action takes place not in the towering vertical metropolises of Detroit, Chicago or New York, but the horizontal urban sprawl of Los Angeles. And as I'm sure Dr. Robert Neville would tell you, it makes all the difference. Gaye's utterly absorbing soundtrack offers the perfect sonic counterpoint to that film's imagery, offering lush, sprawling instrumentals drenched in synthesizers and dreamy production techniques. Sun-glazed and moonlit in all the right places, it's all of a piece.
Indeed, the record gets so atmospherically heavy that I tend to place it in the same ballpark as Brian Eno's Another Green World and Les McCann's Layers, capturing the feel of the city with the same visionary sonic touch that those records essayed the pastoral and bucolic. Appropriately enough, along with Buckley's Greetings From L.A. it's also the axis on which this list hinges, setting us up for the home stretch and the next great geological phase of the 35...
Ned Doheny seems to constantly hover in the background of Hotel California, rubbing shoulders with figures like Jackson Browne and Frazier Mohawk. He even shows up at the ill-fated Paxton Ranch endeavor, giving the clearest recollection of what was Elektra's attempt to mirror the communal spirit of The Band's fabled sessions at Big Pink. Like Gram Parsons, he was a rich kid, albeit one that seemed to treat his peers a good deal better! His own recordings wallowed somewhat in obscurity until the trusty Numero Group unexpectedly issued a compilation of his work augmented by rarities and demo versions.
If there's a figure that lies at crux upon which yacht begins to be felt in the canyon scene than it must be old Ned. His sound is a luxurious blend of gentle acoustic strumming, elegant Fender Rhodes jazz licks and nimble, funky rhythms. It's the casual sound of muted prosperity, of cruising the shoreline in a sports car, decked out in white suit and loafers, city lights hanging in the distance. A song like I Know Sorrow ought to be super well known, after all it's just like the sort of thing Christopher Cross would crash the charts with at the end of the decade. Fittingly, it's at this point that we say goodbye to the rustic climes of the canyon and venture confidently into yacht land. Goodbye canyon. Goodnight Ned!
This is another one that Kirk Degiorgio indirectly hipped me to, which I was lucky enough to find on wax up at Lou's Records back in the day. Now it even has a CD release! In the sixties, Paul Horn was responsible for the solo flute album Inside, which was actually recorded inside the Taj Mahal. Notionally, it was a jazz album, but also something of an ambient record before the fact (shades of new age waiting in the wings). Visions is more on the straight jazz funk tip, albeit inflected by the blunted stylings of Stevie Wonder's contemporary records, it has definite strains of progressive soul. In fact, the record features Horn covering Too High, Visions and Living For The City... that's a third of Innervisions right there!
More pointedly, there are loads of canyon covers in here: Crosby, Stills & Nash's Guinnevere and Long Time Gone, David Crosby's Song With No Words and Joni Mitchell's Blue and Chelsea Morning. Shearing into florid strains of exotica, it all blends brilliantly in a record that pulls together disparate strands from canyon, jazz and soul in a quintessential L.A. sun-baked geological fusion. A Jazz Mosaic record through and through, this would appeal to fans of Les McCann's Layers and Gabor Szabo's High Contrast. Also, hip hop heads take note of High Tide, which served as the basis for the track Underwater on Ghostface Killah's Fishscale!
Everyone's heard Joni Mitchell's confessional stone tablet Blue, without question one of the key canyon records, but did you know she swayed into such heavily jazz-inflected soundscapes soon afterward? Starting with Court And Spark and continuing with The Hissing Of Summer Lawns, Hejira and Don Juan's Reckless Daughter, she delved ever deeper into the form, even collaborating with Charles Mingus on her tenth album Mingus (which turned out to be his final musical project) and touring with Pat Metheny, Michael Brecker and Jaco Pastorious (captured on the live double-album Shadows And Light).
This record, which I once heard tell was Prince's favorite album of all time, is splendid. Its a deeply engrossing sound that she achieves here, her soaring voice and acoustic strums melting into pools of Rhodes and rippling piano over exquisite bass-driven rhythms, it's casually brilliant like an elegant sashay across the room. Its sound is also oddly prescient, borne out by the fact that electronic jazz figureheads like Kirk Degiorgio and Ian O'Brien were still featuring songs from these records in the mix 25 years later alongside the likes of The Black Dog, 4 Hero and Anthony Shakir and it still managed to fit right in.4
The album is by turns moving (Edith And The Kingpin and The Boho Dance), casually funky (In France They Kiss On Main Street and the title track) and, in The Jungle Line, searingly innovative. Featuring Joni singing freewheeling lines over a snatch of Burundi drumming from the Ocora field recording Musique Du Burundi and a burning synthesizer refrain, if you heard it now you'd swear it came out yesterday. Notably, that same Ocora record also turns up in Peter Weir's film The Plumber and a few years later ostensibly even inspired Adam And The Ants' monumental Kings Of The Wild Frontier!
Good old Warren he shall be Zevon, a cool dude if there ever was one. I'm not ashamed to admit that I first bought his Excitable Boy LP for the song Werewolves Of London. That's one of the great jukebox tunes ever, up there with Golden Years and Evil Ways. What really blew me away though was the proto-new wave avant funk workout Nighttime In The Switching Yard — a not-too-distant cousin to Ian Dury & The Blockheads' contemporary Hit Me With Your Rhythm Stick — which prefigured all of The Clash's Sandinista!-era punk-disco moves by a solid couple years. I recently discovered there's even an appropriately moody music video5 to go along with it!
However, the bulk of Excitable Boy consisted of gutsy songs delivered from the heart, songs like Veracruz and Accidentally Like A Martyr. All of which naturally sent me digging back in time two years for his debut. This is a great record, indeed it made both Sari's and Leah's lists. I sort of regret not including it, although I had Zevon down as an outsider, too ruff, rugged and raw for the canyon, he's almost an L.A. counterpart to the heartland rock of figures like Detroit's Bob Seger or Jersey's Bruce Springsteen. He has them all beat, of course, with indelible songs like Desperados Under The Eaves, Join Me In L.A. and I'll Sleep When I'm Dead.
I always liked the bit in the Aja film where Walter Becker talks about the band's extended stay in Los Angeles, during which he and partner in crime Donald Fagen pined for their old stomping grounds in New York and wrote exclusively about New York characters... that is, until they finally got back to New York, where they immediately started writing songs about California!6 That's Gaucho, the duo's final record until they reformed twenty years later. Steely Dan are hard for me to narrow down to one favorite record, in the past I've thought Countdown To Ecstasy, Katy Lied and this record were the one. It's a tough call.
This has the benefit of their most streamlined, yacht-ready production. Hey Nineteen is just perfect, a real mainstay of 98.1 The Breeze back in the day, flawlessly capturing that feeling of warm, breezy summer nights in Southern California, populated with images of Piña coladas, fine Columbian and fetching young ladies who've never heard of Aretha Franklin. Glamour Profession is a definitive slice of slinky yacht disco (later reworked in the nineties on dubplate by — if memory serves — Chicago house stalwart Gemini), while you couldn't ask for a better signing off moment than Third World Man, a perfect send off for the duo, like The Doors riding into the sunset with Riders On The Storm.
The beat-damaged Rickie Lee Jones was widely hailed as the next Joni Mitchell, jumping in directly at the jazz end where Joni left off. Her 1979 debut was a genuine sensation, with the hit single Chuck E.'s In Love everywhere that year and Jones taking home the Grammy for best new artist. Pirates is her difficult second album, an avant yacht masterpiece made in the wake of her break up with former flame Tom Waits (the bars those two must have closed down!). It's a true embarrassment of riches, featuring a long list of jazz luminaries — figures like David Sanborn, Steve Gadd and Chuck Rainey, not to mention Steely Dan's Donald Fagen on synthesizer — in evidence throughout.
The record is defined by the arcing balladry of We Belong Together and Living It Up, along with a fragility best exemplified in Skeletons and The Returns (not to mention in Jones' often delicate voice), although she does find time to run the jazz down once again in Woody And Dutch On The Slow Train To Peking. Still, the record's undeniable centerpiece is Traces Of The Western Slopes, eight minutes of eerie, sweeping grandeur that seem to swoop and dive through the entire range of human emotion. It's genuinely heartening to reflect that only a decade later — and there's no way she could have expected this — a sample of Jones' spoken word recollection of what the skies looked like when she was young would kick off The Orb's epochal ambient house touchstone Little Fluffy Clouds!
Smooth soul slate featuring lush backing from the cream of L.A. session players, including cameos from Rita Coolidge, Bonnie Bramlett and Bill Champlin.7 Ware was a crucial force in establishing the sumptuous MoWest sound, not least through his substantial songwriting contributions to Marvin Gaye's I Want You in 1976 (when Gaye was suffering from a severe case of writer's block). Indeed, his own Musical Massage LP (released later that year), played like a continuation of I Want You's themes and obsessions, speaking to the deep well of material he'd dreamt up by that point.
This 1982 outing is indubitably his yacht record, featuring slick, smoldering post-disco workouts like Lost In Love With You and Can I Touch You There alongside trademark slow jams like Shelter and Deeper Than Love. The inescapable highlight, however, is Why I Came To California, an unassuming bit of burning mid-tempo gossamer disco that seems to glide by on a cushion of ocean mist. A flawless portrait of Southern California at its most mellow and carefree, it never fails to blow away everyone I play it for.
X were L.A. punks who in a strange twist of fate wound up having their first trio of records produced by Doors keyboard maestro Ray Manzarek. Sure enough, the shadowy vibes of his old band's work are increasingly felt over the course of the trilogy, starting with Los Angeles — a more or less straight punk blast — and culminating in the grand finale of dark Americana that is Under The Big Black Sun. In this respect, X were similar to other rootsy punks like The Gun Club in digging beyond punk's original calls for tabula rasa into the seedy prehistoric world of rockabilly, country and down and dirty blues.
Like The Cramps, this all keys directly back into surf rock and forward to Tarantino, in a sense signaling the spiritual birth of the nineties — all about excavation transmuted into innovation — alongside the works of Cybotron, Larry Heard and Grandmaster Flash. There's loads of L.A. punk that I could have included here as well — things like the Germs, Black Flag and even the Repo Man soundtrack — but this one has by far the strongest links with today's discussion, stretching all the way back to Dick Dale, Morrison Hotel and The Electric Prunes. Plus, it's a killer record!
Tom Waits was something like the gutter poet laureate of the canyon scene, busking his songs and prefiguring the sort of cloaked, rumpled anti-glamour that the great Mickey Rourke turned into an art form in the 1980s. He put out a sequence of great booze-soaked, beatnik crooner records over the course of the seventies — albums like Closing Time, Small Change and The Heart Of Saturday Night — and the Eagles even covered Ol' 55 (taken from his debut) on their On The Border LP.
The eighties saw Waits experience a drastic reinvention on par with David Bowie's in Berlin or Sly Stone's in the early 1970s, ditching his dive bar piano man aura for the seedy back alleys of the underworld, first with Heartattack And Vine and then perfecting it with his underground trilogy of Swordfishtrombones, Rain Dogs and Frank's Wild Years. They're all about equally great, but Swordfishtrombones was the great unveiling and therefore the logical choice for this chronology. Waits' clanking, mechanical sound hits you headfirst with the opening, scene-setting Underground and continues in 16 Shells From A Thirty-Ought-Six, both of which feature Waits sounding like a wolf-man barking at the moon.
Songs like Shore Leave are shot through with a strange sort of bleached-bone hoodoo, its eerie marimbas and dive-bombing horns haunting the shadows around Waits' spoken asides and hoarse vagabond croon. Interesting to note that it was one of the few sounds critics could reach back to compare Tricky's music to when he emerged with records like Maxinquaye, Nearly God and Angels With Dirty Faces! Still, Waits manages to revisit the spirit of his trademark weepy ballads of old with Johnsburg, Illinois and the Salvation Army blues of In The Neighborhood, tugging at your heartstrings even as he dragged you back into his nightmare.
---
Tangentially, I've always thought you could make a strong case for Waits' underground trilogy as the L.A. analog to Bowie's legendary Berlin trilogy and Peter Gabriel's first three records. All three instances featuring drastic reinventions of idiosyncratic artists in the wake of prior success (Bowie's Ziggy Stardust years and Gabriel's tenure with Genesis), featuring experimentation with sound itself to a greater degree than anything they'd previously been associated. Also bringing to mind Scott Weiland's superb solo debut 12 Bar Blues, the restless experiments of which I've often thought are often cut from a similar cloth.
Hitting hard on SST and standing in for the rest of the alternative brigades8 are the Meat Puppets with their second album and its genre-warping collision of hardcore punk and country-western. Endlessly feted by Kurt Cobain, Nirvana's MTV Unplugged In New York even featured two songs from this record Plateau and Lake Of Fire, cementing its place as an alternative touchstone even in the wider world beyond indie rock. I hear it as an unspoken renegotiation of the twin debuts of Crazy Horse and Little Feat, its ragged shapes executed with near-telepathic interplay.
The Puppets originally hailed from Phoenix, Arizona, ultimately signing with Black Flag ringleader Greg Ginn's independent bastion SST at the behest of Joe Carducci. Their freewheeling, rambling sound reflects the sprawling, wide-open spaces of their high desert origins, with We're Here, Aurora Borealis and I'm A Mindless Idiot swerving almost unexpectedly into a a shimmering cascade of guitar arpeggios and approaching my oft-stated daydream of a Can-like, kosmische sound borne from the deserts of the southwest.
Ry Cooder's crystalline ambient blues. I always hoped to find a similar atmosphere in his seventies records, but from what I've heard so far they tend to be more on the traditionalist tip (not that there's anything wrong with that!). This from the soundtrack to the Wim Wenders film, starring Harry Dean Stanton and the relatively attractive Nastassja Kinski,9 its sprawling atmospheric shapes the perfect counterpart to the film's rambling desert travelogue. I just recently watched another movie from this era that Ry Cooder also scored, Johnny Handsome (starring Mickey Rourke and Morgan Freeman), and it's similarly evocative stuff, though nowhere near as affecting.
The opening theme bears a strong sense of portent, with Cooder bending notes out toward the horizon, lost in a sea of reverb reflecting the lonesome sprawl of the desert. The lone track to feature singing is the Mexican folk song Canción Mixteca, sung by none other than Harry Dean Stanton. His memorable extended monologue from the film is also included in I Knew These People, which features one of my favorite offhand bits of dialogue from any movie: when Nastassja Kinski's Jane says matter-of-factly Yep, I know that feelin'.10 The remainder of the record is purely instrumental, Ry Cooder's lonely six-string elegies tuned to the winds of the desert itself.11
---
This soundtrack plays like a fitting elegy to the canyon sound and the roots it harked back to, right there in the digital glare of 1985, arguably the year that the bottom fell out of new wave and back-to-the-roots music started to come back into favor in a big way. I'm talking about the rise of alternative in the popular consciousness, figures like R.E.M. and The Smiths (prefiguring Nirvana, Pearl Jam and Soundgarden's eventual crashing of the mainstream party), not to mention U2's sudden fascination with Americana on The Joshua Tree and Rattle And Hum.12 Minneapolis' Replacements could even be read as a ramshackle, underground analog to heartland rockers like Tom Petty, John Mellencamp and Bruce Springsteen.
It's at this point that the next wave of artists begin to rise, figures who actually made the original canyon lists the first time around like The Cowboy Junkies, Mazzy Star and Tracy Chapman. This music, increasingly felt as a presence as you move into the nineties, sits quite comfortably in the mix beside things like Homecoming, Nashville Skyline and If Only I Could Remember My Name. Alternative rockers like Dinosaur Jr. and The Jesus & Mary Chain even mellowed out into canyoneqsque territory as the decade progresses, paving the way for groups like Wilco and Built To Spill alongside a whole new generation of singer-songwriters.
Even certain quarters of electronic music took a left turn into the canyon, with the folktronica of Beth Orton, Dot Allison and Badly Drawn Boy conjuring up Memories Of Green in the wake of rave's long hangover, squaring the circle between Carole King and Morton Subotnick. Big beat block-rockers like The Chemical Brothers keyed into similar terrain with songs like Where Do I Begin and Asleep From Day (featuring vocals from Beth Orton and Mazzy Star's Hope Sandoval, respectively), while Death In Vegas even transformed into a canyonesque proposition with Scorpio Rising (there's Hope Sandoval again, Dot Allison too).13 And with present day figures like Joanna Newsom, Dawes and Michael Nau all mining seams stretching outward from the canyon to varying degrees, its safe to say the Laurel Canyon vibes might well be here to stay.
It's a testament to the way these sounds live on in the rocks, rivers and trees, spreading out far and wide across the mountains, forests, beaches and desert plains of California and beyond, haunting the imagination long since the Geist has seemingly passed them by. And so if you step out your front door and into the bosom of the night, you can still feel their whispers around you on the cool of the evening breeze...
Footnotes

1.

Don't get me wrong, I dig The Beatles. Honest!!

2.

French, John. Beefheart: Through The Eyes Of Magic. London: Proper, 2013. 253. Print.

3.

Hoskyns, Barney. Hotel California. New Jersey: John Wiley & Sons, 2006. 75-76. Print.

4.

Along with the old Op-ART Hall Of Fame list, I used to study those sets. STUDY them! It was my introduction to the notion that the right records from the past could sound more futuristic than swathes of brand new music on the radio. Even when I was young though, something's newness never meant much to me vs. its freshness, if you get my meaning. Some music is already stale the day it first drops!

5.

Warren Zevon. Nighttime In The Switching Yard. Excitable Boy. Rock Arena. Columbia, 1989. Music Video.

6.

Classic Albums: Steely Dan - Aja. Eagle Vision, 1989. Documentary.

7.

Not to mention a cadre of players representing the South American contingent, including Brazil's Flora Purim and Airto Moreiro, along with Argentine sax man Gato Barbieri.

8.

I could have included the Minutemen's Double Nickels On The Dime, a quintessential L.A. record if there ever was one, but their diamond-edged post punk attack seemed to stray a bit too far from the brief... after all Van Halen and War didn't make it in here either!!

9.

Nah, I mean she's just stunningly, preposterously and unfairly gorgeous in this film.

10.

Which later gets sampled at the end of Primal Scream's I'm Coming Down, from their born again post-rave masterpiece Screamadelica.

11.

Cooder, Ry. From Buena Vista To Gospel And Blues. BBC Radio 4: Best Of Today, 10 May 2018. Interview.

12.

A move that — interestingly enough — was inspired in part by the soundtrack to Paris, Texas.

13.

Scorpio Rising even features an ace cover of Gene Clark's So You Say You Lost Your Baby, featuring vocals from Paul Weller.