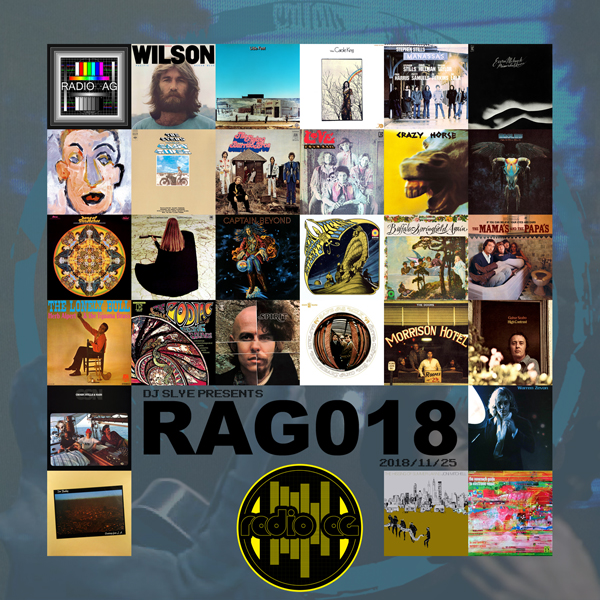 Knee deep in the canyon, we pick up where we left off four years ago with the Autumn 2018 episode of Radio AG for your listening pleasure. Kicking off with a slew of rock hard canyon breaks, we shift gears from country rock into baroque pop and then bluesy rock 'n roll, ultimately hitting the homestretch checking into the marina for departure... strap yourselves in for an excursion into L.A.'s desert origins.
Listen Now
The Parallax Sound Lab

Radio AG Intro

Greetings from San Diego...

Dennis Wilson

Dreamer

Caribou

From the bad Brother's solo debut, Pacific Ocean Blue, which negotiates The Beach Boys' sunshine pop in the overcast haze of late 1970s malaise. Dig the no-nonsense wall of pressure in that downbeat riverboat groove, not to mention the mile-high horn section in the towering chorus.

Little Feat

Strawberry Flats

Warner Bros.

Raw roots rock from Lowell George's band of L.A. outlaws, Little Feat's debut is completely indispensable, packed with indelible tune after tune in a stunning eleven song sequence. Like much of the record, this is driven by the heavy, low-slung breakbeats of Richie Hayward, complemented here by the brilliant piano lines of Bill Payne. The Clash in denim.

Carole King

Sweet Sweetheart

Ode

From King's oft-overlooked debut album, which exists in the shadow of her sophomore smash Tapestry. Lacking the trademark lush production that Lou Adler would later lend to that record (along which most of those on his Ode imprint), this was produced instead John Fischbach, with rougher edges than elsewhere but the added bonus of rock hard beats in the driver's seat. Shades of Stax/Volt may be felt between the lines.

Stephen Stills

Rock & Roll Crazies/Cuban Bluegrass

Atlantic

More hip hop-ready canyon breaks, this time from Dallas Taylor on the Stephen Stills-helmed Manassas project, a canyon supergroup of sorts also including bassist extraordinaire Chris Hillman. Casually funky inna Wooden Ships/Cowboy Movie stylee, there's definite traces of Stills' love for Caribbean music in the extended bridge. A great record, Manassas.

Essra Mohawk

Spiral

Reprise

I'd always figured Mohawk's loosely funky 1975 self-titled album was my pick, but the multifaceted vision of Primordial Lovers crept up on me in a big way over the last year, plowing as it does a deeper furrow. The almost ESP Disk-style ramshackle folk/funk pile up of Spiral even presages the later album, while also harking back to Erica Pomerance's mind-blowing You Used To Think.

Bob Dylan

Quinn The Eskimo

The Mighty Quinn

Columbia

More funky canyon breaks, from Dylan himself this time, while in the thick of his country rock phase. Taken from the oft-maligned Self Portrait, which is actually a true grab bag of delights in the tradition of The Basement Tapes. The Mighty Quinn was later covered by Manfred Mann to great effect, however its the ridiculous, ramshackle charm of Dylan's original that remains closest to my heart.

The Byrds

Fido

Columbia

This genial country rock tune, with its casually funky groove and rolling percussion breakdown, spun me 'round the first time I heard it. I just wasn't expecting this sort of magic in the band's late period albums — but like The Beach Boys' contemporary records — they're littered with them (see also Bad Night At The Whiskey and Lover Of The Bayou)! Taken from Ballad Of Easy Rider, the second album by The Mk. II Byrds, this features the lead vocals of John York (who also wrote the tune). One for the dog lovers out there.

The Flying Burrito Bros

Hot Burrito #2

A&M

Peerless country rock from Gram's gang. Always loved this one's melding of sweet piano-led sentiment and fuzzed up frenzy, culminating in heavy organ and Parsons' exasperated cry of Jesus Christ! in the chorus. The chord progression that accompanies the So it goes bridge is simply magical. This tune exemplary of The Bros visionary fusion of soul and country, also seen in the band's choice of covers (Do Right Woman and Dark End Of The Street).

Love

Singing Cowboy

Elektra

Sublime acid-fried country from the second incarnation of Arthur Lee's Love, also known as garage era-Love (so named by me — just now — for the fact that the sessions were recorded in an abandoned warehouse). Dig the track's galloping (there's no other way to put it) cinematic thrust, riding roughshod over its rambling verse with a churning chorus and quintessentially Love-style bridge. Exiting just before the extended coda, and fading into...

Crazy Horse

Beggars Day

Reprise

'Nuff dread, Beggars Day seems to exist as pure pressure, bearing down on the listener with its diamond-hard attack. When that savage organs enters the fray in the chorus, the effect is massive. Like Little Feat, Crazy Horse's debut is indispensable, dragging country rock down into the depths of the subconscious with the ragged glory that one would expect from the crew that Neil Young turned to whenever he really wanted to rock out.

Eagles

Too Many Hands

Asylum

Rolling, filmic country rock — with killer apocalyptic harmonies in the climax — from this band of canyon desperadoes, and one of the biggest bands of the era. That this song is almost obscure (or as obscure as an Eagles song can be, not making either of the band's Greatest Hits) is surprising. I'd never heard this song before picking up the album, and it just might be my favorite thing by the band. Why isn't this on classic rock radio?! Certainly beats that Life In The Fast Lane nonsense!!

David Axelrod

The Smile

Capitol

Impossibly lush baroque-jazz-psychedelic magic from David Axelrod's debut, with its towering chamber orchestra stylings balanced atop the funky framework of Carol Kaye's basslines and Earl Palmer's breakbeats. The original soundtrack in search of a film, this almost seems made with the nineties in mind (see also Marvin Gaye's Trouble Man OST). That the Rolling Stone hated it is an added bonus!

Shawn Phillips

Lookin' Up Lookin' Down

A&M

Mini-epic movement from right smack in the middle of Shawn Phillips' Second Contribution, a flowing suite of orchestral progressive folk. Lookin' Up Lookin' Down echoes the record's central melodic motif, outlined from the beginning, in a subdued, downbeat setting that gradually builds to a slow-motion crescendo adorned by Phillips' arcing falsetto to breathtaking effect. I'd venture that fans of Scott Walker would dig this.

Captain Beyond

Raging River Of Fear

Capricorn

West Coast metal in full effect! Shades of space rock too, in a high desert stylee. That crunchy riff, rock-hard beats and rolling bassline hit you like a kick in the chest, nimble to a level you'd hardly expect from such hard rocking music.

Iron Butterfly

Iron Butterfly Theme

ATCO

The flipside of the coin, Iron Butterfly's sludgy dirge Iron Butterfly Theme drags its tail across the desert sand like a dejected brontosaurus. This is stoner metal avant la lettre, its searing guitars crying to the heavens as sub-Doors organ runs and a throbbing bassline barely propels it all forward. You wouldn't like it...

Buffalo Springfield

Everydays

ATCO

L.A.'s other great folk rock institution gets down with some tasty lounge lizard action on their sophomore album, Buffalo Springfield Again. In many ways Neil Young's album (as George Harrison is to Revolver), featuring songs like Expecting To Fly and Broken Arrow, Everydays — a quintessential Stephen Stills moment — is nevertheless a highlight of the record.

The Mamas & The Papas

Got A Feelin'

Dunhill

Sublimely baroque folk pop from the canyon's first family, this ethereal ballad off the debut presages the lush turn the band later would take on Deliver. Gorgeously understated, with a languid, hypnotic sway, this is every bit the equal of the record's more famous moments like Monday Monday and California Dreamin'.

Herb Alpert & The Tijuana Brass

The Lonely Bull

El Solo Toro

A&M

Driving the point home with my whole Mamas/Tijuana Brass equations (illustrated most explicitly on Boys & Girls Together) with this laidback instrumental from Herb Alpert's debut LP. Self-released on his own A&M imprint, The Lonely Bull was the record that launched his empire in the first place. Squint and you'll find shades of Morricone tucked away in there...

The Zodiac

Taurus - The Voluptuary

Elektra

I've already gone on about this record in detail, and now you get to hear a little bit of it. Taurus - The Voluptuary represents the record at its most dreamlike and mellow. I'm only sorry that I couldn't include more of the track, with its eerie mood and spectral textures. Still, it's more than enough to set up Spirit for the lay up.

Spirit

Gramophone Man

Ode

After all, there's only one Spirit. This is choice material from their debut, its verses the very definition of languid even as they build to the exquisitely britpoppy chorus (see also Uncle Jack). Later sampled by Peanut Butter Wolf to great effect on My Vinyl Weighs A Ton, one of those great moments of trans-Californian continuity.

Captain Beefheart & His Magic Band

Where There's Woman

Buddah

Beefheart's debut album at its most overcast and foreboding (alongside Autumn's Child), I often think this bears more than a passing resemblance to the doom-laden atmosphere often conjured by Jefferson Airplane. Of course the track's rolling tom tom chorus is pure abstract blues, and just the sort of thing you'd expect from the good Captain.

The Doors

Ship Of Fools

Elektra

This has long been one of my favorite Doors moments, sounding like little else around. Superb contrast between the bouncy verses and the moody modal jazz shapes of the bridge, linking the band's dusty late-period blues material to their earlier Gothic psychedelia. It's also an invaluable conduit between peak-era psychedelia and 70s jazz fission as exemplified by Miles Davis and Herbie Hancock, which brings us to...

Gabor Szabo

Amazon

Blue Thumb

Signaling our arrival into marina territory, Gabor Szabo and Bobby Womack play dueling guitars over a sensually smooth proto-jazz funk rhythm. This is the greatest exotica track that never gets mentioned when discussing exotica (images of James Bond poolside spring to mind). You can't knock the effortless panache on display here.

Crosby, Stills & Nash

Dark Star

Atlantic

Overcast yacht disco from the canyon's golden trio (after all, they're actually on a yacht on the record's sleeve). I've always noted (perhaps hallucinated) virtual links with Bowie's The Secret Life Of Arabia and Franz Ferdinand's Outsiders, that same sense of ghost ships running down the horizon. That there are great, compact harmonies almost goes without saying...

Warren Zevon

Join Me In L.A.

Asylum

Understated monster groove from Zevon's debut, this is the square root of Nighttime In The Switching Yard (not to mention Ian Dury, Chris Rea and Sandinista!. Night drive music. The half-lit, neon-tinged mood here remarkably evocative, shearing as it does into weary-eyed 3 a.m. disco in the coda.

Tim Buckley

Sweet Surrender

Warner Bros.

The track John Lydon played on Capitol Radio back in 1977 on Tommy Vance's show. Its leisurely, snaking rhythm perfectly continuing the mood of the Zevon track, this song's erotic canyon sway lies directly in the kosmische drift of Buckley's Gypsy Woman, to which it's a more than worthy follow up. The spectral strings a particularly winning touch.

Joni Mitchell

Edith And The Kingpin

Asylum

From The Hissing Of Summer Lawns, Joni Mitchell's 1975 jazz-tinged paradise. I'm a huge fan of this era of the woman's music, there's so much to explore and get lost in. As I've said before, this goes down a treat with turn-of-the-century tech jazz and r&b (errant glimpses too of Stereolab). Edith And The Kingpin strangely (and effortlessly) moving.

Beaver & Krause

Peace Three

Recap

Nonesuch

I was originally planning to sign off with Gandharva's Good Places, but switched to this blissful fragment of 1968 electronica at the last minute. Part of the reason I was initially disappointed with this duo's later work is that this sounds exactly like Boards Of Canada's Music Has The Right To Children about thirty years ahead of schedule.

Fragile and divine, it's a fitting end to our little desert journey...
Credits
Edits: Slye.
Time stretching: Slye and Nautilus Jones.
Vibes: Boz Scaggs, Greetings From L.A., Canned Heat, Fifth Dimension, Don Van Vliet, Palm Desert, Merle Haggard, The Omega Man, Kirk Degiorgio, The Soft Parade, Steely Dan, Fiona Apple, Whatever Happened To Benny Santini?, Assault On Precinct 13, The Electric Prunes, MoWest, Jimi Tenor, The Island At The Top Of The World, Ian O'Brien, River Blindness, Janet Jackson, Wavelength, Public Image Ltd.
Note: Radio AG interstitials accompanied by recurring samples from Beaver & Krause's The Nonesuch Guide To Electronic Music.