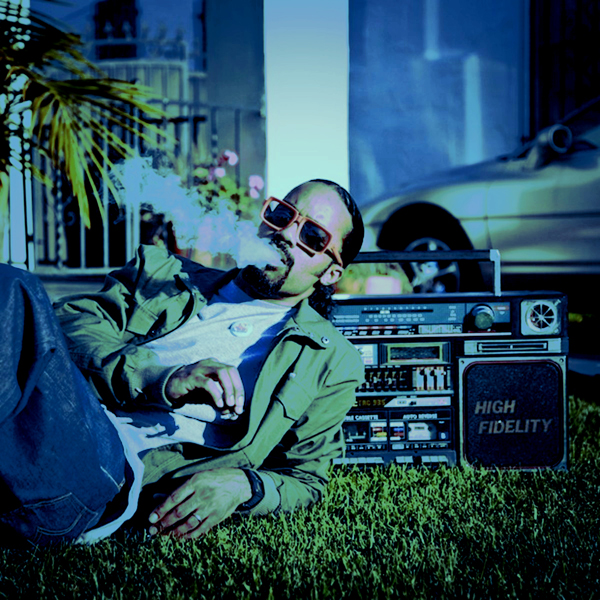 I'm in Texas this weekend, which is strangely enough an ideal time and place to talk about the machine soul exploits of one Damon Riddick, aka Dâm-Funk. Ideal because of that Houston connection — UGK, DJ Screw, E.S.G., Fat Pat et. al. — and its strange affinity with L.A.'s sprawling funk. Those low-slung horizontal soundscapes, zero-gravity funk on an endless horizon, a sound that seemed to have a reciprocal impact on L.A.'s g-funk just as N.W.A. had earlier on the Geto Boys between the release of Making Trouble and Grip It! On That Other Level. It's just another example of your classic cross-country exchange of ideas, moods and grooves, a meeting of the minds that has the added benefit of becoming a multiplier of sorts for all parties involved.
As much as the central L.A.-Egyptian Lover/Ronnie Hudson thread of post-Zapp machine funk, Texas always seems to be lurking there just beneath the surface (see The D.O.C., Snoop Dogg, etc.), spiking the drink with a a heady dose of sun-glazed psychedelia. It's the sort of thing you wouldn't necessarily notice at first glance, but look at it long enough and eventually the pieces come together, like a magic eye painting it gradually all becomes clear. Alongside the twisted world dreamed up by George Clinton's P-Funk empire and Public Enemy's hard-edged Bomb Squad soundscapes, it's all part of the cocktail that came together to mutate L.A.'s sound toward the streamlined g-funk of The Chronic (as outlined here).
The g-funk sound reached its overcast, burnished apogee with Warren G's Regulate... G Funk Era, a record that seemed to get at the heart of g-funk's smooth flight of fancy from the grittiness of Efil4zaggin toward the sound and imagery previously essayed by jazz refugees like Roy Ayers, Norman Connors and Lenny White, delving as they did into a jazz/funk/boogie interzone that was sun-glazed and moon-lit in equal measure. See the oft-quoted (with outsized incredulity) Michael McDonald samples in Regulate, although it all becomes less improbable with context (James Ingram, Steely Dan, et. al.).
Just like I'm always talking about SA-RA before SA-RA records, I've got my mini-pantheon of proto-Dâm-Funk outings. As much as L.A.'s preceding records, I hear a lot of Bay Area rap like Too $hort, E-40, Ant Banks in his music as well. However, the big one for me is JT The Bigga Figga's awesome 1995 album Dwellin' In Tha Labb, which prefigures that same neon-lit vector geometry, its sound like a long, free-flowing superhighway stretching along the Pacific coast with the sunset looming on the horizon. It's the sound of the great Trans-Californian highway, cutting a slow-burn path through its center — between the mountains rising to the east and the ocean waves rolling in the west — palm trees and pines swaying in the breeze to the rhythm of the music.
Which brings us to the man of the hour, Dâm-Funk. I remember hearing the first rumblings of Riddick's rise about a decade ago with things like the Rhythm Trax Vol. 4 mini-album and the Burgundy City EP. It was all so casually unassuming that I never could have imagined the heights it would all lead to. These records cropped up on the newly reinvigorated Stones Throw — recently given a new lease on life thanks in large part to J Dilla's epochal swan song Donuts — just as it was branching out from underground hip hop roots and stepping into its next chapter as a multi-faceted powerhouse. Riddick himself was something of an enigma, a figure swathed in mystery in the finest Detroit tradition. When it came to facts on the ground, it was largely a matter of rumor and conjecture... word was that he'd been a behind-the-scenes figure on various g-funk records back in the day, building up a cache of his own idiosyncratic beats over the years.
This era's music later manifested in the Adolescent Funk archival collection, featuring a bunch of music dating back to the late-80s/early-90s fulcrum-between-eras, from the prime new wave pop of It's My Life! to the post-Sign "O" The Times machine funk of Sexy Lady, and even the florid proto-techno of I Love Life and When I'm With U I Think Of Her's rubberband deep house inna half-lit Nu Groove-stylee. In other words, even way back when, his sound was already fully formed, his vision laid out on a series of bedroom-taped audio cassettes.
Do U Feel Like I Feel? already sounds just like the sort of thing that would later define his 5xLP masterwork, Toeachizown. Maybe less-polished, less-widescreen, the unabashedly youthful vocals in particular betraying a winning amateurism, but all the elements are there in a gloriously lo-fi, nimble and skeletal funk (see also Raindrops and Attitude, with their Hashim/Primrose Path-esque slap bass grooves). It's so evocative of a very particular place and time — an era and locale when I first really became aware of a lot of this music (a lifelong affinity forged) — that it may as well come housed in a DeLorean.
The man made his big splash with Toeachizown right there at the end of the decade, with the awesome 5xLP extended excursion Toeachizown. The record was a well-deep rumination on everything from Mtume and Kleeer to Prince and DJ Quik to Larry Heard and Juan Atkins, enshrining the whole interzone between boogie, g-funk, r&b, deep house and techno (what I've loosely termed machine soul) into a sprawling nocturnal wonderland laid out beneath a neon glow. In many ways, it's comparable to records like The Rolling Stones' Exile On Main St. and Led Zeppelin's Physical Graffiti, which — coming from the rock world — enshrined a mythic vision of roots-inflected rock 'n roll within towering slabs of gatefold glory.
Running parallel to — and likely springing from — his strange brew roots-n-future cocktail, Riddick has also had a strong propensity to work with various figures that have been influential or important to him. I believe the first instance came with his stellar production for Slave's Steve Arrington on the Goin' Hard EP, a three-song venture (with vocal versions on one side mirrored by their instrumentals on the other) that culminated in the Higher LP (jointly credited this time to Steve Arrington & Dâm-Funk. I still remember the week it came out: I was up in L.A. for the weekend on a record-buying jaunt with Pops, at the Poo-Bah record shop up in Pasadena, only to be confronted with this stunning slab of wax hanging on the wall.
On discussing it with the owner, it turned out that not only had Riddick once worked in this very shop back in the day, he'd even featured it in a cameo in the music video for Hood Pass Intact when he gives the owner handshake and a pound over the counter! A great shop, Poo-Bah, with a welcome focus on the boogie/funk/r&b side of things. There were even stacks of bargain records in the anteroom, where I came upon a cache of old Inner City 12"s! At any rate, further collaborations came with fellow travelers like Nite Jewel (as Nite-Funk) and Snoop Dogg (on the 7 Days Of Funk record) over the next few years.
I was lucky enough to catch Mr. Funk live at The Casbah on the date of release for what remains his latest LP, Invite The Light. The album followed on the heels of the Steve Arrington collaborations with further links made into the realm of classic, no-nonsense electro-funk. Featuring figures like Junie Morrison, Leon Sylvers III (and IV!) and Jody Watley, you also get MCs like Q-Tip, Snoop Dogg thrown into the bargain, not to mention frequent collaborators Nite Jewel and Computer Jay, and even fellow Angelenos like lo-fi wizard Ariel Pink and The Red Hot Chili Peppers' bassist extraordinaire Flea! The record found him branching out from the atmospheric, largely instrumental debut in a brave attempt to throw the biggest intergalactic party of the year on wax in classic P-Funk tradition.
And then he came out of nowhere with an entry in Studio !K7's beloved DJ-Kicks series, immediately following the outing from another Parallax hero, Moodymann! Not since the golden years of Terranova and Smith & Mighty has there been such a concentration of figures close to my heart to be found back to back within the halls of the series. With a vision spanning from the peak-era West Coast electro of Uncle Jamm's Army to Chicago house maven Gemini's deep house slates, it merged a whole raft of hard-to-find vintage boogie with the ambient drift of Gaussian Curve's Broken Clouds and a few modern tracks (by himself and fellow travelers) in an understated tour-de-force of back-to-the-future machine boogie.
---
Alongside more recent 12"s like the EKKAH collaboration and the Architecture EPs, its just another reminder that Dâm-Funk is one of modern music's most solid, indefatigable institutions. In the aftermath of SA-RA's apparent dissolution nearly ten years ago (we've all wept!), he's carried the torch for vibed-out machine soul well into this following decade with a style all his own. After all, it's a 21st century, Back To The Future, wormhole-in-time kinda thang. Detroit may have the great Kenny Dixon Jr., but on the West Coast we've got Dâm-Funk... and thank goodness for that.