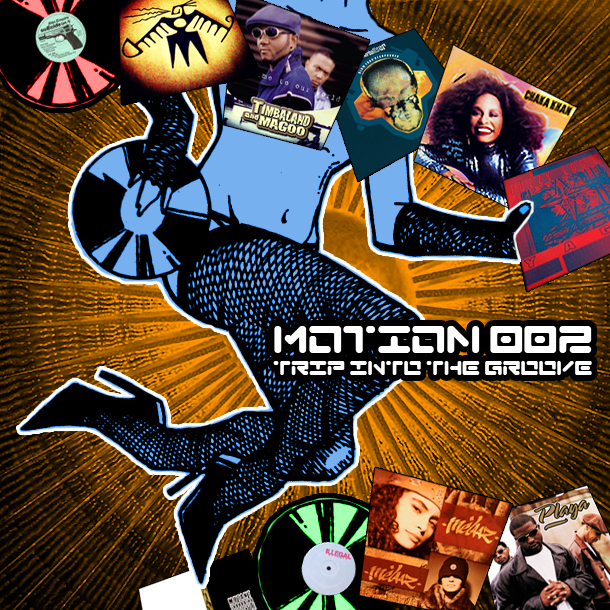 This latest Motion playlist dates back to late summer, with the tempo dropping accordingly. Still, the mix managed to hang around as the days grew shorter, its machine soul/trip hop/techno mash-up the perfect soundtrack to running at dusk as the city lights begin to switch on. As me move back into Terminal Vibration territory — particularly its final Machine Soul chapter — it seemed as good a time as any to blog it on up here...
LISTEN NOW
Motion 002: Trip Into The Groove

The Herbaliser

What What

Bring It

Ninja Tune

Tripping back into action with a bit of downbeat hip hop from Ninja Tune stalwarts The Herbaliser, we start out our trip on the downbeat tip (that way it's harder to fall behind the pace!). One of three tracks from their sophomore set Blow Your Headphones to feature the great Jean Grae (back when she was still known as What What), this is firmly in the vein of stoned mid-period hip hop like Bahamadia, The Pharcyde and Guru's Jazzmatazz series.

Playa

Don't Stop The Music

Def Jam

Peak-era Timbaland, featuring his chrome-plated r&b vision writ large on this production for the trio of Smokey, Black and Static. Static (aka Stephen Garrett was one of the songwriters in Timbaland's Bassment crew, responsible for tunes like Aaliyah's Are You That Somebody? and Try Again.

This quasi-cover version of the classic Yarbrough & Peoples boogie chestnut is prototypical machine soul, picking up where Juan Atkins left off three years earlier with The Flow G-Funk Mix. Dig those deft harmonies weaving in and out of that trademark digi-funk riddim, the pulsing synth bassline shadowboxing Tim's clipped drum machine shuffle.

The line between the finest trip hop (in the Smith & Mighty tradition) and this sort of pre-millennial tension is a thin one indeed.

Mélaaz

Non, Non, Non

BMG

Smoked-out French rap, this was picked up by Ultimate Dilemma for the Musical Dilemmas compilation and thus became something of an trip hop stone tablet by default, even showing up a decade later on Daddy G's stellar DJ-Kicks outing. Hardly surprising, given that it fits Massive Attack's remit perfectly (in fact, it would slot right in on Protection's cinematic second side).

Having picked this up back in the day, I was pleased to get a little more context on the record in Kevin Pearce's excellent nineties dance tome A Cracked Jewel Case.

Timbaland And Magoo

Clock Strikes

Blackground

More Timbaland, this time from his own record with Magoo. Effortlessly funky machine music. His beats from this era are perfect for all your running needs. I know a lot of people don't dig it, but I'm actually a huge fan of Timbaland's style on the mic, midway between low-rocking trip hop mumble and Jamaican producer behind the boards, punching in on the mix.

I used to listen to this album on continuous loop with Octave One's The Living Key To Images From Above, Reprazent's New Forms and the East Flatbush Project record, which along with Kevin Saunderson's X-Mix was my early '98 in a nutshell.

Tricky

DJ Milo

&

Luke Harris

How's Your Life

Studio !K7

Recentish Tricky with fellow Bristol luminary DJ Milo. I was crushed that I missed the tour behind this album, which stopped in Linda Vista's Belly Up Tavern. This decade's found Tricky back in the groove in a big way, indeed recent records like False Idols rival his nineties output.

Case in point How's Your Life. This is so subtle, so smooth even, and yet it's totally savage. I love the almost subconscious inevitability of that quiet storm loop, apparently from a mid-eighties Larry Carlton record. It just draws you into concentric orbit, Tricky running tings below the radar.

Sade

Surrender Your Love

Kenny Larkin

Remix

Illegal Detroit

Slowly swinging up to a house tempo with this killer Sade bootleg from Detroit. Not much to add to what I said here, but at this point in the run things really slide into the groove. Machine soul keeps you running like a machine, and for this tune's eleven minutes, you feel like you could keep on running forever.

Yage

Coda Coma

Jumpin' & Pumpin'

Some tasty Jumpin' & Pumpin' action, taken from Yage's Fuzzy Logic EP. This is up there in the upper echelon of post-Detroit work by the likes of 4 Hero, Basic Channel and The Black Dog. Killer breakbeat techno, its soaring synth choirs chopped with soundtrack strings and funereal organs that all recede gracefully into the overcast horizon. A snatch of dance vocal slides in over its rugged analogue bassline before the breaks kick back into gear.

Another under-acknowledged masterpiece from the pre-FSOL Dougans and Cobain (and believe me, there's more where that came from), this is the equal of anything on Accelerator.

Chaka Khan

I Know You, I Live You

Warner Bros.

Sublime post-disco almost-boogie from the great Chaka Khan. All would-be divas take note of that soaring chorus, it's like sunlight reflecting off the surface of parting storm clouds. Later the basis for Agent-X's awesome Detroit house slate In The Morning, warped post-Kenny Dixon Jr./Moodymann filter-disco of the highest caliber. Hearing Chaka's original for the first time is such a joy.

Throbbing Gristle

Hot On The Heels Of Love

Ratcliffe

Remix

NovaMute

Impossibly lush take on this O.G. industrial crew's creepy slab of claustrophobic proto-techno. This remix by one half of Basement Jaxx takes it into big room, widescreen territory. Shimmering multi-layered synths shift and glide over a heavy Reese bassline and shuffling percussion. There's even an exotic vocal snatch chucked into the bargain.

First heard this in a Luke Slater mix where it rubbed shoulders with Isolée and Dopplereffekt, this is originally from a compilation of remixes of Throbbing Gristle tunes by contemporary dance artists. Carl Craig even provides another, more faithful mix of Heels Of Love, but make no mistake: this Jaxx version is where its at. Visionary stuff.

Alec Empire

SuEcide

Force Inc.

Closing out the mix, and giving you that last little boost, is a pure adrenaline rush of rave techno from the pre-Atari Teenage Riot/Mille Plateaux Alec Empire. This would be a stone cold killer if it were just the sub-bass locking with the stop-start funk sample, but then that proto-trance lead drops into the mix and sends it all over the edge to the sublime. It just glides over the whole of it.

The effect is breathtakingly cinematic, indeed this sort of thing belongs not in a museum but in a movie (preferably something based on a William Gibson novel). I've often thought that this track is a kindred spirit with Carl Craig's 69 output.
And that's it, you're back through the front door. Repeat as necessary. From downbeat to uptempo, once you dip into the second half of the mix you'll be impossible to stop. You are the machine.
Motion 002: Trip Into The Groove