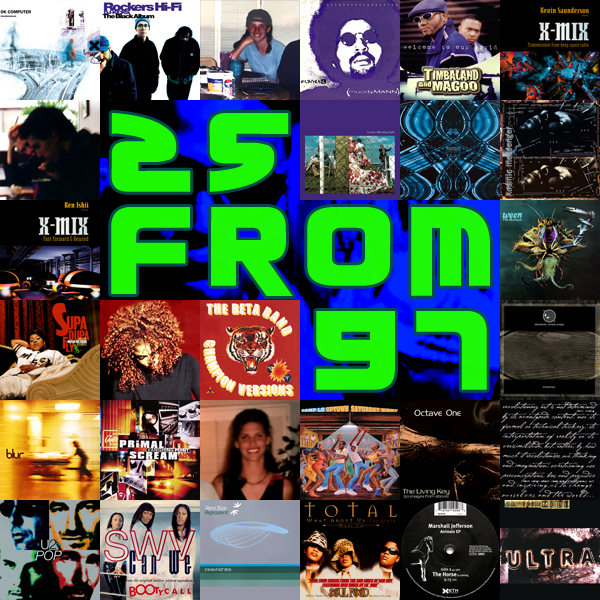 A couple weeks ago, Sari, Kayli and I traded lists of our favorite records from 1997 in a New Years Eve extravaganza. Why 1997, you ask? 1997 was without a doubt my favorite year in memory, and its music more than lived up to the times. If the era's clash of dancefloor futurism, breakbeat science, dusted hip hop beats, chrome-plated r&b and rock's smoldering embers in this year's music remains potent today, it can only have been even more so at the time. Having been skulking around at the time as a moody 16 year old, best believe I can vouch for that. Indeed, I can remember like it was yesterday...
After a 10th grade spent in the depths of hardcore depression, this was the year that I discovered beats (and started making beats of my own), opening up a whole world I'd only glimpsed before: the twin joys of discovery and creation. Suddenly it seemed there might be a way to make it through this crazy thing called life, even for a scared lonely kid like me who never quite fit anywhere else. As such, it's bound to have some of that you had to be there-type magic specific to my own personal recollections. Nevertheless, upon revisiting the music, I suspect there really was something special about that year after all...
Synth pioneers get down with that '97 sound, folding hip hop beats into their trademark style with a wink and a nod toward rave culture. Of course, the lads had been on this path ever since Black Celebration (even chilling in Detroit with Derrick May at The Music Institute), but Ultra benefits from superb post-trip hop production by Bomb The Bass' Tim Simenon and even a cameo appearance from Can's Jaki Liebezeit on drums (The Bottom Line). Even if I grew up with their music, this was the very first Depeche Mode album that I owned for myself. It was my way into their Gothic world of electro-blues dread, and to this day remains one of my favorite things they ever did.
This is one that my man Snakes tuned me into, so I've gotta give credit where its due. It sounded utterly alien to us at the time. I even remember him saying that he didn't get it yet, but could tell that it was important. The x-ray beats of Photek's spectral drum 'n bass vision seemed to align more with trip hop's dread vibes than the mad breakbeat fury that had been jungle's calling card up to that point. Pre-Millenium Tension, to borrow a phrase from Tricky (who released three albums in '96, but not one in '97). The soundtrack to paranoia, Modus Operandi is like The Parallax View, Pi and The Manchurian Candidate all mashed up into one nightmare vision, one that makes more sense in the conspiracy-drenched present than it ever did in sunny 1997.
I was already a huge fan of these guys when OK Computer came out, having listened to The Bends over and over in 10th grade (no wonder I was so depressed!). I remember at the time having the distinct impression that they were going to drift toward beats somehow, which actually turned out to be true with this record (which they envisioned as The Beatles produced by DJ Shadow). Hearing Paranoid Android on the radio for the first time was one of those great WTF?! moments in my musical youth, and the rest of the album turned out to be just as good (my favorite moment the twisted quasi-trip hop dirge of Climbing Up The Walls). Thom Yorke must be fun at parties...
Rockers Hi-Fi were in many ways a second-tier outfit, existing in that satisfying interzone between trip hop and dub reggae, their own records were solid enough but lacked the visionary spark of fellow travelers like Massive Attack and Smith & Mighty. However, magic was wrought when they descended into noname studio late one foggy night in Birmingham to work up this smoked-out DJ mix for Studio !K7, taking in trip hop, dub, abstract techno, jungle, vintage roots reggae and everything in between, dubbing it all into oblivion with MC Farda P toasting over the top like a madman. Along with Smith & Mighty's records, this was my doorway to the music of Jamaica.
Blur's self-titled 4th album found them effacing their own shiny britpop sound and image with a grimy set of songs that come on like a hybrid of "Heroes" and The White Album. Inspired by the burgeoning underground of American indie rock, the band married those shambling lo-fi sounds with a very British knack for penning an indelible hook, resulting in a totally unique album experience. This is where the globe-trotting Damon Albarn, who would go on to record Mali Music, drag his band to Morocco and take part in setting up Honest Jon's Records, is truly born. Best believe, the seeds of the Gorillaz are sown here (look no further than Death Of A Party, which comes on something like a dress rehearsal for Clint Eastwood)!
The first of the Timbaland records in this list. What can I say, he was running tings in 1997! Basically an extended victory lap after his phenomenal winning streak running through records like Ginuwine... The Bachelor, One In A Million and Supa Dupa Fly, it's also a stunning showcase for his chrome-plated machine soul sound. Even though Tim's raps come in for criticism in some quarters, I've always loved his low-slung baritone style, trading verses here with sidekick Magoo along with most of Da Bassment crew. With everyone from Missy Elliott to Ginuwine, Aaliyah and Playa getting down here, he basically managed to capture the party of the year on wax.
It's a party rivaled only by Ken Ishii's gloriously schizophrenic entry in Studio !K7's X-Mix series, which manages to blend nearly every strand of post-rave music into a seamless 70 minute fun house ride like it was 1992 all over again, even as the entire tapestry was beginning to unfurl in every possible direction. This was the craziest shit I'd ever heard as a 16 year old, with every moment somehow more off the wall than the next, and alongside Odelay my soundtrack to that summer. Just like on Ishii's own records, it's the sound of a guy doing things his own way and sounding utterly unlike anyone else in the process by virtue of being halfway around the world and having to dream it all up from scratch.
Cutting a demented path through the nineties, Ween were like Frank Zappa and The Beatles all rolled into one wise-ass package. With a skewed vision informed by surrealism, stoner logic/humor and a sprawling anti-mythology running through their entire discography, they also had the nerve to possess a knack for penning great tune after great tune that ranked up there with the greats. This proggy, nautical-themed LP is anchored by brilliant moments like Buckingham Green, Ocean Man, Mutilated Lips and the immortal Waving My Dick In The Wind. The Mollusk catches the O.C. And Stiggs of indie rock at the top of their game, and it remains their finest hour.
A Timbaland production for Bad Boy girl group Total, taken from the Soul Food soundtrack. The ladies' harmonies bob and weave through the interstellar machine beats (replete with an almost-subconscious acid-303 line) before Timbaland drops a trademark man-behind-the-boards rap and the four-dimensional beat-boxing enters the fray to take things to another dimension altogether. Back in the early 90s, it used to be that you'd wait out the r&b songs for the hot rap joints on Jammin' z90. Suddenly, everything flipped and the r&b tracks were where it was at, and tunes like this were the reason why.
Inspired by the 1970s Barry Newman film of the same name, this twisted trip is everything I want in a rock record from 1997. If OK Computer was like The Beatles produced by DJ Shadow, Vanishing Point was something like The Stones mixed by Lee "Scratch" Perry with creative input from Ravi Shankar, Tricky and Joe Henderson. Nearly everything here is bathed in a smoked-out haze of swirling effects and bass pressure, adding even greater depth to killer tunes like Kowalski, Stuka and Burning Wheel. With the added bonus of instrumentals like the jazzed-out Get Duffy, Trainspotting (from the film of the same name) and the mutant g-funk of If They Move Kill 'Em, the album plays like a gripping movie in its own right.
An unmissable round up of Stacey Pullen's most dancefloor-oriented sides, this quasi-compilation (over half the songs are exclusive to this set) is Detroit techno soul of the highest caliber. Basically picking up where Funkadelic left off with The Electric Spanking Of War Babies — much like his DJ-Kicks mix from the previous year — it expands that electronic funk template far into the future and never looks back. Pullen had actually played drums and percussion in his youth, and that grasp of polyrhythms always gave his tracks an added physical dimension that set them apart from the linearity of the creeping minimalist brigades, drawing you into their atmospheric, synth-drenched world with a gravity all their own. I've always thought this stuff would have sounded great on the radio alongside contemporary r&b and rap like Masta Ace and Ginuwine.
I simply had to include this one. At the time, I lived this record. Drafting in trip hop maven Howie B. behind the boards, this is the perfect marriage of the indie dance they'd been dabbling in since Achtung Baby and the sun-baked dusted sound that was everywhere by this point (Odelay, #1 Crush, Doin' Time, etc.). Indeed, large parts of this play like an alternate soundtrack to Baz Luhrman's Romeo + Juliet, and fittingly when it came time to release a concert video it was their Mexico City date they chose. This was basically the one time U2 seemed like underdogs, delving deeper yet into dance music against the will of seemingly all their fans (people hated Pop!), and I loved them for it.
This was Carl Craig's lush techno masterwork, even if there's a handful of his records that I love even more. In a sense, it's barely even a techno record — running the gamut between house, jazz, trip hop and ambient — which of course makes it techno to its core. Spanning the smeared electronic stylings of his early Retroactive days (Suspiria, As Time Goes By Sitting Under A Tree) to moments that predict the tech jazz of Innerzone Orchestra (At Les, Goodbye World), it's the record that showcases the many facets of Carl Craig. In fact, he loved all this material so much that he recorded an entire other album (1995's Landcruising) while under contract to Blanco Y Negro, just so that he could eventually release this one on his own label!
Now I didn't even know about this one until the following year, when it was reissued as part of The Three EPs compilation. Still, I would have loved it if only I'd been lucky enough to be buying vinyl in the UK at the time! I'd been following Astralwerks (a key outlet for electronic music in the States) closely at the time, and what's this... suddenly they'd signed a rock band? I had to check this out! The Beta Band's brand of slacker rock lies somewhere between Beck's dusted pop and The Beach Boys' 70s records, a perfect and wholly original sound that feels both out-of-time and quintessentially late-90s in the best possible sense. It's hard to resist the sun-baked sway of tracks like Dry The Rain and Dog Got A Bone, as I'm sure John Cusack will tell you.
Chicago house don Marshall Jefferson had been around since the scene's mid-eighties beginnings, responsible for epoch-defining house records like Move Your Body, 7 Ways To Jack and The Jungle. Like KRS-One, he could say, I was there. However, this much later 12" release — tucked away on Tresor's sister label KTM to little fanfare — is more a techno record than anything else. The Horse blew me away when I first heard it, sounding like a bullet-train ride through Chiba City, and its unlikely combination of drum machine frenzy and atmospheric serenity still slay me to this day. The kicker is that the b-side, a grinding bass-heavy missive — sounding like a great lost Kevin Saunderson track — is every bit its equal. Night drive music... just keep an eye on the speedometer.
Former purveyor of dark electronica Mark Van Hoen wakes up one day and decides he wants to make a Kate Bush record. He wound up turning in one of the great dream pop albums of all time, managing to transcend everything he'd done up to that point in the process. This music sounds impossibly ancient, mysterious and evocative, the perfect backdrop for a raft of breathy vocalists like Zoe Niblett, Craig Bethell and Wendy Roberts. This collection of ethereal torch songs plays like a daydream in musical form, conjuring up images of a fairytale world imbued with both great darkness and light (like all great fairy tales). In fact, the title of The Girl With The Fairytale Dream alone just about sums up the whole affair... this is a record to get lost in.
21st century cybernetic jazz from the Bristol crew, fronted by the great Roni Size, whose position in the crew was analogous to The RZA's in The Wu-Tang Clan. Like that group's album of the same year, this sprawling double-album was a dense world defined by a singular, all-encompassing vision. Needless to say, I dove right in! A perfect melding of past and future — evoking images of juke joints, high rises, dimly-lit street corners and monorails — its pungent, jazz-inflected drum 'n bass vision took a striking live band approach to what had previously been seen as computer music. The double-bass and chopped live drums give instrumentals like Brown Paper Bag, Mad Cat and Ballet Dance a remarkably three-dimensional feel, while vocal tunes like Heroes, Share The Fall, and the title track (featuring Bahamadia) remain among the best songs of the era.
Was anyone cooler than Missy Elliott back in the day? Who else could wear a giant trash bag in their music video, chill out inside the Windows 95 wallpaper and still make everyone else look unglamorous and ordinary?! No wonder she could get seemingly everyone who was anyone to make a cameo in the video (Timbaland's little backwards sashay might be the greatest thing ever to appear on MTV)! His beats are at their futuristic peak here, which in any other case would threaten to overshadow the singer, but Missy Elliott is larger-than-life even at the worst of times. Every other line gets stuck in your head and stays there: I sit on hills like Lauryn, my hormones jumpin' like a disco, I smoke my hydro on the d-low, and my ass cheeks they sweat these beats, tell me where the party at, tell me where the party at. Needless to say, this is where the party at.
These cats couldn't have been much older than I was at the time (they look so young in the music videos!), but they had the 70s down pat. All the vintage vibes tucked away in the beats and lyrics — obscure references and dusty samples galore — made them something like hip hop's counterpart to the neo soul moves of figures like Erykah Badu and D'Angelo. Coming on like a rap LP recorded in 1976, this album's almost too good to be true, squaring the circle between platinum rap and Native Tongues-style hip hop (even roping in De La Soul's Trugoy The Dove for an appearance) just as the twin strains were about to diverge for good.
As an aside, it's funny to note that the 70s crop up so much in this list, but then I guess the burgeoning interest in the era (initiated by grunge?) really came to a head in '97. Which is just another thing to love about the year...
Similarly, Kenny Dixon Jr.'s debut album dropped in '97, and it was to house what Camp Lo were to hip hop, so it makes perfect sense that they show up here back to back. Pioneering the filter-house sound that Daft Punk took into the charts, Dixon's records also seemed haunted by the ghosts of soul music past. His output seemed to resonate with everything from Marvin Gaye to Gil Scott-Heron, Larry Heard and Chic, and at this point chiming in perfectly with the rise of The Soulquarians. Indeed, it's a shame that Jay Dee didn't get to do a solo record in '97 too. Imagine if the trinity of Erykah Badu, Moodymann and J Dilla (to my mind roughly comparable figures in relation to their respective scenes) had all debuted the same year!
Of course Dilla had a crucial shaping influence on this record, providing massive (uncredited) inspiration to master-producers Jam & Lewis for tunes like Got 'Til It's Gone (which rather than complaining about, he just remixed to a higher state altogether for the single!). Much like The Soulquarians' output, The Velvet Rope has a retro sensibility but never a retro sound, taking in everything from dancefloor stormers to trip hop downbeat and all manner of moods and grooves over its extended 75-minute running time. You could always count on Ms. Jackson... going back to the days of Control, she was like the older sister I never had! And being considerably younger than The Jacksons, she managed to get hip hop in a way that her older brothers never could, granting her career unprecedented longevity and relevance in a cruel and unforgiving industry, stretching right up to the present day.
German trip hop crew hook up with 70s krautrock legend Manuel Göttsching and cut the great late-nineties jazz record. This sounded like it was beamed in from another planet, seemingly harking back to a shadowy 1970s even as it felt as futuristic as the metropolis evoked in its title. Chiba City blues, for real. The b-side Clone is just as good, evoking images of The French Connection and The Parallax View. In fact, Terranova were the only crew that almost made this list twice (with their 70s-drenched 12" Contact/DJ-Kicks EP). Even though it was released in December 1997, it felt more like a '98 record (which is when the crew's accompanying DJ-Kicks mix actually came out), so I decided to set it aside on a technicality (and also to give everyone else a chance!). When Terranova were ON, they were unbeatable.
The Burden Brothers! In high school, this Detroit crew were my Led Zeppelin. I was obsessed with Octave One, who let their beats do the talking with the perfect geometrics of that smooth onyx sound. This CD combined two EPs into one conceptual masterpiece. Along with Kevin Saunderson's Faces + Phases, I bought this in the first order I ever placed to Submerge (in those days, the central emporium for Detroit techno). It felt something like a rite of passage. I often think of this as a sister record to Photek's Modus Operandi, and similarly its rugged street-level minimalism took a minute for me to get a handle on... but once I had, best believe I was hooked for good.
The last of the four Timbaland records here, this is also my favorite. In fact, it's my absolute favorite r&b record, and one of my favorite records period. Another tune made on order for a soundtrack (this time for the Jamie Foxx vehicle Booty Call), like Aaliyah's Are You That Somebody? it transcends its origins to stand as one of the key records of the decade. Its unhurried perfection just unfolds around the ladies, who weave their harmonies through the beats as naturally as you'd expect from a girl group who came up in the heady days of new jack swing. It showed up later in the year on their solid third album Release Some Tension, although nothing on it (save the eerily Reprazent-like double bass moves of the title track) matches its brilliance.
Number one! Indeed, this is probably my favorite single musical object of all time. All time! Featuring one of my key musical heroes in his prime on the wheels of steel, it captures the vibe of Detroit's recurring Deep Space Radio show for posterity (complete with station idents and narration by DJ Minx). Mixing techno from Detroit, garage from D.C. and a whole brace of tracks from Dutch duo Dobre & Jamez (under myriad guises), its even features both sides of Saunderson's then most-recent 12" Velocity Funk/World Of Deep (which this mix stands in for) and a killer remix of Belgian rave classic Outlander's The Vamp. The whole thing is pure vibe, capturing nearly everything I love about techno. It's got loads of atmosphere sure 'nuff, but its also got unforgettable tunes in spades, and that makes all the difference in the world. If you are at all interested in the intersection of dance and electronic music, you shouldn't spend another day without it.