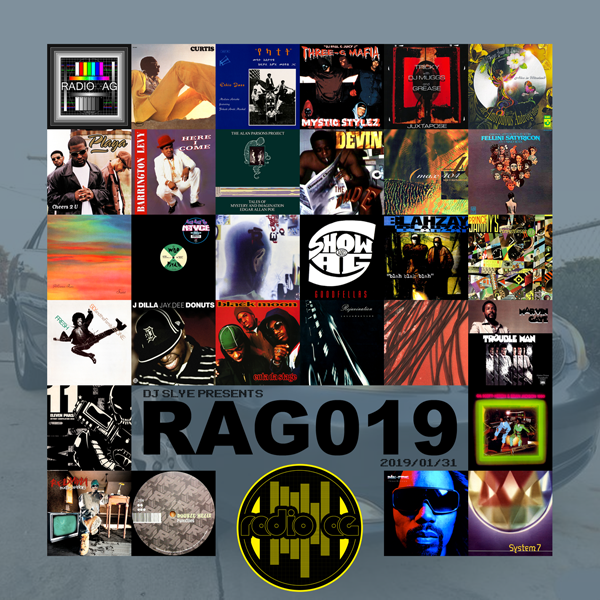 The roots of this mix go back a few years, when I began mapping out an Autumn entry of Radio AG to close out the first year of seasonal episodes. Needless to say, fate had other plans, and the last few years took me in other directions (some of which I couldn't possibly had imagined). In the process, I'd all but forgotten about this putative mix — even working up an entirely new canyon-centric episode last Fall — when I stumbled upon the sketches I'd made of this mix in one of my old notebooks and it all came rushing back to me.
Strangely enough, the ideas expressed within make much more sense at the dawn of 2019 than they ever could have at the time, so it's interesting to note that my head was already residing in this space before we so rudely interrupted. Indeed, I'd even meant to launch into the whole Terminal Vibration trip the following November, upon returning from a week spent in the bay area... and any fool knows I've been a machine soul man from day one.
More than any other Radio AG entry so far, this one gets to the heart of what I'm all about, musically speaking. The series started as a simple recurring mixtape for my brothers, Pops and assorted others, and as such its selections were colored by the perceived tastes and inclinations of the intended audience. However, gradually — and perhaps inevitably — the vibe began to feel gravity's pull toward my own perennial obsessions, in truth a place I'd always secretly hoped to wind up. Trip hop, post punk, smooth soul, techno, kosmische, afrobeat, jazz fission, house, r&b and jungle, this really is the realm where my heart of heart lies, heavy music at the axis of atmosphere and rhythm (and obviously, the presence of synths doesn't hurt any)...
So this time out we're coming at you from that heady realm between the twin worlds of Machine Soul and Terminal Vibration — and all the parallaxing terrain that entails — the mix settling in the pocket of a blazing mid-tempo groove and largely staying there for 80 minutes. Such has been the prevailing mood down in the lab at the moment, so it seemed only natural that it would wind up reflected in the mix. It's the sound of cloud-covered days and rain-slicked streets, backroom circuitry and moonlight drives, half-lit street corners and errant rhythm boxes spooling out the Chiba City blues. This is the sound of Winter 2019, somewhere in The Heights...
Listen Now
The Parallax Sound Lab

Radio AG Intro

Greetings from The Other Side Of Town...

Curtis Mayfield

The Other Side Of Town

Curtom

Vintage Curtis Mayfield, from his stunning 1970 debut. No one's worn a mustard suit better before or since. The man's music so often has a widescreen sweep — like a film in miniature — it nevertheless manages to maintain an intimate, homespun nature at its core. It only makes sense that he'd be the natural choice for later soundtrack work like Superfly and Short Eyes, which he'd imbue with a pathos and humanity beyond the scope of the source material.

As an aside, I've always loved Henry Gibson's excellent conga work that's all over his early records, heard with striking clarity on the utterly classic Curtis/Live! set (which came up in conversation just the other day).

Mulatu Astatke

Fekade Amde Maskal

Nètsanèt

Amha

Pungent Ethiopian jazz from hero Mulatu Astatke. Impossibly cool in its rhythmic sway, I've always found its atmosphere strikingly evocative of a seventies Addis Ababa that — granted — I never had the opportunity to see for myself. Just as Fela Kuti flows logically from fellow traveler James Brown's body of work, it's interesting how naturally Nètsanèt seems to spring from the lush Curtom sound in the mix.

Three 6 Mafia

Long Nite

Prophet

Gothic rap from Memphis. Do 3-6 qualify as horrorcore? This from their Mystic Stylez debut (although they'd already put out countless mixtapes by this point in time), which is split more or less evenly between hardcore terror-rap and spectral downbeat jams like this one. I love the voodoo touches writ large on this production: the ghosts of Marvin in the mist, those spectral congas, taut basslines, synth-string suspense and the crew's fraught raps darting through it all in flickering candlelight.

I've often thought that so much of what was going down in the South at the time — be it this or DJ Screw — sat remarkably comfortably next to the nascent trip hop sound, even if actual crossover moments between the two were thin on the ground (the axis seemed to hinge on the East Coast, which of course made perfect sense as well).

Tricky

DJ Muggs

and

Grease

Bom Bom Diggy

Mad Dog

Island

Case in point is this three-way collaboration between Tricky, Cypress Hill associate DJ Muggs and Dame Grease (of DMX's inner circle). I bought this the day it came out. More skyline voodoo, this time from Tricky's Durban Poison organization. I only recently put together that Mad Dog was in fact Bionic of U.K. rap pioneers London Posse!

The Amorphous Androgynous

The Prophet

Harvest

Psychedelic funk from the duo formerly known as The Future Sound Of London, during their extended post-hippie incarnation as The Amorphous Androgynous (which by now has lasted longer than their initial cyberpunk-tinged run). Apparently an extended jam on the Yes My Brother from The Isness. I love all the deliciously fake, retro-tinged instrumentation, which recalls firm favorites from their Electronic Brain Violence days like Oil's Slight Of Hand and FSOL's awesome We Have Explosive (Part 3).

Playa

Don't Stop The Music

Def Jam

Peak-era Timbaland production for the RnB loverman trio of Static, Smokey and Black, who weave their deft post-swingbeat harmonies through Tim's bionic drum machine matrix. With skull-snapping beats, rapid-fire samples and a radioactive synth bassline (and little else) holding down the groove, this minimalist quasi-cover version of the lush Yarbrough & Peoples' electro boogie original is a sterling moment for all parties involved.

Barrington Levy

Here I Come

Time 1

Killer digital dancehall cut from the dawn of the form, right there in good old 1985. I was four years old at the time. This stuff sounds like Burning Chrome or Count Zero, its booming rhythm full of portent and roots-n-future widescreen sound evoking visions of city skylines and freeway overpasses. Real Terminal Vibration music. Of course, Broader than Broadway is one of the great hook-lines of all time, and the obvious choice for a title of the book to be written about the complete story of dancehall (or at the very least least, Levy's biography).

The Alan Parsons Project

A Dream Within A Dream

Charisma

One from Pops record collection. I remember him breaking out the wax back when I was in high school and showing me this stuff in light of the beats I was immersed in at the time. Alan Parsons was the consummate studio engineer, working on both The Beatles' Abbey Road and Pink Floyd's Dark Side Of The Moon, eventually getting to do his own records as the seventies wore on (this tune from his Edgar Allan Poe-inspired debut).

I've often thought that his records as The Alan Parsons Project are an unwitting precursor to the likes of Massive Attack, Slam and Death In Vegas, producers working with a rotating stable of artists in collaboration within the context of extended, often moody instrumental excursions.

Devin

Alright

Randy-Ran

Rap-A-Lot

Slow-motion southern rap from Devin The Dude, although at times his music almost ceases to be hip hop and shears toward the most sun-glazed smooth soul of figures like Gil Scott-Heron and Johnny "Guitar" Watson. From his self-titled debut, one of the great gems of the era that never seems to make the lists, even if it undoubtedly deserves to. This is also unexpectedly moving and profound, if you're really paying attention.

Max 404

The Case Of The Creeping Fox Terrier Clone

Eevo Lute

Dutch techno producer works the bassbins in this off-the-cuff hip hop workout, from his sturdy Love & Mathematics full-length debut (released on Stefan Robbers' Eevo Lute imprint). That was a great little record, moving between lush downbeat excursions, gritty techno, proto-micro house and ambient drift with ease, it's evocative of a time when these sounds weren't all cordoned off from one another by the cognoscenti. Shades too of trip hop throughout, with some almost subliminal rapping tucked away in shadows. Dig that scratching take center stage, here practically becoming part of the beat.

Overlaid here with...

Nino Rota

Le Nozze Sul Mare

United Artists

Nino Rota's otherworldly score for Fellini's Satyricon. I love the movie, and the accursed, unheimlich sounds Rota conjures up here match perfectly the utter surreality of Federico Fellini's Roman epic. Notably, Rota went on to write the theme to The Godfather, which I imagine everyone on Planet Earth has heard.

A Certain Ratio

Rialto

Factory

Grimy post punk from the Manchester crew's underrated Sextet LP, this shadowy noir funk is another moment of pure Terminal Vibration. Despite the fact that lot seem to be forever damned with faint praise, I dig nearly everything they put out. Simultaneously funky and creepy, Rialto is haunted by the wordless vocals of Martha Tilson.

N-Tyce

Hush Hush Tip

Wild Pitch

Ah N-Tyce! This is one of my top five or so rap records ever, right up there with Rammellzee vs. K-Rob's Beat Bop. With gloriously doom-laden production from Wu-Tang associate 4th Disciple and Method Man on the hook, it's nevertheless N-Tyce's charming delivery that steals the show. The mischievous spirit here recalling The Slits and ESG at their finest. N-Tyce later turned up in the Deadly Venoms, a female supergroup of sorts aligned with Wu-Tang Clan.

REQ

Blimpot

Warp

The four LPs that REQ put out on Skint and Warp in the late 90s through the turn of the decade are all utterly essential excursions into the heady terrain of instrumental trip hop. The spooked Dobro loops of Blimpot ride a crisp downbeat and ace scratching that serves brilliantly as the hook's counterpoint. Strikingly alien and forbidding, this is true dead end music.

Show & A.G.

You Know Now

Payday

Stunning hip hop noir from the Diggin' In The Crates duo. Taken from their follow up to the classic Runaway Slave, this dark downbeat is miles away from the sunny climes of their golden age-era debut. Indeed, there was a real overcast quality to much of the mid-decade hip hop that almost magically aligned with the frozen wastelands of trip hop.

I've often thought the atmosphere here, even down to the production itself, has eerie predictions of the Pi soundtrack.

Blahzay Blahzay

Posse Jumpa

Mental Magician

&

Darkman

Fader

This joint from the largely forgotten East Coast crew is cut from the same cloth. Known primarily as a one hit wonder for the blistering Danger, this is nevertheless a rock solid album. Hovering in that interzone between the charts and the underground, this illustrates the way pre-97ish — rather than being a completely separate world — the hip hop underground was just the seedy underbelly of what you'd hear on the radio. I'm talking about things like East Flatbush Project and Divine Styler. Indeed, this shadowy hardcore is but two steps away from both M.O.P. and Company Flow.

Prince Jammy

Wafer Scale Integration

Greensleeves

Prince Jammy's digital dancehall stone tablet, featuring ten diamond hard riddims cut with ruthless precision. More Terminal Vibration music, definitively so. Notionally a counterpart to the Wayne Smith Sleng Teng album, you also get the instrumental to Barrington Levy's epochal Here I Come. This record is completely essential if you dig electronic music as a quantity unto itself, and would appeal to fans of everything from Kraftwerk and Model 500 to Cabaret Voltaire and Terranova.

I've got loads of Prince Jammy records, ranging from rock hard dancehall to earlier dub slates like Strictly Dub and Prince Jammy Destroys The Invaders..., and they're all choice material.

Sly & The Family Stone

Let Me Have It All

Epic

Dusted downbeat soul brought to you by Sly & The Family Stone, taken from the O.G. machine soul tile Fresh. Building on the gently chugging funk template laid out by There's A Riot Goin' On, the follow up took the sound into an ever more emaciated and bloodless extreme (in the best possible sense). This vampire soul might actually be an even better introduction for the uninitiated to the glorious sound of seventies Sly Stone.

J Dilla

Two Can Win

Stones Throw

This sparkling hip hop instrumental is just one of many delights to be found on J Dilla's kaleidoscopic swan song Donuts. The record was a revelation when it first came out, taking the spirit of a vintage hip hop mixtape and burnishing it down to a shine with Nuggets-like intensity. I've often thought this shares the tantalizing vintage glamour of Camp Lo's Uptown Saturday Night, seemingly imagining the possibility a hip hop LP cut way back in an alternate 1976.

Black Moon

Enta Da Stage

Wreck

Boy this mix does have a lot of rap from the mid-nineties — roughly speaking the period from late 1993 to 1996 — when darkness descended on the golden age sound (thanks in large part to The RZA), but before the chrome-plated sound of the South started to be more widely felt.

Black Moon's debut is a stone cold classic of shadowy hip hop that had the misfortune to be released one week after the Wu-Tang Clan's debut. I'm that weird type of guy that actually prefers the dark jazz of Enta Da Stage (although there's no knocking 36 Chambers), especially when the brilliance of its surrounding 12" singles are taken into account.

Rejuvination

Subtle Indoctrination

Soma

Killer instrumental hip hop from the unjustly forgotten techno duo out of Glasgow, who along with Slam formed the basis for the powerhouse dance label Soma Quality Recordings (the labels first release was a split 12" between the two artists). Their sole LP wanders freely between filmic trip hop burners, pulsing techno, proto-trance and space music with ease, all of which is shot through with the spirit of both Curtis Mayfield and The Clash.

Recloose

Cardiology

Malik Alston

Planet E

I was already a huge Recloose fan by the time his debut album Cardiology hit the shops. He'd already been responsible for a pair of great EPs filled with skewed house music and downbeat electronic jazz when he started working with vocalists and fellow Detroit musicians like Paul Randolph, John Arnold and Jerrald James, refashioning his sound into a tighter rhythm matrix hovering in the interzone between neo soul, jazz funk and moody techno.

Cardiology — the track — features a great chanted refrain by Malik Alston and forward perpetual momentum with strange shades of SA-RA a couple years early.

Marvin Gaye

"T" Stands For Trouble

Tamla

Opening with a bit of dialogue from Mickey Rourke's Year Of The Dragon, we slip into a choice cut from Marvin Gaye's awesome Trouble Man soundtrack, large swathes of which rank as my idea of perfect music (this track included). There's just no getting around those effortlessly funky beats, especially when you factor in the liquid synths rolling off them like chocolate syrup.

This continues the thread starting with What's Going On — particularly Inner City Blues Make Me Wanna Holler — and running through I Want You directly into Here, My Dear (particularly tracks like Anger and You Can Leave, But It's Going To Cost You). Foundational machine soul bizzness, in other words, and more often than not the day to day soundtrack down at The Parallax Room.

Shake

Can't Turn Back

Sublime

Taken from Sublime's excellent Eleven Phases compilation, which features a raft of Detroit techno producers (including Sean Deason, Robert Hood, Kenny Larkin and Stacey Pullen) contributing hip hop instrumentals to a program rivaling even Studio !K7's concurrent 3 Minute Blunts series. Anthony Shakir always struck me as one of the biggest hip hop heads in Detroit techno anyway, with instrumentals not unlike this one peppered throughout his discography (Mr. Shakir's Beat Store springs to mind).

Gil Scott-Heron & Brian Jackson

1980

Arista

The final entry in the dynamic duo's great run of 70s records starting with Winter In America. The sound they managed to achieve on these records (especially the final three) is easily among my favorites ever, an impossibly lush street-corner soul with more than a hint of jazz between the lines. It's a vibe Moodymann's would later distill down to an potent elixir at the turn of the century. Recorded at Malcolm Cecil and Robert Margouleff's T.O.N.T.O. studios (pictured on the sleeve), you get loads of tasty synths — also heard on Stevie Wonder's classic seventies records — thrown into the bargain.

Redman

Pick It Up

Def Jam

One last check-in from hip hop's mid-nineties (I couldn't help myself!), with the inimitable Redman getting down on his classic Muddy Waters set. Rounding out the trilogy he started with Whut? Thee Album and continued on Dare Iz A Darkside, this is blunted and bizarre rap par excellence from an era when the nastiest MC was unstoppable. Bask for a moment in that groove's casual bump, and take a moment to dig Redman's twisted flow.

Double Helix

Lowkey

Rush Hour

This lush bit of techno soul turned me round when I first heard it on Planet E's All Access To Detroit's Music Festivals compilation, released on the heels of the DEMF's first iteration at the turn of the century. Its cascading synths and gently chugging rhythms have always reminded me of China Crisis at their absolute lushest and most atmospheric, particularly album closers like The Soul Awakening, Blue Sea and Jean Walks In Freshfields. Pitched down for effect, this is Ocean Of Sound music, pure and simple.

Dâm-Funk

I Wanna Thank You For

Steppin' Into My Life

Stones Throw

From the great Dâm-Funk's indispensable 5xLP debut, a universe of lush machine soul in that interzone between funk, techno and RnB. Just one of many highlights contained therein, this immortal slow jam is on par with stone classics by the likes of Mtume, Kleeer and The Isley Brothers. It's that good! The tenderness on display here harks back to the era of Alexander O'Neal's A Broken Heart Can Mend, Mtume's Juicy Fruit and One Way's Don't Stop. It's all so very, unabashedly romantic that one can't help but be drawn in.

System 7

Fractal Liaison

10

Arising as if a natural occurrence in the landscape of the mix, Steve Hillage's guitar glissandos arc across Derrick May's lush Detroit synths in the two-minute ambient sprawl of Fractal Liaison. This from System 7's debut, which was part of the initial wave of ambient house alongside The Orb, Ultramarine and Sun Electric (not to mention fellow travelers like Biosphere and Deep Space Network). Flowing logically and organically from Hillage's 70s records like Rainbow Dome Musick, this is splendid, heavenly stuff.
Credits
Edits: Do'shonne and Slye.
Time stretching: Klytus and Nautilus Jones.
Vibes: Year Of The Dragon, Durban Poison, Mesa Q, Nick Rhodes, Terminal Vibration, Rammellzee, William Gibson, Hashim, Percussitron, FSOL ISDN, Cabaret Voltaire, Trouble Man, Mickey Rourke, ARPs, Moogs, Jazz And Things, Dancehall, Atari Jaguar, Tackhead, The Prodigy, Lab Life, The Toyota Camry, La Mesa Blvd., Walking In The Rain.