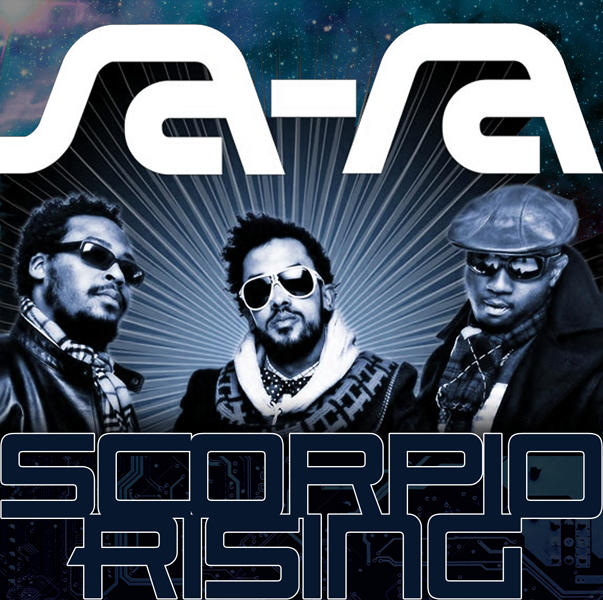 SA-RA have long been one of my key musical reference points, even before I started Parallax Moves. If there's one 21st century crew that is my absolute favorite, then it's these guys (the trio of Shafiq Husayn, Om'Mas Keith and Taz Arnold). Though it's been nearly a decade since they last released anything under the name, the records they did manage to release in a mere five year window opened up possibilities in machine soul only hinted at before. Not since Timbaland's breakthrough had anyone done so much to innovate within the form.
SA-RA before SA-RA has become something like a cliché around these parts, almost as durable a shorthand as evergreens like it sounds just like Can or indeed just like Sun Ra. It's in effect just another way of saying insanely ahead-of-its-time and utterly brilliant. SA-RA built on a foundation of music like Kleeer's Tonight and Mtume's The After 6 Mix Juicy Fruit Part II, stretching those glimpses — portals to another world — into vast sonic vistas painted in freaky widescreen. At their best, they were untouchable.
SA-RA took in the tactile RnB grooves of Timbaland, J Dilla's knotty hip hop beats, and everything in between, shooting the results up with a psychedelic vision of electro boogie and more than a splash of Detroit techno's deep space fixations. Their discography plays like the textbook definition of machine soul, spiked with a proggy, twisted flair for decomposition that rivals the greatest trip hop and astral jazz. They picked up where Outkast left off with Stankonia, warping the music into the outer rim of Tau Ceti and recording the results.
Owing to their status as a true production unit — in addition to recording artists in their own right — they turned in (inter)stellar remixes and productions for other artists ranging from Erykah Badu and Bilal to Tosca, George Russell and even Kleeer. They opened up a sonic vernacular all their own, and — on a personal note — one that happened to speak directly to my own musical obsessions. Anything they did was a hunt-down-at-all-costs proposition. Throughout their protracted run, SA-RA were basically my Led Zeppelin.
I've meant to do this compilation for about ten years now, but always balked at the last minute. The closest I came was a 90-minute cassette that I dubbed circa 2009 for a drive up to L.A. (which planted the seed for tonight's excursion). What follows is an attempt to account for their sprawling brilliance in anthology form — boiling a vast and varied discography down to a (relatively) concise listen — on this the eighth Cheap Hotel release.
LISTEN NOW
CHR-008:

SA-RA Creative Partners

-

Scorpio Rising

Disc 1

SA-RA Creative Partners

Seagulls

Intro

Babygrande

Originally the intro to their first full-length outing (The Hollywood Recordings), this seemed like the right way to start tonight's voyage. With its Detroit-style pads and ghosts-of-g-funk synth arcs, in just one minute it captures the latent optimism inherent in so much of the greatest machine soul. Which means it sets the perfect tone for this compilation...

SA-RA Creative Partners

Hey Love

Babygrande

Everything promised in the Seagulls intro is delivered (and then some) with the achingly wistful Hey Love. Opening with a brilliant interpolation of Herbie Hancock's Textures, it quickly unfolds into sun-kissed ballad, underpinned by a typically tricky rhythm and the group's trademark homespun vocals. I always love the part where Shafiq interjects the immortal line, Mmm, mmm, mmm... thick in the thighs, which I still quote to this day!

SA-RA Creative Partners

Wonderful

Jazzy Sport

What set SA-RA apart from nearly anyone else in RnB up to that point was their penchant for instrumentals. Every record they put out features at least one, and more than a few 12"s were dominated by them. Wonderful come on like a twisted slice of electronic jazz, reminding me of peak-era Stevie Wonder in a dream jam session with Herbie Hancock (after which Anthony Shakir and J Dilla remix the results).

SA-RA Creative Partners

Death Of A Star

Supernova

Ubiquity

One of the crew's rare detours into straight-up boogie, this skewed tale of an ill-fated would-be starlet is driven home by Dazz Band/Let It Whip synths and a backing chorus that doesn't just get stuck in your head... it holds it hostage. There's more than a bit of new wave about this one too, with a flourish of rhythm guitar that always makes me flash on Duran Duran's early singles.

SA-RA Creative Partners

Rosebuds

ABB Soul

Deeply chilled downbeat RnB. Almost deceptively straightforward, it's one of the rare tunes in their oeuvre that one could imagine existing in the nineties (among things like Blowout Comb and Erykah Badu's debut). Still, there's a sustained suspension of gravity about the beat and a throbbing, deeply irregular bassline that mark it out as deep space music. Not to mention, bleeps aplenty!

SA-RA Creative Partners

Get Involved

Unreleased

Back when SA-RA first emerged, their 12"s seemed to come from all over, U.S. releases, U.K. releases, Japan-only releases, and even a wealth of unreleased material that made the rounds on Soulseek (indeed, I fear/relish the idea that I might be missing a whole other disc's worth of material!). Many of these tunes showed up on later releases, but this one never did.

Get Involved takes a playful angle on the crew's latent jazz leanings, with juke-joint vibes and the memorable admission that they're the kinda guys your mama don't trust. Get Involved is that rare bit of tech jazz that calls to mind both Detroit Grand Pubahs and Jelly Roll Morton.

SA-RA Creative Partners

The Bone Song

Ubiquity

The first of the songs from their long-awaited debut album (bizarrely, The Hollywood Recordings was technically considered a mixtape, even though it came out on double vinyl as well as CD). This supremely chilled bit of downbeat soul finds the crew at their most idyllic, with languid echoes of Janet's The Velvet Rope read in between the lines, it beats vast hordes of chill out music at its own game. Strangely enough (or not so strangely, depending on your perspective), the atmosphere here is haunted by definite strains of The Soul Awakening-era China Crisis.

SA-RA Creative Partners

Jumbo

Jazzy Sport

This psychedelic, technoid instrumental sums up a whole aspect of what made this crew so special... one could hardly imagine your typical RnB singer doing something this strange! Wordlessly ethereal bom... bom... bom vocals drift across an atmosphere that's more Deep Space Radio than anything else, its proggy, cinematic atmosphere is paradoxically conjured up in the most seemingly off-the-cuff manner. Which — come to think of it — isn't a half bad thumbnail explanation of the crew's genius.

SA-RA Creative Partners

Glorious

Babygrande

This seemed to be the group's biggest joint early on, and its another one-of-a-kind slab of spaced-out noise with the unmistakable overtones of techno. Droning synths that sound something like T.O.N.T.O's stylish kid brother drift across a staggering clip-clop-hip-hop beat, while the group's vocals seem to barely creep above the unsteady pulse of the bassline. Suddenly, the flash of harmony hits in the one-word sing-song chorus, glorious!, with shades (again) of Duran Duran and The Notorious B.I.G. On Jupiter.

SA-RA Creative Partners

Second Time Around

Sound In Color

This was the first piece of SA-RA music that I ever heard. I still remember popping the CD in my truck's player out in the La Jolla Tower Records parking lot (uptown, baby!) and being blown to pieces. This warped, crumble-funk madness sounded nothing like what I was expecting (I'd bought it on sight based only on hearsay)... it was so much better.

Great slabs of bass drop in and out of the rhythm, held down by what might be the most trippy drum beat ever programmed, while the crew plead their bedroom paeans as black hole synths and a spectral horn tattoo swirls all around.

SA-RA Creative Partners

Forever

Jazzy Sport

This instrumental finds SA-RA once again in an idyllic mode, carried off on a snatch of female vocal and sepia-tinted pianos trilling faintly in the distance. With bass synths toasted over another staggered hip hop beat, its rhythm betrays a slight hesitation that speaks to the first days of springtime creeping into winter's reign.

SA-RA Creative Partners

Skit #1

Unreleased

Technically a silly little throwaway from the unreleased CDr, this is just another example of SA-RA's unfussy brilliance. The new wave bassline drops into a clip-clopping downbeat before almost comical baritone vocals mimic the sequence. Then, without warning, it all swerves into the sublime as an unexpected harmony rises up from within the track, which is over in the space of a minute.

Erykah Badu

The Cell

Edit

Universal Motown

Erykah Badu had already guested on a couple SA-RA tracks when she drafted them to produce a significant portion of her fourth album, New Amerykah: Part One 4th World War. The crew had a profound impact on the record's twisted, gnarled sound, much as J Dilla's vision had on Mama's Gun, D'Angelo's Voodoo and the surrounding records by The Soulquarians.

Laying down a rolling Isley Brothers-style breakbeat and jazz-inflected Detroit keyboards, the group turns in a surprisingly straightforward groove for Badu to do her thing on. The track's frenetic pace stands out strongly on what is in large part a (brilliantly) downcast, weary album, and its machine-gun hooks just might be the record's absolute strongest, playing like a flash-before-the-eyes nightmare reprise of Baduizm.

SA-RA Creative Partners

Enter Sex Slop

Jazzy Sport

This instrumental squeezes everything great about post-1995 RnB into one sublime, staggering instrumental. Truth be told, it's not a million miles away from trip hop's m.o. either (although there's no surprise there),1 with a crawling beat that would sound great in either context. Like Wonderful, this is taken from the Cosmic Dust EP, which paired with its sister record Cosmic Lust is my favorite SA-RA outing ever.

SA-RA Creative Partners

Hollywood

Getting Out Our Dreams

This is a funky little sidewalking ditty that was originally intended for Bilal's ill-fated sophomore album Love For Sale, which remains unreleased (aside from a couple promos). Still, it made the rounds on Soulseek. I contemplated using his version, but I'm always won over by the group's homespun vocals on their own V.I.P. version of the track.

Representing SA-RA at their most minimal, the focus here is on those fragmented arcade synths and that ragged, homespun vocal delivery. Closer to Sly Stone's lackadaisical style on Fresh and There's A Riot Goin' On,2 this is light years away from the diva histrionics of certain (overrated) pop RnB singers that shall remain nameless for the time being...

SA-RA Creative Partners

High Life

Bone-Us Beat

Wonderful Noise

Tucked away on the jazzed-out The Decadent Dimensions EP, this Bone-Us Beat drags a ghost-of-horns mirage and triggered bass stabs over a snapping digital beat, with those electric synths trilling across it all like melted butter. Nearly an instrumental, but not quite, this features some breathy, almost subliminal vocals intoning the title at regular intervals.

SA-RA Creative Partners

Melodee N'mynor

Ubiquity

This track from their Nuclear Evolution: The Age Of Love tour de force doubles down on the shades of Sly Stone claustrophobic soul lingering in their sound. The spectre of trip hop hangs over the proceedings (again!), the vibe here weary but contented, with slacker horns and some of the crew's greatest bleary-eyed vocal stylings. When the chips are down, this might be my favorite SA-RA tune period.

SA-RA Creative Partners

Love Stomp

Jazzy Sport

Subtly shifting astral jazz that opens like the petals of a flower, underpinned by smashing 808 beats in miniature and squelching funk rhythms, while escalator strings slide across it all like rays of fading sunlight. With something of a modern soul flavor lingering in the end result, this is a perfect example of SA-RA's almost effortless way with a brilliant instrumental.

SA-RA Creative Partners

Bitch

Babygrande

Like Second Time Around, Bitch is a prime candidate for the first SA-RA tune I'd play for somebody who'd never heard them. With its plaintive, shimmering atmosphere dropping into that buzzing zero-gravity bassline and spidery broken beats, Bitch seems to boil the entirety of their sound down into its most potent form.

I always crack up at the indignant Bitch?!? response from the lady in the chorus! This also features one of my favorite snatches of lyric ever:

We can take a trip in my spaceship, girl, make love on Saturn's rings.

SA-RA Creative Partners

Love Czars

Ubiquity

This extended eight-minute epic rides a slow-motion breakbeat and blues-tinged bassline with a gangster's limp in a tune that absolutely screams seventies. From the Trouble man, he's on fire, chorus to the curling fragments of guitar, this echoes prime Marvin Gaye, Curtis Mayfield, Isaac Hayes and about thousand other things that I adore (it also shades into pure trip hop). Showcasing the crew at their most organic and traditional, Love Czars it's nevertheless completely otherworldly and archetypically SA-RA.

SA-RA Creative Partners

Ainjoy McWhorter

Negative Ion

SA-RA Remix

Planetgroove

This remix for the Japanese purveyor of jazzed-out RnB is almost completely untethered from earthly concerns, with a beat that barely keeps time and spectral atmospherics swirling in the ether. The track is inhabited by Roger Troutman-esque talk box vocals — tossing off seemingly ad libbed bits and pieces in the background — over deconstructed 808 beats that threaten to crumble at the touch. As the vocals claim, The future is here, and sure 'nuff this is just the sort of thing that could've only happened in the 21st century.

SA-RA Creative Partners

Love Today

Ubiquity

Opening with that jazzbo kick into swirling Milky Way atmosphere in such a way that brings to mind Royal Scam-era Steely Dan, this zero-gravity, slow-motion torch song picks up where Me'Shell NdegéOcello's awesome Comfort Woman left off. With some of the crew's finest harmonies floating across dubbed-out reggae inflections in a spacious slab of soul jazz, this is the perfect ending to the first leg of our machine soul journey, taking us to that proverbial funky space station in lunar orbit Out Among The Stars...
CHR-008:

SA-RA Creative Partners

-

Scorpio Rising

Disc 2

SA-RA Creative Partners

Scientists Of Sound Intro

Unreleased

This was SA-RA's signature intro in the early years, best heard on the Dark Matter & Pornography Mixtape Vol. 30". Sourced from Kool & The Gang's Heaven At Once, it's the perfect counterpoint to SA-RA's utopian machine soul moves.

Kleeer

Tonight

SA-RA

Remix

The SA-RA All Stars

&

Me'Shell NdegéOcello

Rhino

SA-RA remakes Kleeer's Tonight the only way they can, by going all out (after all, the original version already sounded like SA-RA). Don't be fooled by its title, this is more of a full-blown cover version than a remix! The big room, almost jazz-inflected vision in evidence here flies stark contrast to the futurist concision of Kleeer's stunning original, running parallel to other great slabs of twisted boogie like Consequences by Bugz In The Attic.

This originally appeared on the Atlantiquity compilation, which featured modern artists like Vikter Duplaix and King Britt remixing vintage cuts by the likes of Slave, Faze-O and Yusef Lateef from Atlantic's back catalog.

SA-RA Creative Partners

Irisna Gayle

aka

Rozzi Daime

So Special

Wonderful Noise

Continuing the general future jazz slant of the second disc, So Special opens with a sparkling Rhodes solo before dropping into another loose-fitting rhythm with growling electronic bass and hip hop beats. Rozzi Daime's vocals have all the earnest optimism of Carol Crosby circa 4 Hero's Universal Love.

In fact, this tune would have fit right in with that group's music circa Creating Patterns, when their 2000 Black imprint descended on an unsuspecting world with its soundclash of broken beat, twisted techno and RnB. See also Bugz In The Attic (once again) and Silhouette Brown.

SA-RA Creative Partners

Glorious

Redux

Babygrande

As far as I know, this only saw light of day on a limited edition version of The Hollywood Recordings that could only be found at Best Buy (of all places!). It tacks on one new track and new Redux versions, and this is the best of the bunch.3 In fact, for my money this tops the original with its uptempo day-glo electronic Isleys-gone-jazz funk groove. Surprising the way the vocals seem to slip into the pocket of this version far tighter than in the rather abstract original.

You'll also find the unmistakable shades of digital Detroit — por ejemplo, Stacey Pullen, Sean Deason and Kenny Larkin — not to mention that revving up synth that sounds just like something Juan Atkins would have dropped on an Infiniti record (see the very proto-SA-RA Never Tempt Me). Especially striking the way this explodes into that freeform astral jazz coda after the chorus, awash in a nebula of synth glissando and duck-and-dive vocal harmony.

MMW

+

SA-RA

Midnight Birds

SA-RA

Remix

Main

Blue Note

Aside from maybe Recloose's Spelunking (and even then, we're talking a matter of degree), this drastically conceived remix for Medeski Martin + Wood absolute favorite bit of tech jazz ever. Moving through three sections with reckless abandon, this is everything you could want from the form. Starting with a rickety 4/4 groove (always threatening to collapse), the crew's wordless harmonies drift over a horn-driven synth display.

Then, it slips into the bluesy juke-joint midsection over deep space sonics before collapsing into the Was Dog A Doughnut? denouement, organs and spectral harmonies floating in the mist. In the twin worlds of techno and jazz, you'd be hard pressed to find such a wild collision as this.

SA-RA Creative Partners

Bitch Baby

Ubiquity

Taking those blues-soaked vibes to their logical conclusion, this recasts Death Of A Star's tale of an ill-fated beauty as some parallel story from The Mack. Splitting the difference between Curtis and Tricky with trip-hopping torch song vibes, blues-tinged guitars strum over sticky beats and well-deep bass, with synth leads spiraling off into the shadows as the crew's vocals mesh with a swarm of femme fatale. This is one of those tunes that kicks into gear and you just know something ill's about to going down...

SA-RA Creative Partners

Funky Shit

Unreleased

Built around a killer horn fanfare over loose drum beats, this tune practically defines the term The Thrill Of It All. Nothing but loose-limbed beats and the occasional stab underpin the quasi-rapped verses, but when this tune explodes into the chorus, all my shorty's out on the block, you're mainlining on a rush of pure excitement.

It always takes me back to long summer afternoons in the El Cajon heat, chilling in the pool out at the apartment complex where my family used to live and everyone else is there too. This would have been just before the Compass Point/Pier-style sound rewrote the rulebook, when there were still definite 1970s disco-era vibes lingering in the air. Good times for real real.

SA-RA Creative Partners

Nasty U

Getting Out Our Dreams

Speaking of disco, here's one of the crew's rare forays into four-on-the-floor territory (perhaps the most exceptionally so). Juan Atkins-esque synths are in strong evidence yet again, calling to mind the digi-funk sound he perfected with those Infiniti records. Think Vic Mensa's Down On My Luck, only more so. Techno by any other name, and so on...

Nikka Costa

Prince

Do We Know Each Other

SA-RA

Remix - The Raw Re-Cut Rework

Rawshots

It starts playing and that beat is almost too basic to be SA-RA, but then the Apache bridge comes into and it all starts makes sense by virtue of sounding unlike anyone else around. The killer bubblegum pop of the original 12"4 is reshaped as a moody epic, awash in underwater synths and crystalline textures. Nikka's sultry vocals in the verses rise to a screech in the chorus in the best possible way since prime Kelis.

There's also the mater of Prince's guest spot, short and simple but so perfect in response, which remains among my absolute favorite-ever from the man in spite (or perhaps because) of their almost tossed-off nature. I remember at the time hoping he'd bring the trio out to Paisley Park to produce his album. Sadly it never came to pass, but you've got to admit, that would have been amazing...

Tosca

Heidi Bruehl

SA-RA

Remix

SA-RA

G-Stone

The connection between machine soul and trip hop made literal (not the first time, either). Tosca featured ½ of Kruder & Dorfmeister in collaboration with Rupert Huber. This one's slow-motion bump 'n grind is wrapped in ethereal cascading Rhodes, drifting synths and breathy vocals, with just a hint of tech jazz about the proceedings. The whole thing practically defines the term zero-gravity. This is every bit the equal of K&D's genre-defining G-Stoned (and that's saying something).

SA-RA Creative Partners

Frequencies

Unreleased

AKA Butterscotch. It never actually came out, so who can be sure? Another one from the unreleased CDr and, in my humble, the best of the bunch. Half-whispered vocals reverberate over a gorgeous electronic melody played out on a simple sequence of crystalline bleeps, while a motorik machine rhythm unfolds beneath, recalling the feel of a vintage rhythm box... this is Kraftwerk with a dirty mind. And SA-RA do dirty better than just about anyone else, retaining the humor and earthiness of prime-era George Clinton and Millie Jackson with a mischievous gleam in their eye.

SA-RA Creative Partners

Powder Bump

Ubiquity

This instrumental was tucked away on the b-side to the Love Czars II 12". Another one with unmistakable echoes of Kraftwerk. This one must be their simplest tune, with computer bleeps cycling up and down the fretboard over a simple, linear machine rhythm ticking endless onto the horizon. I couldn't help but include it.

Erykah Badu

Agitation

Universal Motown

I love this little tune, completely dazzling and radiant, and over in a minute and a half. Taken from Badu's New Amerykah: Part Two Return Of The Ankh, the sanguine, optimystic follow up to the ominous Fourth World War. The liner notes say Inspired by a brilliant idea by Shafiq Husayn for SA-RA Creative Partners.

It's another one with that great live-played broken beat feel, with playful piano and freewheeling vocals sparring in choreographic precision — What a day what a day what a day what a day — the kicker is that Stevie Wonder-styled harmonica solo in the climax.

SA-RA Creative Partners

My Lady

Jazzy Sport

SA-RA rock the rhythm box with this laidback horn-driven number, threaded by a wordless vocal snatch that I want to say is Earth, Wind & Fire, but can't be certain. With infectiously squelchy bass, vintage cut-ups and The Ballad Of Dorothy Parker-style drum fills, this instrumental has a real ghost-of-the-1970s vibe about it (as do both volumes of the Sonic Seduction EP, from which it was taken).

SA-RA Creative Partners

Pharoahe Monch

Fish Fillet

Sound In Color

A welcome opportunity for Pharoahe Monch to go all out as only he can. Hardcore! Dig this one's pancake-flat shovel head groove, sounding like a stingray gliding across the ocean floor. The start/stop rhythm is driven by the by now expected clip-clopping beats and throbbing bass, while Stacey Pullen-on-Science synths rise from the depths. Pure Detroit, and thats before the string flourish hits, which always makes me flash on Derrick May and R-Tyme's R-Theme.

SA-RA Creative Partners

Hangin' By A String

Ubiquity

This twisted instrumental finds the crew at their absolute freakiest, with a freeform grinding electroid bassline and clip-clopping beats, the whole thing barely hangs together. Vocal splinters weave in and out of the mix and ethereal Solina strings haunt the soundscape as it crumbles from all around. File under deconstruction.

Erykah Badu

Twinkle

Edit

Universal Motown

Had to rock a little edit on this one, which on Fourth World War features an intense extended intro. I really wanted to single out the brilliance of the tune itself, as a standalone single (don't hesitate to get the album though, it's totally essential). SA-RA's warped magic meets Badu's inescapable gravity, resulting in a black hole of machine soul that literally twinkles. And you can't beat that beat: tumbling over itself only to stop and then start all over again, fitting the over-and-over despair of Badu's words perfectly.

One of the greatest things they've done, its both perfectly crafted around her central vision and the most quintessentially SA-RA moment on the album (which is largely more in thrall to the 70s then is typical for the crew).5 As much as I love Baduizm (and everything else she's done, for that matter), I think this is Erykah's finest moment by a mile.

SA-RA Creative Partners

Rozzi Daime

&

Lil' Kenny

White Cloud

Ubiquity

Where was this song when I was 14? As Rik Ocasek would say, it was just what I needed. With that crashing electro beat and the almost randomized glass-blown synths streaming across another grinding bassline (only more so), this embodies the never say die spirit one needs to get through this thing called life.

It also features show-stopping guest spots from Rozzi Daime and Lil' Kenny, augmenting the group's greatest vocal attack ever put down on wax. And I do mean attack in every senses of the word: as far as cosmically-vindicated retorts go, you're just a dark cloud, baby I'm a star, is pretty hard to beat.

SA-RA Creative Partners

Irisna Gale

Intoxicated

Jazzy Sport

You can only follow something so righteous with something subtle and divine... and Intoxicated certainly fits the bill. The lone vocal tune from the Cosmic Lust EP, this gently chugging number features characteristically fragile vocals from the group at their earliest stage. That throbbing heavyweight bassline is pure SA-RA. Another firm favorite of mine, I still swear this sounds like Depeche Mode gone RnB, but no one else I show it to seems to hear it. Maybe I'm crazy? At any rate, this is splendid stuff.

Goapele

Fly Away

Skyblaze

Goapele is one of the great unsung heroes of RnB, plugging away in the 21st century while lesser lights get all the attention. Pay no mind, this is where its at. Perched midway between neo soul and machine music, hers is a winning sound, in many ways a sunnier version of what Erykah Badu would do three years later. This tune is simply just gorgeous, all of that only more so, capturing the rapture and limitless gravity of young love perfectly. Also features great backing vocals from SA-RA themselves, adding a whole dimension to the track.

SA-RA Creative Partners

We Gonna Do It Again

Sound In Color

Wildly unfolding deep space madness in slow-motion, tucked away on the dark side of the Second Time Around double-EP. With its staggering hip hop beat, grinding machine bass, shimmering synths and textures cascading around the group's ethereal vocals floating out into a nebula of harmony, it works as a thumbnail of the SA-RA oeuvre in miniature.

SA-RA Creative Partners

Hollywood

Redux

Babygrande

It may seem like a waste of space to include Redux versions of two earlier tracks (Glorious and this one), but they group managed to re-imagined each of them so expansively and brilliantly that they make a perfect showcase of the crew's genius at work. It would have been a shame not to include them.

If there was an RnB joint more deep space than this one, I haven't heard it (fill me in doe). Massive synths wash in from the distance as outer space/inner space sonics swirl all around in a languid, post-orgasmic chill. The crew's vocals weave through the supernova sprawl as downbeat bebop drop live drumming keeps the time, bass seeping through the cracks in the beat like melted caramel sweet as everything echoes out into the fifth dimension.

It's the perfect way to end tonight's journey, capturing everything great about the crew in one great interstellar swoop, cut adrift and at peace in the deep black of space with a lifetime supply of oxygen.
This compilation does represent the cream of the crop (from where I'm coming from, at least), but I had to leave out so much great music to fit it onto three discs.6 This meant tunes like We Can Do Anything, He Say She Say, Starwarz, New York City fell by the wayside, while outside production jobs like Deep Inside with Platinum Pied Pipers, Erykah Badu's That Hump, Goapele's Good Love, Dwight Trible's Equipoise and anything from Bilal's Love For Sale were casualties as well. Guest showcases like Fly Away Erykah Badu & Georgia Anne Muldrow, Scorpio A Night On The Sun Debi Nova, Gemini's Rising Rozzi Daime and Lean On Me Kurupt, Lord Nez & Erika Rose similarly were locked out of the club, while ace remixes of N*E*R*D's Maybe, Goapele's Catch 22 and GB's Simply So Steve Spacek were just barely on the wrong side of the cut. Further remixes like George Russell's Helluva Town SA-RA "Go" Remix, Milt Jackson's Statement SA-RA Remix Four Tet Sun Drums And Soil SA-RA Creative Partners "On The Move" Remix, along with album cuts like And If Ty and Spacefruit Debi Nova — tunes that really showcased the deep jazz side of the crew — were similarly lost in the shuffle. Perhaps most sadly of all, instrumentals like Goldmine, Daylight, SA-RA Space Theme, Uh Oh Bone-Us Beat, God Made Dirt, Hominy Hominy, Go Ahead, Souls Brother and the two untitled instrumentals from the unreleased CDr were all excised in the name of concision. It was a tough job (tears were shed), but somebody had to do it. All of this is to say, the compilation stands, but there's a whole world out there. Dig deeper people, this is just the tip of the iceberg...
Footnotes

See Ginuwine... The Bachelor, Neneh Cherry's Homebrew, the Kutmasta Kurt Remix of Terranova's Turn Around, Cath Coffey's Mind The Gap, Janet Jackson's The Velvet Rope, Ambersunshower's Walter T. Smith, Massive Attack's Lately and about a thousand other examples.

Appropriately enough, SA-RA even covered Just Like A Baby for the Rewind! 4 compilation on Ubiquity.

Although not present on this compilation, Scorpio (A Night On The Sun) is a bad little jam from whence its title was derived.

Which was left off the album, for whatever reason... what's up?!

Although check out Shafiq Husayn's solo album Shafiq En' A-Free-Ka for similarly seventies vibes.

I actually contemplated making it a three-disc anthology, which it would have rounded out comfortably.