Every now and then one stumbles upon an utterly beguiling record that somehow sounds both intimately of-its-era and utterly out of time. I'm talking about tiles like Tokyo Tower by Terranova, Marvin Gaye's Trouble Man OST and Winning by Sun Palace. Upon reflection, the 1980s seem to have been an elysian fields of such records. With booming drums and often garish synths the order of the day, skeletal affairs like Derrick Harriott's Dub Whip, Prince's The Ballad Of Dorothy Parker and Kleeer's Tonight seem to spring fully formed from some alternate dimension's take on the decade, one where dance music's developments in the nineties and beyond were formulated in blacklit neon during the Age of Atari.
---
The Ultra-Sensual Mix of Keni Stevens' Night Moves is one such record, sounding like something a time traveler from the present day might have laid down upon walking into a secluded 1985 studio after hours (with all the benefit of 20/20 hindsight that scenario entails). In reality, it was no time traveler but a man of and at home this very moment — someone who emerged mid-decade — only just then beginning to embark on a solo career in earnest. It was Keni Stevens.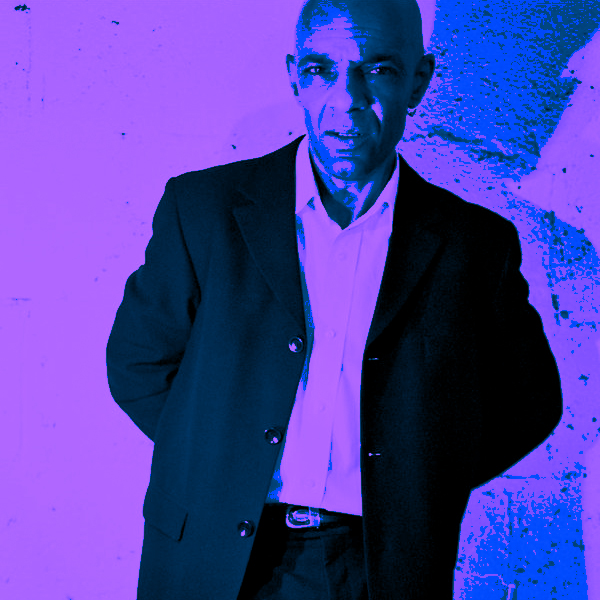 Keni Stevens emerged from the unique contours of a U.K. music scene that took in elements of Brit funk, jazz dance and lovers rock, playing with the band Raw Energy before spending time at Conflict Records working in an A&R capacity. During this period, he also did some session work providing backing vocals for the likes of Marianne Faithfull and Eddy Grant (interestingly, in both cases figures with connections to the Pier), before signing with Elite Records in 1985. Perhaps best known as the home of British jazz dance band Atmosfear, Elite's catalog ranged from post-disco workouts to slinky jazz funk, smooth soul and even the street sounds of electro.
Notably, their catalog ID was DAZZ, which (in similar fashion to the Dazz Band) appropriately enough represented the contraction of Dance and Jazz, a sound that held sway throughout the first half of the decade as jazz musicians got down at the disco (and vice versa). Signposts of the era include Freeez, The Delegation and (slightly later) Loose Ends, not to mention crucial imports like Maze's Twilight and ALL the Jamaica, Queens artists (figures like Leon Ware, Don Blackman, Twennynine, etc.). This was an environment within which Keni would fit perfectly, possessed of a smooth soul-man delivery that flirted just at the cusp of r&b.
He made his solo debut with the original 12" version of Night Moves, a misty confection defined by a flickering synth-bass figure, digi-drums like shuffling footsteps, cascading crystalline keys and a distant synth swelling on the horizon. A lone saxophone dances up and down the soundscape as Keni sings the refrain, Let's make... night moves... together, his voice ravishing into a falsetto in the corners of the mix and even harmonizing with himself in spectral half-life.
At the six-minute point, everything drops out beneath him for a count before returning with a vengeance for a two-minute coda. A deep, brassy synth crests into the groove, pushing it forward (think François Kevorkian's dub of Ashford & Simpson's Babies), while a one-note sequence marks out the time in repetition like the opening moments of Larry Levan's Padlock version of Gwen Guthrie's Peanut Butter. The resultant blend of heavy and smooth wraps up the whole affair in half-lit rainforest vibes that wouldn't sound out of place on Dimitri From Paris' Night Dubbin'.
By contrast, the Ultra-Sensual Mix (split into Vocal and Instrumental mixes) seems to escape gravity's pull altogether. You're no longer walking in the rain but gliding three feet above the surface of some vector landscape, apparently in a faraway galaxy (or inside the machine). This is another matter entirely, and the reason we showed up today. The busy rhythm matrix of the original version has been emptied out: the drums punch out a simple motorik rhythm, while the minimalist slap-bass holds it all down with aerodynamic intensity. Lush pads seep into the mix in a turquoise neon, like some rippling digital creek snaking through the landscape. The combination recalls the almost electroid twilight groove of Barbara Mason's Another Man, with its linear inevitability laid out like a simple twist of fate.
Distant synths fade in and out of earshot, even as a separate clutch of shimmering synths flutter across the surface like something that might emerge from Earthbeat studios at the dawn of the decade to follow (shades too of 808 State's Pacific State). Dub-disco snare drums punctuate the mix at various measures, their klang echoing against the rhythm for whole bars at a time. It's this element that happens to bridge together the two distinct halves of this mix, as Keni's vocals (and their female backing) hang acappella in the ether before the rhythm klang kicks into the track's instrumental mirror image. The effect renders both halves as one marathon 11.5-minute extended workout, ideal for long-distance grooving in the dead of night.
The inner label's spartan credits have this tile down as being recorded at The Madhouse, crediting Chris Madden — the engineer with a dozen or so Elite 12"s under his belt — and Elite label boss Andy Sojka (also of Atmosfear). These names throw up all sorts of interesting possibilities and connections, such as Chris Madden later washing up on household hero Tony Thorpe's Language Records in the mid-nineties for a cameo appearance (as Takshaka) on the label's first Miscellaneous compilation.
Tony Thorpe himself a strange attractor of sorts, with a career spanning from the late-period post punk of 400 Blows to house records released under the name The Moody Boys). It makes sense that the Language imprint would find him at the cusp once again, with the appropriately titled Miscellaneous compilation taking in everything from the electronic jazz of Circadian Rhythms to Ian Pooley's deep house and even the environmental abstraction of David Toop.
All of which is to say that the Language imprint had a pretty wide scope for its time, centering around a sort of tech jazz sensibility, its relative omnivorousness prefiguring prevailing trends at the turn of the century per labels like Compost, Planet E and Studio !K7. In a sense, the label serves as a stepping stone between the Rebirth Of The Cool acid jazz era (Young Disciples, Omar, et. al.) and the fin de siecle convergence of Jazzanova, 2000 Black, Op-ART and The Soulquarians in a future jazz/neo soul/broken beat mash-up. Something like Jazzanova's Straight Dub Mix of Marschmellows' Soulpower, with its epoch-spanning acid jazz/funk/boogie hinting at a continuum stretching from Ethel Beatty to Erykah Badu, makes the point I'm trying to here.
It's a continuum that one could slide Keni Stevens into quite naturally, without any trouble at all. The man's subsequent output certainly bears this out. After two more stellar 12"s for Elite (and an album for sub-label Jam Today), Stevens signs with Debut Records, another conduit with myriad implications and connections. With its strong links to both Passion Music (home of proto-acid jazz funk visionaries Sun Palace) and even Jumpin' & Pumpin' (home of the Earthbeat-era Future Sound Of London), Debut also put out Dougans and Cobain's Mental Cube records (So This Is Love, Q and Chile Of The Bass Generation). That's a rather heady slew of records when all grouped together right there, and certainly food for thought when viewed through a Parallax prism.
This setting proved fertile for Stevens, resulting in a series of three albums that drew increasingly on soundsystem soul signifiers (likely in light of Soul II Soul's ascent and Smith & Mighty's rewriting of the British soul rulebook). Plying a sort of placid loverman sound in that late-decade period interzone between modern soul and r&b, a tune like Cannot Live Without Your Love brims with deep pools of smooth-as-glass atmosphere, languid and peaceful in the calm of moonlight. It's a logical progression from the template drawn up by Stevens himself with Night Moves and the Ultra-Sensual Mix, its motorik flight-by-wire projected into a future of its own design.
It's a sound, a vision, and a state of mind conjured up in tandem with a loose conglomeration of artists who laid down the elegant foundations of machine soul. From Mtume's Juicy Fruit to Kleeer's Tonight, it's a sound that crops up everywhere from U.K. garage (Ramsey & Fen, Craig David, etc.) to Detroit techno (Juan Atkins, Chez Damier, etc.), bleeding into the work of New Jersey's Romanthony and even late-nineties iconoclasts like Timbaland and The Neptunes. There's unmistakable line running through all of this activity straight into the likes of Spacek, SA-RA, Dâm-Funk, Tinashe and beyond, a lattice of circuitry that defines this sound we call machine soul.
One might even make the case that it's another great chapter in the ongoing trans-Atlantic exchange that so much great music has sprung from over the years. There's always been a certain errant quality that creeps into the mix when a sound reaches British shores, be it jungle's transmutation of Mantronix and Marley Marl into Remarc and the Kemet Crew or the subtle infusions of reggae in trip hop and soundsystem soul — later running through garage and even grime (in light of Night Moves, thinking here of particularly RnB-tinged recordings like Wiley's Special Girl) — and their echo in something like Me'Shell NdegéOcello's turn-of-the-century masterstroke Comfort Woman. Good things happen on these trans-Atlantic currents, perennially spiking the punch in just the right measure whenever things get that little bit too comfortable.
---
All 'n all, it's a beautiful destination — and yet another node on the superhighway into the future — a stone foundation upon which Keni Stevens etched subtle hieroglyphs of his own. Right there at the dawn of his solo career, he laid down the subtle slice of moon-lit perfection that is Night Moves Ultra-Sensual Mix. This bit of deep space soul rode the solar wind of machine music into the outer rim, its rhythms mapped in perpetual motion across parallaxing vectors of iridescent turquoise, deep blue and aquamarine, a moment of quiet intimacy stolen in the midst of these vast digital landscapes.
It captures the essence of movement after dark, working equally well in the context of r&b or even smooth jazz late night radio as it would dropped deep in the mix on some underground dancefloor at 2am. Of all the songs to bear the name Night Moves, be it Bob Seger's, Grovesnor's or even Dee Dee Bridgewater's, it just might be the most fitting, the most evocative, and above all the greatest.