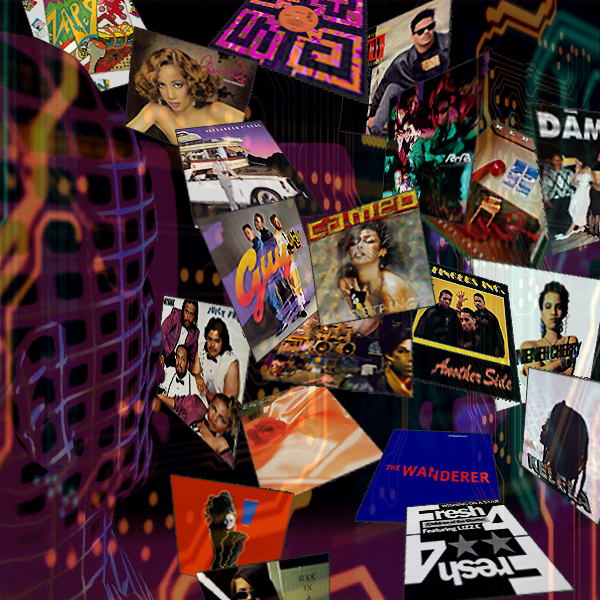 I wound up spending a lot of time on this final chapter of the Terminal Vibration saga — on and off — over the past few months, generating so much content in the process that I've decided to spin it off into its own series. In truth, all along I'd wanted to do a series on Machine Soul in its own right, so here's my chance! Consider this then a wrap up of everything we've been up to this last year on the TV tip, as well as a taster of things to come. I've decided to focus here on the stuff that touches the 80s — along with the previous TV chapters — most directly, with a couple notable exceptions so applicable that would have been glaring to exclude. We will be returning to all of this and taking it from the top again in due course, once we've concluded the whole TV saga with a grand finale: the Terminal Vibration 100.
---
After a year spent answering my original question — where does machine funk intersect with post punk? — we've finally arrived at its logical conclusion: the chrome-plated technicolor world of machine soul. It's arguably the most vital form of popular music (still!), and — from where I'm coming from — certainly the most exciting to follow over the last couple decades. In truth, I'd fallen in love with the form long before I'd even known what to call it. Dating all the way back to its de facto rise in the 1980s as a strange new formation, emerging in that interzone between post-disco electro boogie, techno's arcing feedback and the slowly unfurling hip hop inflections of r&b. It's a captivating, futurist vision of music that has remained the vital disturbing element in pop music right up to the present day.
For all intents and purposes, the machine soul story starts with the debut album of Roger Troutman' Zapp. Sure, there's a long and winding pre-history stretching back into the 1970s — through Sly Stone, Stevie Wonder, Marvin Gaye, Parliament/Funkadelic and the motor disco of Giorgio Moroder — but this is where the form is distilled down to its essence. With Troutman's robotic talk box vocals taking the lead throughout, this is clearly a whole new thing arriving just in time for the dawn a whole new decade.
The sprawling nine-and-a-half minutes of More Bounce To The Ounce remain the undeniable blueprint for electrofunk, which slows down the tempo of disco boogie to a skull-snapping, low-rider pace. As with James Brown and The Meters's foundational relationship with funk proper, the electrofunk sound exists nowhere so clearly as within the Zapp back catalog. Appropriately enough, the electrofunk sound also lays the foundations for g-funk over ten years later, a genre whose sound was quite literally built on Zapp's music and the records to come in their wake (see also Ronnie Hudson's West Coast Poplock, One Way's Cutie Pie and the awesome 12" mix of George Clinton's Atomic Dog).
Predating even g-funk's adoption of Zapp's electrofunk sound, EPMD rode rolling loops from More Bounce To The Ounce and Kool & The Gang Jungle Boogie in You Got's To Chill. On Strictly Business, EPMD trade verses over long, uninterrupted loops in strikingly linear fashion — as opposed to the web of interlocking samples that would come to define golden age hip hop — prefiguring the extended interpolations of Dr. Dre's g-funk circa The Chronic. Tangentially, the more moody groove of It's My Thing seems to connect with the Wild Style soundtrack, particularly the atmospheric funk instrumentals provided by Chris Stein (of Blondie) over which early MCs like the Cold Crush Brothers, Rammellzee and Shockdell traded verses in unforgettable fashion.
Most of the early New York hip hop 12"s featured MCs rapping over what were in effect extended funk jams, as heard in songs like the Sugarhill Gang's Rapper's Delight and Afrika Bambaataa's Zulu Nation Throwdown. Over in Oakland, Too $hort mirrored this activity with early cassette-only releases like Players and Don't Stop Rappin' (sold directly from the trunk of his car), which featured $hort's laidback rapping over largely raw and extended electrofunk instrumentals. The subsequent sound of Bay Area giants like E-40 and JT The Bigga Figga) springs directly from these early forays, and truth be told, L.A. pioneers like Ice-T and King Tee were probably taking notes as well. The horizontal, linear quality running through most West Coast rap starts here.
Which of course all leads directly into peak-era g-funk like Dr. Dre's The Chronic, Snoop Doggy Dogg's Doggystyle and Warren G's Regulate... G Funk Era, not to mention the increasingly atmospheric take of the form by the likes of Above The Law, Compton's Most Wanted and DJ Quik. The logical conclusion of all this stretching-out activity is the music of Dâm-Funk — true ambient g-funk and like Kleeer's Tonight the secret cousin to Detroit techno — culminating in his awesomely sprawling Toeachizown 5xLP set. It's fascinating to rewind to the music Mr. Funk was actually doing during this era, with the archival Adolescent Funk compilation, and its fascinating mash-up of proto-g-funk and new wave-inflected boogie.
It almost goes without saying that both electrofunk and boogie both find their roots in the weird terrain of George Clinton's Parliament/Funkadelic empire. Records like Funkentelechy vs. The Placebo Syndrome and One Nation Under A Groove laid the blueprint for both forms, particularly in keyboardist Bernie Worrell's remarkably tangible synths and neon-lit three-dimensional basslines. The Electric Spanking Of War Babies is the final record from the original run of p-funk recordings, and truth be told it's actually my favorite. Out-weirding the freaks and going toe-to-toe with the post punk and the new wavers — already discussed here, it's a shocking deconstruction of the very electrofunk/boogie forms they dreamed up in the first place.
If there's a template for the prototypical boogie record in the wake of P-Funk's pioneering endeavors — as Zapp's debut was to electrofunk — then you'd be hard pressed to find a better candidate than D-Train's You're The One For Me. Emerging as it does from Prelude's disco-into-post-disco trajectory, this record marks boogie out as a twisted machine elaboration on disco's 4/4 pulse (as opposed to electrofunk's slightly more on-the-one mid-tempo backbeat). Or, to put it in terms of Funkadelic tunes, Not Just Knee Deep is boogie, while Icka Prick is electrofunk.
When you start talking about the electrofunk/boogie nexus at the dawn of the 1980s, there's just no getting around Prince. Without a doubt the greatest auteur working in either form, he was already doggedly pursuing his own path way back in 1978. I mean, what else sounds remotely like For You (his debut), and the apocalyptic monster groove of I'm Yours and Soft And Wet's nimble funk? He further developed this sound across albums like Dirty Mind and Controversy (splicing in increasingly new wave inflections along the way). With its lo-fi grooves and red light district atmosphere, Dirty Mind arguably invents the whole idea of new wave funk in the first place.
His first double-album 1999 is in many ways the culmination of the early Prince sound. By the time of Purple Rain and the extended Paisley Park experience, it's almost a whole other ballgame. This record features great pop songs like Delirious, Little Red Corvette and the title track, but for our purposes today I'd like to focus on a handful of machine funk gems. The eight-minute locked-down electrofunk monster jam D.M.S.R. is the first, rivaling even George Clinton's Atomic Dog for dancefloor power, while the more loosely-defined, nimble-footed groove of Lady Cab Driver plies a street-level atmosphere that often reminds me of The Clash's This Is Radio Clash. Both tunes clearly benefiting from the extended space afforded by a double-LP.
The latter — one of my favorite Prince songs period — is like an exclamation point to everything he'd been up to by that point, from Soft And Wet to the extended monster jam of Dirty Mind's second side. However, my absolute favorite moment on the record — indeed my #1 Prince song ever — is Something In The Water Does Not Compute. This is pure machine soul avant la lettre. Not only is its shimmying rhythm exactly the sort of thing The Neptunes would unleash twenty years later, but at the same time its rolling electronics and gravity room synths predict the inscrutable, world-within-a-world quality of all the greatest techno.
It's worth noting Prince's contemporary production for girl group Vanity 6, which for my money rival even his own records of the period. There's an unfussy, almost lo-fi sound to the record. The electro boogie groove of Nasty Girl kicks off the whole affair with a hip-tugging urgency, while the new wave touches of Drive Me Wild and Make-Up approach the levels of austerity found in the likes of latter-day electro purveyors like Dopplereffekt and ADULT. Of course, Prince went on to perfect the sounds intimated in this record himself with the Purple Rain-era b-side Erotic City, the slinkiest groove of them all.
By this point, new wave can be felt everywhere. Outside Prince's contemporary records, Kleeer's Intimate Connection just might be the most potent distillation of that fact. Both the opening and closing tracks — Ride It and Do You Want To?, respectively — encapsulate the new wave-inflected uptempo sound at the more poppy end of the spectrum, along with things like the Dazz Band's Let It Whip and Ray Parker Jr.'s Woman Out Of Control. Similarly, the relaxed mid-tempo grooves of Intimate Connection and You Did It Again predict the mood of g-funk's most languid precincts, particularly Warren G's debut (in fact, the delivery in the latter reminds me always reminds me of Nate Dogg!).
Even better is the awesomely mechanoid slow jam Next Time It's For Real, which in its clockwork neon-lit perfection seems to take a low rider's angle on Hall & Oates contemporary (peak-era) output. This would have been perfect for the Tron soundtrack, if it weren't a couple years too late! Best of all is the five-minute quasi-instrumental Tonight. I say quasi-instrumental because its lyrics are nearly incomprehensible, run through the effects (I'm assuming a vocoder) and sounding midway between Roger Troutman's robotic talk box forays and the almost subliminal android crooning in Underworld's Cups. Like all the best techno in its elegant simplicity, its one of the three or four key tracks on the table this evening.
Coincidently, Juicy Fruit is at the top of the heap as well (particularly the The After 6 Mix Juicy Fruit Part II). What atmosphere these records have! If you asked me for the one eighties funk record to own — or at the very least, the place to start — I'd point you toward this record. Aside from being the greatest front-to-back listen I've get encountered, it's also something like the skeleton key for understanding the music of this era.
Boogie? How about Hips and Green Light (the latter works particularly well with the other new wave funk of The Clash and A Certain Ratio). Uptempo pop? You're sorted with Your Love's Too Good To Spread Around. Electrofunk? Hip Dip Skippedabeat is an absolute killer, with post-Lightnin' Rod-style raps to boot. Modern soul? Ready For Your Love and Would You Like To Fool Around have that slow-motion boogie/proto-Alexander O'Neal midtempo burner thing down pat.
And of course you've already got your slow jam covered with Juicy Fruit, one of the greatest ever laid down. In fact, I have no doubt this was a key track for Dâm-Funk (probably Timbaland too, truth be told). Best of all is The After 6 Mix Juicy Fruit Part II, the strikingly atmospheric reprise, which is generously tacked onto the end of the album like exit music for a film. Immaculate stuff.
All of this gets filtered back into r&b through the prime conduits of The Neptunes and Timbaland (Outkast take a bow as well), culminating in the oeuvre of 21st century artists like Dâm-Funk and SA-RA. I can still remember my excitement when first confronted with this music, which was simultaneously unlike anything I'd ever heard before and at the same time the ultimate expression of nearly everything I loved in the intersection of soul and electronic music.
Like wandering into a place you've dreamt about many times before but never been — indeed never even thought existed — it just felt right, like everything falling into place as the sound unfolded. Their freaked-out, bubbling machine soul sound seemed inspired by many of the sounds discussed today even as it jumped off into completely new directions and ever more warped terrain. This was deep space music par excellence. Indeed, tracks like Death Of A Star SUPERNOVA embody the futurist sound and spirit of machine soul.
Similarly evocative of deep space, and even more dubbed-out and abstracted is this amazing dub version of Ashford & Simpson's Babies by disco don François Kevorkian. Moody mood music in the truest sense, this tune just stretches out through infinity and into a terrain that isn't disco, funk or even boogie but pure machine soul. There's strong affinities here with Compass Point too, particularly the Padlock record, with its neon-lit Larry Levan reworks of prime Gwen Guthrie material like Hopscotch and Seventh Heaven.
Quite a few soul veterans were more than ready to get down with the nascent machine soul sound. The Isley Brothers took the sound and ran with it, turning in one of the key records of the form with Between The Sheets. This track is the direct descendant of the ARP-led ambient soul they pioneered with For The Love Of You (and the rest of the second side of The Heat Is On, in fact). With the addition of machine rhythms and an extended bridge that to modern ears sounds an awful lot like techno, the transition was complete: it's not that far of a leap from this tune to Computer Love (be it the Kraftwerk version, Zapp's or even The Egyptian Lover's).
Similarly forward-thinking, this twilight-era West End jam is built on a framework that is almost pure electro. Liquid neon synths just ooze over everything, evoking city lights and long summer nights. Like so much here — from Kleeer's Tonight in DJ Quik's Tonite to Aaliyah's take on The Isley's Choosey Lover — this track had a slight return over a decade later, with Biggie Smalls and Lil' Kim riding its slinky groove into the 90s on Another.
If we're talking boogie at its most electro (and we are!), then there's no getting around Cameo. They're almost too easy to take for granted, but both Word Up! and Candy are bad jams, no question. I've got loads of their records and even if they're not always particularly consistent, many are well worth your time. This particular album might be your best bet, leading off with the awesome ice cavern boogie of the title track. Like Another Man, it's practically an electro track dressed up in boogie styles. The 12" version even includes a surprisingly hard-hitting rap from the the crew.
Cameo started out as a post-Parliament disco funk group along the lines of Slave before metamorphosing into a three piece with a wildly redefined sound touched by new wave and (eventually) electro. Don't forget that E-Dancer's Velocity Funk started life as the Kevin Saunderson remix of the group's 1992 single Money. Indeed, one could sketch a line from She's Strange to peak-era E-Dancer records like Heavenly and World Of Deep without too much trouble.
Alexander O'Neal
Alexander O'Neal
Tabu
b/w
Cherrelle
High Priority
Tabu
Even though I'd already discussed Alexander O'Neal's debut in detail a few months back, it would be a mistake not to mention it in passing — along with its sister record, Cherrelle's High Priority — tonight. These records work remarkably well side by side. O'Neal even guests on Cherrelle's record, while she returns the favor on his sophomore outing Hearsay. It's 1985, smack in the middle of the decade, and Jam & Lewis are perfecting the Minneapolis sound they'd fleshed out with The S.O.S. Band's Just Be Good To Me. Both records are benchmark instances of modern soul, their tracks expertly crafted by Jimmy Jam & Terry Lewis around their respective vocalists with a striking attention to detail.
Jam & Lewis would find their perfect muse the following year, taking their sound to new heights with Janet Jackson's Control, who seemed to serve a similar extended working relationship with the duo to the one Aaliyah later would with Timbaland. This is one of the key turning points in the decade's urban music, from the Art Of Noise touches in Nasty to the moments of deconstructed boogie and electroid dance pop like The Pleasure Principle (with rather appropriate Gary Numan resonance) and its lush slow jams like Funny How Time Flies When You're Having Fun, which strips the lush futurism of Human Nature down to is purest (ambient) essence.
Prince does it again! This record lays down the gauntlet after his winning mid-decade Paisley Park dalliances after Purple Rain, records that reaped tons of great music across the spectrum with psychedelic flair. Paradoxically, it seems the double-album format was all it took for him to refocus on the machine. We're clearly in another era now. Indeed, there's a wealth of stuff on here that is pure machine soul. TLC covered If I Was Your Girlfriend seven years later and practically didn't change a thing... it already sounded like present-day RnB! The Ballad Of Dorothy Parker lays down a yet even more nimble, brittle funk, swimming in languid atmosphere, while the hard-edged electronic groove in Housequake was lifted wholesale by The Neptunes multiple times in the years to come.
Ah yes, here's another one that I've already covered. Standing in for the likes of Surface and Loose Ends (whose Zagora is one of the early warning shots of what would come to be called neo soul), this is the last call for modern soul untouched by the all-encompassing influence of hip hop. Interestingly enough, in a couple years all of these figures wound up messing around with hip hop-adjacent forms one way or another, be it Surface's dalliance with swingbeat or Keni Stevens' with what might be termed soundsystem soul (the distinctly U.K. flavor of r&b directly adjacent to both trip hop a la Smith & Mighty and that interzone where Neneh Cherry and Soul II Soul dwell), while Loose Ends actually wound up splitting the difference between the two.
This 12" from Lillo Thomas is also right on the cusp, but with slightly harder beats in the Longer Luv Mix, it's tipping into proto-swingbeat just that little bit. Nevertheless, this is still in the drawn-out lacuna between the sounds of electro boogie and new jack swing where post-Control sonix reign supreme. I'm even reminded in places of James Ingram's sophisticated modern soul. Enjoy it while it lasts, because from here on out it's all hip hop!
Oran "Juice" Jones was an r&b singer signed to Def Jam, who put out this record at the remarkably early year of 1986, featuring subtle hip hop flourishes well before they'd become commonplace. The Rain is an atmospheric, mid-tempo burner that largely builds on the sound of figures like Johnny Osbourne, but then the beat to It's Yours has that distinctive digital hip hop kick pioneered by the likes of Mantronix. In fact, it sounds a lot like the freestyle-inflected dance pop records he'd later produce toward the end of the decade.
Swingbeat hit like a bomb when it first dropped. I can remember like it was yesterday: all of a sudden that trademark tikka-tikka-boom beat was EVERYWHERE! I loved it at the time and even long after it fell out of fashion I loved it still. I even used a lot of swingbeat-style rhythmic patterns in my earliest rave tracks back when I first started making beats! Teddy Riley was the prime architect of the form, in large part defining it in the public imagination (even getting drafted in by Michael Jackson for production duties on his 1991 smash Dangerous). Guy's debut is the point where Riley really introduced the sound to the world, and it remains a milestone (not to mention a classic bit of machine-driven r&b).
Suddenly, swingbeat was everywhere, coming from both the soul angle with Tony! Toni! Toné! and out of hip hop with Wreckx-n-Effect (another Riley production). This was the first real cross-pollination between hip hop and modern soul of the Jam & Lewis variety, becoming instrumental in the synthesis of r&b as we know it. This 12" single by the man who yells five-o! in New Jack City might be my favorite record that the form produced in the 1980s. The album version always seemed a tad stiff to my ears, but this extended 12" Mix oils up the joints into a lithesome robotic monster groove, featuring a vocodered chorus threaded into the beat itself. The beats matching the sleeve perfectly — Urban Haze to borrow a phrase from Basement Jaxx — this is Terminal Vibration music to its core.
Alongside hip hop, the other new form to feed into the nascent r&b sound was house. If I'm not mistaken, the Fingers Inc. album was the first house LP ever. It's also a key modern soul record, featuring the dueling vocals of Robert Owens and Ron Wilson against Larry Heard's sleek, futurist productions. Heard — who is probably the key conduit for soul and jazz into house music — also released the awesome Ammnesia the very same year — a record full of lush instrumentals that set the blueprint for deep house — which works as the perfect companion piece to Another Side. I searched high and low for these two records when I was first getting into beats, both of which were grails alongside Carlton's The Call Is Strong and the Earthbeat compilation.
On the Fingers Inc. album, Chicago street poet Harry Dennis guested on the track Distant Planet, which worked as a precursor to the album he'd later record with Larry Heard as The It. However, well before all this activity, Harry Dennis had laid down this record with Marshall Jefferson. The Jungle is defined by its lush rainforest sound, thick with atmosphere, evoking the concept of the urban jungle in something of a parallel with Jon Hassell's notion of Fourth World music. The bassline here so deep and the synths so absorbing, its impossible not to get caught up in the sonic imagery conjured up by the duo. There were two more Jungle Wonz records, both of which are well worth your time as well...
More Chicago house on the modern soul tip. Da Posse had a few records around this time, even cutting an LP for Republic in 1990. The instrumental It's My Life Aluh Mix is usually the song of theirs to get singled out for praise (even getting included on Warp's Warp10+1 Influences compilation), but this is easily my favorite thing the crew ever did. With its icy string lines cutting across a droning acid line and Martell's lonely nocturnal croon, Searchin' Hard is a longing slab of alien post-disco soul. I'm a sucker for this sort of lush, soul-inflected house music, shot through as it is with a sort of backroom, rough-and-tumble futurism.
It's a sound that crops up again and again into the 90s (and right up to the present day, in fact). To my mind, New Jersey's Romanthony — the dark prince of garage — was a key progenitor of the form, representing the very apex of the impulse. The sprawling Romanworld album was a blues-inflected, half-lit tour de force, with a scope to match Prince's Sign "O" The Times. Indeed, I think of Romanthony as perhaps the greatest of the artists to pick up where Prince left off, taking machine soul to soaring new heights of rhythmic dexterity. Nowhere is that more clear than on The Wanderer (particularly in its electro-garage CD Remix #9 version), which is quite simply heaven on wax.
As discussed earlier, Jamie Principle took Prince's raw sexuality and machine-inflected soul to ever more warped, new wave-damaged domains. Records like Baby Wants To Ride and It's A Cold Cold World created a template for house music that remains both strikingly intimate and deeply strange. I'm repeating myself here, but there were loads of people to move into Principle's slipstream: I've mentioned Blake Baxter and K-Alexi Shelby, but also later figures like Aaron-Carl, Blaqstarr and Green Velvet seem heavily indebted to Principle's striking initial vision.
My favorite record to run with Principle's template just might be this Reese record, which marries the whispered/claustrophobic vocal shtick to a characteristically rugged Kevin Saunderson groove, complete with the appearance of the greatest Reese bassline of them all (just ask Dillinja and Groove Chronicles!). This is just such an incredible sound captured here, somehow massive and spectral at the same time: a great, subsonic rumbling just on the edge of your perception. It's matched perfectly by the watery synth whistles that drift across its surface, while those naggingly spare keyboard loops run counterpoint. Hard to believe he put it all together in 1988, it's yet a testament to the sound genius of the man.
Of course Saunderson had his own forays into mainstream dancefloors (not to mention the charts) with Chicago diva Paris Grey as Inner City. Everyone knows uptempo hits like Good Life and Big Fun — indeed, they used to play these on Jammin' z90 during their afternoon old school sets — but tonight I'd like to single out Power Of Passion for praise. The album's lone ballad, it was actually cut from the U.S. version of the album (which was all I knew until the reissue came out). It's quickly become one of my key tracks, and I'd argue the great machine soul tune that nobody ever talks about. Sounding exactly like a Neptunes-produced Kelis ballad circa Wanderland, it even manages to predict the atmosphere of present-day alternative r&b. Paris Grey's vocals — which are belted out in a gutsy manner nearly everywhere else — drift ethereal across a lingering synth mirage and slow motion 909 beats. Exquisite!
The other great Inner City record from the 80s is this cover version of the Stephanie Mills disco staple. The Knuckles/Morales Def Mix is the one you want. You wonder how they could top the brilliantly understated groove of the Stephanie Mills original, but they somehow manage to pull it off, going for the jugular with a lush, string-laden soundscape that just chugs along a motorik 909 rhythm as Paris duets with her own backing vocals. When the blue notes of that piano line hit across its oceanic backdrop, I swear you're hearing the burnished edges of Massive Attack's Protection (particularly the Craig Armstrong arrangements in Weather Storm) five years ahead of schedule.
I'd even argue that the Def Mix even has traces of trip hop's soul about it, bringing to mind the early records to come out of Bristol. When it comes to trip hop, Massive Attack can say they were there from the beginning. Indeed, their original crew The Wild Bunch was the nucleus around which the Bristol blues scene formed in the first place. Their debut 12" Any Love (produced by Smith & Mighty) is a stone classic, finding the crew covering the Rufus & Chaka Khan disco staple in a winningly moody fashion, with Carlton's unmistakable falsetto soaring over rugged beats and a haunting snatch of electro boogie noise.
Smith & Mighty did as much as anyone to establish the blueprint for trip hop with records like Walk On... and Anyone (both released on their own Three Stripe imprint). Like Any Love, both records were cover versions (Burt Bacharach/Hal David numbers in Smith & Mighty's case), establishing the standard practice with which r&b artists like Playa (with Don't Stop The Music) and Gina Thompson (Why Do Fools Fall In Love would retrofit existing favorites and update them for a new era (shades of Jamaica's endlessly recycling versions, in which the future is constructed from fragments of the past).
Another cover version, this time the Fresh 4 take on Rose Royce's Wishing On A Star. Another Smith & Mighty production. Like I said, they were on fire at the time. The Rhodes atmosphere from Faze-O's Riding High swirls across the entirety of the track, its sound echoing in pure resonance inside your head as a slow-motion Funky Drummer loop unfurls beneath, drowned in reverb. You can sense the spectre of acid jazz in there somewhere.
Fresh 4 were slated by 10 Records to become a pop sensation, but got lost in a maze of record company politics and misunderstandings. Members of the group went on to play a key role in Bristol's drum 'n bass story, however, with Krust and Suv forming Reprazent with Roni Size and Flynn teaming up with Flora (as Flynn And Flora), while Smith & Mighty went on to produce Carlton's sterling debut album and stubbornly blaze their own trail through the ensuing years with records like Steppers Delight and Bass Is Maternal.
Carlton's debut exists in the shadow of Massive Attack's debut album, but is every bit its equal. Both are records I couldn't live without. I hope I'm driving home the trajectories of machine soul and trip hop have been intertwined from the beginning... they're flipsides of the same coin, really. On Blue Lines, obvious staples like Safe From Harm and Unfinished Sympathy hover in the moody interzone between hip hop, dance music and r&b, taking the notion of soundsystem soul to its logical conclusion. The oft-overlooked Lately — possibly my favorite song on the album — samples the radioactive glow of Lowrell's Mellow Mellow Right On bassline over rugged hip hop beats in such a way that predicts nearly everything I love about nineties r&b.
I often think you could trace a lot of this RnB activity back to the U.K. either way. Soul To Soul's marriage of hip hop beats and r&b songcraft — spiked with house, dub and jazz inflections — epitomizes the idea of soundsystem soul, which is a fellow traveler with trip hop as much as hip hop proper. As was the case with swingbeat, nearly everyone wanted a piece of the distinctly Soul II Soul beat (as heard in Keep On Movin') at at the time. Even indie rockers like Primal Scream nicked the beat for Loaded and subsequently turned into the indie dance proposition that gave us Screamadelica! There's also more than a bit of neo soul's DNA about this record, along with the solo albums Caron Wheeler would subsequently release in the decade to follow.
Exhibit B: Neneh Cherry. Now that's attitude! Step-daughter of free jazz (and proto-Fourth World) pioneer Don Cherry, Neneh started out in post punk with groups like Rip Rig & Panic and latter day Slits (see Chapter 5) before showing up as a dancer in a couple Big Audio Dynamite music videos. Her debut album rewrites the rulebook: from the widescreen production of Buffalo Stance to the understated downbeat of Manchild, you can hear the nineties being born in the clash between the hard-edged dance beats and atmospheric production. Her follow up Homebrew — which features the awesome Buddy X — has an even more overtly trip hop flavor.
As I never tire of telling people, Sinéad O'Connor's debut album The Lion And The Cobra is the stepping stone between Janet Jackson's Control and Neneh Cherry's debut. There's also a fair bit of 4AD atmosphere mixed in among the diamond-edged beats, not to mention moments that seem to prefigure the sound of 90s alternative (Just Call Me Joe). Especially noteworthy in the context of tonight's machine soul affair is the 12" single for I Want Your Hands On Me, which features a very early cameo from MC Lyte.
A.R. Kane were operating at a similar axis of dance rhythms and post-4AD (they even recorded an EP for the label early on) atmosphere around the time of their second album, "I". Initially pegged by the music press as the black Jesus And Mary Chain, they were actually a much more complex proposition, stirring elements of dub, jazz, dream pop and alternative into a swirling, hypnotic sound that often flirted with dance. "I" is where the duo went all out, with tunes like A Love From Outer Space and What's All This Then? diving straight into the Second Summer Of Love dancefloor even as they continued plumbing the depths of their deep, strange sound with tunes like Sugarwings and Catch My Drift.
Interestingly enough, there seems to have been this subtle undercurrent of the duo's influence running through the freakier ends of hip hop and r&b ever since. Divine Styler's Spiral Walls Containing Autumns Of Light for one (and perhaps most literally so). The dub-inflected deep space soul of Me'Shell NdegéOcello's Comfort Woman for another. I've often thought Seal owed a lot to A.R. Kane. I also remember Simon Reynolds comparing Outkast's Elevators Me & You to A.R. Kane back in the day. It all seemed to reach critical mass around the time of Kid Cudi and Kanye's 808s & Heartbreak, both of which seemed indebted to the duo's sound (alongside a healthy dose of Tears For Fears circa The Hurting).
Suddenly, without warning and seemingly against all odds, the sound was everywhere. We're still riding that wave. I wish my fifteen-year-old self could've seen this! Artists pegged as alternative r&b like FKA Twigs and Weeknd are very much in this slipstream (see also Tinashe's Aquarius). My favorite of the bunch is Cut 4 Me by Kelela, which I've gone on about before, bringing things full circle in a clash of machine beats, post punk sonix and atmosphere. It's a fitting place to wind up with our answer to that perennial question, just one of many hovering around this half-lit interzone like a ghost in the machine.
LISTEN NOW
Terminal Vibration 10:

Cameo

She's Strange

Atlanta Artists

One Way

Cutie Pie

MCA

SA-RA Creative Partners

Death Of A Star

SUPERNOVA

Ubiquity

Kleeer

Tonight

Atlantic

Barbara Mason

Another Man

West End

Ashford & Simpson

Babies

Dub Version

Capitol

Prince

Something In The Water

Does Not Compute

Warner Bros.

Zapp

Computer Love

Warner Bros.

The Isley Brothers

Between The Sheets

T-Neck

Mtume

The After 6 Mix

Juicy Fruit Part II

Epic

Prince

The Ballad Of Dorothy Parker

Warner Bros.

Dâm-Funk

Raindrops

Stones Throw

Fingers Inc.

Feelin' Sleezy

Jack Trax

Janet Jackson

Nasty

A&M

Sinéad O'Connor

MC Lyte

I Want Your

Hands On Me

Ensign

Neneh Cherry

Inna City Mamma

Circa

Fresh 4

Lizz. E

Wishing On A Star

12" Mix

10

Massive Attack

Any Love

Massive Attack

Kelela

Floor Show

Fade To Mind

Inner City

Power Of Passion

10

Guy

Teddy's Jam

MCA

Christopher Williams

Talk To Myself

12" Mix

Geffen

Da Posse

Martell

Searchin' Hard

Vocals Mix

Dance Mania

Romanthony

The Wanderer

CD Remix #9

Prescription
Terminal Vibration 10: The Records