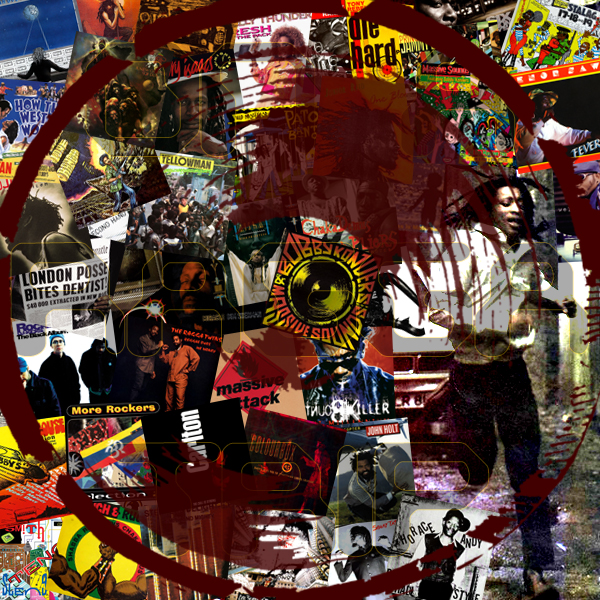 Like the Island Disco bonus round, here's another brace of records that fell through the cracks in the Terminal Vibration schema. In truth, they probably wouldn't have if Chapter One hadn't been a placeholder. This might have found a spot between the Imperial Slates chapter — which this bonus round runs perpendicular to — and the Edge Of No Control chapter (even if those chapters already flowed rather naturally from one to the other). At any rate, it makes sense to cover it as we draw near to the final feature, due to its profound shaping influence on the sounds contained therein.
The focus here is reggae, specifically its routes into dub, dancehall and trip hop as the decade unwinds. With central concepts like versioning and dubs making their way into the mainstream via their adoption by the twin worlds of post punk and disco, at the dawn of the 1980s the sound was poised to reshape pop music to a startling degree. By the end of the decade, dubs and remix versions would become commonplace, spitfire rapping (itself in part derived from deejay reggae records) was everywhere and reggae/dub/dancehall was living large in a ragga style. What follows is some general riffing on a brace of these records, lying at the interface of ragga and the body pop...
This soundtrack is the perfect way to kick things off tonight. Babylon was something of a conceptual answer to The Harder They Come, replacing the crisp, peak-era reggae of Jimmy Cliff and The Maytals with a darker, smoked-out sound that made more sense in the era of post punk as the 1970s gave way to the 1980s. Crucially, this features cuts by British reggae artists like Aswad and Dennis Bovell, further bolstering its overcast atmosphere. Bovell , who'd had a storied career already as a member of U.K. reggae group Matumbi (not to mention productions for everyone from The Slits to Ryuichi Sakamoto), provides a closing suite of three moody instrumentals (the CD reissue includes seven more cuts in addition) that'll leave you wanting a Bovell full-length to get lost in.
I Wah Dub is that record. Recording under the name Blackbeard, Bovell goes even further into left field this time and turns in a selection of killer dub shot-through with deep space atmosphere. This exists in parallel with Scientist's beloved dub records of the era, like Scientist Wins The World Cup and Scientist Rids The World Of The Evil Curse Of The Vampires, which expanded on the seminal work of foundational artists like King Tubby and Lee "Scratch" Perry.
Further deep space endeavors, this also illustrates the importance of British reggae in the form's next chapter. Starship Africa represents super-producer Adrian Sherwood's desire to cut a deeply psychedelic dub record with Creation Rebel, mainstays on his On-U Sound imprint. The tracklist is split between two suites (one to a side), the titular Starship Africa and Space Movement, belying a self-consciously proggy vision of dub that connects back to earlier forays like the Vulcans' Star Trek and Colonel Elliott And The Lunatics' Interstellar Reggae Drive.
On an interesting side note, thanks in part no doubt to the oftentimes apocalyptic themes tackled on the reggae of the era, there's a subset of records that have almost heavy metal imagery in their sleeves. Exhibit A is Johnny Osbourne's Nightfall, which was famously sampled by More Rockers' Night Fall (which I mention because it's a sample that I searched out obsessively back in the day). Even more so than dub, roots reggae of the decade flows quite logically from that of the late 1970s.
With similarly metal-worthy imagery of Haile Selassie driving a chariot pulled by lions, Aswad's A New Chapter Of Dub is a spaced-out, deeply psychedelic re-imagining of their fourth album A New Chapter. This entirely instrumental outing by the British reggae band adds a hefty dose of crazy electronic madness to the mix in the sort of record that epitomizes the vast new horizons that dub music offered at the dawn of the 1980s (and beyond, truth be told).
Just as there was an almost imperceptible shift at the turn of the decade as dub was codified into a genre in its own right, the deejay records that had been filtering in throughout the 1970s — records like Big Youth's Dread Locks Dread and Dillinger's CB 200 — reached a critical mass. The sound tightened up, as evidenced by Toyan's killer debut. He was practically the next generation to come up after the original deejays that cut records, and if you squint you can just make out the silhouette of dancehall's eventual rise a couple years later.
A record like The Lone Ranger's M-16 is — on the face of it — largely a continuation of the original deejay records, such as his own debut The Other Side Of Dub (from 1977), but in those tuffer, more compact riddims, you can (once again) sense the shape of things to come. It's interesting to consider that roots reggae's twin offshoots — dub and deejay — would turn out to have a bigger impact than just about any other music over the last quarter of the 20st century, with the twin forces of rap and remixology picking up where they left off to drastically reshape the popular musical landscape.
One of my absolute favorite records of the decade uses dub methodology in what amounts to six discomix versions, with the original tune followed seamlessly by its x-ray dub. The result is a record dripping with atmosphere, in which Andy's signature falsetto is cut adrift amidst the lonely alleyways of Kingston. The first clue is the stark black-and-white sleeve, which looks exactly how this record sounds in Pi monochrome. With the spectre of paranoia hanging over the whole affair in such a way that recalls The Parallax View, this also sows the seeds for trip hop's shadowy forays nearly a decade later.
With respect to trip hop, this record is interesting not just for its towering Light My Fire cover version (predating the radical Massive Attack reinvention by over a decade), but the way it signals a global vision of reggae. Aside from the U.K. (diaspora in effect), Jamaica had been nearly the sole source for reggae before the 1980s, when suddenly records began to creep in from all over: South Africa, Germany, the greater Caribbean, and in the case of former post-punker Snuky Tate, the United States. Much as in the case of hip hop, dubwise sounds captured the world's imagination for years to come, right up to the present day.
Conversely, Gregory Isaacs' records of the day represent the flipside of the coin, wherein the sweet soul of lovers rock melts into the crisp production techniques of the 1980s to offer up a vision of reggae that would serve as a blueprint for glistening pop-reggae confections for decades to come. Night Nurse even features ace backing from the Compass Point All Stars, who also backed Grace Jones and Gwen Guthrie around the same time. The blissful Cool Down The Pace — in any of its myriad versions — is the sound of Club Paradise going off in a placid tropical lagoon at sunset.
John Holt — reggae's original loverman — goes roots on the title track, with a radical reinvention that finds him following in the footsteps of Peter Tosh and repping the rastaman's herb of choice. Police In Helicopter is firmly in the remit of Terminal Vibration, with a rugged, cinematic sound miles away from earlier records like 1000 Volts Of Holt and The Paragons. Still, the remainder of the record focuses on Holt's softer side, so there's a little bit for everyone here.
It's a tough call which of tonight's records is thee most Terminal Vibration, but this would certainly be in the top three or so (along with Horace Andy's Dance Hall Style). Whip It is a nifty remake of the Dazz Band's epochal electro boogie monster jam Let It Whip, but the flipside is where the real magic happens. Dub Whip is a skeletal revamp of the tune that floats spectral fragments of the Harriott's original over a brilliantly squelching synth bassline.
Shading into dancehall proper here. Indeed, Yellowman might be the form's first star (shoot me down, I'm pretty far from an expert)? Zungguzungguguzungguzeng is certainly a crucial early tune to come out of the genre, featuring the man's non-stop top-of-the-dome toasting over a bass-heavy downbeat groove, all of which is colored by a quicksilver guitar figure and shades of echo-chambered brass. You can just tell a whole new thing is taking shape here. Also worth a look-in is the prior year's Mister Yellowman, this record's equal and the home of the brilliant Lost Mi Love (which, in a roundabout way, turns up in Terranova's DJ-Kicks). Needless to say, the vibes are once again terminal...
Tenor Saw's Ring The Alarm is similarly crucial, possibly even more so, putting dancehall's evergreen stalag riddim into the popular consciousness. Even queen of mediocrity Beyoncé covered it! The Original Stalag 17-18 And 19 compilation — complete with brilliant Limonious sleeve art — showcases ten different takes on the riddim, including Little Kirk's What's Love Got To Do and Lloyd Hemmings's Ragamuffin Soldier. I met Lloyd Hemmings once, at Trade Roots Reggae. He was cool, even signing my copy of Thirteen Months In Zion!
Getting more electronic by the moment now, Tenor Saw's Fever is — for me, at least — the tipping point into dancehall-as-we-know-it. Drum machines, fat basslines and gloriously technicolor synths are the order of the day. It's but a small step from here to Sleng Teng and Computerised Dub. This is one of those albums that everyone should own (at the very least anyone with a passing interest in Jamaican music), it's something like the Raising Hell of dancehall, a line in the sand smack in the middle of the decade.
Tenor Saw's liquid singjay vocal tone was undeniably something quite special, setting the template for a sound that would be endlessly imitated in the years to come. Out there in the digital glare of 1985, he was doubtlessly poised for a long and fruitful career as one of dancehall's leading lights. Tragically, his body was found at the side of the road outside Houston, Texas three years later, presumably the victim of a hit and run driver. He was 21.
Fortunately, the great Barrington Levy did get to have a long and winding career. Anyone with a passing acquaintance with jungle and trip hop has most likely already heard his rich, piercing vocals, while dancehall fiends could pick it out in a line up even if they were blindfolded and wearing earplugs. Pay attention now: the title track is one of the greatest singles of all time. No joke, it should be played on the radio as often as Thriller. Like Police In Helicopter, it sports a resolutely cinematic sound, this time in the circuit-driven context of digital dancehall.
The watershed moment in digital dancehall was Wayne Smith's Under Me Sleng Teng, which was produced by the great Prince Jammy. Has anyone rocked a Casio this hard?! Widely sampled and imitated, by everyone from SL2, Roni Size (as Firefox), and even Sublime! I have a Jammy compilation that comes complete with bonus disc featuring a documentary about the man, which includes great footage of Sleng Teng sweeping the Jamaican music awards (along with interview footage with Wayne Smith himself).
Jammy's companion piece to the Sleng Teng album is the awesome Computerised Dub, a record that — for a dyed-in-the-wool techno head — is almost too good to be true. There's no way these lightly-dubbed rhythm traxx, renamed with computer-era terminology sans vocals, should be so endlessly engaging! Tunes like 32 Bit Chip, Auto Rhythm and Wafer Scale Integration are the equal of anything from Kraftwerk to The Egyptian Lover, LFO, Yellow Magic Orchestra and even Detroit techno (gasp... oh no he didn't!).
Much like hip hop (again), the parameters of digital dancehall rewrote the rulebook of reggae, with old guard artists often adopting its contours and reshaping their sound for the new era. Take this compilation, which like the title says rounds up a selections of King Tubby's productions from the digital era. These crisp computer rhythms have far more in common with the productions of his young protégé Prince Jammy than rootsy slates like Dub From The Roots and King Tubbys Meets Rockers Uptown. Time marches on...
If there's a back catalog that one could spend the rest of their lives exploring, Mad Professor's Ariwa setup would provide plenty of terrain to cover. With over seven-hundred releases in circulation, there's whole worlds in there. I wish I had more of the things. Everything I do own is superb. This record features British deejay Pato Banton waxing esoteric over futuristic dubwise production, culminating in the utterly absorbing moonwalk that is My Opinion.
I often think of Adrian Sherwood's On-U Sound imprint in the same breath as Ariwa. Both catalogs are similarly deep and varied, inspiring both awe and intimidation (where does one even start?!). Like Creation Rebel's Starship Africa, the African Head Charge records go some way to showcasing how far out into pure head music the label could get. Fusing abrasive post-post punk beats with heavy dub and tribal percussion, these frigid, towering beats could soundtrack any number of William Gibson stories (if the movies ever get made!).
Even if it did come out on 4AD (home of the Cocteau Twins and the Pixies), this ace Colourbox 12" is cut from the same cloth as Adrian Sherwood's wild On-U Sound adventures. The a-side is a cover of Jacob Miller's Augustus Pablo-produced smash Baby I Love You So, while the flip features the monster discomix-cum-spaghetti western groove of Looks Like We're Shy One Horse/Shoot Out. The secret square root of trip hop, buried in the dying embers of post punk.
More Ariwa, this is also strikingly forward-looking, with crisp machine rhythms that always make me flash on both Mtume's Juicy Fruit (the album) and Timbaland's syncopated r&b. The production here is perfect. Aisha herself is compelling, with mystical themes coming on like the split of Erykah Badu and Susan Cadogan. Famously, the wordless vocal refrain from The Creator was later the source of the hook in The Orb's epochal ambient house talisman Blue Room.
We caught a glimpse of King Tubby in the 1980s, and now its time to take a look into what the great Lee "Scratch" Perry was up to. Backed by On-U Sound's Dub Syndicate, Scratch turns in one of his finest records with both feet planted firmly in Terminal Vibration territory. This is directly descended from storied Upsetter records like Super Ape and City Too Hot, with all the implied madness that entails.
Gregory Isaacs pulls a Police In Helicopter of his own, with an outspoken political attack (decrying rumours of war) over a knife-edged dancehall riddim. What you hear between the lines in that swinging beat and decomposed orchestra stabs is the sound of the 90s writ large on loud Greensleeves wax two years ahead of schedule. I'm talking about ragga, the place where dancehall and rap meet up to rumble. You play this back to back with Guy and Tony! Toni! Toné! (who had ragga fixations of their own) and everything makes sense.
If there was one figure who embodied dancehall in the popular consciousness at the time, it was Shabba Ranks. He was arguably ragga's first global superstar, prefiguring the likes of Sean Paul and Elephant Man, crossing over with contemporary rap audiences of the day. Ruff & Rugged (which was reissued the following year, first under the name Ruff And Tuff and then Two Tough, both times with new sleeve art) predates all of that, offering up that dancehall mainstay — the head to head split LP — with the young Chaka Demus (just before his fruitful partnership with Pliers had begun).
The lines get increasingly blurry as the 90s draw closer, illustrated here by Shelly Thunder's Fresh Out The Pack. The opening My Name Is Shelly is driven by a hip hop beat that wouldn't sound out of place on an Eric B. & Rakim record, while Working Girl seems to follow Neneh Cherry's lead even as Dangerous delves confidently into swingbeat rhythms. Further complicating matters is a healthy dose of bread-and-butter, prototypical dancehall numbers like Defence and Kuff '89, rounding this out as a prime snapshot of a very particular moment (1989-1990) in time.
If there's a turning point one might single out (or at least one that I'd point to!), Junior Reid's One Blood certainly fits the bill. With its crisp dancehall riddims shuffling dynamically beneath deep sub-bass, spectral dubwise sonix and Reid's soaring vocals (One blood, one blood, one blooooood!), the beat seems to deconstruct and rebuild itself right before your eyes as heavy slow-motion breaks drop in and out of the mix. That's the 90s right there, and whole squadrons of producers spent the decade recreating those same dynamics.
British rap crews like Demon Boyz and London Posse had a natural proximity to soundsystem culture both sonically and geographically, thanks to realities of the Jamaican diaspora in England. Posse ringleader Rodney P flips freely between cockney rhymes and ragga patois over the course of the superb Gangster Chronicle, one of the original stone tablets of U.K. hip hop. I suspect these rugged breakbeat symphonies would appeal to fans of The D.O.C.'s No One Can Do It Better and Mekon's Welcome To Tackletown about equally, hinting at the wonderfully polymorphous nature of the era's mad stylistic breakbeat pile-up.
The Sindecut's mash-up vision of hip hop, r&b and reggae flies quite a bit closer to club culture than London Posse's grimy street portraits, with a surfeit of smiley culture post-Second Summer Of Love vibes running right through its breakbeat-driven uptempo dancefloor grooves. Still, there's a fair bit of ragga chat to be found here. Part of the reason the distinctly British hip hop of The Sindecut, London Posse and Hijack appeals to me is the way it refracts New York's rugged musical export through the prism of soundsystem culture, with all the intensely localized trappings that entails (shades of grime, long before the fact).
Much as was the case with fellow travelers trip hop and jungle, its a sound that likely couldn't have happened outside the parameters of a very particular time and place. In fact, one day I broke down and started filing all of these records within the trip hop wing of my record collection again. To my mind, trip hop takes in all manner of things from the avant-breakbeat chansons of Nicolette and Terranova's post punk-damaged racket to the Bristol blues of Smith & Mighty and prototypical Mo Wax/Ninja Tune-style downbeat. The warped abstract hip hop of the WordSound imprint is also in with a silver bullet, alongside r&b-adjacent figures like Neneh Cherry and Soul II Soul, and ALL the British rap up to (but excluding) grime (which true to form gets a section of its own).
Definition Of Sound's kaleidoscopic debut embodies just how blurry the lines can get, and was sort of the deciding factor in going through with the move in the first place. Coming on like a more low-slung rumination The Sindecut's club-tinged hip hop, it veers wildly between uptempo club numbers, breakbeat rap and dub-inflected downbeat with a heavy bottom end. It's sound evidence of the porous boundaries between the various sounds and scenes — all fevering away at the edges of soundsystem culture in their own distinct ways — at this point in time.
Equally emblematic (if not even more so) of ragga's all-encompassing nature at the turn of the decade is this compilation of prime Bobby Konders material, New York club music that straddles the line between ragga and deep house with apparent ease (these records came out on NY house stronghold Nu Groove Records). Of particular interest in this context, even more than epochal house trax like The Poem and Nervous Acid, are reggaematic dancefloor missives like Massive Sounds' She Say Kuff and Mikey Jarrett's Chartbuster (subtitled Reggae House Style).
Jarrett's Husslin' Slowdown — which similarly features the subtitle Strictly Dancehall — is just that, rocking a no-nonsense pepperseed riddim. Konders wound up putting out the awesome Bobby Konders & Massive Sounds two years later, a moody outing at the axis of club music and ragga that I've always thought of as a sort of American Blue Lines, before slipping into his natural ragga state thereafter as the mastermind of the Massive B setup.
Speaking of Blue Lines, Bristol was really heating up around this point in time, quickly becoming a focal point of the industry machine and hotbed of musical activity, with not only Massive Attack but the great Smith & Mighty making waves in the mainstream. Falsetto sensation Carlton's debut album was also Smith & Mighty's first full-length production outing, picking up where they left off with records like Walk On..., Massive's Any Love and Fresh 4's Wishing On A Star.
The Call Is Strong is a sumptuously produced tour de force that fuses a languid take on club culture with heady dub vibes in a stirring selection of reggae-inflected gems like Cool With Nature and Do You Dream. I've always suspected Andrew Weatherall must have been a huge fan of this record, as the album he later produced for One Dove seemed to freely recall this LP's hazy dreamtime atmosphere, all wrapped around the gossamer vocals of Dot Allison.
Blue Lines is often touted as one of the turning points in modern music, and it's a crucial record sure 'nuff. Still, the attempt of journalists to get a handle on new musical developments can often divorce such records from their original context, elevating them but also in strange a sleight-of-hand suggesting that there's nothing else to see here. Not the case, not the case at all. For instance, the Carlton record is undeniably a fellow traveler, and song-for-song is every bit its equal. What's more, I think it's illuminating to hear Blue Lines as a particularly moody, introspective take on the heady space between dub and hip hop at the time.
Right off the bat, one could point to Horace Andy's presence as a literal connection to Jamaica, but then take something like the mighty Five Man Army, which plays like hardcore ragga in smoke-blurred slow-motion. The baritone presence of Daddy G on the mic foregrounded here (which would sadly become more and more rare on the later records), coming as an added bonus and further driving the point home. A stone cold classic, no question. So if you want to hear what the Bristol blues are all about, by all means start here... all I ask is that you keep digging deeper!
If Bristol had club culture's downbeat underbelly ragga soundclash on lock, then Shut Up And Dance were runnin' the ardkore side of things. In parallel to their own records, the duo produced a series of brilliant 12"s around The Ragga Twins' winning machine-gun interplay, culminating in the Twins' phenomenal debut, one of the great albums and signposts of the early nineties. Tunes like Ragga Trip and Illegal Gunshot are among the greatest breakbeat/dancehall mash-ups ever, while the dead-eyed minimalism of 18" Speaker fills out into a killer instrumental that somehow manages the trick of perpetually sounding like it came out yesterday.
Like Rough & Rugged, this is another head-to-head dancehall split. Die Hard Pt. 1 pits Cutty Ranks against Tony Rebel, with one side dedicated to each of them. The beats here wickedly stripped-down to their electronic foundation, with naught more than a machine riddim and keyboard bleeps building to an utterly infectious backing (see Pon Mi Nozzle, a particular highlight). The Cutty Ranks side hits harder, with gruff ragga chat the order of the day, while Tony Rebel's is the sweeter, showcasing a nimble toasting that often slips into dulcet singjay tones.
Chaka Demus & Pliers — who started out as solo performers in their own right in the mid-eighties — teamed up at the end of the decade to become one of the great duos in ragga, a true sensation. 1993's Murder She Wrote captures the team at the peak of their crossover powers, with straight-up dancehall like Friday Evening and the title track vying with chilled pop ragga like I Wanna Be Your Man and Tease Me. The big surprise is an utterly infectious cover of The Isley Brothers' Twist And Shout (is there any other kind), which was thankfully tacked onto the American release as the opening track.
Alongside The Call Is Strong, this four-track EP was the only real fruit to come of Smith & Mighty's ill-fated deal with FFRR. The remit here is rootsy breakbeat, with tunes like Rub (with toasting from The General) and the rolling beats of Killa sounding like ragga jungle slowed down a few dozen BPMs, pointing the way toward the junglist More Rockers 12"s just around the corner. The moody Give Me Your Love is equally prescient, offering a glimpse of the dubbed-out majesty the duo would pursue over the course of their next few records.
After a handful of records on their newly-minted More Rockers setup, Smith & Mighty made their triumphant return with Bass Is Maternal, a killer selection of signature vocal cuts and rootsy, dubbed-out instrumentals. Despite an initially lukewarm reception, the record's gone done as a stone cold classic. Down In Rwanda features Andy Scholes' spectral falsetto over mid-tempo junglist breaks, while Maybe For Dub and Closer touch down with digi-dub vibes in full effect (a side of their sound that has come to fore in the ensuing years in the form of reissues, first with Brain Scan in 2003 and then last year's revelatory compilation Ashley Road Sessions 88-94).
In passing, I've got to throw some love General Public's way. This album was crucial for me at the time. Pops was a huge fan of the band going back to its origins in The English Beat, and this got massive play around the house. I remember coming home after my last day of school to find him dubbing the newly-purchased CD to cassette before we left on a road trip to Yosemite (that same afternoon, I dubbed my first tape ever — an Adam Ant compilation). Rub It Better features a heavy, almost live big beat sound, with a greater emphasis than ever on Ranking Roger's toasting on the mic (Pato Banton even returns to trade verses with Roger, just as he had on The English Beat's Pato And Roger A Go Talk a decade earlier).
I was gutted to hear of Ranking Roger's passing last week. His vocals never failed to add a flash of joy to whatever he appeared on, be it with his original crews The English Beat and General Public, or his own new wave/ragga/dance hybrid solo material. I can remember like it was yesterday the pure excitement when he joined Big Audio Dynamite in the mid-90s (culminating in the Entering A New Ride sessions) and later cropped up on Death In Vegas' take on Twist And Crawl, in which he guested on an ace version on his own tune from The Beat days. Like I said, it was always a pleasure. So long Roger, you will be missed.
Another stone cold classic. Like All She Wrote, this is ragga at its most inviting, while still managing to pull no punches. As an album, 'Til Shiloh is even more varied. There's hardcore dancehall in the shape of Only Man and It's All Over, downbeat ragga like Murderer and Sensimellia Persecution, sunshine roots in Wanna Be Loved and Not An Easy Road, and a smattering of brilliant pop like Complaint (featuring the smooth vocals of Garnett Silk), and Hush Baby Hush. The full, widescreen sound is of a piece with other mid-decade triumphs like Bass Is Maternal and Rub It Better, and as juxtaposed here, I daresay work rather well as an informal trilogy.
Along with Smith & Mighty's return with their More Rockers imprint came a slew rootsy jungle records credited to More Rockers the artist (much like Underground Resistance and Kemet Crew). More Rockers was a collaboration between Rob Smith and Peter D. Rose. The duo's output centered around two albums that came on more like a soundsystem captured live in the mix, flowing between ragga chat, sweet lovers jungle and tearing instrumentals with ease.
Like ragga's soundclash between dancehall and rap, ragga jungle's pile up of rave's breakbeat science and dancehall signifiers was one of the most exciting sounds to make a splash at a time when exciting sounds weren't exactly thin on the ground. What started out as a sampladelic art form inevitably led to actual head-to-head collaborations like Congo Natty's Code Red (as Conquering Lion) and UK Apachi & Shy FX's Original Nuttah. This compilation, put out by Greensleeves, takes the concept to its logical conclusion with an exclusive selection of tunes featuring a whole raft of dancehall luminaries chatting on top of killer junglist riddims.
Right around this point in time (1997), you started to get this fascinating squaring of the circle between trip hop, jungle, dub and techno. The Rockers Hi-Fi captured this spirit in their DJ-Kicks outing, with Farda P.'s toasting over a selection of dubbed-out downbeat, ambient jungle and dusted riddims with atmosphere to spare. At one moment, they even reached back into O.G. deejay with a cut from Prince Far I & The Arabs (the Adrian Sherwood dub of Long Life, to be specific), with a heavy low-end rumble erupting from within the surrounding crisp, of-the-moment beats in evidence throughout.
I don't know if it's just down to my listening habits at the time, but I've often though that Timbaland And Magoo's debut had traces of dancehall lingering about it, as if the sensimilla smoke had been digitized and beamed onto the grid, Tron-style. 15 After Da' Hour, with its methodical downbeat riddim and stream-of-consciousness wordplay, would probably be the most obvious pointer, with the added sweetener of Timbaland's ragga-esque fifteen after the hour chant in the climax.
Besides, as the decade was bookended by instances of dancehall's storming of the mainstream, it would only make sense that it would begin filtering back in around this time. Something like Bounty Killer's Next Millenium captures the fin de siecle zeitgeist, with Blade-style sleeve art that also manages to eerily predict The Matrix. The urban signposts hit even harder this time around, with guest spots from Noreaga, Big Noyd and Mobb Deep in full effect.
Was it Angel or Dissolved Girl that was actually in The Matrix? Mezzanine was an interesting one because it telegraphed the first clues that Massive Attack would ultimately abandon the rootsy flavor of their nineties work. The metal-cum-post punk guitars from Jon Harris are the first giveaway, as are the angelic vocals from ex-Cocteau Twin Elizabeth Fraser. Tellingly, Mushroom Vowles split from the group shortly after. Still, there's a strong sense of dark roots hanging over the whole affair, dub pressure inna widescreen style, that would turn out to be hugely influential.
I first heard Roots Manuva the following year, on Leftfield's Dusted, which opened their long-awaited second album Rhythm And Stealth. The album's harder edges seemed to have similar signposts as Mezzanine, and Manuva's cameo was an undeniable highlight of the record. His debut album is even better. Like Rodney P, his vocals are poised midway between rap and dancehall, this time right there at the turn of the century. After this, you're talking U.K. garage/grime and that's a 21st century ting, no question. It's the perfect place to sign off, with the next millennium on the horizon and Terminal Vibration entering its final chapter...
LISTEN NOW
Terminal Vibration 10:

John Holt

Police In Helicopter

Greensleeves

Tenor Saw

Ring The Alarm

Techniques

Horace Andy

Lonely Woman

Wackie's

Johnny Osbourne

Nightfall

Jah Guidance

Smith & Mighty

Down In Rwanda

Andy Scholes

More Rockers

Aswad

Dub Fire

Mango

Snuky Tate

Light My Fire

Animal

Derrick Harriott

Dub Whip

Hawkeye

Yellowman

Zungguzungguguzungguzeng

Greensleeves

Massive Attack

Five Man Army

Horace Andy

&

Tricky

Wild Bunch

Toyan

How The West Was Won

Greensleeves

Barrington Levy

Here I Come

Time 1

Pato Banton

My Opinion

Ariwa

Prince Jammy

256K Ram

Greensleeves

Wayne Smith

Under Me Sleng Teng

Greensleeves

Cutty Ranks

Pon Mi Nozzle

Penthouse

Aisha

The Creator

Ariwa

Junior Reid

One Blood

J.R.

Colourbox

Baby I Love You So

Lorita Grahame

12" Version

4AD

Gregory Isaacs

Rumours

Greensleeves

London Posse

Live Like The Other Half Do

Mango

Bobby Konders

&

Massive Sounds

Mack Daddy

Mikey Jarrett

Mercury

Buju Banton

Murderer

Elektra

Carlton

Cool With Nature

FFRR

Manasseh Meets The Equaliser

Surface Tension

RIZ

The Ragga Twins

Ragga Trip

Shut Up And Dance
Terminal Vibration (On A Ragga Trip): The Records