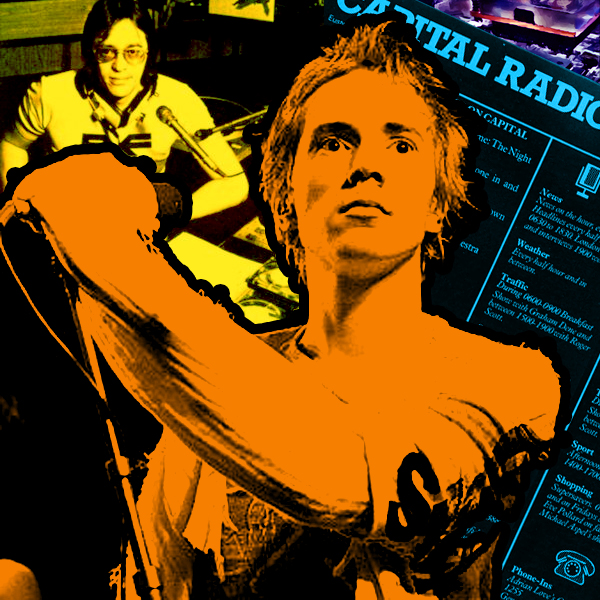 In light of Public Image Ltd.'s Metal Box status as record of the month, it's worth noting the fortuitous historical twist of fate that found Johnny Rotten guesting on Tommy Vance's Capital Radio show back in July 16th 1977 at the height of his notoriety in The Sex Pistols. I'd perennially heard whispers about this interview — along with the idiosyncratic selection of records that Rotten played throughout — but it wasn't until reading Jon Savage's storied punk tome England's Dreaming that I came into contact with actual coverage of the event. In fact, it might be my favorite part of that book.1
Some time later, Simon Reynolds' timely survey of post punk, Rip It Up And Start Again, delved into further detail.2 The idea is that the Capital Radio appearance found Johnny Rotten the punk throwing the world for a loop as he played a deep selection of reggae, dub, arty rock, glam and krautrock — rather than the punk rock onslaught that was no doubt expected of him — letting down his guard and introducing the world to John Lydon, the man, and ultimately sowing the seeds for Public Image Ltd.'s heady forays a year later. The birth of post punk, in other words, sourced in all manner of strange pre-punk sounds. After that, I simply had to know more about what went down when Johnny Rotten met Tommy Vance on Capital Radio.
Well, the good folks at the Fodderstompf website (hub for all things PIL-related) hooked it all up a few years back, providing the interview in its entirety here.3 With a breakdown of the records Lydon played, a full transcript of the interview and even full audio of the whole affair, it's a real resource. I can't stress the importance that you drop everything right now and listen to it! When I first stumbled upon it, years ago, it was a real eye opener. Lydon's selections lay out a roadmap to all manner of cool music, shooting off into nearly every possible direction. I'd always wanted to riff on these records a little bit, and I can think of no better time than now...
Perhaps the biggest surprise to be found is the handful of records from the canyon that play a crucial role in the transmission. I mentioned this in passing during the extended Two Weeks In The Canyon foray last year, but it bears repeating. This is one of my absolute favorite bits of musical happenstance of all time (see also Depeche Mode chilling with Derrick May at The Music Institute), with Lydon opening his set with Tim Buckley's awesome Sweet Surrender, the sun-baked cinematic strings rising from Lydon's request to Just play the records...4
You really need to hear the audio to appreciate the sheer magic in evidence, the juxtaposition of punk's first wave vanguard riding high in '77 (after conquering the U.K. the prior year), the amiable Lydon/Vance back-and-forth, and a whole raft of utterly absorbing music. Sweet Surrender of course taken from Buckley's Greetings From L.A., his unexpected swerve into gutsy, soul-inflected territory, marked by the man's otherworldly croon ensconced in slowly melting, sun-glazed surroundings, and picking up where the proto-kraut mirage of Gypsy Woman (sex on vinyl doncha know?) left off.
The other big canyon moment here is Neil Young's awesome Revolution Blues, a burning downbeat groove that just rolls on in portentous slow-motion. With its oblique references to the Manson Family's movements leading up to that bloody night on Cielo Drive, it has clear parallels to punk's savage imagery that had so startled the press of the day. Throughout the interview, Lydon has a lot to say about the papers (which had continually plagued the band with sensationalist, fear-mongering coverage), none of it good, noting their exploitative nature and ultimately dismissing it all as rubbish.
The entirety of Neil's On The Beach LP actually happens to be my favorite of all his records, with the baleful Revolution Blues an undeniable highlight. Quite kraut-leaning in its particular way, with a searing widescreen solo from Young himself, it's firmly in the tradition of other Young monster jams like Cortez The Killer and Cowgirl In The Sand. One only wishes that it had a chance to stretch out a bit to about two or three times longer (although the brevity in this context certainly plays to the punk ear).
Despite not originating from the canyon proper (rather Derbyshire, England), Kevin Coyne's Marjory Razorblade is quite canyon-adjacent in spirit — even if there's a proggy British-ness to it that marks it out as very much its own beast — for my money managing to beat even Bob Dylan's Blonde On Blonde at his own game. If there's one record in particular that Lydon made famous on this show, it's got to be this one, which was introduced to a generation of young punks when he played Eastbourne Ladies — after talking about getting beat up by gangs in the summer strolling the streets.5 'Nuff dread!
Lydon actually played a fair few folk tunes from the British Isles, including a killer version of the Irish folk tune Jig-A-Jig that apparently no-one has been able to identify to this day, along with Coyne's Eastbourne Ladies and Fleance by the Third Ear Band. Existing at the cusp of freak folk and British prog, the Third Ear Band turned out a handful of strange, otherworldly albums like Alchemy and Elements before being drafted in to provide the soundtrack for Roman Polanski's especially bloody, doom-laden version of Shakespeare's Macbeth (but then, is there any other way to do that play?).
That's a haunting movie right there... pure dread, through and through, like a slow-building nightmare it just washes over you. I remember seeing this hard-R-rated movie in English class in the 10th grade (how did that happen??), and it stayed with me ever since. This score is a large part of what gives the movie its haunting, otherworldly atmosphere (that and the fog creeping into every frame), with the Third Ear Band's droning medieval instrumentation in full force throughout. The show-stopping Fleance is an undeniable highlight, with Chaucer's Merciless Beauty sung by the young Keith Chegwin (as Fleance himself) during the film's memorable banquet scene for King Duncan.
Even if he claimed to not be a fan of The Velvet Underground, Lydon played a lot of arty music from ex-Velvets like Lou Reed's cabaret-inflected Men Of Good Fortune (from Berlin — be sure to also check out the spectacular Lady Day), Legs Larry At Television Center from John Cale's avant garde The Academy In Peril and Nico's nightmarish harmonium mirage Janitor Of Lunacy. Crucially, all three figures wound up having an outsized influence on not only David Bowie's Berlin records, but also Brian Eno's contemporaneous avant pop excursions and even more directly PIL (along with large swathes post punk itself).
Speaking of Bowie, Lydon plays his glam rock staple Rebel Rebel, along with further jukebox glam from Gary Glitter's Doing All Right With The Boys (later covered by none other thank punk superstar/ex-Runaway Joan Jett herself, on her blistering debut album). At the weirder end of glam, Peter Hammill (of prog iconoclasts Van Der Graaf Generator) even gets singled out for praise by Lydon for the proto-punk outing Nadir's Big Chance — an utterly unique LP, existing at the intersection of glam and prog — going so far as to (inadvertently) play two tracks from it, emphasizing I'm damn sure Bowie copied a lot out of that geezer. The credit he deserves just has not been given to him. I love all his stuff.6
With almost all of the selections emerging squarely within the span of the 1970s — Lydon even going so far as to state I've never liked any of those 60s bands. Terrible scratching sound. — nevertheless a couple sixties records do slip through. The first is The Creation's Life Is Just Beginning, a string-quartet-led bit of psychedelic garage punk (and the flipside to the oft-compiled Through My Eyes). Coming as it does on the heels of Tim Buckley's Sweet Surrender, it imbues the proceedings with a similarly cinematic flourish.
Sixties renegade Captain Beefheart appears later in the mix with The Blimp Mousetrapreplica, from his notoriously off-the-wall Trout Mask Replica double-LP, which like Bitches Brew and Monster Movie hit like 70s records just barely snuck in at the tail-end of the decade. The good Captain's utterly original abstract blues, straining as it does at the very confines of rock itself, works up a wild racket from the sands of the Mojave that seems to predict all the best prog and avant rock. As Lydon himself says, What he does with music, he takes it away from the, it has to be this position or that position, he just uses sounds to make the whole thing better, but he's mad, he's great.7
Along similar lines, one of the best parts of the show is when Lydon and Vance bond over a mutual love of reggae, with Vance commenting:
I like reggae mainly because, for a long time, I thought it was about the only stream of music in which people were trying to do different things like overdubs, using echoes...
to which Lydon interjects:
They just love sound. They like using any sound, I mean right down to that Culture single: car horns, babies crying. And why not? I mean it's only sound music, isn't it.
One could write a whole book on Lydon's reggae and dub selections alone. As this handwritten note8 to a PIL fan attests, he clearly had a strong grasp of the form, far beyond any sort of passing, casual affinity... a true connoisseur. His strong, opinionated nature shines through here, as it does in the interview, when he singles out Fred Locks' Walls for praise — highlighting its brilliant sense of paranoia (a Parallax reggae record if there ever was one!) — even if he dismisses the remainder of what I've always held to be a very strong roots record as lame. What gives Johnny?!
Further deep cuts (this time 7" exclusives) — ranging from Vivian Jackson (aka Yabby You) & The Prophets' Fire In A Kingston and Makka Bees' Nation Fiddler — are the order of the day, both of which offer up superb dread-inflected reggae informed by a swirling, almost overwhelmingly atmospheric production that more than vindicates everything Tommy Vance was just saying a couple paragraphs back. Choice material, in other words. Roots reggae doesn't get much better than this...
On a similar tip, island soul man Ken Boothe gets a look in as well, with his cover version of Syl Johnson's Is It Because I'm Black. Taken from his Let's Get It On LP, which exists in the shadow of his classic Everything I Own set (released the same year). To this day it's never been reissued, in spite of the fact that it originally emerged on reggae powerhouse label Trojan Records. What's up with that? In fact, most of Lydon's selections couldn't get much deeper, and even after four decades of reissues, compilations and anthologies, many of them are still pretty hard to come by.
Fortunately, there are a handful of selections that are a bit more straightforwardly available to the uninitiated (although I suspect everything here is available on Youtube/Soulseek nowadays!). Roots radical Peter Tosh — having been one of the Wailers — has what must have been the highest profile of the bunch. Indeed, this record is nearly as easy to find as any given Bob Marley record! They even used to play it on 91x during regular rotation9 (maybe they still do, for all I know). You can't go wrong...
On the flipside of the coin is Augustus Pablo's King Tubbys Meets Rockers Uptown, one of the most perfectly atmospheric dub records ever conceived. Another great cinematic moment in the context of the show, with King Tubby's trademark splashing percussion rolling across the mix as the interview rattles on. Dub techniques themselves among the most important musical developments of the last fifty years, filtering through post punk and disco into just about any sound and scene you could mention.
Similarly, there's no getting around the deejay's eerie prediction of rap, toasting over re-purposed backing tracks the same way hip hop MCs would later rhyme over extended funk jams, rolling samplescapes and hard-hitting drum machine rhythms. Reggae, reggae, reggae! It's essential. Like I was just saying the other day:
My father wrote about this in his book. Chapter 1... Page 1... Paragraph 1: What is the answer to 99 out of 100 questions?... Reggae.10
Deejay iconoclast Dr. Alimantado's Born For A Purpose later turns up on the Sons Of Thunder LP, done up in a discomix style with its dubbed-out b-side Reason For Living tacked onto the end. Dr. Alimantado became a favorite with the punks, in large part thanks to Lydon's endorsement, especially his phenomenal debut album Best Dressed Chicken In Town. Which, in truth, everyone should own... and while you're at it, grab Sons Of Thunder too. This utterly original, and deeply strange music is on par with other absolute essentials like Captain Beefheart, Metal Box and Can.
That's right, Can! One could guess the krautrock legends would make an appearance here, and the rolling eighteen-minute monster jam Halleluwah stands as the penultimate track of the show (coming in just before Peter Tosh closes out the evening). Interestingly, Fodderstompf notes that it was Sid Vicious who actually tuned Lydon into Can in the first place. The band's wild kraut-funk workouts would later play a crucial role as part of the inspiration behind PIL's storied Metal Box sessions (alongside disco's extended rhythms and the monster basslines of dub).
Speaking of funk, we get to the very last of Lydon's records: Bobby Byrd's nimble funk masterpiece Back From The Dead. The tune actually gets played smack dab in the middle of the show, but I've saved it for last since it's one of the most memorable moments of the evening, when it drops in just after Lydon states:
Just to get these was a real strain, I ain't got a record player at the moment, so I have to pass them around, because music's for listening to, not to store away in a bloody cupboard. Yeah, I love my music.
That's pretty cool... the man speaks the truth! When all is said and done, it's what this site is all about, really. In the same way all this music fed into PIL and post punk — be it the funk, the dub, the rock, or the avant garde — it lives and breathes on even to this very moment, its echoes and repercussions flowing through the years from node to node to node and all the tributaries between.
---
Perhaps that's why, even after all this time, this interview itself remains so fascinating? It gets to the the heart of how profound music's effect can be, the way you can play something from fifty years ago and it could still manage to sound hotter than the latest thing. Like Lydon said, Just play the records. They'll speak for themselves. That's my idea of fun...
The Punk And His Music:

The Tracklist

Tim Buckley

Sweet Surrender

Warner Bros.

The Creation

Life Is Just Beginning

Polydor

David Bowie

Rebel Rebel

RCA Victor

Unknown Artist

Jig-A-Jig

Unknown Label

Augustus Pablo

King Tubbys Meets Rockers Uptown

Clocktower

Gary Glitter

Doing All Right With The Boys

Bell

Fred Locks

Walls

Vulcan

Vivian Jackson & The Prophets

Fire In A Babylon

Prophet

Culture

I'm Not Ashamed

Joe Gibbs

Dr. Alimantado

Born For A Purpose

Greensleeves

Bobby Byrd

Back From The Dead

International Brothers

Neil Young

Revolution Blues

Reprise

Lou Reed

Men Of Good Fortune

RCA Victor

Kevin Coyne

Eastbourne Ladies

Virgin

Peter Hammill

The Institute Of Mental Health, Burning

Charisma

Peter Hammill

Nobody's Business

Charisma

Makka Bees

Nation Fiddler

Congo

Captain Beefheart & His Magic Band

The Blimp

Mousetrapreplica

Straight

Nico

Janitor Of Lunacy

Reprise

Ken Boothe

Is It Because I'm Black

Trojan

John Cale

Legs Larry At Television Centre

Reprise

Third Ear Band

Fleance

Harvest

Can

Halleluwah

United Artists

Peter Tosh

Legalize It

Columbia
Footnotes

1.

Savage, John. England's Dreaming: Anarchy, Sex Pistols, Punk Rock, And Beyond. New York: St. Martin's, 1991. 381. Print.

2.

Reynolds, Simon. Rip It Up And Start Again. Great Britain: Penguin, 2005. 15-17. Print.

Fodderstompf. John Lydon: Capital Radio, Tommy Vance Show, July 16th 1977. Fodderstompf. F&F Publishing, 30 Sep. 2017. http://www.fodderstompf.com/ARCHIVES/REVIEWS%202/capital77.html. Accessed 2 May. 2019.

8.

Fodderstompf. "It ain't the names that matter, you got to be able to hear them first...". Fodderstompf. F&F Publishing, 30 Aug. 2017. http://www.fodderstompf.com/ARCHIVES/ARTS/reggae.html. Accessed 2 May. 2010.

9.

As opposed to during the Sunday night Reggae Makossa show.

10.

Actually, Tom Cruise said this as David Ames in the movie Vanilla Sky! Well, if you substitute Money for Reggae, that is...