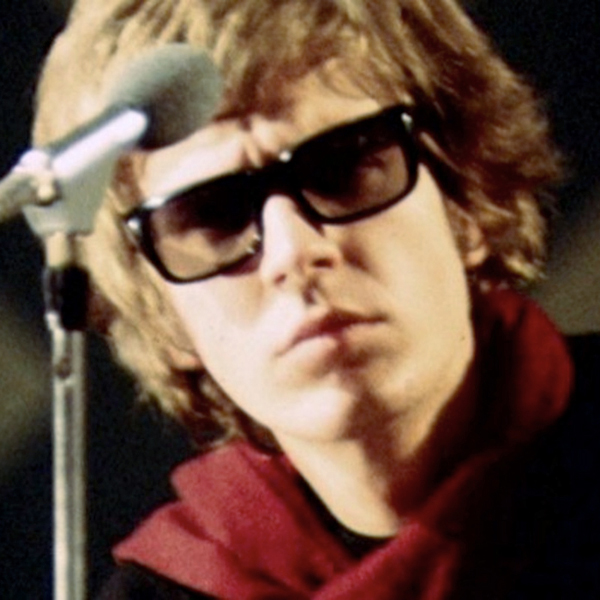 I was still reeling from Mark Hollis's untimely passing a month earlier when news of Scott Walker's death began to filter through in March. The sense of loss is always compounded in such cases, and with Dick Dale, Ranking Roger and Keith Flint gone too — and in such close temporal proximity to one another — it was hard to know where to begin. In their own way, all five figures had a significant influence on pop music's development over the years, and accordingly each of them had a profound impact on my own musical life. Three of them are responsible for records lodged right up there among my absolute favorites of all time, while the other two figures aren't far behind.
---
Scott Walker's career stretches back the longest, starting in the mid-1950s when he was still a child star known as Scotty Engel. However, it wasn't until the mid-1960s, when he hooked up with Gary Leeds and John Maus in L.A. to form The Walker Brothers, that he really began to make waves. At this point, each member of the trio took the last name Walker, much like the Ramones and Hardkiss later would with their respective group names. The trio wound up crossing the Atlantic in search of an audience (once again, much like artists like Hendrix and the Sparks later would), which they ultimately found with hit singles like Make It Easy On Yourself and The Sun Ain't Gonna Shine Anymore. The group, it seemed, were on top of the world. Then, in 1967, Scott Walker went solo.
For me, this is where things get really good. As predictable as it might be, my favorite stretch of the man's discography remains the four self-titled albums he recorded in the late sixties. Each of these records are defined by a lushly-orchestrated, arty baroque pop of the absolute highest caliber, with Walker's rich, golden croon intimating enigmatic and often existential sentiments. With a cast of characters including sailors, soldiers, dictators, prostitutes, knights and even death himself, these tales certainly pushed the boundaries of pop music's typical subject matter of the era. Run-of-the-mill crooner outings these were most definitely not.
His solo debut Scott is a stone cold classic, announcing itself with the brass fanfare of a vigorous forward march called Mathilde. It's a truly bracing blast and the first of his many covers of the legendary Belgian songwriter Jacques Brel, whose literate, worldly songwriting would certainly prove a key influence on Walker's own compositions. The stately ballad Montague Terrace In Blue is one such song, its vivid descriptions exploding into a monumental chorus, while the exquisite organ-hued sketch Such A Small Love unveils the almost Medieval overtones that he'd continue to explore in earnest. Similarly, The Lady Came From Baltimore betrays a burgeoning fascination with country music, foreshadowing what would become a growing influence in the years to come.
He even takes a stab at the crooner standard When Joanna Loved Me (also done by both Frank Sinatra and Tony Bennett), in which he more than holds his own with the giants, while Angelica and The Big Hurt give his vocals a chance to really soar. However, it's a pair of Jacques Brel numbers that point the way forward, with the Gothic melancholy of My Death and Amsterdam's swirling carousel of madness showcasing Walker's considerably unique vision. At the end of the day, Scott is a simple case where every track's a winner, and one can certainly see why Bowie was such an ardent fan (he even covered Amsterdam in 1973 for the b-side of Sorrow).
Scott 2 seems to pick up directly where Amsterdam leaves off, with the same rude-edged, seamy undertones in yet another in a long line of Brel covers. Jackie is a driving stampede of chanson, firmly in the tradition of Mathilde, while the Spanish-style bolero Next tells the winding tale of a young army recruit with the same unflinching detail as Amsterdam. Notably, a snatch of Walker's soaring vocal  — the naked and the dead — would later be sampled in Orbital's track of the same title (the b-side to Halcyon + On + On).
The soaring Best Of Both Worlds finds Walker at his romantic peak, while The Amorous Humphrey Plugg (later sampled by Wu-Tang general Masta Killa!) walks the tightrope between carefree fancy and creeping dread. The Girls And The Dogs (another Brel cover) even offers a bit of lighthearted fun, with its description of the inner workings of the relationship between girls, men and their dogs (the latter of which always seem to get the raw end of the deal!). That one always cracks me up. It's also worth noting the b-side to the Jackie, the massive, cinematic epic The Plague, which boasts inspired use of treated vocals and twisted instrumentation in a continuation of Next's darker corners.
However, if one reads between the lines, the overriding trend here — despite all the aforementioned highlights — is an increasingly subdued, dreamy atmosphere hanging over the proceedings. Outlined in scattered, ethereal moments like Windows Of The World, Wait Until Dark and the closing Come Next Spring, these breezy chansons nevertheless seem to carry the weight of the world on their shoulders. This is where Walker's literate, existential vision begins to imbue everything with an added sense of depth and gravity, pointing the way forward to the spectral majesty of Scott 3.
From the opening strains of It's Raining Today — with its at times almost atonal string section in counterpoint with a sparkling chord progression — it's clear that you're dealing with something extraordinary. In a certain sense, Scott 3 is almost works as a bridge between Walker's sixties work and what he'd be up to decades later. This is also Walker's big songwriting breakthrough, in that all but the last three songs were written by Scott himself (the final trilogy are all Brel compositions).
The sound has also shifted dramatically, with an even greater emphasis on the sort of ethereal songcraft that had begun to build up steam in the softer corners of Scott 2. The tone poem Copenhagen is a great drifting, shimmering mist, and sets the tone for a record that seems to capture the first days of spring, when the snow is just beginning to melt and the sun's warmth gradually starting to return. Rising from a thunderous cascade of timpani, Big Louise is a heavenly portrait of a sad, lonely woman (the world's passed her by) imbued with a deep sense of pathos and melancholy.
The almost ambient Two Ragged Soldiers, with its circular, shimmering progression, is emblematic of the whole affair. There's but a handful of tunes to break into a canter, such as We Came Through — connecting as it does to earlier driving marches like Jackie — and the black humor of Brel's Funeral Tango, while the folky concision of 30 Century Man (the album's shortest track) betrays an understated funkiness in its implied rhythm. In many ways, it's the latter song — paired with the medieval undertones of If You Go Away and Winter Night — that most clearly foreshadows where he'd venture next.
Next being Scott 4, which is quite simply phenomenal. We're talking about one of the absolute greatest albums ever recorded, hands down. Every home should have a copy. In truth, its perfect fusion of lush orchestration, arty lyricism and hip rhythm is almost too good to be true. The Seventh Seal opens the record with a Morricone-esque cascade of orchestra charts and Gregorian chanting over a locked, oneiric drum beat, its subject inspired by Ingmar Berman's film of the same name — the story of a lone knight's ongoing chess game with death. Simply exquisite.
Similarly, The Old Man's Back Again is almost comically perfect in execution, with Scott's peerless croon dancing across the surface of a rolling, funky downbeat rhythm (30 Century Man made explicit) and another duel between baritone chant and lush orchestration. Walker's off-the-cuff scat-singing in the denouement comes as an added bonus. If you've never heard Scott Walker before — and your interest is piqued — this song just might be the place to start.
Elsewhere, here's still some remaining strands of the ethereal Scott 3 lingering in the midst, most clearly in the gorgeous Boy Child, which sounds like the first rays of the rising sun shone through the treetops in a grove of ancient redwoods. Sheer majesty and wonder. The languid Angels Of Ashes finds Walker at his smooth-crooning best, recalling earlier ballads like When Joanna Loved Me and Come Next Spring, finding him at his most disarmingly unadorned and classicist.
Special mention must be made of Walker's latent country inflections, which return here with a vengeance. The strummed guitars and ethereal strings of On Your Own Again linger midway between Gothic cathedral and home on the range, while Duchess is a gorgeous western ballad that would make Charlie Rich proud. The great galleon of rousing orchestral country pop Get Behind Me often reminds me of Tumbleweed Connection before-the-fact, while the bittersweet Rhymes Of Goodbye is a cowboy song in widescreen... as wide as the great blue horizon stretching out beyond a country plain as far as the eye can see.
It's the ideal conclusion to a record with a sound unlike any other, and a stirring grand finale to the man's first golden era, painted in rich gatefold glory and glorious downbeat perfection. Hearing Scott 4 for the first time is like stumbling into a secret world, colored in summer haze and autumn chill, full of mystery and longing. This is just the sort of music destined to be rediscovered time and time again.
Walker rang in the 1970s with 'Til The Band Comes In, which kicks off a string of lesser albums running through the decade. In fact, none other than Scott Walker himself admitted to taking a good deal less care with his albums during this period. Which isn't to say that there aren't a number of gems tucked away in the grooves of records like Stretch and We Had It All, records that find Walker delving into the world of country pop with understated abandon. We Had It All is a particularly great song, and quite moving in this context (especially when his voice soars to sing I know that we could never live those times again in the chorus).
It was a 1978 reunion record with The Walker Brothers — of all things — that reinvigorated Scott Walker and brought everything back into focus. Nite Flights was split evenly between the three brothers, with Scott's contributions betraying a dark, moody vision that seemed to run parallel with the contemporary records acolyte David Bowie's had been working up in Berlin. Shutout and the title track have the same sort of European, new wave-inflected vision as records like "Heroes" and Lodger, while The Electrician seemed to lay the blueprint for everything else Scott Walker would do from here on out.
Climate Of Hunter fulfills all the promise of The Electrician — particularly in the opening one-two punch of Rawhide and Dealer — while songs like Three and Seven updated the sleek new wave pop of Shutout and Nite Flights. Conversely, the beatless ambient pop of Sleepwalkers Woman seemed to hark back to the ethereal qualities of Scott 3, even if they were recomposed in a completely alien environment. Climate Of Hunter was a welcome return to form, an LP of a piece with the contemporary records of Kate Bush, Talk Talk and David Sylvian, particularly albums like The Dreaming, Spirit Of Eden and Secrets Of The Beehive. Without a doubt, Scott Walker was back.
Still, it was over ten years before he delivered a follow up, setting his latter-day precedent for protracted years of radio silence punctuated by the occasional brilliant record. Tilt found Walker spinning his inscrutable avant pop even further into abstraction. The opening Farmer In The City almost sounds like an operetta swathed in modern classical, with Walker's voice sounding as incredible as ever. His piercing croon defines the record, drifting lonesome among haunting strings and atmosphere, as in the eight minute excursion Patriot A Single. Interestingly enough, its the title track that connects back most literally to the fretless bass odysseys of Climate Of Hunter.
After another eleven years (punctuated by soundtrack work for the French film Pola X and production for Pulp's brilliant swan song We Love Life), The Drift arrived to great fanfare. A true event, it seemed to be the most overwhelming salutations ever bestowed upon a new Walker release. To be fair, it's the first time I knew to be paying attention (in 1995, I didn't know to be checking for Scott Walker records yet!). By this point an avowed fan of the man's music, I picked it up the day it came out. As foreshadowed by the opening Cossacks Are, the record was an even more primal, organic dive into the subconscious. This was a vision of avant pop that felt right at home in not only the world of modern classical but also the burgeoning sub-genre of dark ambient.
Appropriately enough, The Drift commenced Walker's longstanding relationship with the 4AD imprint, which turned out to be his longest since the classic era with Philips (a relationship that lasted until his death). Just as records like The Drift and Bish Bosch found him edging ever deeper into abstraction, his collaboration with Sunn O))) was a meeting of the minds with the reigning auteurs of doom. In 2017, The Childhood Of A Leader — which would turn out to be his final album — rounded out a decade of comparatively feverish activity, his highest frequency of output since the halcyon days of the sixties.
---
Ending on a high note, it's a testament to the man's restlessly creative spirit, always moving forward and never succumbing to nostalgia, resisting the urge to make that classicist album or tour the hits as so many of his contemporaries wound up doing. It was this quality that marked Scott out as singular among sixties figures, ever delving deeper into the avant garde. And yet however far he'd venture into abstraction — records sometimes informed by their darkest corners — that golden voice would always be there, rising from the depths and calling you home.