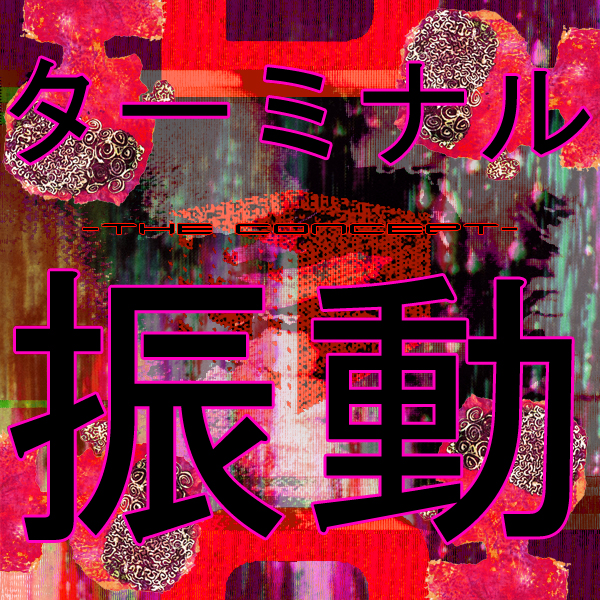 At this point, it's about time to wrap up the whole Terminal Vibration saga into a neat little package with a bow on top. In answering the initial question, where does post punk intersect with machine funk, the obvious response drifted quite naturally toward a region that's always fascinated me: the proto-Earthbeat global overload rhythmic mash-up of new wave, hip hop, dance and My Life In The Bush Of Ghosts-style fourth world madness that would ultimately give us modern music as-we-know-it, exploding in the 1990s and cascading right up to the present (we're still riding that wave).
When you really break it down, the whole shebang was catalyzed as post-disco/dub reggae innovations washed up against the shores of pop culture and then filtered back out into the hyper-localized scenius of the global underground (usually hate that term, but so apt in this case). Paired with the rush-of-the-new inherent in the sudden availability of cheap technology and burgeoning cyberpunk/future shock aesthetics, the inevitability of fast-paced innovation at the margins seeping into the media glare of the mainstream became inescapable. It was but a short leap from Spoonie Gee to Tupac Shakur, from Model 500 to The Prodigy.
With the rapid ascent of these at-first hyper-localized sounds into the pop consciousness, there was an unshakable frisson in such tactile music storming the charts from deep in the depths of the cutting edge. Suddenly, it was possible to dream up the future in some makeshift studio, be it Lee Perry at the Black Ark, Cabaret Voltaire's Attic Tapes or even Moodymann's bedroom symphonies. There's a reason why the rugged sounds of a Cabaret Voltaire always seemed a much better fit with the gutter tech of Neuromancer than the shiny, pristine surfaces of long-fade EDM.
There's an undeniably physical sense of space that tethers it all to the imagery of Zion and Chiba City, even as its reality is augmented by the more cerebral, dislocated sounds within The Matrix itself (this is where The Black Dog or Aphex Twin — who was at one time actually attached to the project — would excel). In this great mash-up of styles existing at the interface of rugged atmosphere and rhythm — rap/electro/post punk/boogie/trip hop/techno/house — all new forms would get warped and twisted into shape accordingly, oftentimes cross-pollinating with each other in the process.
I'm still ironing out the contours of the grand finale Terminal Vibration 100, but suffice it to say that it looks an awful lot like the blueprint for the future... 21st century music dreamed up years before the fact. As such, it mirrors the way the preceding 1970s took the raw materials of the 1960s flame out and hammered them into the forms that would come to define the era's new music: disco, hard rock/metal, reggae/dub, funk/progressive soul, kosmische/electronica and punk/new wave. The eighties just came along and boiled it all down to its essence, yoking it all to a post-disco beat, and then waited for the inevitable explosion.
So at its core, the Terminal Vibration concept embodies heavy rhythmic music with a strong sense of atmosphere — often evocative of a particular place in time, and moody to a fault — with a definite sense of rugged futurism spliced into its DNA. In a strange sense, it seems seems to render the whole sonic terrain future proof (against all odds) in retrospect, no matter how things continue to develop and individual aspects might date. Think Nuggets, roots reggae and jazz fission, all undeniably tied to distinctly period signifiers, and yet by now all timeless in equal measure.
PIL's Metal Box, Can's Tago Mago, Marvin Gaye's Here, My Dear: records such as these have not been bettered on their own terms, even as they set blueprints in place for thousands of artists to follow, imitate and elaborate in the intervening years. In the same way you can watch 2001 in 2019, nearly 30 years after its depicted future (let alone fifty years after its real-world premiere) and only say damn... in amazement, it's a rush to take it all in. And then maybe try your hand at topping it, or swooping in from another angle that the innovators would never have dreamed of. After all, that's what they did. That's the future...