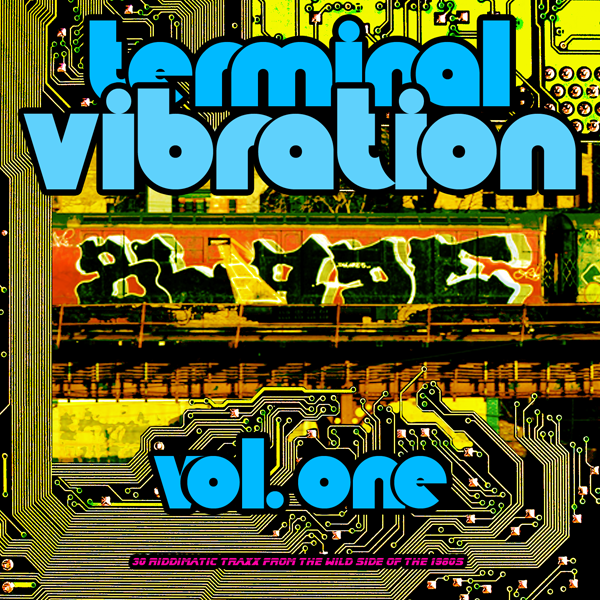 I'd originally planned to put this out after the Terminal Vibration 100 hit the site, but the compilation wound up being ready ahead of schedule. This latest Cheap Hotel release rolls up the whole Terminal Vibration vision into an unmissable two-disc anthology, where new wave, hip hop, post punk, house, dancehall, techno, afrobeat, funk, disco, trip hop, electro, boogie, dub and fourth world avant pop all collide in a killer selection of 30 Riddimatic Traxx From The Wild Side Of The 1980s.
I've worked up a little mix from the original compilation. Please excuse the transitions, which are quite conservative — and in some cases a little rocky — but I wanted to retain as much as the original track as possible. Sure, I might have mixed from Junior Reid's One Blood straight into the wayward groove of Ryuichi Sakamoto's Riot In Lagos, but I just couldn't bear to skip the amazing intro and build up as riot begins to take shape! At any rate, on with the music...
Listen Now
CHR-009: Various Artists - Terminal Vibration

Vol. One

Part 1

Simple Minds

I Travel

Arista

Bullet train punk disco from the band that would later bring you Don't You Forget About Me, this much earlier track finds the crew lean and hungry at the dawn of the decade. This is the sound of Europe-endless Moroder madness crashing the new wave party, screaming past skyscrapers and concrete bunkers, circuitry, telecommunications and the rising sun looming on the horizon.

Doug Wimbish

featuring

Fats Comet

Don't Forget That Beat

World Record

Pure fast-forward cyberpunk madness from Fats Comet (aka Tackhead aka the Maffia), this electroid punk-to-funk workout comes at you like a Prince cameo in the Count Zero motion picture. With a peerless stutter-funk groove hitting about as tactile as they come, this is everything implied in the promise electronic dance music.

Jamie Principle

Waiting On My Angel

Persona

Gothic digital disco from the dark prince of Chicago, shaded heavy with new wave colors. Rising from deep from the underground just as house was beginning to make its presence felt, this record arrived fully formed just as everyone else was still figuring out how to work the equipment. About as catchy as anything ever played on a dancefloor, in a perfect world this would have been a #1 smash hit (images of Idoru spring to mind).

Junior Reid

One Blood

J.R.

Apocalyptic dancehall masterpiece arrives at the tail end of the decade, the rhythms in this track are happening on something like four or five planes. Pepperseed drum machine beats flip into slow-motion breakbeats beneath the electronic roots-n-future mash-up, while the spectre of Junior Reid hangs above it all sounding like a prophet.

Ryuichi Sakamoto

Riot In Lagos

Alfa

Innovator on holiday from YMO turns in one of the most futuristic tracks ever laid down on tape. Coming out in early 1980, this could have been released twenty years later and still sounded ahead of its time. Unbalanced, untethered and utterly unpredictable, this is quite simply the benchmark of brilliance... everyone making electronic music should aspire to be this good.

Thomas Leer

Tight As A Drum

Cherry Red

Skewed electropop heaven from the Scottish bedroom auteur. From the brilliant 4-track EP, 4 Movements, the entirety of which is just stupidly, preposterously ahead of its time. Miles away from any sort of rigid synth pop conventions, this melts and glides like some Mediterranean sunset serenade.

Tony Allen

with

Afrobeat 2000

When One Road Close

Another One Go Open

Wrasse

Afrobeat goes electro! After four stellar solo albums, Fela Kuti's main man behind the kit takes his sound into the 1980s in a big way, offering up the greatest polyrhythmic-fourth-world-dubbed-out-future-shock stone tablet since King Sunny Adé descended into the studio with Martin Meissonnier behind the boards. An indisputable monster-groove.

Grandmaster Flash & The Furious Five

New York New York

Sugar Hill

One of a handful of tracks that so perfectly fit the Terminal Vibration remit, it almost hurts! In fact, there were a handful of records from this crew that would have fit just as well: The Message (which this record echoes), Scorpio and especially Message II Survival. For me, the bionic superfly attack of New York New York is the pick of the bunch, a track that sounds better still with every passing year.

Brian Eno

/

David Byrne

Regiment

Sire

Like the last track, this is Terminal Vibration distilled down to its purest essence, only more so. Indeed, the entire My Life In The Bush Of Ghosts album was probably the impetus for this whole endeavor. Over at DJ Food had it down as a Trip Hop blueprint if there ever was one, and when confronted with Regiment's rock hard downbeat funk riddim and muezzin wail, you know exactly what he means.

The Clash

Outside Broadcast

CBS

A saner man would have gone with the original version, which everyone knows and remains a classic tune, but this seven-plus minute dub version is a wild tangled trip that fits in far to well to pass up. Dig that atmosphere — car horns, street sounds, disco diva vocals, throbbing bass, proto-raps, electrofunk hand claps, stylized sax and Joe Strummer swirling in a cavern — in this runaway late night taxi cab ride.

D-Train

You're The One For Me

Prelude

Part of why I love this era so much is the way so many disparate scenes suddenly found themselves in sync — punk/disco/rap/reggae/the avant garde — and wired up to to the dancefloor. In truth, much of this was down to disco's gravity pull, as both a force to be reckoned with and something to define oneself against. This seminal Prelude joint is the moment at which boogie splits off from disco proper, and is the secret cousin to all The Clash's Sandinista!-era dancefloor burners.

Jungle Wonz

The Jungle

Trax

More early Chicago. You practically get a hit of that sense of discovery — and wide-open possibilities — every time you spin the best of these records. The rule books hadn't even been written yet, so the prospect of Harry Dennis' Last Poets-style raps over lush fourth world minimalism must have sounded no more out of bounds than Larry Heard's proto-ambient house or Jamie Principle's solitary moonlight missives. Nowadays, we know better than to take this stuff for granted...

Aisha

The Creator

Ariwa

Roots reggae songstress does her thing in Mad Professor's digital playground, resulting in a crisp slice of liquid perfection that still sounds like the future. This is so lean and mean! I'm sure there are cooler songs... I just can't think of any right now. Ambient house heads will instantly recognize the vocal sample that later turns up in The Orb's Blue Room (all roads lead to Jah Wobble).

Reese

Just Want Another Chance

KMS

It still blows my mind that this record, with its bunker-crumbling drum machine beats and ten ton bassline oozing out of every pore, came out in 1988. But then, Kevin Saunderson is nothing if not an innovator (they don't call him Master Reese for nothing). As if the greatest bassline ever weren't enough, he peppers the track with killer sequence after counterpoint-sequence and spooked warehouse vibes to spare.

Silicon Soul

Who Needs Sleep Tonight

Disko B

Classicist electro-chanson from New York. Loneliness personified. First heard this, appropriately enough, on Terranova's DJ-Kicks — the O.G. Terminal Vibration experience — even if they just played the instrumental synth sequence. Hearing the original tune (from 1981) was such a joy, thanks to a timely reissue from Disko B at the turn of the century. I used to play this when I knew I was gonna have to pull an all-nighter, and it never failed to get me in the mode.
Listen Now
CHR-009: Various Artists - Terminal Vibration

Vol. One

Part 2

The Special AKA

Bright Lights

Two-Tone

Shadowy post-ska dance music from Jerry Dammers and co. The protracted sessions for the In The Studio LP resulted in a brilliantly strange collection of moody tunes that seem — from the cover on downward — haunted by the spectre of trip hop menace well before the fact.

Model 500

Night Drive

Thru-Babylon

Metroplex

Dark, sleek future music from techno originator Juan Atkins. With Night Drive Thru-Babylon, he created an utterly kinetic perpetual motion engine, serving as electro's killer app and pointing the way forward to techno's otherworldly, psychedelic glow.

Big Audio Dynamite

Sudden Impact!

Columbia

Sudden Impact! is electroid dance pop of the highest caliber, shot through with just a hint of dub and strains of the nascent dancehall, sounding something like Mad Professor vs. The Latin Rascals. Proves that Mick Jones had his finger to the pulse of eighties dance music, running from Radio Clash right through Megatop Phoenix and the Second Summer Of Love.

808 State

Narcossa

Creed

Rough and rugged acid house from Manchester's original techno proposition, back when A Guy Called Gerald was still firmly in the crew. As hinted by the title, this is electronic music at its most druggy and weird, even as it never loses sight of the dancefloor. The finest track from their excellent debut album, Newbuild, this manages the trick of sounding ancient and at the same time like it could have come out tomorrow.

ESG

Moody

Spaced Out

99

Girl group punk funk from New York. ESG managed to capture the spirit of Central Park's endless Puerto Rican conga jams (a sound that also inspired the likes of New Order and A Certain Ratio within the moody corridors of half-lit punk funk, getting tagged by the music press as PIL meets the The Supremes. And at the end of the day, what higher praise could you ask for?

Hashim

Primrose Path

Cutting

Overcast New York electro retrofit with bionic slap-bass funk, this sounds like it could've come from the streets of Chiba City. Coming out on electro/freestyle stalwart label Cutting Records and masterminded by the peerless Hashim (who also produced the definitive electro masterstroke Al-Naafiysh The Soul), this record's practically a genre unto itself.

Massive Attack

Any Love

Massive Attack

Trip hop supergroup's humble beginnings start with this killer Smith & Mighty-produced cover of Rufus & Chaka Khan's Any Love, fronted by the angel-voiced falsetto of Carlton and featuring a brilliantly introverted rap from Tricky (almost as an afterthought). That's a crazy amount of talent to squeeze into one studio, right there. Of course, it shows through in this deliciously minimalist tune, featuring some of the most kinetic drum programming ever laid down on tape.

Grace Jones

I've Seen That Face Before

Libertango

Island

This skewed, cosmopolitan dubwise chanson always strikes me as undeniably trip hop in both spirit and execution. Look no further than Massive Attack's Spying Glass and Nicolette's No Government (1996 version) for some sound comparisons. From the storied Compass Point sessions that resulted in Nightclubbing, Grace Jones' finest hour.

Virgo

School Hall

Radical

Virgo unleashed this bit of moody dancefloor magic right at the close of the decade, perfecting the deep house blueprint just in time for the nineties. And I do mean perfect... this song — in form, sonics and execution — is like a flawlessly cut diamond. When that bassline hangs in repetition for a bar before cascading into the chorus, it captures every lonely walk through your high school's crowded corridors as you try to slip through unnoticed and as quickly as you can. It gets me every time...

Derrick Harriott

Dub Whip

Hawkeye

Ah yes, Derrick Harriott with another one that's almost too good to be true. Early-eighties cover version of — strains credulity — the Dazz Band's Let It Whip?! Not only that, but with a dubbed-to-pieces remix tucked away on the flipside. With its visions of discomix reggae on the game grid, this is one of the most prized 12"s I own.

Wally Badarou

Chief Inspector

Vine Street

4th & Broadway

More Compass Point magic, this time from synth man Wally Badarou. For people who don't know (who are these people?!), Badarou was in the Compass Point All Stars, who played on that Grace Jones record (and a whole other brace of brilliant things). So casually understated yet undeniably brilliant, Paul "Groucho" Smykle's notion of adding go-go-inspired percussion to his Vine Street remix push this over the edge into the divine.

Roxanne Shanté

Have A Nice Day

Cold Chillin'

Rock the bells! Roxanne Shanté does her inimitable thing over an impossibly funky Marley Marl production, this invents the sound of golden age hip hop. I'm only sorry that I couldn't include more hip hop on this compilation: The D.O.C.'s No One Can Do It Better, Too $hort's Players, the Death Comet Crew's At The Marble Bar and The Junkyard Band's Sardines. Oh well, there's always Volume Two...

Fresh 4

Wishing On A Star

Lizz. E

10 Records

Another Smith & Mighty production for another supergroup-before-the-fact. Fresh 4 were a crew consisting of Bristol royalty DJ Suv and DJ Krust (who'd both later wind up in Full Cycle/Reprazent), Flynn (later of Flynn & Flora) and Judge (who he?). With its blissful, sun-glazed Faze-O sample, torch song vocals and slow-motion breakbeats, this is trip hop's blueprint writ large before the nineties even started.

Prince

Something In The Water

Does Not Compute

Warner Bros.

Sublime machine soul from the young Prince, just as he was poised to take over the world. Tucked away among the marathon electro boogie funk jams on his 1982 double-album 1999, this track rides a robotic start-stop rhythm haunted by Detroit-style synths, random computer bleeps and Prince's all-to-human paeans to the women who've done him wrong. The man's finest moment?

Colourbox

Looks Like We're Shy One Horse/Shoot Out

4AD

Discomix post punk dub-cum-spaghetti western epic from proto-trip hop architects Colourbox, just grooves along for a satisfying four-and-a-half minutes while samples from Duck You Sucker and Once Upon A Time In The West drift over the top. Then, halfway through its eight-minute running time, it goes all moody and atmospheric before going all Binary Skyline with a fourth world cyberpunk downbeat coda that sounds like sci-fi Repo Man meets FSOL's Central Industrial. Really, it's the only way to end this mix properly...